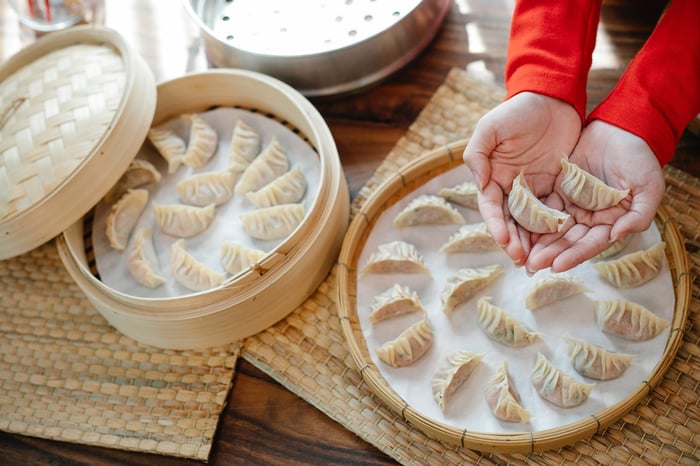 Photo: Angela Roma
Japanese vegan dumpling soup adapted from Japan Vegan Town
Dumplings are some of the most versatile dishes one can make. The fillings are flexible and can be easily tweaked.
This recipe calls for two ingredients that could be a little difficult to find depending on your location: the abura-age, or thin deep-fried tofu and kudzu powder, arrowroot starch. But don't worry, you can substitute these with other ingredients. The abura-age can be substituted with firm tofu (simply crumble it, and place it in a cheese cloth to squeeze all the water out). Kudzu powder is a form of starch that binds ingredients together. To replace it, you may use corn or potato starch.
Either way, this dumpling filling recipe is rather forgiving, and when enjoyed in a clear simple soup can warm any weary soul.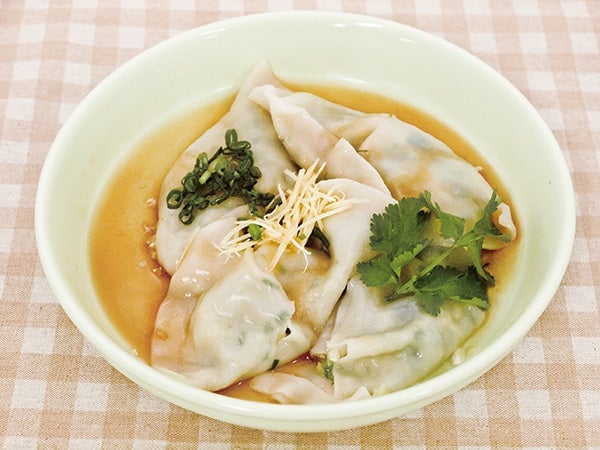 Serving suggestion. Photo: Japan Vegan Town

Makes 20 dumplings
Serves 4


Ingredients

For the dumpling filling
20 dumpling (gyoza) wrappers
2-3 cabbage leaves
30g of chinese chives
1 abura-age
2 tbsp kudzu powder
Salt and pepper
1 tbsp soy sauce
1 tbsp sesame oil

For the soup
1 tbsp vegan dashi soup stock
2 tbsp soy sauce
1 tbsp plum vinegar
1 cup water

For the garnish
Chopped green onions
Sliced ginger
Coriander

Method

Finely chop the cabbage and add salt. Let it sit in a colander for a few minutes, then squeeze out as much liquid as you can.

Chop the chinese chives and abura-age finely and place in a large bowl.

Mix in the cabbage with chinese chives and abura-age. Add the soy sauce, sesame oil and kudzu powder. Mix well and taste. Add salt and pepper if needed.

Take a spoonful of the dumpling filling and place it in the center of a dumpling wrapper. Wet the outer edge of the wrapper, and then fold into the desired shape. Repeat with the remaining fillings and wrappers.

To cook, bring a pot of water to boil. Put the dumplings into the boiling water and stir occasionally until the dumplings float. This shows that the dumpling is now cooked.

To assemble the soup, pour a cup of boiling water into a bowl and stir in the dashi stock, soy sauce and plum vinegar. Stir well.

To serve, place the cooked dumplings in another bowl and ladle in some soup. Garnish with chopped green onions, sliced ginger and some coriander.