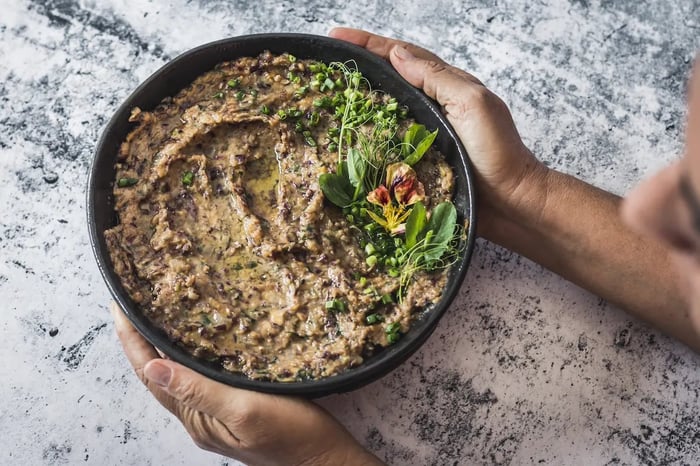 Photo: Chef Cynthia Louise
What makes this bean dip so special? I know it sounds crazy but it almost has a meaty flavour that mostly comes from the beans. You know how there are all sorts of veggie burgers out there made from beans and some of these recipes are actually pretty good and fulfilling. So, it looks like beans do the trick.
Although the recipe is super simple to make, it's also very easy to mess up. Let's start with onions. They should be nicely browned or caramelised because you want the sweetness of onions to enrich the overall flavour of your bean dip.
Now, onions need some time to release their sweetness but once they reach that point, they can burn very quickly. So, you'll need to keep an eye on them and find that sweet spot where you get all onion flavours booming.
The next thing that I found to be crucial for this dip to stay smooth is to keep it moist. The trick here is very simple - you just need to drizzle a generous amount of olive oil on top of your dip. It will prevent the dip from creating the crust on top.
If you do everything right, the end result will be a dip with balanced flavours, freshness or parsley pulling through, just a hint of mustard sharpness, and a wonderful miso. I'm pretty impressed with this recipe if I'm being totally honest!
Serves: 4

Ingredients

2 tbsp olive oil

1 onion, finely chopped

3-4 garlic cloves, finely chopped

200g white beans, cooked and drained

200g red beans, cooked and drained

2-3 spring onions, finely chopped

1/2 cup fresh parsley, finely chopped

2 tbsp miso

1 tsp mustard

Salt and black pepper, to taste

Method

Preheat a pan and add the olive oil along with the onion and garlic.

Season well with salt and pepper and cook until browned.

Stir in the beans, spring onions, parsley, and miso and cook for 3-5 more minutes.

Just before taking it off the heat, stir in the mustard and transfer the mixture to your food processor.

Blend until the ingredients are well combined and the dip has your desired texture.

Transfer to a container, drizzle with olive oil and top with some herbs if you wish.

Let it cool down completely before keeping it in the fridge.