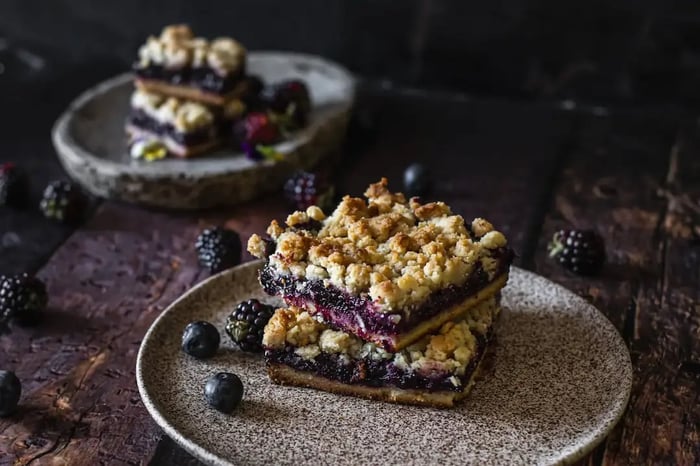 Photo: Chef Cynthia Louise
Black currant and strawberry crumble slice recipe by chef Cynthia Louise
This crumble slice is in honor of my good mate Kate, who grew up in country Victoria playing tennis as a young girl.
Every Saturday the "tennis club ladies" would put on a spread of sandwiches, drinks and sweets for lunch and afternoon tea.
The jam crumble was Kate's favourite and it just made her wild with excitement. She reckons the recipe was probably from one of those old Women's Weekly magazines.
My version tastes just as good, with the timeless combination of flavours, home-made jam and a "biscuity" base.
Here's to childhood memories of growing up in the country. Here's to Kate for nagging me to make this beauty.
Note: The recipe uses a 23cm x 22cm x 5cm rectangle tray.

Makes: 8-12 slices
Prep time: 8-10 mins
Baking time: 30 mins

Ingredients

For the Jam:

300g frozen strawberry

300g frozen blackcurrant

175ml maple syrup

5ml vanilla extract

5g cornflour

15ml water

Crust and Crumble:

300g almond meal

15g cornflour

100ml coconut oil

80ml maple syrup

5ml vanilla extract

A pinch of salt


Method

For the jam:

In a small pot, add in the frozen berries, maple syrup, and cook on a gentle simmer for around 20 minutes while constantly stirring.

In a small bowl, mix the cornflour and water to make a slurry. Add to the simmering berries along with the vanilla, and stir. Cook for another minute.

Turn the heat off and let cool.

For the crust and crumble:

Preheat your oven to 160C.

In a bowl, mix all of the crumble ingredients until well combined.

Separate 250g of the mixture and set aside.

Transfer the remaining mixture to a 23cm x 22cm x 5cm rectangle tray lined with baking paper. Press gently to make a base.

Bake for 10 minutes.

Remove from the oven and add the jam evenly on top. Breakdown and sprinkle the reserved crumble mixture, and bake for another 20 minutes.

Let rest and serve.