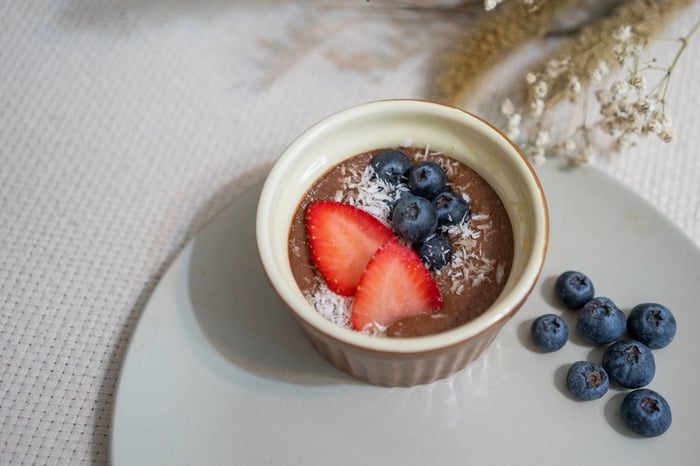 Do you have leftover water/brine (also known as aquafaba) from your can of chickpeas? Perfect! Use it to create this delightfully soft chocolate mousse!
Makes: 2 servings
Active time: 30 mins
Refrigeration time: 6 hours
Ingredients
5g (1 tsp) brown sugar
60g (1/2 cup) aquafaba, cold from the fridge
40g (1/8 cup) dark chocolate (at least 70%)
30g (1/4 cup) plant-based mylk of choice at room temperature
Directions
Place the brown sugar and the aquafaba into a mixing bowl and whip them together till it becomes foamy with stiff peaks (may take awhile with hand).

Melt the chocolate using the microwave or in a bowl over a saucepan with boiling water. Stir the pieces until they melt and reach pourable consistency.

Add a third of your whipped aquafaba into the bowl of melted chocolate while it's warm. Whisk it into a sauce consistency.

Add the plant-based mylk and whisk again to thin the sauce down.

Add another third of the whipped aquafaba. Gently fold them together.

Add the last portion of whipped aquafaba to finish up.

Pour into serving glasses and refrigerate for 6 hours or overnight for better results. Enjoy!