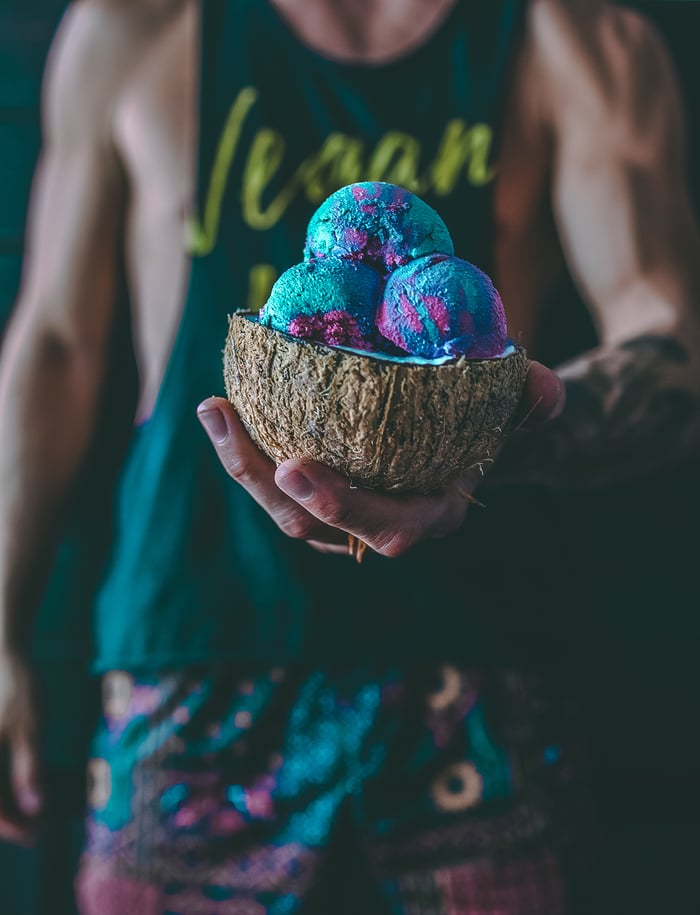 Evening, people. I am back with some more 🦄 love since many of you told me to keep going. This was my first time making ice cream with dates and what a treat it was! I am a medjool date addict and I will eat them till I'm no longer able to chew. Did you know you can make ice cream without an ice cream maker? All you need is a plastic bag, a food processor and a little patience. Enjoy!
Unicorn Cinnamon Date Ice Kreme
Makes: 3 servings
Active time: 30min
Ingredients:
1 can coconut milk (full fat)
1 cup cashews, soaked
1/2 cup plant milk
10 dates
1 tsp vanilla
1 tsp cinnamon
1/8 tsp pink salt
1 tsp blue spirulina*
1 tsp pitaya powder*
1 tsp butterfly pea powder*
* You can experiment with different colors, but if you want the same superfood powders I used, remember to enter the code "rusticvegan15" for a discount when you order from Rawnice!
Directions:
Drain your cashews and rinse under water.
Grab your vitamix or high-powered blender and toss in the cashews and plant milk until thick, creamy consistency.
Now add canned coconut milk, dates, cinnamon, and salt to blender.
Pour the finished mix into 3 separate containers, add a different color to each one and mix, then pour them into 3 separate plastic zip lock bags and place it in the freezer for around 2-3 hours.
Take the frozen mixtures out of the freezer and break them into smaller chunks while still inside the bags.
Empty the broken-up ice cream into a food processor and blend one color at a time.
Scoop a spoonful of each color at a time into a large container, until you run out of all of them. Overlap the colors so it looks like a messy painting palette.
Freeze overnight and you're done!