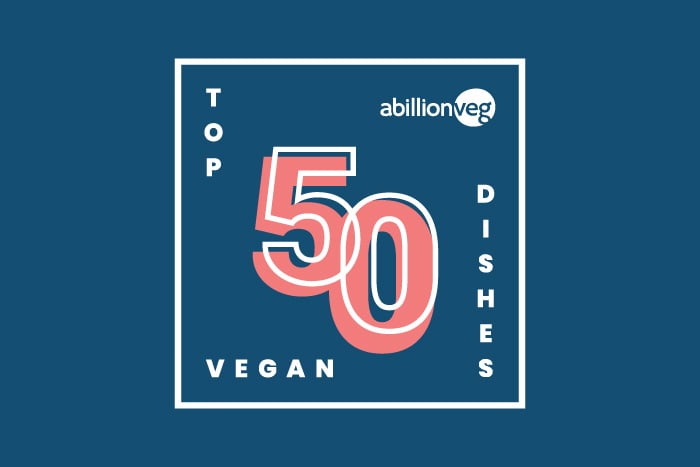 What do Alicia Silverstone, Billie Eilish, Joaquin Phoenix, and Kim Kardashian have in common? They're vegan! Wondering why? Well, researchers at the University of Oxford recently published an analysis studying 40,000 animal farms in more than 100 countries and concluded that going vegan is the best way to contribute to a better environment. In fact, a vegan's carbon footprint is 73% less than for people that eat meat and dairy.
Recently, documentaries like Dominion, The Game Changers, Forks over Knives and Cowspiracy have kickstarted the conversation about our relationship with animals and the environment.
Founded in Singapore in 2017, abillion is a rapidly growing online community with members and reviews in 114 countries. The abillion app makes it easier for people to find and share experiences about vegan dishes and products anywhere they go. To date, about 10,000 vegan dishes from restaurants around Singapore have been reviewed on the platform.
Singapore is a melting pot of cultures and with over 85% of Singaporeans eating out at least once a week, restaurants offer a diverse array of delicacies. In fact, PETA recently crowned Singapore as the second most vegan-friendly city in Asia. Thanks to our members' reviews and ratings we're delighted to present the abillionveg 2020 Singapore Top 50 Vegan Dish Awards!
View the full ranking here.
1. The Best Dish in Singapore: Beyond Sausage Hot Dog - Oasis, Grand Hyatt Singapore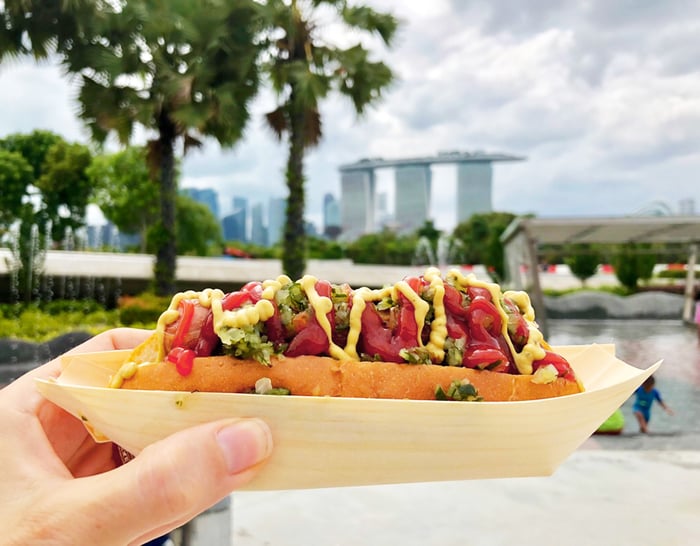 Pic: @s1224 on abillionveg
Grand Hyatt prides itself on obtaining ingredients from sustainable sources. It launched the Beyond Sausage Hot Dog in 2019 as a special food truck offering where it became so wildly popular that it is now a permanent menu item in the hotel's Oasis Restaurant. The Beyond Sausage Hot Dog is made of Beyond Meat and served with a house-made vegan bun, dill-pickled Japanese cucumber, shallots, mustard and cabbage salad, making it an equally tasty yet healthier version of this traditional snack.
Featured member review: "I never thought I would enjoy vegan food but beyond sausage hot dog has completely changed my view. It was amazing :-)))" -@professormao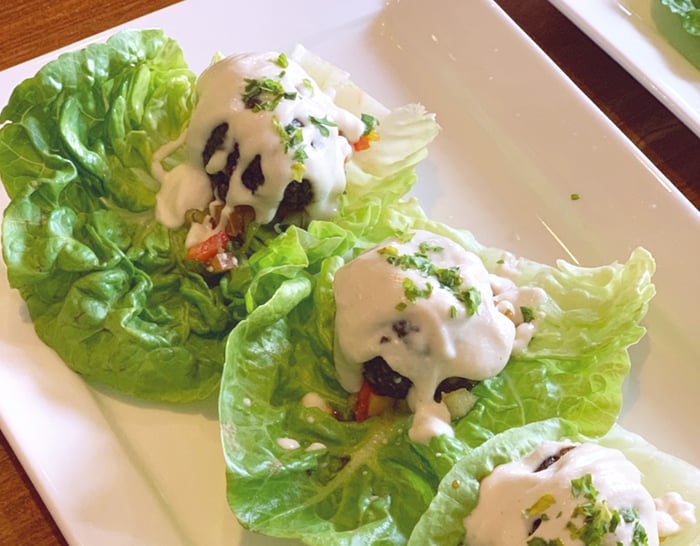 Pic: @jashment on abillion
With a farm-to-table concept, Afterglow by Anglow is a plant-based restaurant that offers a wide range of vegan options. This dish consists of three 'Meat' Balls made from scratch with mushrooms, rolled oats, walnuts, and teriyaki sauce served on top of salsa and romaine leaves.
Featured member review: "Probably the best dish they have in the restaurant! I was thrown by how good these were. Unfortunately, I only had one since I was sharing it but oh boy could I have eaten 10 all on my own!" -@alyrauff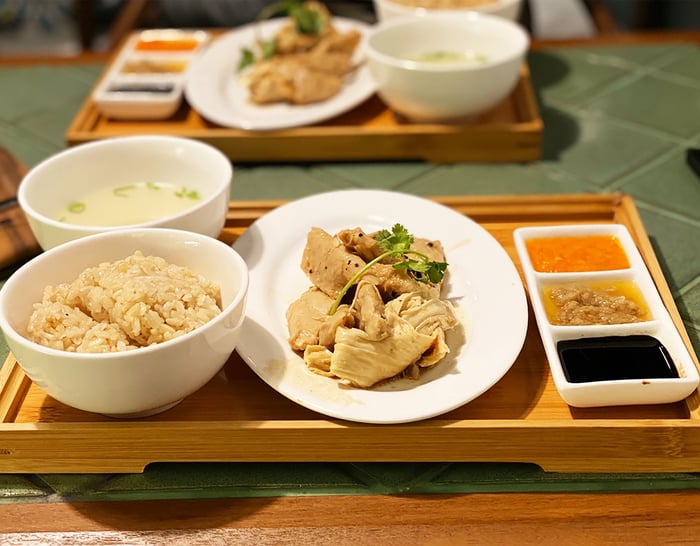 Pic: @lesk on abillionveg
Enjoy happy hour drinks at some of the best locations across Singapore at Privé where they recently launched the Vegan Hainanese Chicken Rice. The chicken rice is served with house-made chilli, dark soy sauce and ginger, and the chicken itself is made with Heura - a chicken alternative from Spain.
Featured member review: "Here is a bowl of chicken rice that won't let vegans feel like they're missing out. The chicken tastes great, a bit too close to chicken 😱 and the set is beautifully presented." -@letusbeheroes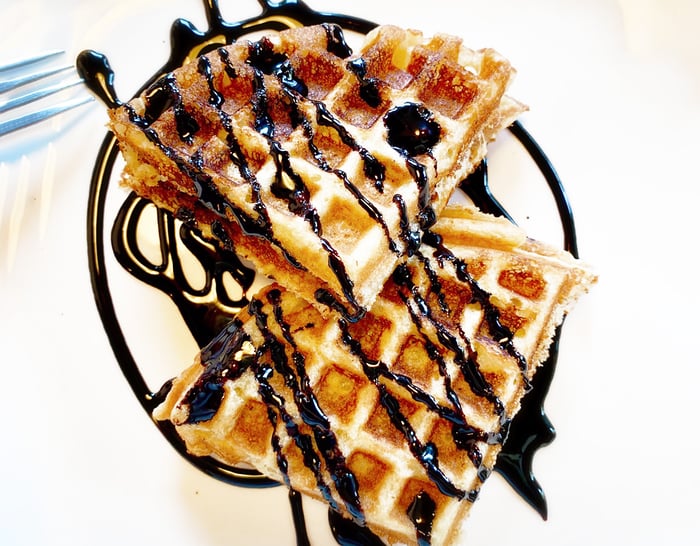 Pic: @thirdlevelvegan on abillionveg
A vegan lifestyle café in Chinatown, Well Dressed Salad Bar & Cafe serves up yummy plant-based meals and fresh-from-the-oven vegan bakes. Their Fluffy Vaffles with Vegan Ice Cream is one of their best offerings; with a choice of one of their fresh house-made ice creams and served with hot vegan waffles, the dish has become a happy place for many of their patrons.
Featured member review: "Had mine with Peanut Butter ice cream. Probably this was the best PB ice cream I've ever had. It had PB chunks inside. 😍 And heyy.... The waffle was amazing. My omni friend said it's the best waffle she has ever had. Soft and crispy. I'm amazed. 🌹🌹" -@dahuq95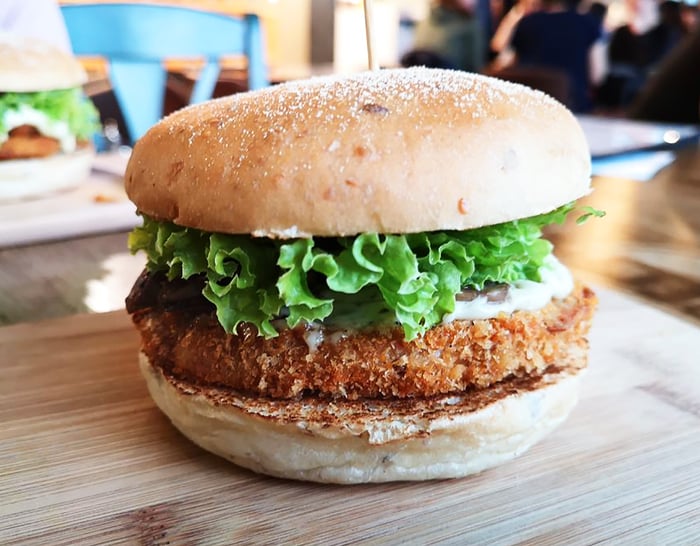 Pic: @raffymabanag on abillionveg
NomVnom's concept of offering modern vegan fast food appeals to vegans and non-vegans alike. Its Lion's Mane Truffle Burger has a patty made from lion's mane mushrooms, a lavish topping of sautéed white mushrooms and truffle mayo between two soft buns.
Featured member review: "Hands down the BEST vegan burger I have ever had so far! incredibly juicy and succulent, the texture is great, sauce complemented the patty so well - it literally melts in your mouth to create an explosion of flavor." -@ashleycwq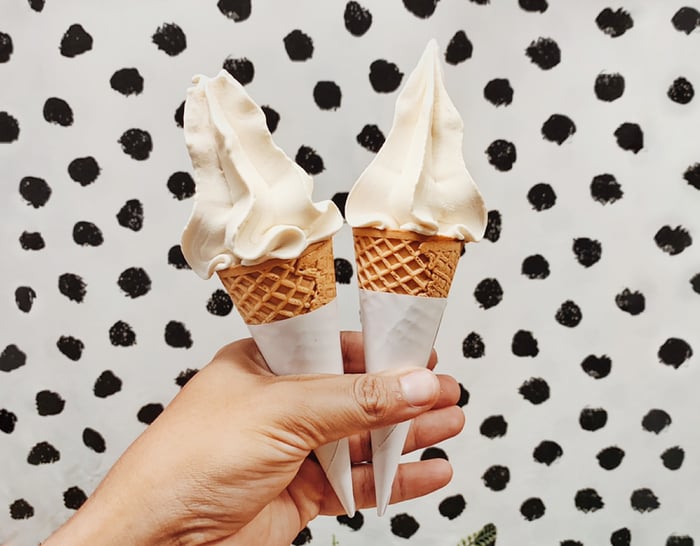 Pic: @dash on abillion
In an effort to contribute to a more sustainable environment, IKEA switched its vanilla soft serve to a soy-based version in August 2018. The new soy soft serve has since become a crowd favorite for being both tasty and wallet-friendly.
Featured member review: "If you're ever having a crappy day and an IKEA's just a stone's throw away, do yourself a favor, get a 50 cent soy cone." -@dankhxnoir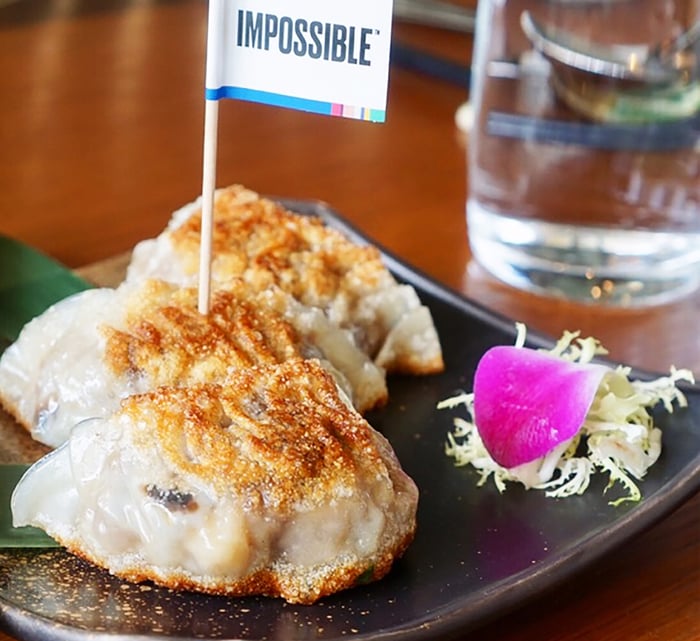 Pic: @morethanveggies on abillion
Located at the Asian Civilisations Museum with an unbeatable view of the iconic Singapore River, Empress is a Chinese restaurant that offers both indoor and alfresco dining. Their super crispy Pan-Fried Impossible Gyoza is generously filled with plant-based Impossible meat and is a hot favorite amongst both vegans and non-vegans!
Featured member review: "These gyoza are hands down the best dish I've had with #Impossible. The fattiness from being fried gives this dumpling the perfect balance of flavor and texture to make it work. I could eat this all day long!" -@mrsgarg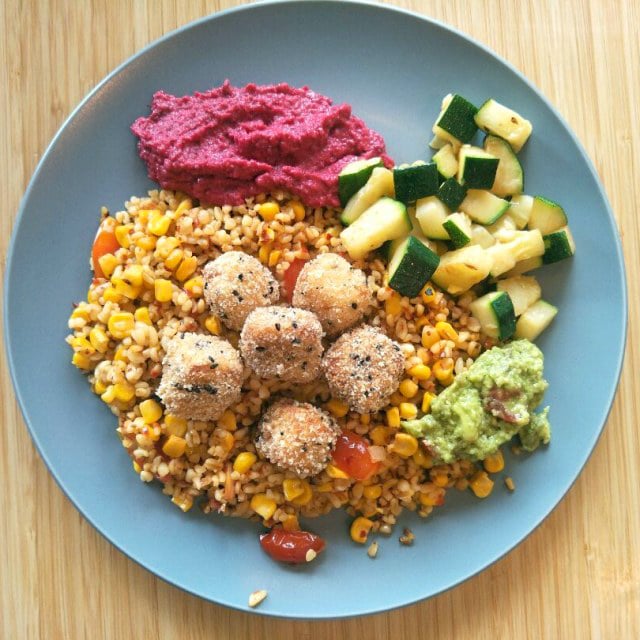 Pic: @lou on abillion
Avorush focuses on developing dishes that revolve around the avocado. With an in-house nutritionist working on all their dishes, Avorush wishes to change the perception that healthy food is boring. Their Build-your-own Vegan Protein Bowl is a crowd-puller. People can choose from a range of grains, proteins, sides, and sauces. That way, everyone gets their meal exactly the way they like. Each bowl even comes with a special Guacamole of the day. A popular protein option is their delicious Cajun Spiced Tofu, which is a must when you order a vegan protein bowl!
Featured member review: "This place revolutionizes the way we think of salads. Every topping offered (except iceberg lettuce) is cooked and seasoned uniquely. Be sure to get the tofu as a protein option and also the beetroot hummus!" -@ridhisanghrajka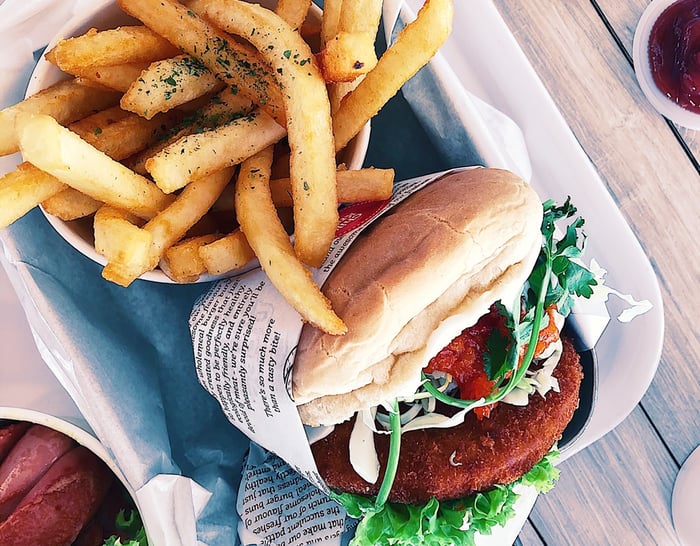 Pic: @sarahcyh on abillion
VeganBurg believes that fast food is not always "junk" food. With outlets in Singapore and San Francisco, VeganBurg serves up appetizing plant-based burgers. Their local favorite is the spicy Chili Krab Burger, which contains plant-based "crab" meat and has a generous filling of fresh greens and house-made sauce.
Featured member review: "My fav burger at VeganBurg is their Chili Krab Burg! Crispy konjac patties that are soft on the inside! Plus their homemade Chili Krab sauce and mayo, BLISS!" -@berbernicee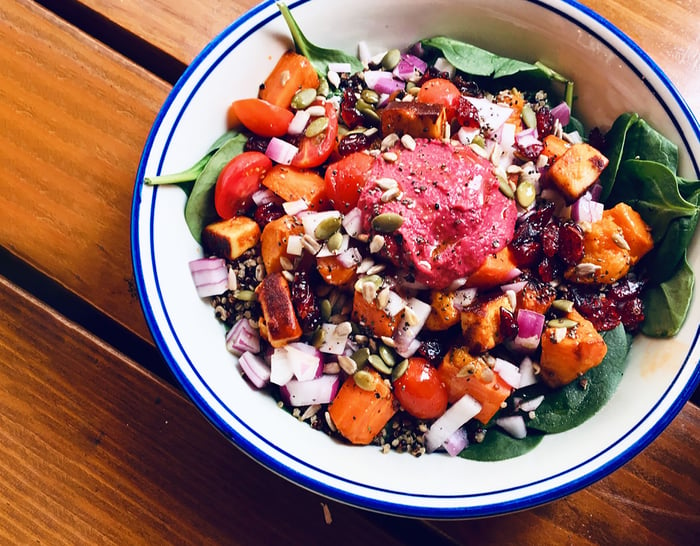 Pic: @herbimetal on abillion
Shake Farm is a healthy hideout café in the Central Business District. They serve salad bowls, smoothies, acai bowls, and many more. Their Veganlicious bowl consists of organic tri-colored quinoa, carrots, squash, cherries, tomatoes, pumpkins, cashew cheese, sunflower seeds and chia seeds served on a bed of fresh spinach leaves. This dish is health in a bowl and doesn't compromise on taste!
Featured member review: "This salad tastes as good as it looks! The star of this dish for me was definitely the cashew cheese, OMG! It's the best vegan cheese I've ever had and I very much prefer it over non-vegan cheese. Salty, smokey and texture is like a soft cheese that's a bit melted." -@sarahcyh
The 50 Best Dishes by cuisine
View the full ranking here.
Best Burgers
Lion's Mane Truffle Burger – nomVnom
A juicy and meaty mushroom patty which comes with a lavish topping of sautéed white mushrooms and truffle mayo.
Chili Krab Burger - VeganBurg
A faithful rendition of an iconic Singaporean dish, this burger is made of plant-based "crab" meat and has a generous filling of fresh greens, topped with house-made sauce. As the locals might say, it's shiok!
QQ Cheezy - nomVnom
Creamy, crunchy, flavourful – all that you would expect from a normal burger and more! Power-packed with taste and textures of a breaded mushroom patty.
Fabelhafter - HANS IM GLÜCK
Not a fan of burgers with patties that taste too similar to meat? The Fabelhafter's delicious wheat patty, topped with luscious avocado cream is the perfect burger for you!
Best Chinese Dishes
Hainanese Chicken Rice - Privé
Flavorful rice infused with lemongrass and ginger served with Heura 'chicken' creates a meal that is light, fresh, and even nostalgic for many Singaporeans.
Pan-Fried Impossible™ Gyoza - EMPRESS
A vegan take on a beloved Japanese staple, Empress' juicy pan-fried gyozas stuffed generously with Impossible meat will have you exclaiming "Oishii!".
Thunder Tea Kolo Mee - 擂茶树 Thunder Tree
Delectable Kolo Mee served with thunder tea, this simple, hearty dish is served with tofu and a variety of vegetables, and is the perfect comfort dish on a cold day.
Vegan Shark's Fin Soup - Eight Treasures
A thick soup with a generous portion of vegan meat, the Vegan Shark's Fin Soup tastes even better than its meat counterpart, without any of the guilt.
Mala - Ri Ri Hong Mala Xiang Guo 日日紅麻辣香鍋
An unassuming place, Ri Ri Hong Mala Xiang Guo serves up one of the best (and spiciest!) vegan Mala dishes around Singapore.
Braised Bean Paste Cabbage with Rice - Nature Café
Simple, hearty, healthy, and tasty, this warm Braised Bean Paste Cabbage comes packed with the goodness of black fungus, beancurd skin, carrots, mushrooms, glass noodles, and many more.
Braised Lion's Head Mushroom Ball with Seasonal Vegetables - LingZhi Vegetarian
Omnimeat combined with Lion's Head mushrooms and served with an insanely delicious sauce, this dish will satisfy all your "meaty" cravings.
Mini Fried Potatoes (叫花土豆) - Chengdu成都
Bite-sized fried potatoes served with an amazing Sichuan garnish, beware of eating this dish, as no other tater tots will match up!
Double Flavour Broiled Mock Pig - Miao Yi Vegetarian Restaurant
Varied textures of each layer of mock meat add to the complexity of flavors, especially when paired with fresh and crunchy lettuce.
Steamed Vegetarian Dumplings - Din Tai Fung
Stuffed with glass noodles, veggies, and mushrooms, these dumplings are light, fresh, and flavorful.
Handmade Dumpling with Dry Ramen (手工水饺干捞面) - Vege Pot 素砂煲
Veggie and mushroom stuffed dumplings served with noodles and a bowl of refreshing vegetable soup, this dish makes for a healthy and nutritious meal.
Best Desserts
Fluffy Vaffles with Vegan Ice Cream - Well Dressed Salad Bar & Cafe
A choice of one of the cafe's fresh house-made ice creams is served with hot vegan waffles, guaranteed to warm your soul.
Soya Ice Cream - IKEA Bistro
This soy ice cream from IKEA is a favorite as it is creamy, cheap and refreshing - what more can we ask for?
Vegan Coconut Chocolate Cake - Mezza9, Grand Hyatt Singapore
Moist, light and chocolatey…everything that a cake needs to be and more!
Açaí Soft Serve - Coocaça
An açaí bowl with a variety of toppings, it's rich and smooth that many are surprised it does not contain dairy!
Blue Planet - Kind Kones
This pastel blue ice cream is bound to catch everyone's eye, especially since it's made with butterfly pea, coconut cashew cream and even has matcha cake chunks!
Best Fusion Dishes
Teriyaki 'Meat' Balls - Afterglow By Anglow
Afterglow's delicious Teriyaki 'Meat' Balls are lovingly handmade from the freshest mushrooms, rolled oats and walnuts. Pop one of these in your mouth and send your tastebuds to a galaxy of umami flavors!
Afterglow Kimchi Avo Rolls - Afterglow By Anglow
Delectable grain-free Kimchi Sushi topped with avocados, this dish tastes just as good as it looks!
Mushroom & Fennel Omnimince Pizza - PizzaExpress
Omnimince flavored with fennel, oregano, and water chestnuts topped up with vegan mozzarella, passata, black truffle, button mushrooms, garlic oil, and rocket: all in all, this pizza makes for an amazing treat!
Best Indian Dish
Mutton Masala - Gokul
Meaty and spicy marinated "lamb" chunks dunked in masala gravy, this is a go-to dish for your spicy Indian food cravings.
Best Japanese Dishes
Vegan Mazesoba - Menya Kokoro Singapore
Can't decide between noodles and salad? Menya Kokoro's Vegan Mazesoba combines them both with an ample quantity of sauce to balance the meal!
Veganized Avocado Roll Maki - Herbivore
Crunchy sushi topped with eggless mayo and buttery avocados; this is by far one of the best vegan sushi around.
Best Korean Dish
Kimchi Jjigae (Spicy and Sour Kimchi Stew) - The Boneless Kitchen
If you like your meals spicy, The Boneless Kitchen's Kimchi Jjigae, served with enoki, tofu, seaweed, sweet potato noodles and radish, is the meal for you!
Best Middle Eastern Dishes
The Shakshuka - Well Dressed Bar and Café
Shakshuka without eggs? Try this vegan Shakshuka with an egg-like tofu mixture and you will be left wanting for more.
Falafel Wrap - Urban Bites
Served with creamy garlic dip, this Falafel Wrap comes packed with crunchy falafels, pickled peppers, cabbage, and even avocados!
Best Salads and Bowls
Vegan Protein Bowl - Avorush
A burst of colors on your plate! Choose from an array of grains, sides, proteins, and sauces. Make sure to try the crispy-on-the-outside-gooey-on-the-inside cajun spiced tofu!
Veganlicious - Shake Farm
Try and ask for extra helpings of the decadent cashew cheese. It ties an already impressive salad together and makes it punch above its weight in tastiness.
Vegan Buddha Bowl - Simple Lifestyle Healthy Vegetarian Café
Aromatic basmati rice served with a melange of vegetables, this Asian buddha bowl satisfies the soul.
Veganized Kale "Waldorf" Salad - Blue Label Pizza & Wine
A mountain of fresh kale and juicy grapes mixed with crunchy fried onions, cashews, and served with tofu miso dressing, this salad will ensure your taste buds will be left craving for more!
Buddha Bowl - Soul ALife
Served on a bed of warm quinoa, the vibrant colors of the ingredients from beetroot hummus to spiced cauliflower, this Buddha bowl is like a party on your plate.
Revitalizing Mix Fruit Vegetables and Salad - SUFOOD
A beautifully presented dish from SUFOOD's four-course menu, this dish looks like a dessert but has all the benefits of a salad.
Beyond Me - SaladStop!
A bowl of delicious goodness that has everything - a Beyond Meat patty, warm spicy chickpeas, crunchy edamame, fresh cherry tomatoes, sweet corn, beetroot, cucumber pickle, Japanese miso, and red pepper hummus - packed with nutrition and bursting with flavor.
Best Southeast Asian Dishes
Lor Mee - Mummy Yummy
A bowl of warm noodle soup topped with a perfect combination of tofu and crispy spring rolls. This dish is available only on Mondays, Wednesdays, and Fridays.
Vegan H.A.L.T - The Rebel Gurl
Nestled between two lightly toasted vegan buns, a spicy Quorn patty is topped with fresh avocadoes and tomatoes making this sandwich spicy, tasty, and all kinds of wonderful.
Penang Rendang - Whole Earth
This spicy, flavorful, juicy mushroom curry wins the hearts of all those who have tried it.
Signature Laksa Noodles - GreenDot
A vegan take on a classic Singaporean favorite, the laksa at GreenDot is so close to the non-vegan version, you won't be missing anything!
Pho Vegetarian Brown Rice Noodle - NamNam Noodle Bar
This hearty pho base is served with the delicious goodness of mock seafood, beancurd, tofu, vegetables, and much more.
Best Western Dishes
Beyond Sausage Hot Dog - Oasis, Grand Hyatt Singapore
This Beyond Sausage Hot Dog is happiness in a bun! It has all the perfectly smokey and meaty flavours of a traditional hot dog, you would never believe it is entirely plant-based.
Battered Banana Blossom and Chips - The Line, Shangri-La Hotel Singapore
Curated by Chef Damian Piedrahita, Shangri-La Singapore's in-house plant-based chef, Battered Banana Blossom and Chips tastes heavenly. The dish comes with a marinated and fried banana flower and is served with vegan tartar sauce and french fries.
Truffle Porcini Funghi Pizza - Smoocht
This pizza, topped with two types of mushrooms: porcini and king oysters, is served with vegan cheese and truffle oil. Funghi never tasted so good!
Lasagne - Genesis Vegan Restaurant
A wholesome meal full of the goodness of lentils and cashew cheese served with salad greens and vegan mayo.
Mushroom Soy Carbonara - Real Food
This creamy pasta, sautéed with garlic mushrooms served in a delicious vegan carbonara sauce, is light and enjoyable.
Zucchini Lasagne - The Living Cafe
This one is for vegans and raw vegans alike; it's filling and has home-made vegan cheese poured generously on top!
Dough Balls 'PizzaExpress' - PizzaExpress
These Pizza Express dough balls are perfect for that carb fix. A single portion is served with an eggplant dip, and the double portion comes with eggplant, sundried tomato, and walnut dip.
Duo Ravioli Platter - Joie
Spinach and pumpkin ravioli served over a base of edible bubbles, this dish is a favorite of young and old alike!
Californian - Wild Honey
One of the offerings from Wild Honey's vegan menu, this dish of silky soft tofu scramble with Sriracha, eggplant 'bacon' and bell peppers is reminiscent of an Asian stir-fry and is sure to tantalize those taste buds!
Congratulations to all the winners of the abillionveg 2020 Top 50 Dishes Awards! We thank you for supporting the community by offering delicious, healthy and attractive dishes and showing everyone that amazing vegan options exist. We also want to thank all our members for sharing their reviews; you have helped the community discover the best plant-based dishes. We'll continue to make it easier to be vegan and support businesses that are taking an active step towards sustainability. Did we feature your favorite dishes in this list? Tell us more in the comments below.