With an average of 150 days of sunshine a year, Seattle has an unfortunate and notorious reputation for sleepy gray skies and incessant rainfall. Its climate is mild and temperate year-round, making it possible to enjoy Seattle's sweeping views, diverse landscapes, vibrant city-life, and of course, its thriving food scene on any given day.
If you've already covered the standard tourist hotspots – Pike's Place, Market Theater Gum Wall, Olympic Sculpture Park, the Underground Tour, the list continues – the next best way to embrace the real Seattle experience is through an exploration of its neighborhoods and the unique plant-based options housed within each. This neighborhood food guide is a sampling of the many neighborhoods around the city and an attempt to capture the city's best local eats and a delectable array of plant-based variety. Come, let's venture to the city's nooks and crannies and eat our way across Seattle like locals.
CAPITOL HILL
If you're trekking between neighborhoods on foot, remember that Seattle is not flat and that Capitol Hill indeed sits on a hill. This pride-friendly center embraces individuality and self-expression, its values carried across the neighborhood from the rainbow-colored cross-walks and flags to signs supporting non-discrimination across all identities on almost every storefront.
If you're entering from downtown, check out East Pike Street or East Pine Street for great restaurants, bars and clubs, coffee shops, and ginger beer – a Seattle specialty. Dip into Neumos for live indie music or Sonic Boom Records for music you can bring home. Book lovers can find comfort in Elliot Bay Book Company, a reader's paradise and coffee connoisseurs can check out the Starbucks Reserve Roastery – don't worry about it being a tourist trap, it's not your typical Starbucks storefront.
As you continue north on Broadway Street toward Volunteer Park and Bruce Lee's Grave Site, you'll find yourself on the main stretch of Capitol Hill immersed in foodie haven. Mom-and-pop, fast-casual, sit-down…Capitol Hill has it all. Nestled blocks away from this main strip you'll find a small Malaysian inspired restaurant, Kedai Makan.
#1 Kedai Makan (Omni)
Nasi Goreng with Tofu (without egg)
Claiming to not replicate "your mom's food," Kedai Makan's non-traditional take on Malaysian cuisine leaves even the unfamiliar palette with something to hold onto. Introducing both authentic and creative takes on the fare, individuals craving flavors that are surprising yet work well together will find something they crave here. While the menu states, "no substitutions, please," it's possible to make a few of the vegetarian dishes plant-based by removing the egg. If you're looking for bold flavors, something distinctive, and a spot that has individuals and groups waiting out the door (read: it's hip but also well worth the wait), this spot is a must.
Check out other dishes and reviews of Kedai Makan.
Kedai Makan, 1802 Bellevue Ave, Seattle, WA 98122, USA
Honorable Mentions in Capitol Hill:
MADISON VALLEY
Primarily defined by its strip of award-winning restaurants and chefs, Madison Valley sits below Washington Park Playfield and Arboretum. On a sunny day, take a gentle stroll through the verdant park or grab one of the city bikes to explore the various trails. If you've never been to Japanese gardens before, the Seattle Japanese Garden is well worth the nominal fee. The Japanese architecture feels unlike most architecture across the United States and the gardens sport a variety of vegetation and flora, both of which transport you to a faraway paradise, just like Café Flora.
#2 Café Flora (Vegetarian)
Café Flora embodies healthy plant-based eating from its artistic take on vegetarian cuisine to its well-lit and rustic interior. Great for a special occasion or a sit-down brunch or dinner, Café Flora will leave you feeling immersed in a nature retreat – its lush garden bedding, indoor stone fountain, even the Michael Pollan quotes on the bathroom walls. The entire experience feels like an escape, but for an extra special meal try and grab a seat in the tall-windowed atrium.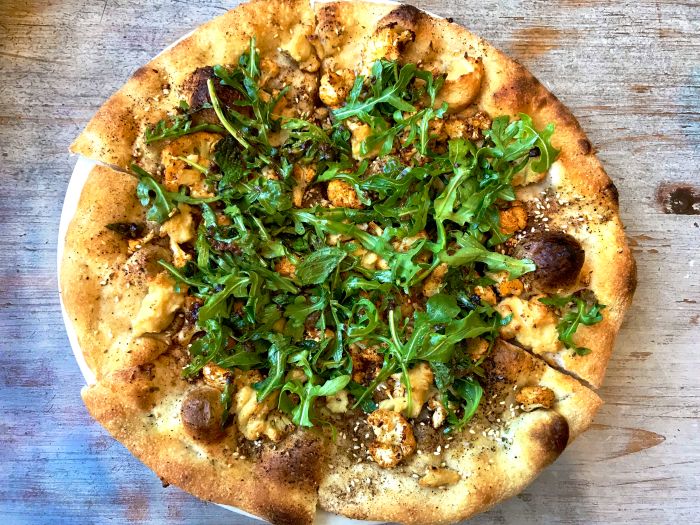 Cauliflower Za'atar Pizza. Available gluten-free and/or vegan.
While almost any item is a safe bet at Café Flora, the cauliflower za'atar pizza stuck out as a particularly novel dish. The harissa spiced cauliflower and chili oil brought a wholesome element to the dish. The caper currant vinaigrette, arugula, and mint brought brighter, refreshing, and lighter notes.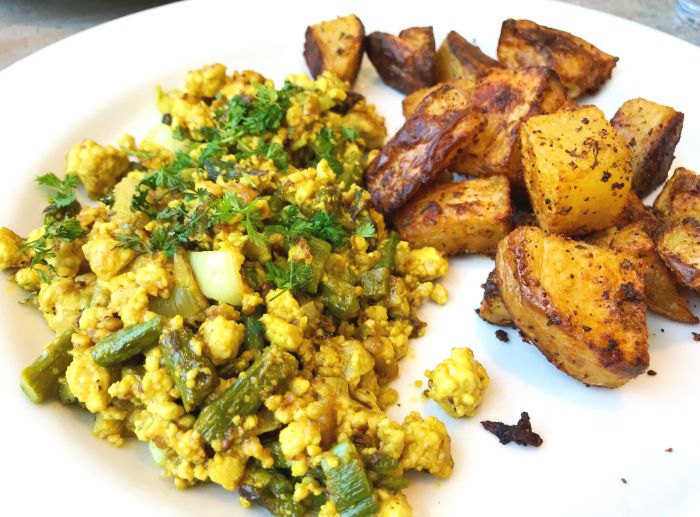 Spring Asparagus Scramble. Available gluten-free and/or vegan.
Offered with either egg or tofu, the spring asparagus scramble is incredibly delicious and a bold take on the traditional scramble. If you make it for brunch, this item will not disappoint. And say goodbye to unseasoned roasted potatoes that need hot sauce to mask their bland preparation – Café Flora has figured out the magic to both pair their entrée with a delicious complement and make the potatoes stand-alone fantastic.
Though a vegetarian restaurant – with many gluten-free and vegan options – Café Flora's take on food can induce a new-found appreciation for delicious, sustainable produce for omnivores as well.
Check out other dishes and reviews of Café Flora.
Café Flora, 2901 E Madison St, Seattle, WA 98112, USA
UNIVERSITY DISTRICT
University District is often defined by the campus that lives within it – the University of Washington. If you're in the area, take a stroll around the quaint college neighborhood, a retreat for students and locals alike. Check out the Quad or Denny Yard and surround yourself with the beautiful architecture rooted in the 1909 Alaska-Yukon Exposition. If you're around in March or April, you might even catch the cherry blossoms in full bloom. You'll find tourists flocking from across the country and locals laying out for picnics, playing frisbee, conducting photoshoots, and even taking drone photography. If you're around for game day watch some Husky football, or during the off-season check out the U-District farmers market. When you leave campus, head to "The Ave" (University Way Northeast) to poke into many restaurants, bars, coffee shops, and historic theaters. On the other side of campus is University Village, a popular mall complex easily accessible to students and locals. Here, nestled amidst a string of shops that feel reminiscent of suburbia, you'll find Din Tai Fung. Don't knock this restaurant because it's situated in a mall– its Hong Kong branch received a Michelin star.
#3 Din Tai Fung (Omni)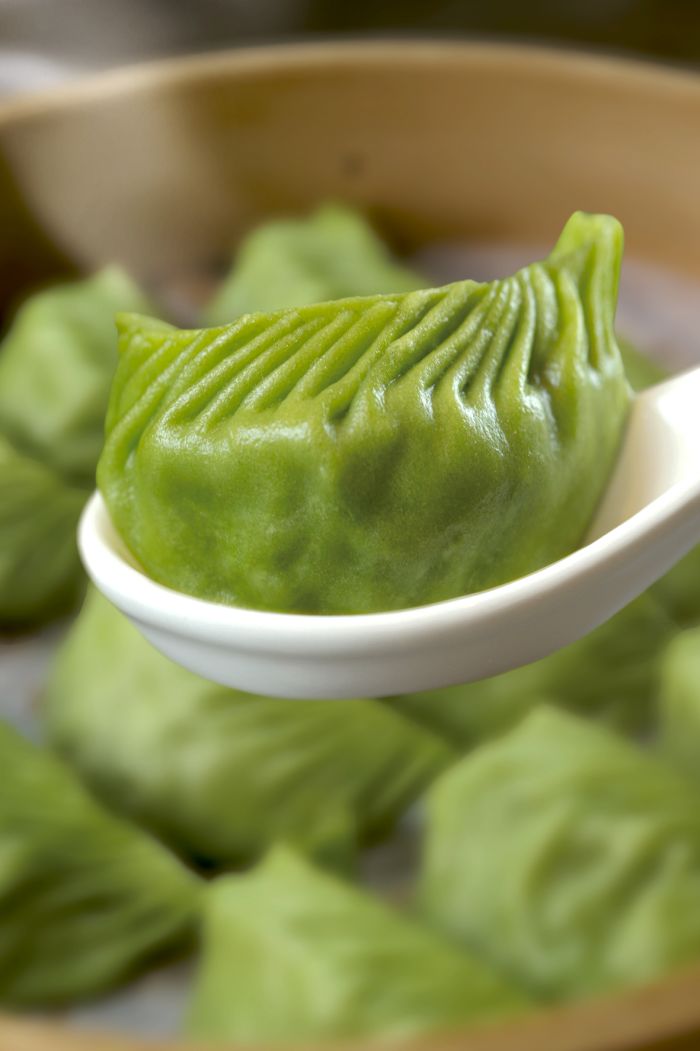 Vegetarian Dumplings
Finding plant-based dumplings within a city or even in its Chinatown isn't an easy endeavor. In Seattle, however, Din Tai Fung takes the cake on this front. Originally a Taiwan-based cooking oil retail shop, Din Tai Fung has now expanded internationally as a premier soup, dumpling, and noodle restaurant. For omnivores, this restaurant offers many items from soup and steamed dumplings to fried rice, buns, and noodles. But even for vegans, this restaurant offers many delightful dishes that can be shared. For almost every section of the menu, you can look forward to at least one plant-based option.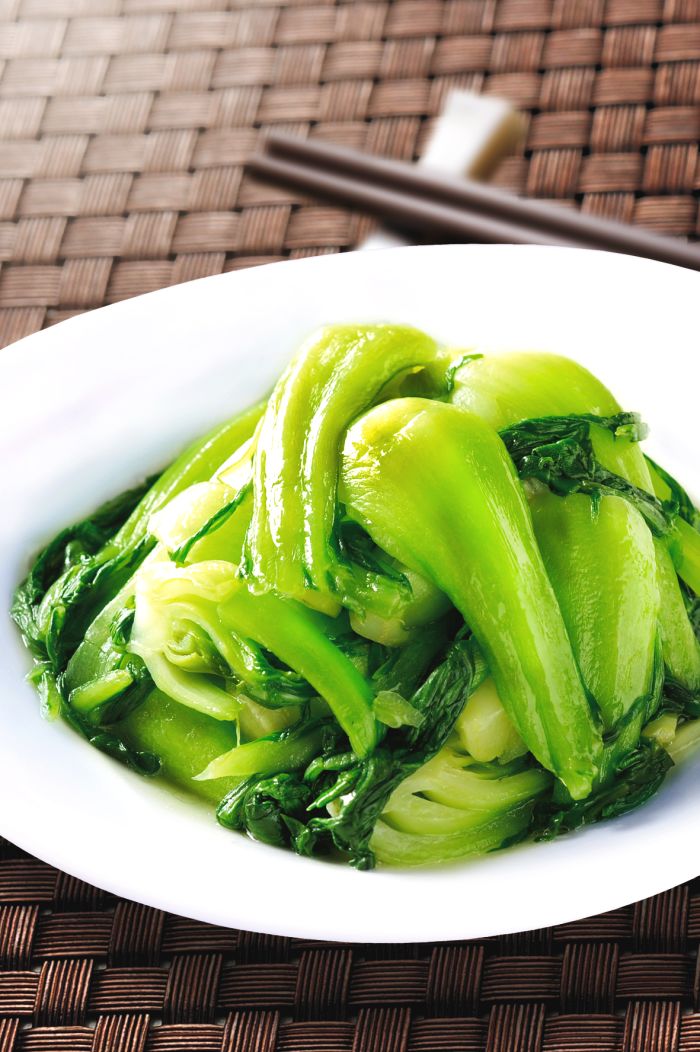 Sautéed Bok Choy
Typically, simple greens like sautéed string beans and bok choy would never make the cut as a favorite dish at a restaurant. But, the preparation of these greens took me back to China. The vegetables served there are crisp from high heat and are doused in umami and savory flavorings. If you're like me when looking at the "Greens" portion of the menu and think, "I could make that at home," trust me on this – these are heavenly. Not only that, share them with your omnivorous friends. I guarantee that if you enjoy robust, savory dishes, these simple items will transport you to another world and leave you wishing you knew how to make all veggies taste this way at home.
Check out other dishes and reviews of Din Tai Fung.
Din Tai Fung, 2621 NE 46th St, Seattle, WA 98105, USA
Honorable Mentions near University District:
FREMONT/GREEN LAKE/WALLINGFORD
Given its central location north of downtown, Green Lake makes for a perfect sunny day stroll. Even on a weekday, you will find this destination packed with bikers, walkers, runners, and children playing by the water and along the 2.8-mile track. The Green Lake Library and The Bathhouse Theater can also be found nearby.
Wallingford and Fremont are minutes away from Green Lake. Here you'll find popular attractions like the troll under the bridge (the Fremont Troll) and Theo Chocolate (the first organic and fair-trade chocolate factory in North America). If you're looking for a unique experience that blends the natural and urban world, check out Gas Works Park. Plan to lay in the grass and relax on the hill with Seattle's locals. Watch the sunset over the bridge and dip behind the city while you take in the shimmer of Lake Union. If you catch Gas Works at night, you'll be gifted with the resplendence of Seattle's cityscape, painting the lake brightly even in the darkness.
You can always plan a picnic on Green Lake or at Gas Works Park, but don't forget to check out Pablo y Pablo on your way, just around the corner.
#4 Pablo y Pablo (Omni)
This sleek and inviting restaurant provides a refreshing take on traditional Mexican flavors. Finally, we found a place that offers inventiveness in its plant-based dishes that extend beyond the Tex-Mex burrito and grilled vegetables. I love the occasional Tex-Mex burrito, but it's refreshing to see the diverse spread of plant-based options. Depending on the meal – lunch, happy hour, or dinner – you will find their menu teeming with at least a few different plant-based choices including a spread of tacos (seasonal veggies, charred broccoli, or vegan chorizo), the vegan chorizo burrito, classic Mexican sides like guacamole, and vegan nachos served with cashew cheese.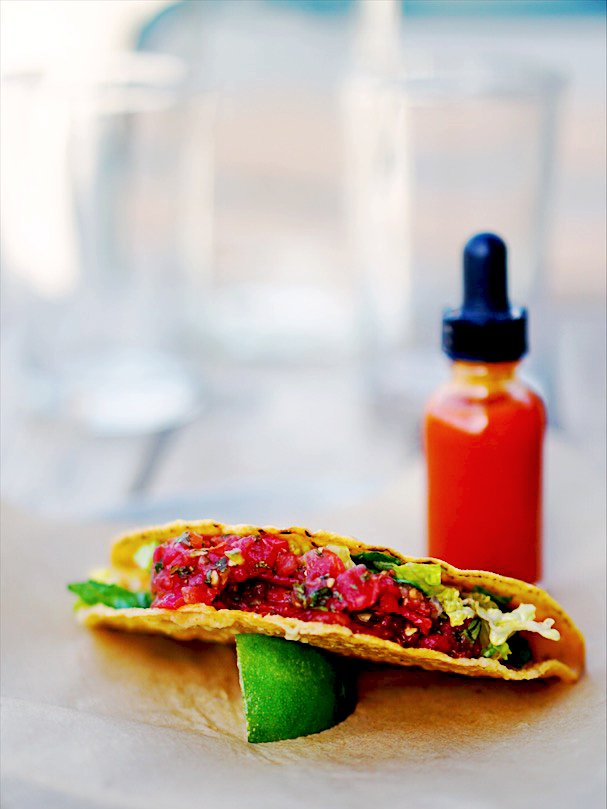 Vegan Chorizo Taco
While the burrito was satisfying and filling with its vegan protein, the tacos at Pablo y Pablo seemed to strike a perfect balance of texture and flavor. The charred broccoli provided a tantalizing crunch, the pickled fresno and cascabel salsa provided acidity and brightness next to the cashew cream sauce. Compared to the burrito, the vegan chorizo tacos seemed to strike a similar balance to the charred broccoli tacos in terms of ingredients, including roasted jalapeño salsa to cut the heartiness of the soyrizo.
Pablo y Pablo features a great happy hour menu throughout the week. It goes from 3 to 6 p.m. Monday through Friday and 3 to 4 p.m. on Saturday and Sunday.
Check out other dishes and reviews of Pablo y Pablo.
Pablo y Pablo, 1605 N 34th St, Seattle, WA 98103, USA
Honorable Mentions near in Green Lake:
BALLARD/LOYAL HEIGHTS
This bustling neighborhood north of downtown is a foodie's paradise. If you're in the area, walk down Market Street, Leary Avenue, and Ballard Avenue to get a taste of the neighborhood. Window shop or poke your head into dozens of local, boutique storefronts. Stroll past Majestic Bay Theater or browse the books at Secret Gardens bookstore. You'll notice tea houses and specialty coffee shops flooding the neighborhood – grab a coffee or an oat-milk chai as you wander. If you're around on a Sunday, visit the Farmers Market – open year-round – and grab samples, support local artisans and farmers, or grab a bite at any of the stalls or food trucks. On a rainy day, post up at Café Mox – a board game sanctuary enjoyable for both children and adults alike.
Not too far from the main strip, the popular Hiram M. Chittenden Locks allows boats to traverse fresh and saltwater. If you walk along the water near Ballard, you'll still find traces of its Scandinavian history.
For access to some of Seattle's local nature scene, you can bike, drive, or even run to Discovery Park or Golden Gardens Park. Remember to wear the right shoes, as parks in Seattle often include beaches, lakes, and views of mountains…it's a whole new definition for city parks.
#5 Café Munir (Omni)
This elegant Lebanese restaurant sits tucked away just north of Ballard and minutes from Golden Gardens Park. The environment is inviting, the staff friendly, and the food absolutely delightful. Many Middle Eastern cuisines offer a number of plant-based options, and having grown up near Dearborn, Michigan – a haven of Middle Eastern food – this recommendation doesn't come lightly. Every dish at Café Munir felt fresh, bright, and balanced, and each bite I took left me longing for more.
Hummus is purchasable at almost any grocery store but let Café Munir redefine this universally loved food for you. A twist on the classic hummus, this creamy, rich rendition is topped with crisp and savory garlic and chickpeas.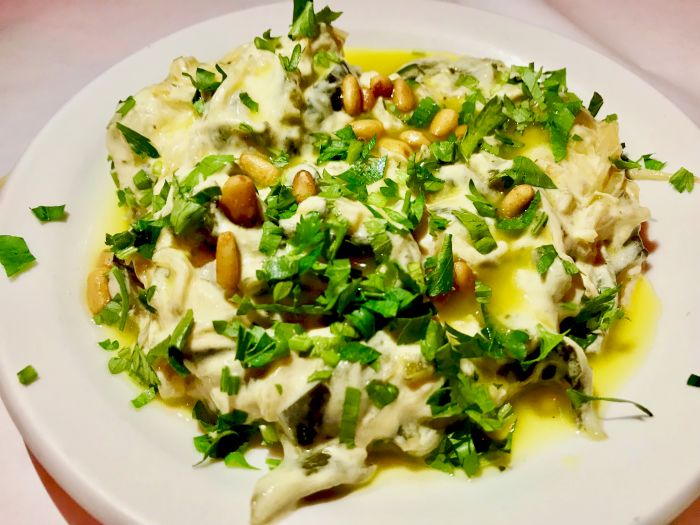 Mukhaddara
The Mukhaddara is another of many plant-based options on the menu. It is centered on poblano peppers. Many other dishes also use vegetables as their focal points, from cauliflower and eggplant to onions and beets.
Though not pictured above, the Mudardara – a lentil and rice dish – is a solid plant-based entrée besides the countless delectable mezze.
Check out other dishes and reviews of Café Munir.
Café Munir, 2408 NW 80th St, Seattle, WA 98117, USA
Honorable Mentions near in Green Lake:
This neighborhood food guide is the start of exploring Seattle's favorite plant-based food. It's a city filled with restaurants that have embraced sustainable practices by partnering with local farms, using seasonal produce, and inventing irresistible plant-based dishes. Across its diverse neighborhoods, Seattle weaves together a vibrant food culture, drawing crowds from across the world. Will you come to join us for a bite?