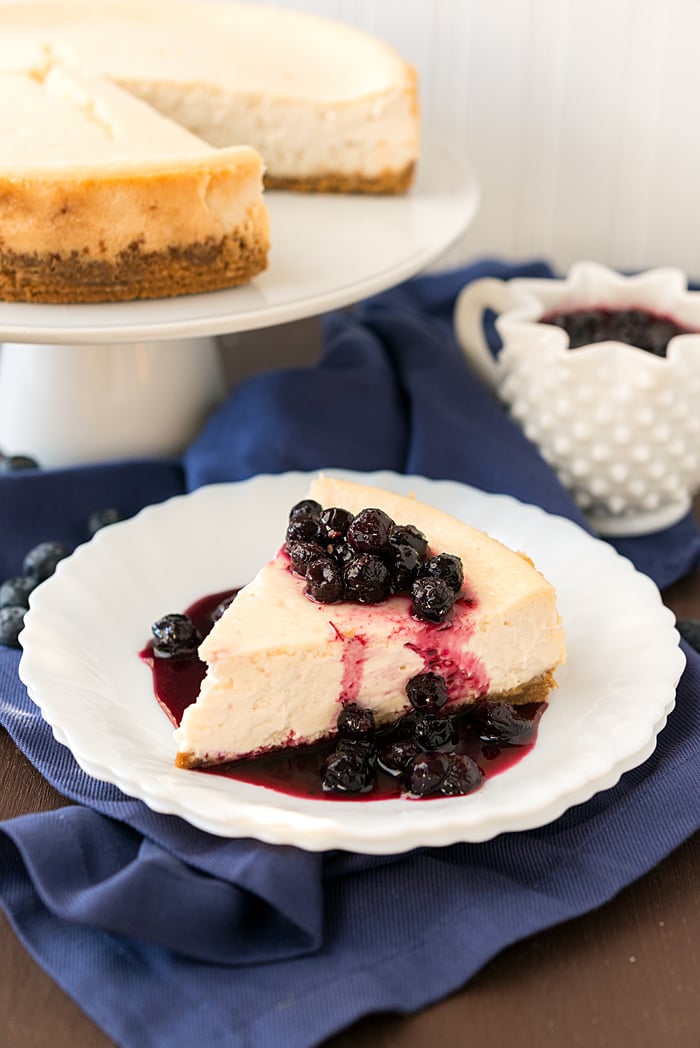 Cheesecake is one of the most iconic New York City desserts. New York–style cheesecake is unique in that it relies on heavy cream and sour cream to make it thick and dense. Many New Yorkers who move away from the area often have relatives send them frozen cheesecakes so they can have a taste of home. Try it topped with some homemade blueberry sauce. (From NYC Vegan, copyright © 2017 by Michael Suchman and Ethan Ciment. Used by permission. Photo by Jackie Sobon.)
To check out more recipes from VeganMos, pick up a copy of their recipe book NYC Vegan!
New York Cheesecake
Serves: 8 to 10
Active Time: 1hr
Ingredients
1 1/2 cups graham cracker crumbs
1 1/2 cups sugar
1/2 cup nondairy sour cream
4 (8-ounce) containers nondairy cream cheese, softened
4 tbsp nondairy butter, melted
3 tbsp unbleached all-purpose flour
2 tsp lemon juice
2 tsp vanilla extract
2 tbsp Ener-G Egg Replacer
Pinch salt
Directions
Preheat the oven to 350°F. Lightly spray the bottom and sides of a 9-inch springform pan with nonstick cooking spray and set aside.
Combine the graham cracker crumbs and butter in a large mixing bowl and mix well with a fork. Use your fingers to press the mixture firmly and evenly into the prepared springform pan until it is a solid, packed 1/4-inch layer of crust lining the bottom and slightly up the sides of the pan.
Bake the crust for 10 minutes. Remove it from the oven and allow it to cool before filling.
Combine the cream cheese, flour, lemon juice, sugar, vanilla, and salt in a large mixing bowl. Mix well, either with a handheld electric mixer or stand mixer, on medium speed until fully combined and the sugar is dissolved, about 3 minutes. The batter should be completely smooth. Beat in the sour cream and egg replacer on low speed until well blended.
Pour the batter into the partially baked crust and bake for 15 minutes. Reduce the heat to 250°F and bake for 40 to 60 minutes, until the center is set but still a little jiggly. Turn off the heat and let the cheesecake rest for 30 minutes in the oven.
Remove the cheesecake from the oven and let it cool in the pan on a wire rack for at least 30 minutes. When the cheesecake is cool, run a knife carefully around the side of the cheesecake, but do not remove or release the side of the pan. Put the cheesecake in the refrigerator, uncovered, for at least 4 hours (preferably overnight).
When ready to serve, carefully run a knife along the side of the cheesecake to loosen it and remove the side of the pan.
Leftovers can be stored in the refrigerator for up to 5 days.