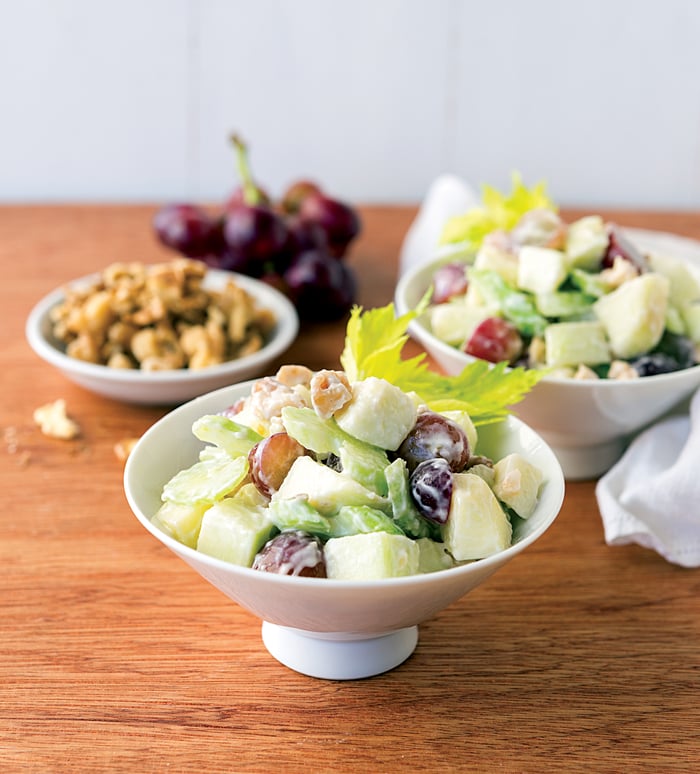 Oscar Tschirky created this salad sometime between 1893 and 1896 at the Waldorf Hotel, the precursor of the now Waldorf-Astoria Hotel, in Midtown East. From NYC Vegan, copyright © 2017 by Michael Suchman and Ethan Ciment. Used by permission. Photo by Jackie Sobon.
To check out more recipes from VeganMos, pick up a copy of their recipe book NYC Vegan!
Waldorf Salad
Serves: 4
Active time: 20 mins
Ingredients
1/2 cup non-dairy mayonnaise
1 tbsp sugar
1 tsp lemon juice
1/8 tsp salt
3 medium Gala, Fuji, or other red sweet apples, peeled, cored, and cut into 1/2-inch pieces
1 cup thinly sliced celery
1/2 cup chopped walnuts
1 cup seedless red grapes, halved
Method
In a medium bowl, whisk together the mayonnaise, sugar, lemon juice, and salt. Stir in the apples, celery, walnuts, and grapes. Chill until ready to serve.