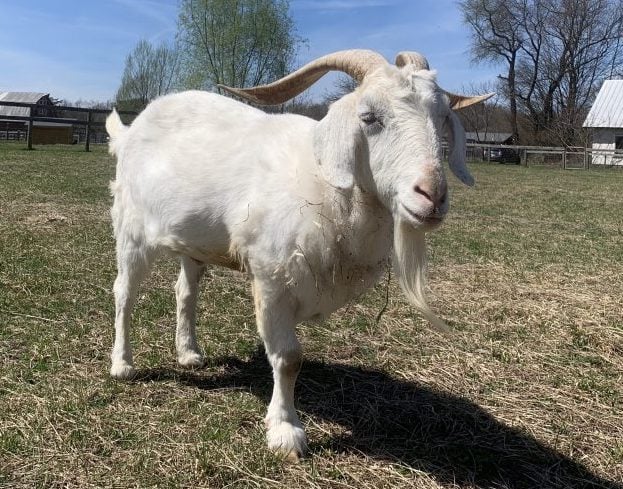 Photo: Albie
Albie is no ordinary goat. He's a famous goat. Not too long ago, he was featured on the cover of The New York Times after being rescued from a Brooklyn slaughterhouse.
Today, he lives with the kind folks at Woodstock Farm Sanctuary in High Falls, New York.
As soon as he arrived, Albie needed special attention. He was underweight, malnourished and infected with the worst case of Orf that the sanctuary staff had ever seen. It's a condition in which lesions cover the mouth and nose, making it painful to eat. His left leg and hoof were also infected.
Before his rescue, he was believed to have been hogtied – his legs tied tightly together – which is a routine way of transporting young goats intended for meat. The lack of circulation caused a large portion of his hoof to come off, exposing soft tissue that was painful to walk on. After weeks of treatment, Albie got better but the lower portion of the infected leg had to be amputated. Today, he is a healthy three-legged goat living a peaceful life with other animals.
Since 2004, Woodstock Farm Sanctuary has been rehoming ill-treated farmed animals. They have rescued and rehabilitated over 5,000 creatures and currently have 400 animals at the sanctuary.
We caught up with Rachel McCrystal, Executive Director of the Woodstock Farm Sanctuary. She has been with the sanctuary for eight years and was integral in moving it to its current location.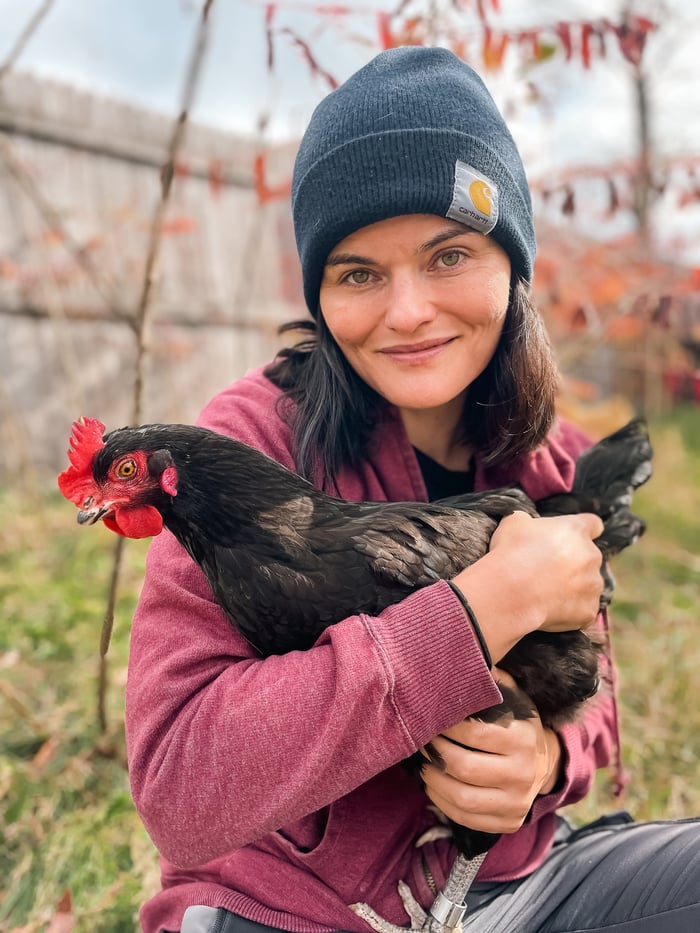 Photo: Rachel McCrystal, Executive Director of Woodstock Farm Sanctuary.
Is there a particular animal or experience that compelled you to work in this sector?
I have been working in animal protection since my early 20s, doing sheltering work and focusing on companion animals. It all started in 2011 when I heard about a cow named Kayli who escaped from a slaughterhouse outside Philadelphia, where I was living at the time.
I followed her story and learned she was surrendered to Woodstock Farm Sanctuary after many people advocated for her to be liberated. I became a member of the Sanctuary and a few years later, followed Kayli to upstate New York to dedicate myself to the cause of saving other cows like her.
The sanctuary was started in 2004. How has animal rescue and rehabilitation changed from then to now?
The quality and standards of care have really changed. Farms don't provide actual medical care to their animals, so farm sanctuaries have to really figure out what actual care [is needed] to cater to the animals' dignity and happiness. There is a far better understanding than there was 20 years ago of what that care could and should look like.
Over the years, has the awareness towards animals changed due to the rise of veganism?
So, this is complicated. I actually don't think so because our perception of food and lifestyle veganism is so distanced from the beings who are exploited in the food system. So, I would say, a rise in veganism doesn't necessarily equate to an awareness of animal rights. I do think that there is more of a conversation happening about animal rights and justice but it's due to artists, activists, and writers who foreground the animal experience versus the vegan movement.
What's the most challenging thing about running a sanctuary? And what motivates you to stay committed?
We are very dependent on our community for funding, volunteers, and overall support. This makes it very difficult to keep moving in the right direction and to find enough support to make sure we can take care of all the residents in our care for the next decade. The work of rescuing farmed animals and advocating for an end to all animal farming is subversive to the status quo, so will always get push back. The residents here and our community keep me motivated.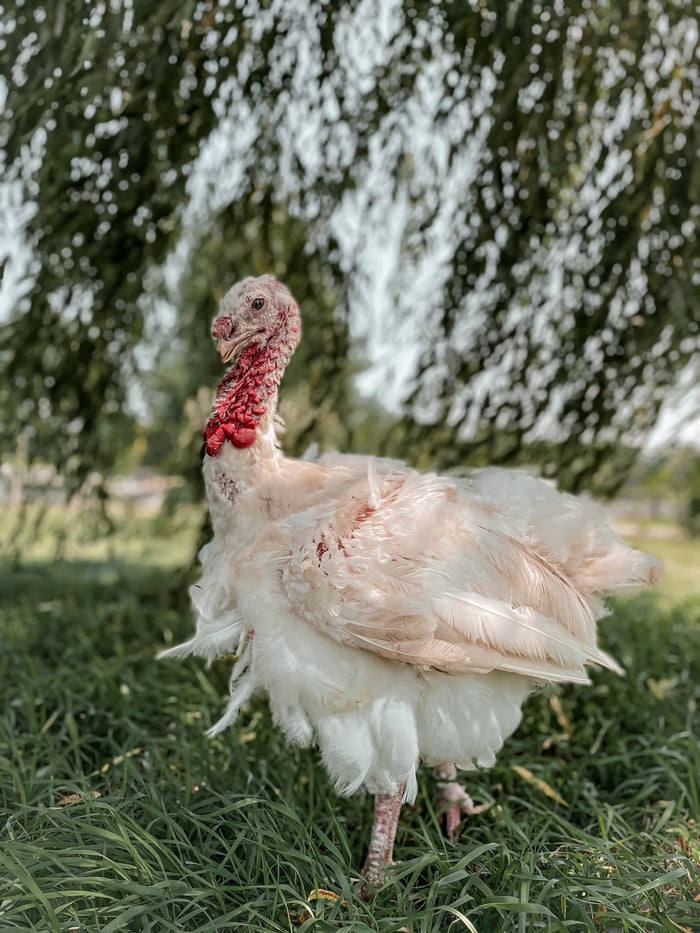 Photo: Dani
What is the most rewarding part of your work?
Seeing the transformations happen every day here makes me so happy. Animal farming takes away the dignity of animals and turns them into objects for production. The sanctuary allows them the space to be themselves, have friends, and be treated with respect and dignity. There's real joy here!
Do you have a favourite resident in the sanctuary? Tell us the story behind how this resident got there.
They are all my favourites! But I do have a special connection with the sheep, who are some of the most kind and warm individuals. We have a one-year-old sheep named River who came here a year ago with his mother Lita. Lita was being used as a breeding sheep on a small goat and sheep farm and she had two babies. Sadly, one of them drowned in mud. But seeing her able to raise her baby in the sanctuary now is so beautiful. They'll spend their whole lives together.
What is the biggest problem in animal rescuing and rehabilitating and how does Woodstock combat the problem?
The problem is that animal farming is a giant and destructive industry that is causing immense harm to the planet and to all living beings, and most of all to the individuals who are being used for profit within the system.
Our rescued residents come in with medical issues because of the norms of animal farming – where they have been bred to be so much bigger than their ancestors would have been; and to have many genetic diseases. We deal with those cases individually and systemically – treating everyone one at a time and trying to manage care within species as well.
A good example of this is chickens rescued from egg laying operations – they have been bred to constantly lay eggs; this is not natural. So, we deal with the sicknesses that come from that and also try to get them to stop laying eggs.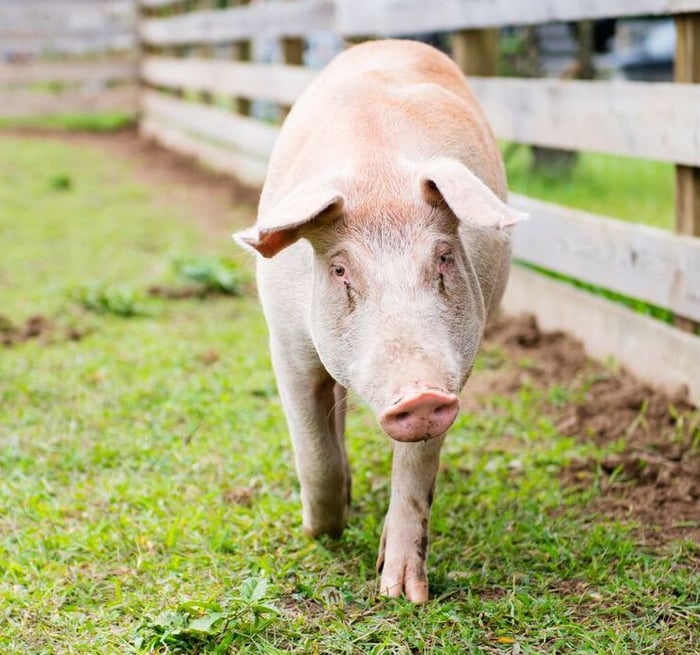 Photo: Rudy
And lastly, what do you think is the most significant action an individual can do to stop animal exploitation?
Go vegan! We all need to boycott animal agriculture. And then we need to support all efforts to remove subsidies from that industry and regulate it into extinction; while supporting all efforts to increase access to plant based foods from legislation to mutual aid. This isn't going to be solved just by individuals going vegan but it's the most important first step.