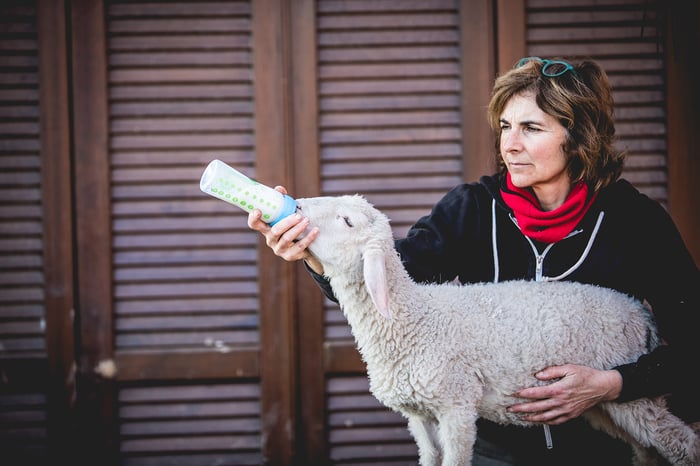 Alessandra Motta founder of Rifugio Miletta.
A few months ago, five orphaned wild boar cubs were found in Grignasco, a small commune in Piedmont, Italy. Provincial guards had killed their mother. The Province then had to decide whether to kill the cubs or relocate them to a fenced wildlife-hunting area. Of course, the latter would have seriously endangered the life of the cubs. Thanks to the volunteers of Rifugio Miletta, a local animal sanctuary, the Province decided to let Rifugio Miletta rescue and host them at the sanctuary while waiting to find a definitive home.
Rifugio Miletta is constantly working towards changing hunting laws and creating awareness of cruelty against animals. Rifugio Miletta is both an animal sanctuary and a wildlife rescue center. Wildlife animals that cannot be released back into their environment are adopted by the sanctuary and will spend the rest of their life with others. The sanctuary provides psycho-physical rehabilitation for animals to recover from the incident and manage to live freely along with rescuing and releasing wild animals in nature.
abillion is proud to support Rifugio Miletta. We recently caught up with Alessandra Motta, the founder of the sanctuary, to talk about her journey, motivations and commitment to the mission.
Tell us a bit about yourself and Rifugio Miletta.
I was born and raised in Milan, but I always knew that my story would take place elsewhere. I started Rifugio Miletta in 2013 with my sister Elena and a few friends with a dual purpose: to free non-human animals from any form of exploitation and slavery and to create a place where freed victims could regain possession of their freedom. Currently, we welcome 210 animals, both domestic and wild. We have housed sheep, goats, pigs, horses, dogs, cats, and various species of wild animals such as fallow deer, roe deer, wild boar, squirrels, kestrels, otters, magpies, foxes, and many others.
What inspired you to start Rifugio Miletta?
I inherited my love for animals from my grandfather, who was a veterinarian. I learned to observe in silence the world around me, inhabited by many creatures. Subsequently, Rifugio Miletta was born. 'Miletta' was my grandmother's nickname who taught me the art of raising any animal, including humans.
One of the main reasons that drove me to build a home was the strong sense of injustice I felt about how society mistreats animals. I wanted to restore dignity, freedom, and respect and provide a home to the animals that we could free from the jaws of exploitation. A place where they could be happy and free, and the sanctuary Rifugio Miletta is just that place.
Do you have any special childhood memories of spending time with animals?
When I was ten years old, I lived with my grandparents in the countryside with a puppy named Ghebel, a Spinone Italiano puppy crossed with a boxer that I found on the street. One evening my grandfather told me that they had found someone to adoptGhebel, as my parents did not want another dog in Milan. So I ran away from my grandparents' home with Ghebel and stayed in the woods for almost 24 hours and eventually got my parents to agree to let Ghebel stay with us.
Can you share a unique story of a rescue operation that you've been part of?
Years ago, there was a young female wild boar who had fallen into a canal. When we arrived, I saw that she was exhausted swimming against the current, trying not to get dragged by the force of water that would turn into a whirlwind, thus drowning her. I approached the banks, thinking that we could not save her as she was at the center of the canal, more than five meters wide. Due to the strong current, it was impossible to put an inflatable boat in the water. I didn't know what to do, so I leaned towards her and called out to her. She heard my voice and started swimming vigorously towards me. This allowed me to grab onto her and tie her with ropes. Our veterinarian sedated her to prevent her from becoming traumatized as we pulled her out of the water. I will never forget her gaze as she put her trust in us.
What motivates you to stay committed to this mission?
The awareness that without my commitment, every day, a considerable number of animals would die or be in a worse condition. This awareness gives me the strength to keep going and work for those animals that deserve a good life. I feel it's a moral imperative to care for helpless and suffering individuals. I will always have the faith that we can change this world that is so unfair to animals. Each inhabitant of the Rifugio Miletta is an individual with a name, a character, a past to forget, and a future to build.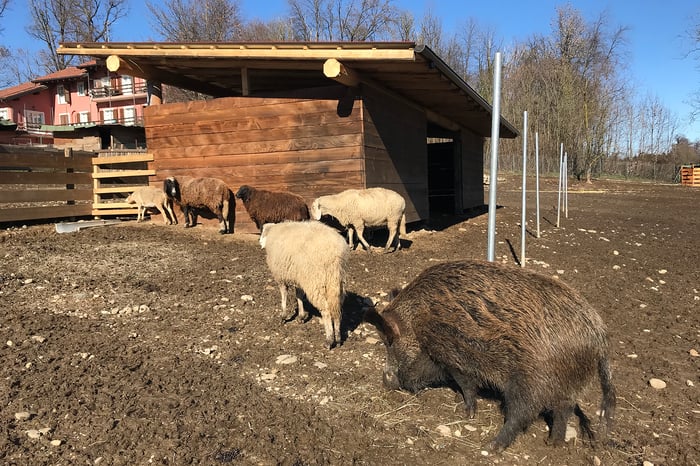 Rifugio Miletta's new barn to keep the animals warm.
What is the biggest challenge you face in running the sanctuary?
Thanks to abillion's members who choose to donate to sanctuaries like ours, we can still provide a home and a safe environment to the rescued animals. The 2020 donations received from abillion went into building a new barn that kept the animals warm with a dry roof. We are currently raising $32,000 that will help us fence off new land that we bought on loan to build a brand new hospitalization shed for all the large wild animals we rescue. Any little help makes a huge difference.
Isabellla, a healthy hedgehog ready to be released.
Could you share a feel-good story of a rescued animal?
Of course. Isabella, a hedgehog, arrived at the shelter in November underweight, debilitated, infested with lung parasites and ticks. Now he is much better. She is completely healthy and ready to be released into the natural settings where he belongs.
And lastly, what do you think is the most significant change an individual can do to stop animal exploitation?
I believe that people need to understand that animals are not property but sentient beings. They have the same right as humans to inhabit this planet and to live free from any form of exploitation. From this belief, it becomes natural not to eat animals, not to use any animal products, not to exploit animals in any field, be it medical, recreational or sporting. In summary, life is a blessing that belongs only to those who embody it.
You have the power to help Rifugio Miletta through your reviews. Help Alessandra raise the $32,000 she needs. With every review you post of a plant-based dish, cruelty-free or sustainable product, you are allocated USD $1 that you can donate to Rifugio Miletta, or another partner charity or cause. Donate as much as you can to help Rifugio Miletta help animals in distress.