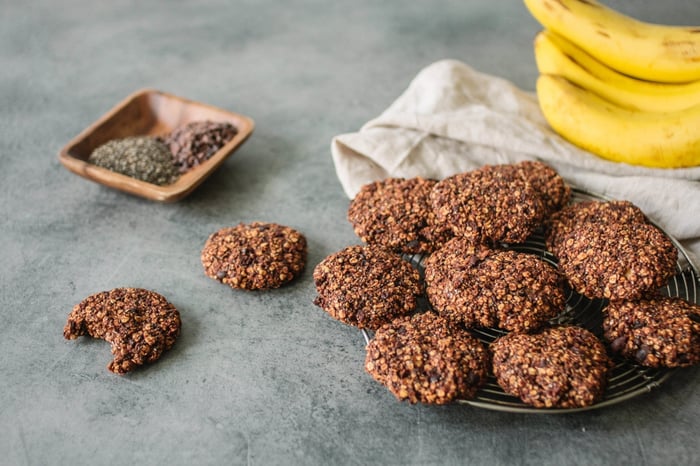 These no-guilt cookies will blow your mind!
These cookies are made with chia seeds - a great source of energy that's easily absorbed by the body. They're also packed with antioxidants, fiber, protein, calcium, omega-3 fatty acids, and carbohydrates.
The second ingredient is cacao, which is also called "Food for the Gods". Cacao has all the good stuff which ensures the smooth functioning of your body. It has fiber to support digestion, magnesium to keep your nervous system healthy, and antioxidants to fight oxidative damage. Additionally, it releases serotonin and endorphins in the body, which are feel-good chemicals (this just adds on to the happiness we get when we look at a plate of freshly baked cookies).
So, here's a recipe of cookies that're both healthy and soul-satisfyingly gooey!
Ingredients:
2 cups oats (1 cup = 90g)
1/4 cup LVL cacao nibs (1 cup = 120g)
1/4 cup LVL chia seeds (1 cup = 172g)
1 tsp salt
1/4 cup coconut oil (1 cup = 215g)
2 ripe bananas
1/2 cup agave syrup
Instructions
Line a baking tray with parchment paper. Preheat the oven to 180ºC.
Place banana, agave syrup, and melted coconut oil in a bowl and mash with a fork until it forms a smooth mixture.
Place all dry ingredients in a separate bowl and stir to combine.
Add the dry ingredients to the wet mixture and stir well to combine.
Wet your hands and roll 12 cookies.
Place on a baking tray lined with parchment paper and bake for 15 minutes until set.
Let cool completely and get ready to munch on them!