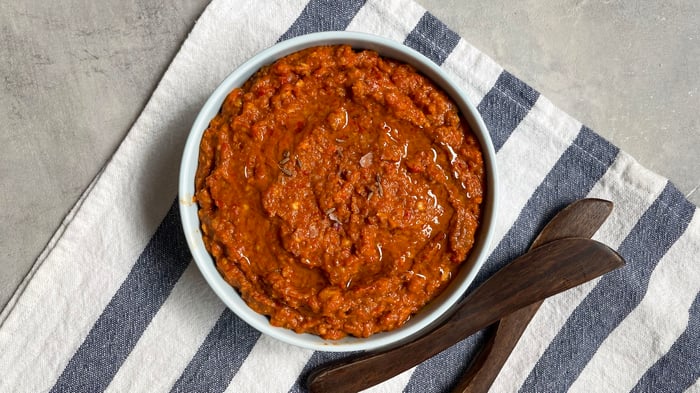 Photo: @Charlotte Mei
Easy recipe for muhammara, a roasted red pepper dip by Charlotte Mei
Muhammara is a dip/spread that is creamy, smokey, savory, and slightly sweet at the same time! It is traditionally made with walnuts, but I have switched to using almonds as I prefer the flavor.
Feel free to adjust the ingredients based on your flavor preferences, and the consistency of the dip to your liking (I prefer to keep the nuts chunky so I get extra texture from it!).
Makes: 3 Servings
Total Time: 40 minutes

Ingredients

3 red peppers, halved
50g roasted almonds or walnuts
50g breadcrumbs
1 tsp cumin seeds
1 large garlic clove
1 tsp chilli flakes (Optional)
2 tbsp pomegranate molasses or balsamic vinegar
3 tbsp extra-virgin olive oil
1-2 tbsp water
1 tbsp lemon juice
Pinch of salt


Method

Roast the red peppers: Preheat your oven to 205 ̊C. Brush the red pepper halves with some olive oil and place them on a baking tray.

Bake at 205 ̊C for 20 minutes, turn the tray around, and bake for another 20 minutes. The skin should be slightly charred, and the peppers should have collapsed slightly.

If you are pressed for time, you can put them under your broiler for 20 minutes, turning every 5 minutes. Do keep a close eye on them! I would however suggest the former method as the latter may result in the pepper charing before it cooks.

Once the peppers are cooked, let them cool, peel off as much skin as you can, and set them aside.

In a food processor, add the almonds, breadcrumbs, cumin seeds, garlic, salt and chilli flakes (if using), and pulse till the garlic clove and almonds are mostly blitzed up. Add in the bell peppers, pomegranate molasses, olive oil, lemon juice, and pulse. You want to reach a creamy yoghurt-like consistency, and you may have to add 1-2 tablespoons of water to get there.

Serve right away or chill before serving as a mezze dip or an accompaniment to other main dishes.