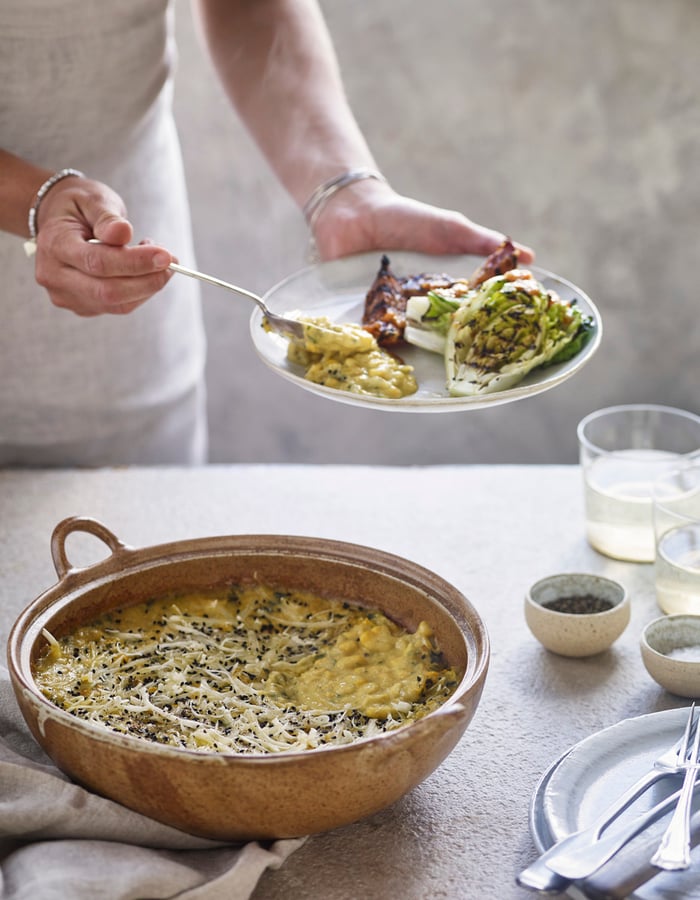 (Photograph by Nassima Rothaker)
Barbecued lettuce is a really delicious way to do something different with lettuce, other than using it in salad. If you don't have BBQ equipment, a chargrill pan will work just as well. Just ensure it is as hot as can be.
BBQ Baby Gem
with sweet corn pudding, BBQ onions and kimchi dressing
Serves: 4
Active Time: 2 hrs
Making the sweetcorn pudding
Ingredients:
4 cobs sweetcorn
1 onion, peeled and halved
2 bay leaves
1/4 bunch of thyme
1/2 bunch of tarragon, leaves picked and chopped, stalks retained
50g non-dairy butter
100g coconut milk
50g non-dairy melting cheese, grated
Sea salt
Freshly milled black pepper
Directions:
Preheat oven to 180°C.
Begin by cutting the kernels off the sweetcorn.
Place the corn husks in a large saucepan and cover with water.
Add the onion, bay leaf, tarragon stalks and thyme to the pan.
Place over a high heat and bring to the boil for 30 minutes.
Strain off the liquid and place into another saucepan.
Bring to the boil and leave to reduce until you have 400ml of liquid remaining.
Place the butter in a large frying pan and add the corn kernels, seasoning well with salt and pepper.
Cook through then remove half of the kernels.
Add the reduced corn stock and coconut milk to the frying pan and simmer for 5 minutes.
Blend until smooth then add to the cooked sweet corn kernels, with the tarragon.
Place into an ovenproof casserole and top with the grated cheese and black pepper.
Bake for 16 minutes until golden and heated through.
Making the onion wedges
Ingredients:
1 tbsp onion seeds
25g plain flour
2 garlic cloves, peeled and finely micro-planed
2 red onions peeled and cut into 6 wedges each
2 tbsp vegetable oil
1/2 tbsp mustard powder
1/2 tbsp smoked paprika
Directions:
Mix the onion seeds, flour, mustard powder, garlic and smoked paprika together.
Add a good amount of salt and pepper.
Coat the onion wedges in the mix and drizzle with oil.
Heat the BBQ or griddle pan until hot, then grill the onions on all sides until golden and cooked through, approximately 12-15 minutes.
Making the kimchi dressing
Ingredients:
100g kimchi
50g coconut milk
1/2 tbsp xanthan gum
Directions:
Place all of the ingredients in a blender and blend until a thick sauce consistency has formed. Season to taste.
Making the baby gem
Ingredients:
6 baby gem
2 tbsp vegetable oil
Directions:
Cut each baby gem in half lengthways.
Drizzle with oil and season well then grill until golden on the outside and almost cooked through, approximately 6-8 minutes.
To serve, place the onions and baby gem on a platter, drizzle with the kimchi dressing and serve alongside the sweet corn pudding.