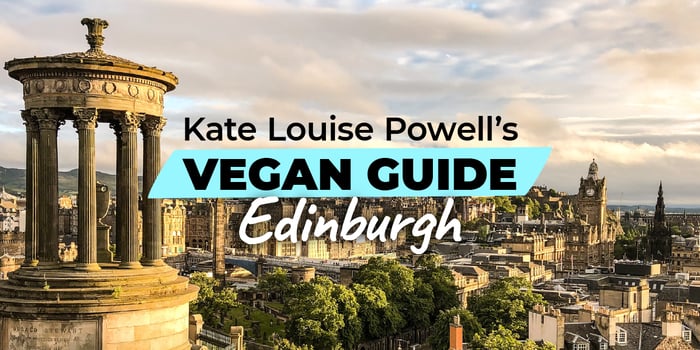 Edinburgh has lots to offer, and vegan food is right up there on the list. Earlier in the year, Plant-Based News called this city one of the United Kingdom's top five friendly vegan places.
From small cafes to restaurants, Scotland is abuzz with new plant-based businesses. It's also home to events like the Scottish Vegan Festival and the Glasgow Vegan Festival. A large part of this change is also because restaurants are increasingly adapting to consumers' conscious choices — a move seen across the UK at large.
When the country is home to Veganuary, an annual 30-day challenge to inspire and educate people about the plant-based lifestyle, the change can influence other parts of the city. According to the Vegan Society, earlier this year, the UK recorded the highest number of people pledging to take part in the challenge, amounting to 582,000.
For this months' city guide series, we have Kate Louise Powell share her recommendations on where to grab a bite and hang out in Edinburgh. She's an illustrator, an animal rights-oriented vegan, and an abillion ambassador who has lived in the city for seven years.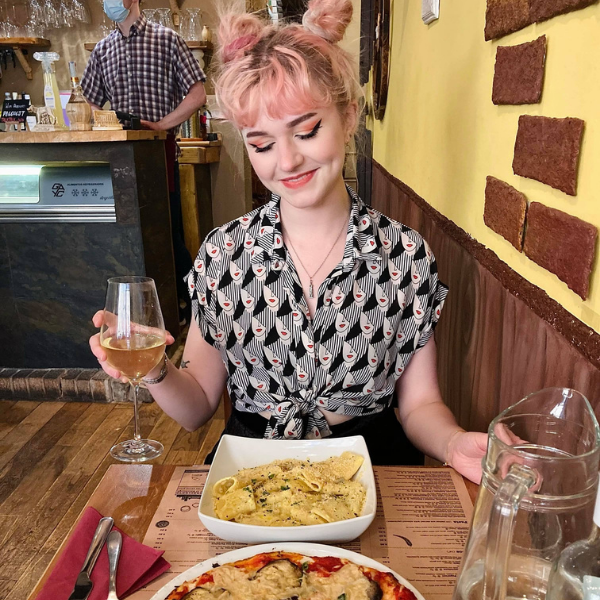 Photo: @katelouisepowell
She enjoys visiting vegan dining spots and seeing new ones pop up. "Edinburgh is most definitely a vegan-friendly city," she says. "There are many dedicated animal-free eateries and plenty of veggie and omnivorous spots that do awesome vegan options too!"
Here are Kate's recommendations for enjoying Edinburgh.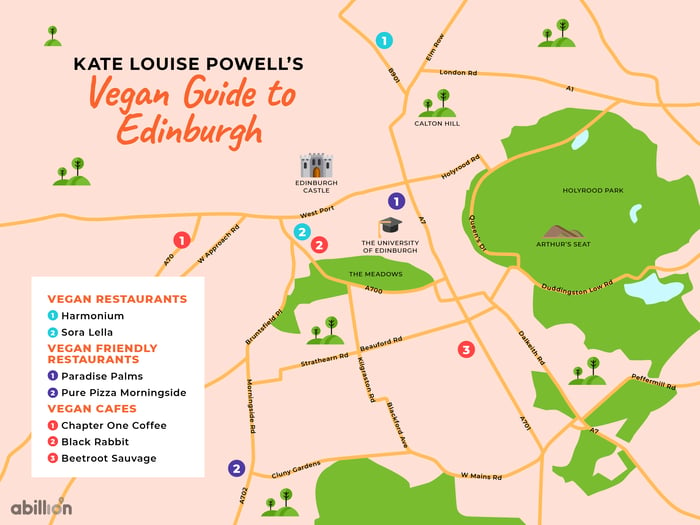 Vegan restaurants
If you're looking for a tipple, Harmonium is one to visit. The restaurant rotates its offerings, including draught and cask beer, seasonal cocktails, and an organic wine list. Not a fan of alcoholic beverages? Stop by to get a quick caffeine fix. Their beans are sourced from Williams & Johnson Coffee Co, a specialty coffee store.
The restaurant operates as a bar and kitchen serving classics, such as burgers and pizza. Kate says, "It has a subtle maritime twist to the menu, which I adore, as I used to be such a massive seafood fan before going vegan." Their King Oyster Mushroom Scallop dish is worth ordering — the kitchens have perfected the art of cooking these to resemble scallops.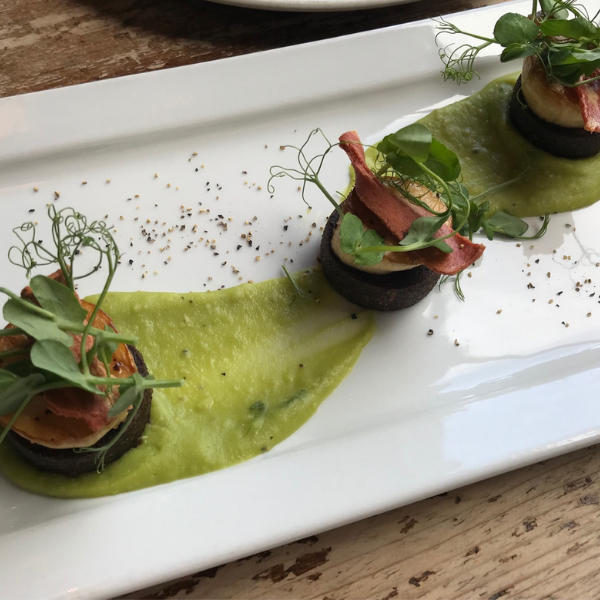 The pan-seared King Oyster Mushroom Scallop from Harmonium. Photo: @katelouisepowell
"The pan-seared King Oyster Mushroom Scallop dish has the most adorable, fancy presentation — three little towers of black pudding, vegan bacon, scallop, topped off with an artistic sweep of pea puree garnish." For a slightly less filling option, Kate suggests choosing their vegan mac and cheese. It comes in a small portion, rich and creamy, that is perfect as a starter or a side dish. Other options which are worth ordering are the no-fish & chips, Filet o' to-fish burger, and their Thai Crab Cakes.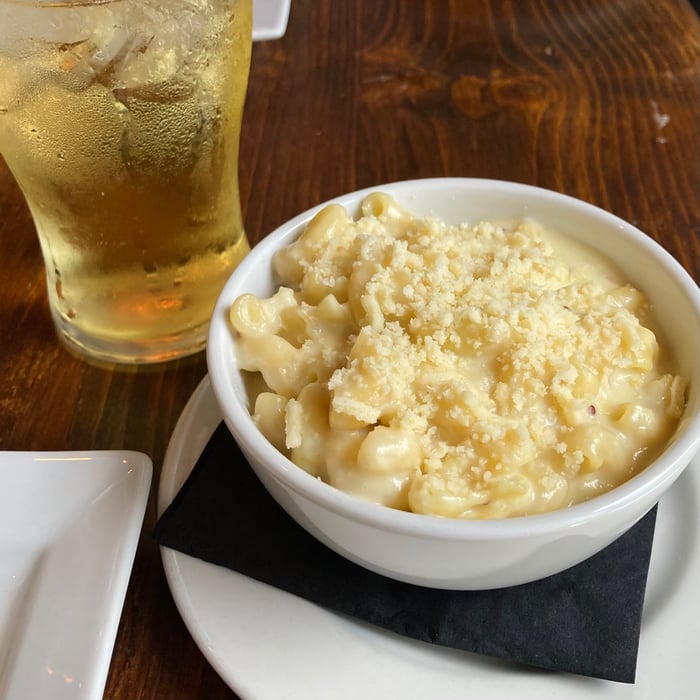 Macaroni Cheese from Harmonium. Photo: @katelouisepowell
To enjoy a taste of Italy without leaving the city, Sora Lella is your best bet. This family-owned restaurant serves Italian dishes with a plant-based twist in a cozy setting. Kate calls this spot her favorite "sit down restaurant to take people to if they're visiting the city." Food here is prepared with specialty vegan ingredients; their range of mock meats and soft cheeses is also one to look out for.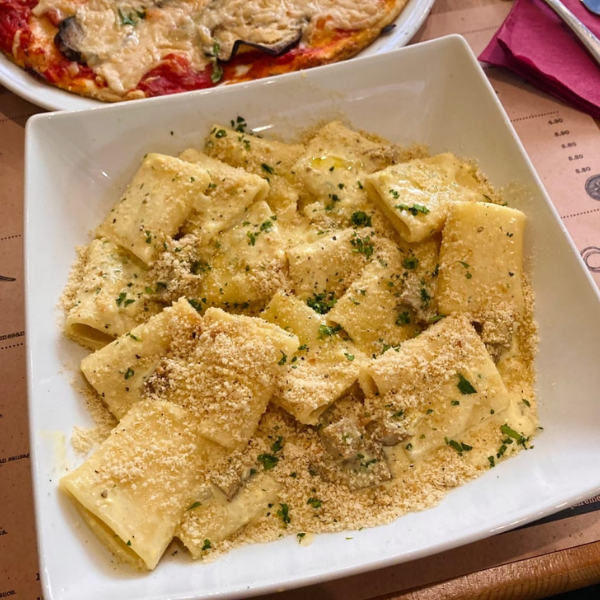 Paccheri alla Carbonara from Sora Lella Vegan Roman Restaurant. Photo: @katelouisepowell
For appetizers, Kate recommends ordering Spicy Suppli Romani; spicy rice balls coated with fried breadcrumbs. Then go for the creamy plates of pasta and thin-crust pizzas' topped with mock meat slices and finish off your meal with their Tiramisu for dessert.
Vegan-Friendly Restaurants
Swing by Paradise Palms if you're in the mood for fancy cocktails and a fun, casual vibe. Occasionally, they host cool events too. This bar and diner serves vegetarian American and soul food with many excellent vegan options. Kate says, "Their menu has changed a few times over the years, it's interesting to see how their vegan options have evolved each time I swing by." Her favorites from Paradise Palms are their Reuben dishes and anything battered, fried, and served with dips. Go for their Buffalo Cauliflower and deep-fried pickles.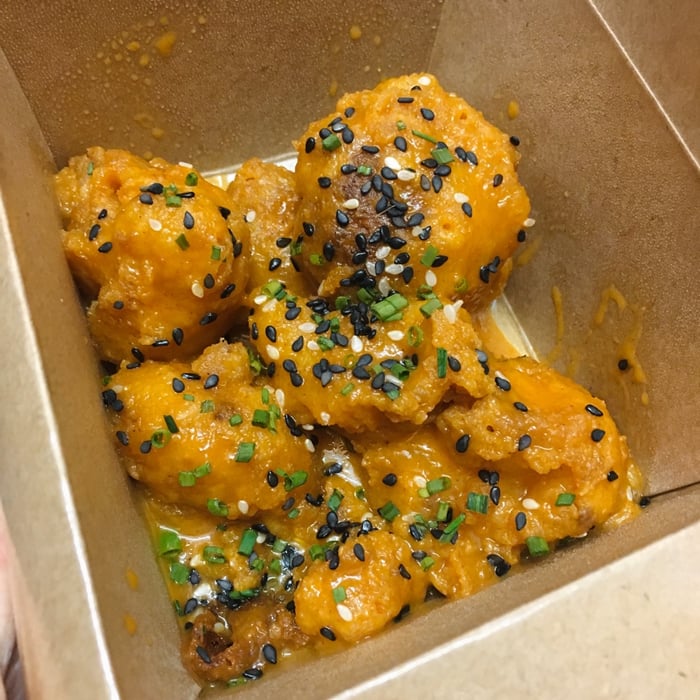 Buffalo Cauliflower from Paradise Palms. Photo: @katelouisepowell
A takeaway pizza eatery with deals almost every other day? Pure Pizza Morningside has got you covered. Kate says, "The large pizzas here go on a reasonable price if you catch them when they're on at 50 percent off, which seems to be most of the time, to be honest."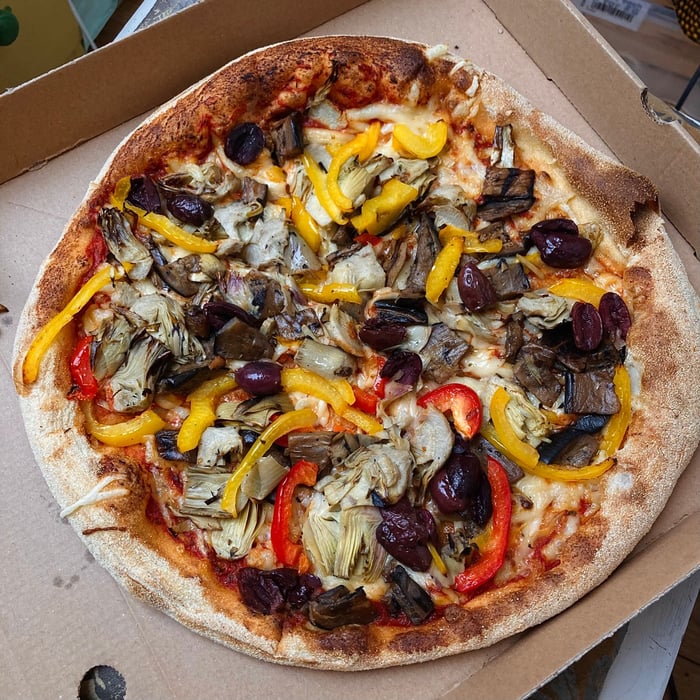 Vegan Aubergine Royale Sourdough Pizza from Pure Pizza Morningside. Photo: @katelouisepowell
Although this pizzeria is not entirely vegan, they have several vegan options on the menu, including a Meatball Sourdough with sundried tomatoes, red onion, olives, and meatballs. She recommends ordering the one loaded with veggies simply because they're generous with toppings.
Vegan Cafes
Chapter One has good food and a friendly vibe, a combination that can't go wrong. "The staff are so lovely and friendly and I always have a smile on my face when I leave." There's plenty of delicious cakes, blended coffee smoothies, fresh sandwiches, and enough brunch options to keep you coming back. For a sweet treat, go for the slice of Carrot Walnut cake. It's moist and has a rich carrot sponge.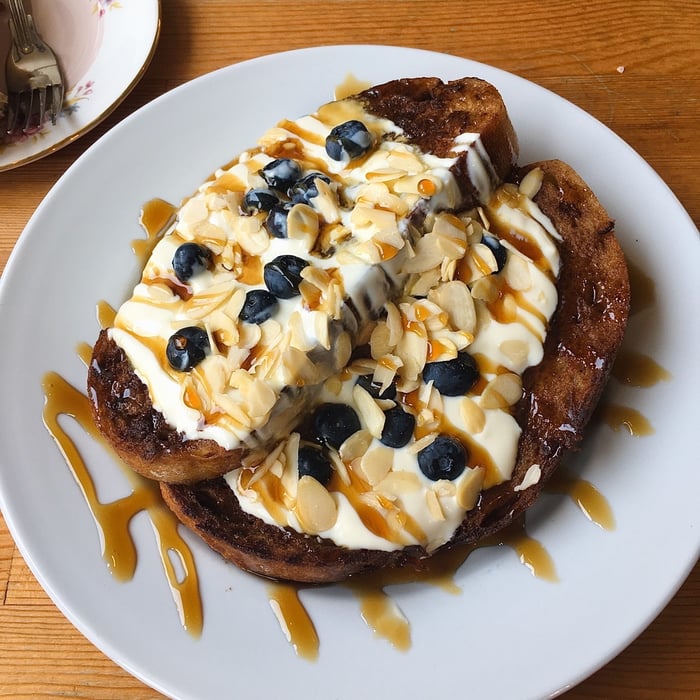 French toast with yoghurt and berries from Chapter One Coffee Shop. Photo: @katelouisepowell
Her favorites are the thick-cut French toast that comes along with a myriad of toppings, the wraps filled with melty cheese, chicken nuggets, spinach, and sweet chili sauce.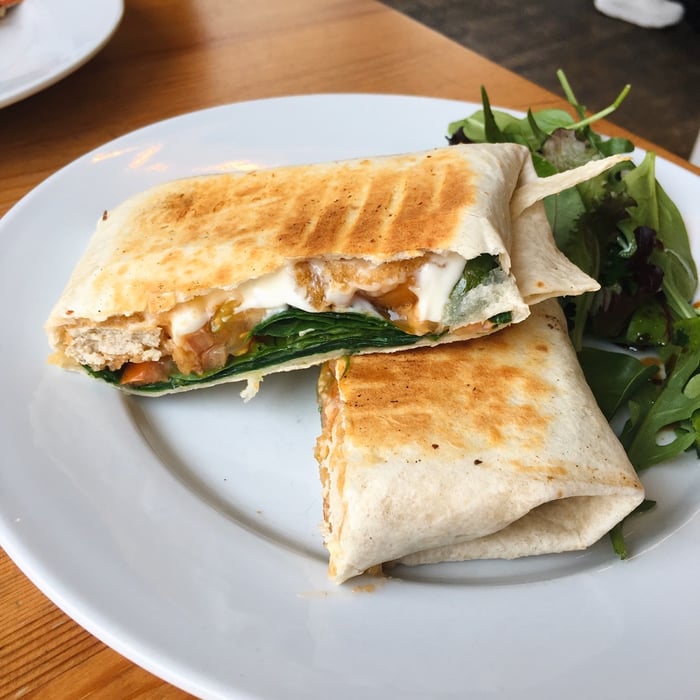 Sweet Chilli Chicken Wrap from Chapter One Coffee Shop. Photo: @katelouisepowell
Black Rabbit is an absolute gem of a place. According to Kate, this small cafe sells some of the best treats. She says, "They consistently make incredible cakes with winning flavor combinations." Look out for Chocolate & Cappuccino Cougar Hoof, Custard & Blackcurrant Cruffin, or the Creme Egg Brownie Tart. There's also a selection of artisanal vegan chocolates, fresh deli meats, and gourmet cheese.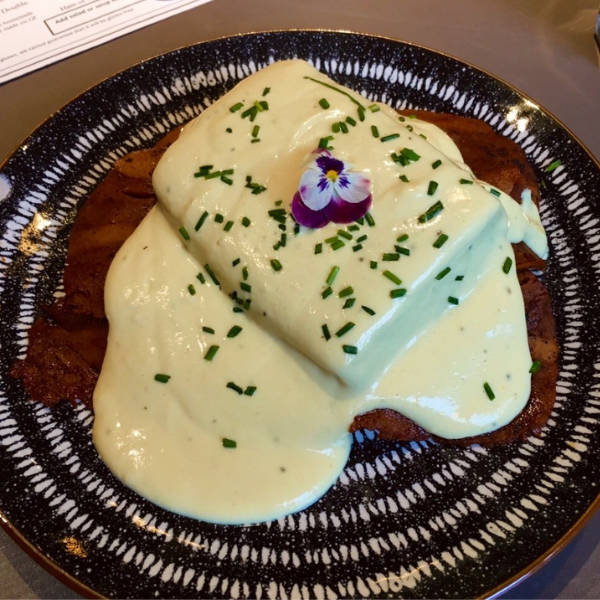 Tofu Benedict from Black Rabbit. Photo: @katelouisepowell
If you stop by for brunch, Kate recommends getting Tofu Benedict. It comes with thick-cut bacon slices, an egg tofu patty, along with a toasted roll with homemade Hollandaise sauce. Bagel lovers can opt for their vegan Salmon and Cream Cheese too. Black Rabbit is one of her favorite spots, and she says, "You can tell that the people who work there have a real passion for what they do and love to feed the hungry mouths of Edinburgh."
Beetroot Sauvage is a vegan cafe that has a yoga studio too. It's one of the places where Kate has tried many unique vegan options. Think bubble waffles and avocado toast with fried 'eggs' with wobbly, gooey yolks.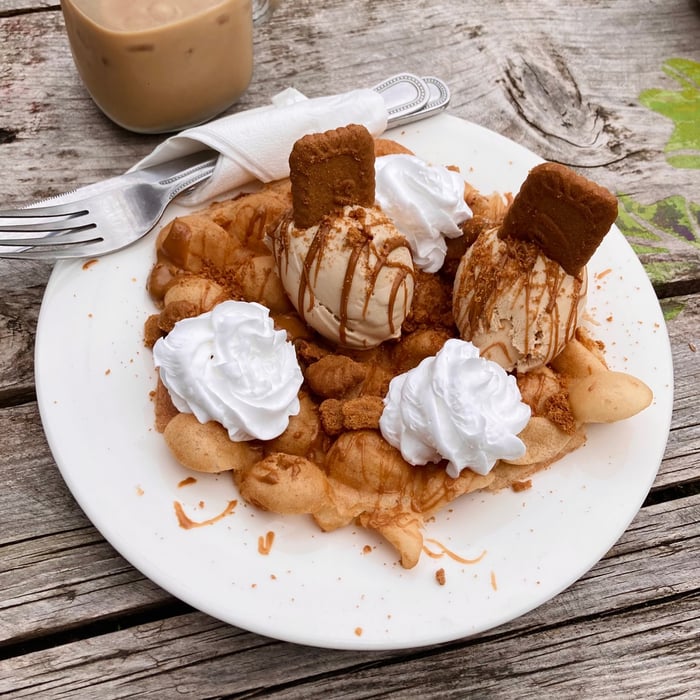 Spiced Caramel Crunch Bubble Waffle from Beetroot Sauvage. Photo: @katelouisepowell
The menu changes frequently, but there is always something special to look forward to. Kate's favorites from the deli are their quiche slices, which are perfect as a grab-and-go option. Pro tip: Pick the outdoor seats. It has a relaxing vibe and works well as a study spot.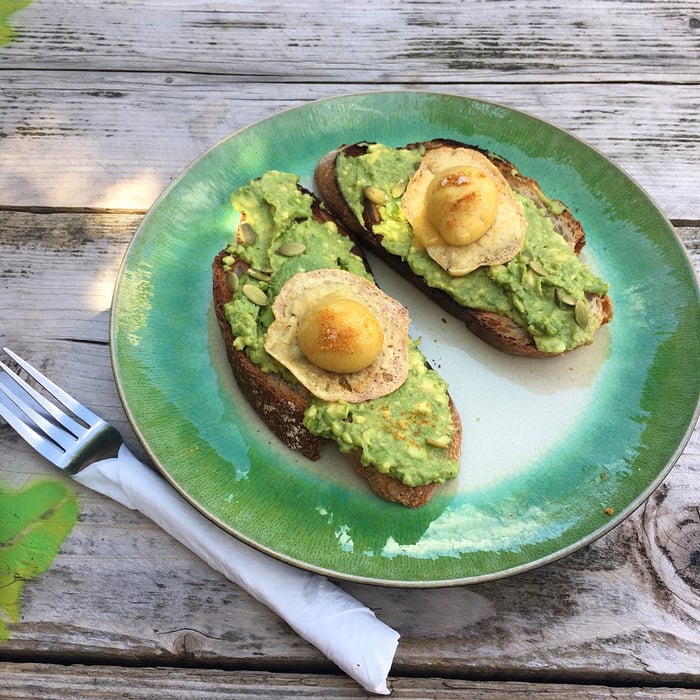 Avocado Toast with Fried 'Eggs' from Beetroot Sauvage. Photo: @katelouisepowell
If you are in Edinburgh, do check out these recommended places. Let us know If you have more spots to suggest in the comments below. And, don't forget to add your reviews from your experiences on abillion. The more you review, the more you are helping both the community and the charity partners we work with. Check out the Edinburgh collection here.
If you're a member who is interested in sending your guide to your city. Comment below and one of our staff members will get in touch.