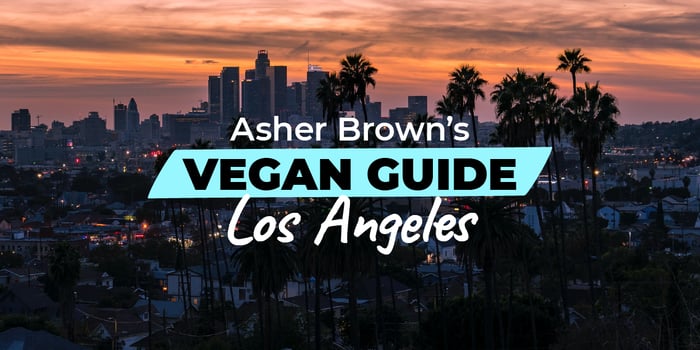 What good is a guide to a city if it doesn't come from the locals themselves? In abillion's city guide series, we speak to abillion members, asking for their recommendations to their home towns. Our first guide comes to us from Los Angeles resident Asher Brown, abillion member, entrepreneur, filmmaker, and social activist.
Brown has lived in LA for 15 years and has been a vegan since he was nine. "Going vegan is the easiest, simplest, fastest way that we can make an impact on the lives of animals and the health of our planet. I've been on a lifelong journey to make food and product choices that reflect my values and make a positive impact on the world," says Brown.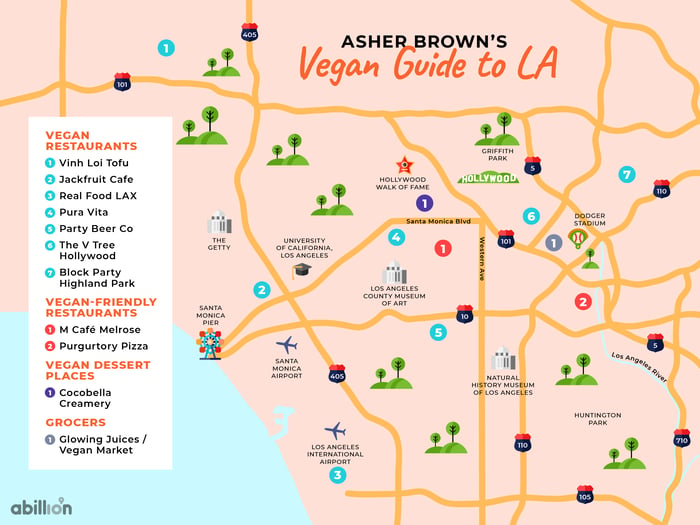 Must-try vegan restaurants
Sage is a plant-based restaurant offering a mix of American and Mexican classics: burritos, tacos, pizza, burgers, weekend brunch and more. They have four outlets in California. Sage also donates plant-based meals to underprivileged children, homeless shelters, seniors and centers in marginalized communities.
Located in Reseda's Kafco Plaza, 19-year-old Vinh Loi Tofus takes authentic Vietnamese classic dishes and makes them plant-based. The all-vegan menu features unique dishes like lemongrass duck rolls, fried tofu salad, and doughnut sliders. If you're looking for comfort food, this restaurant offers some of the best soups and noodles.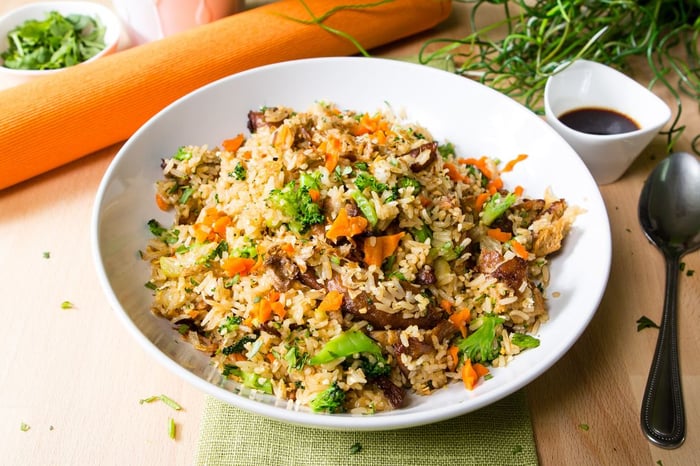 Photo of Kevin Fried Rice by @coolcuisine from Vinh Loi Tofu.
Brown highly recommends this Santa Monica Blvd restaurant. The dish to get is their Cauliflower Wings—battered and deep-fried cauliflower coated in golden BBQ, buffalo, and mango habanero sauce. To justify its name, Jackfruit Cafe offers several jackfruit-based dishes, including BBQ Jackfruit Sandwich, Jackfruit Bowl, Korean Jackfruit Taco and even a Jackfruit Smoothie made with ripe jackfruit, dates, plantain and coconut milk.
V Tree is owned and run by celebrity chef and soul food oracle Chef Velvet Jacobs. She is also the co-Founder of "Vegan in the Hood," a global program that teaches underserved communities the importance of community gardens, self-sustainability, and the life benefits of a healthy diet.
Chef Velvet's specialty includes 'African Peanut Stew,' which is a creamy, hearty stew filled with onions, celery, and plenty of traditional spices; Krab Cake Sandwich made with lots of veggies, textures, tons of flavor served on lettuce with tomato and a toasted bun; and her version 'Black-eyed Peas' house-made savory black-eyed peas seasoned perfectly served cornbread.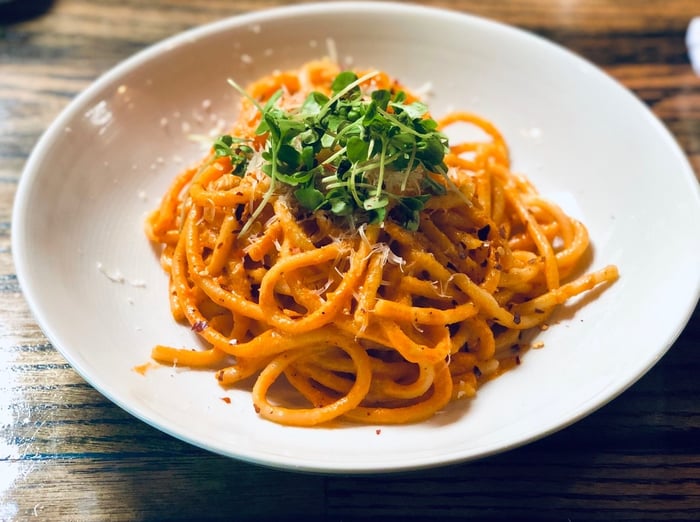 Photo of Calabrese by @maxwagner from Pura Vita.
If biodynamic wines, plant-based Italian dishes and charming ambiance is your thing, then Pura Vita is the perfect place for you. Located in West Hollywood, it was actually the first 100% plant-based Italian restaurant and wine bar in the country. Pura Vita has the ambiance of a New York City wine bar with a traditional menu reflecting the best of Southern Italy. Pura Vita also has a vegan pizzeria, located right next to their main restaurant in Hollywood. The pizzeria offers 100% plant-based Neapolitan-style pizzas made from scratch. A third location at Redondo Beach offers traditional pasta and Neapolitan pizzas with beachfront outdoor dining and sunset views.
Real Food Daily has two locations, one in Pasadena and the other in Los Angeles International Airport (post-security) in the departure level food court. The latter is Asher's personal favorite stop before a flight at LAX. Real Food Daily has a healthy menu that includes breakfast pizzas and calzones. Their sweet treats are just as good. Do try their petite vanilla cupcakes with vanilla frosting.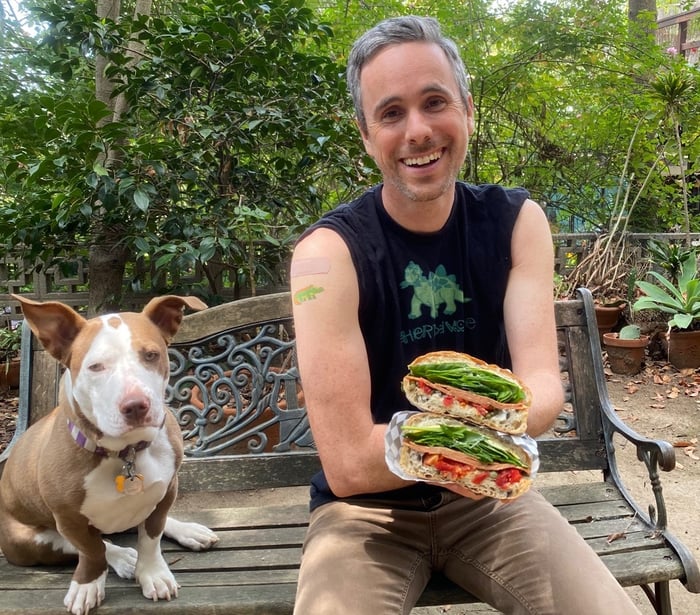 Photo of Asher Brown trying a sandwich from Glowing Juices.
Glowing Juices is an organic health cafe and store located in Echo Park. They serve smoothies, tonics, kombucha, smoothie bowls, oatmeal, salads, cold-pressed juices and vegan wraps. They also offer healthy vegan treats and snacks like chips, cookies, nut cheeses and other packaged food. The restaurant also has a mini-mart that stocks fun vegan products, including vegan jerky to dips and cheese.
This vegan-friendly restaurant serves plant-based New York-style pizzas. They also offer a vegan deep dish pizza, but that is only served if you dine in the restaurant In addition to pizza, the restaurant offers vegan chicken sandwiches made with Gardein products, vegan calzones, three types of vegan cheese, vegan ham, pepperoni, bacon and Fieldroast sausages.
Vegan Desserts
Located in Hollywood, this dessert shop offers 16 flavors of vegan ice cream to choose from. Flavors include fun confections like Unicorn Magic to Blueberry Cheesecake, Cookies 'N Cream, and Mint Chip, and Cocobella Creamery. You'll be hard-pressed to find something you won't love.
Yvonne Ardestani is a French-trained chef who is reinventing classic meals without the use of meat, dairy, eggs, honey, or gluten. Yvonne's Vegan Kitchen bakes up a range of vegan treats, including donuts, pies and plenty of cakes. Popular cakes include Naked Vanilla Lemon with Raspberry Jam, Chocolate Creme de Menthe, and Triple Chocolate Cake. Yvonne also offers a range of custom-themed cakes that make special occasions grander.
Only an online store, Madame Shugah makes a range of things from ice cream to cakes, burnt caramel sauce to cookies. The cakes come in five flavors—Vanilla Brownie, Chocolate Brownie, Strawberry Brownie, Pistachio Brownie, and Snickerz. Asher says everything here is amazing.
Vegan Grocery Shopping
Shopping for vegan groceries in LA is a breeze. Thanks to growing customer demand, there are plenty of options to choose from. Here are Asher's picks.
Glowing Juices, mentioned above, is a great place to get high-quality and interesting vegan products.
Imperfect Foods reimagines grocery delivery for a kinder, less wasteful world. It strives to reduce the waste of nutritious and delicious fruits and vegetables by delivering 'ugly' produce directly to customers' homes. They work directly with farmers and producers to rescue, redistribute, and develop goods across multiple grocery categories, including produce, shelf-stable items, and private label offerings. If a waste-saving option isn't available for a particular item, the company sources the most sustainable choice available to ensure customers' grocery needs are met. To date, Imperfect Produce has saved 11.5 million pounds of produce and compared to grocery store prices, purchasing through Imperfect Produce saves you about 30-50%.
Sustainable Fashion
Vegetaryn is a 100% vegan brand and online sustainable clothing store based out of Los Angeles. It is Worldwide Responsible Accredited Production (WRAP) certified and its supply chain is based on twelve principles which range from health and safety to the environment and the prohibition of forced labor.
Beet x Beet is a streetwear lifestyle brand committed to spreading awareness and raising consciousness around the choices we make every day. The brand manufactures clothing locally in LA. Manufacturing locally means less of an environmental impact, full transparency and true ethical manufacturing. All of their basic crew tees are manufactured by US Blanks, who offers all employees access to full benefits including health insurance, paid time off, holidays and a 401k plan.
We urge members living in Los Angeles to check out Asher's recommended places if you haven't already. And don't forget to add your reviews from your experiences on abillion. The more you review, the more you are helping both the community and the charity partners we work with.
If you're a member who is interested in sending your guide to your city. Comment below and one of our staff members will get in touch with you.