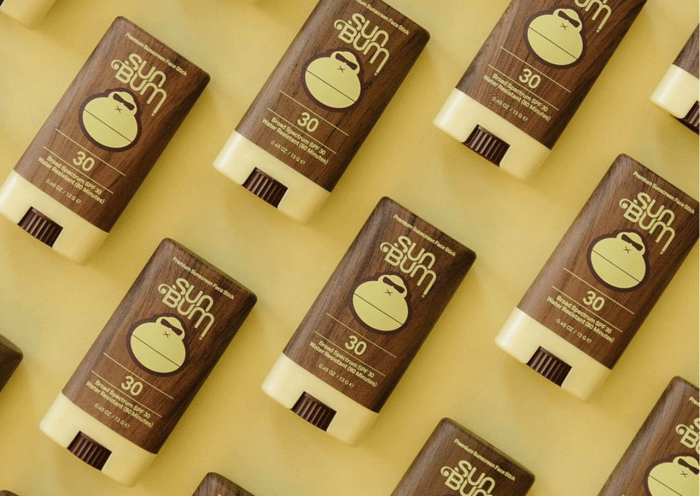 Photo: Sun Bum
Sun care products are not only for Summer. If you need to go outside—and it's a rainy day—applying sunscreen should be an essential part of your skincare routine. A good sunscreen will protect your skin against harmful ultraviolet (UV) rays, prevent skin cancer, and reduce your chances of getting sunburnt.
While not all sunscreens are vegan, in recent years more brands are making cruelty-free options available in the market. Just like other beauty products, a regular sunscreen can contain animal derived ingredients such as beeswax, collagen, lanolin, and other harmful chemicals.
Before purchasing your next sunscreen, it is essential to read the label. We've broken down four main things you should know:
Sun Protection Factor (SPF): The number that is always stated next to SPF indicates how well the sunscreen protects your skin against sunburn. It is not an indicator of how long you can stay out in the sun. What it means is how much longer it takes untanned skin to redden with sunscreen applied compared to how long it takes to redden without it. Generally, dermatologists recommend getting a product with an SPF level of at least 30.
Broad Spectrum: This means that the sunscreen protects you against Ultraviolet A (UVA) and Ultraviolet B (UVB) rays. UVA rays can penetrate into your skin, causing skin cells to age faster. On the other hand, UVB rays cause sunburn. In short, both these rays are harmful.
Water-resistant: This term indicates the duration in which the sunscreen remains effective while you're swimming. Many vegan sunscreen products cover you for 80 to 90 minutes.
Active ingredients: Active ingredients like Zinc Oxide and Titanium Dioxide are minerals that are present in many sunscreen products. A mineral-based sunscreen product can either contain one of the listed ingredients or both.
With these tips in mind, here are 10 vegan sunscreen products that our members love and have highly reviewed. Here's to taking care of our skin for summer and beyond!
Unseen Sunscreen SPF 40 by Supergoop!
The founder of Supergoop!, Holly Thaggard, was inspired to develop sunscreen products after a close friend was diagnosed with skin cancer. Founded in 2007, this is one of the most popular picks for suncare products on our platform. All products are vegan and cruelty free, with the exception of two mineral sunscreen products.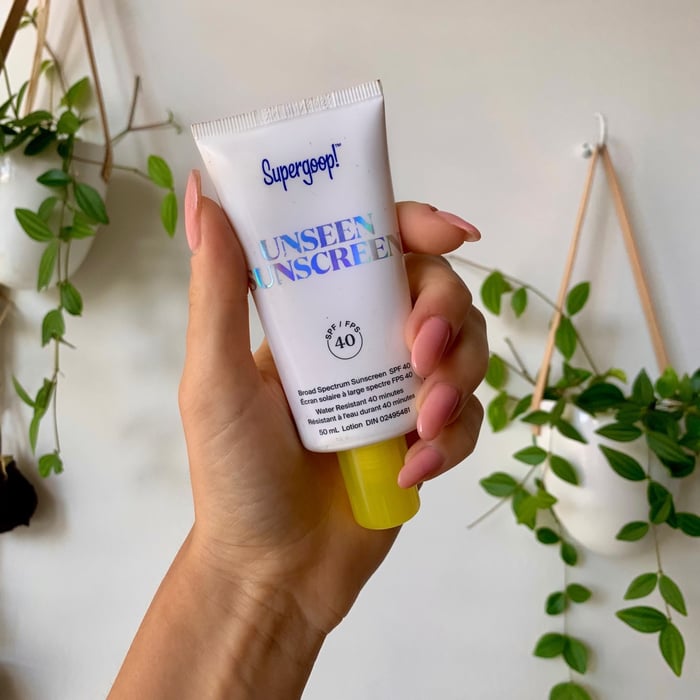 Photo: Unseen Sunscreen SPF 40
Unseen Sunscreen is widely recommended because it ticks many boxes. It allows makeup to stay put because of its oil-free formula. Alternatively, this works as a primer too. As the name suggests, it leaves no white cast when applied. Texture-wise, it has a gel-like consistency, offers SPF 40 protection, and is scentless. It has water and sweat resistant properties too, which means this will cover you for every run, or even a swim. Plus, it also protects corals. A regular sunscreen contains chemicals like oxybenzone and octinoxate. While swimming in the sea, these chemicals can seep into the water and absorb coral reefs. There is a change in water temperatures surrounding corals when this happens. It ends up resulting in warmer waters, thus allowing viruses to grow on corals. Through this process, corals can get bleached, further harming marine life.
abillion member thealexrae says, "It took me sooo long to find a great, vegan, cruelty-free sunscreen that I actually want to use. This sunscreen is more of a clear, light gel and sits nicely on the skin. It goes on kinda like the smashbox photo finish primer, if you've ever used that, so it works really well as a base too."
This product is sold at $34 via the website.
Mineral Bronzing Sunscreen by Pacifica
Founded in 1996 by Brook Harvey Taylor, Pacifica is a vegan and cruelty-free brand that has made a name for itself in the clean beauty market.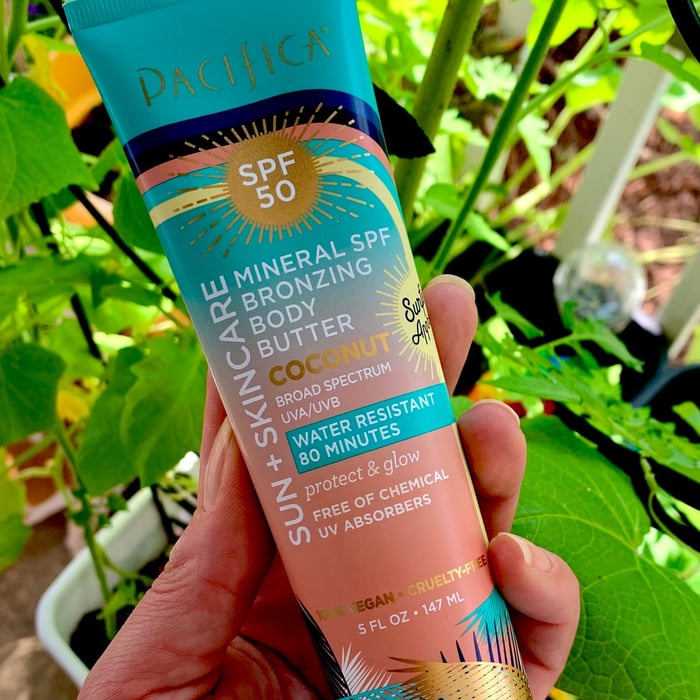 Photo: Mineral Bronzing Sunscreen
If you are looking for a mineral-based sunscreen, our members recommend the Mineral Bronzing from Pacifica. Mineral-based sunscreens are also known as physical sunscreens, mainly because they are gentler on the skin and provide better coverage than chemical-based sunscreens. A chemical-based sunscreen, on the other hand, needs to be reapplied every 20 minutes or so. These sunscreens need to have a short amount of time to work as they get absorbed into the skin. Mineral-based sunscreens are different because they act like a moisturizer and sit on top of the skin.
This multi-tasking product is a member favorite. It provides extra protection with SPF 50 and is water-resistant for 80 minutes. It has a glowy after-effect because of its bronze shine, making it useful for sun protection and beauty. abillion member Erin recommends this because it "is a really nice sunscreen that gives you a little glow after applying. Make sure you use a little and let it dry. Otherwise, it'll feel heavy on your skin. I really like it. It's like a tinted moisturizer for your body!"
You can get this product at $16, via the website.
Hawaiian Sunscreen by Alba Botanica
Founded in 2017, Alba Botanica is not an entirely vegan brand but does produce 100% vegan and cruelty-free products. This sunscreen is available as part of a collection with other suncare products or can be purchased individually. This 30 SPF vegan Hawaiian sunscreen uses botanical-inspired ingredients such as aloe vera, sunflower oil, and tropical fruit extracts. This product is non-greasy and has a soft, tropical scent too.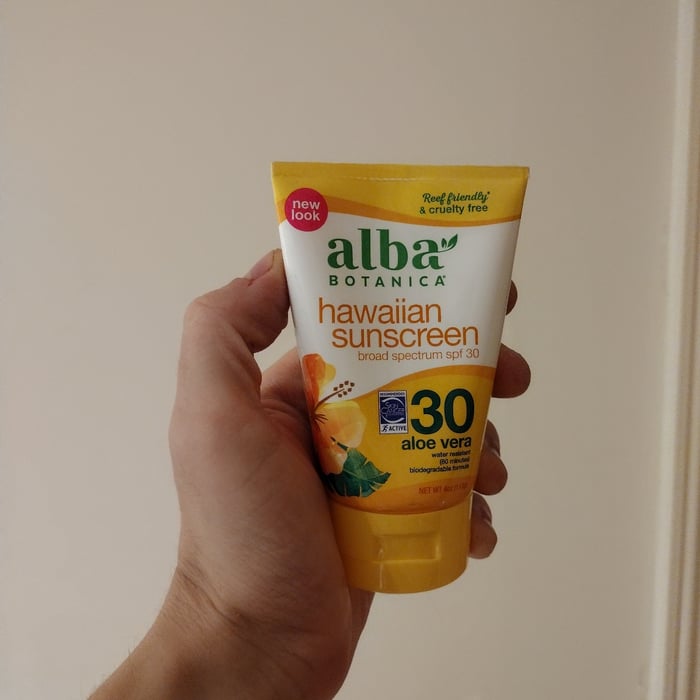 Photo: Hawaiian Sunscreen
abillion member Zaytona says, "I recently got introduced to the importance of sunscreens. I chose this product because it's very affordable and does not leave a white cast nor does it make my face oily. It has a sweet smell. This is the first time that I like wearing sunscreens."
This product is priced at $13 via Amazon.
Glow Screen SPF 40 by Supergoop!
This SPF 40 sunscreen is a lightweight, airy body lotion that gives you a bit of shimmer. Additionally, it is sweat and water-resistant, making it suitable for everyday wear. Although it's a bit pricier than others, this sunscreen does the job and leaves you satisfied.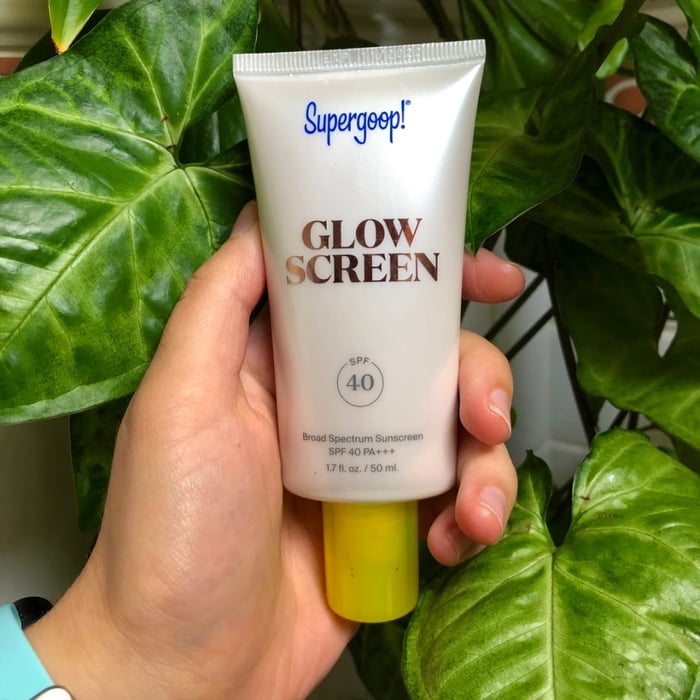 Photo: Glow Screen SPF 40
Our reviewers think it's worth the price. Jenniferj1s says "I saw this product being used by many IG influencers and people I follow and figured I should give it a try. I was hesitant because it's tinted and I don't like wearing makeup all over my face, but this is not at all like a normal tinted moisturiser and does not look like makeup... at all. It's very light and silky and evens out your skin tone without covering it completely. It is a bit glowy and I love the high SPF. Despite the $$$ I will be buying this again."
This product is priced at $36 via the website.
Oh My Bod! SPF 50 Body Sunscreen by Everyday Humans
Founded by Charlotte Pienaar in 2018, this clean brand is plant-powered and uses ethically sourced ingredients for all its products. Made with anti oxidants such as cucumber and green tea extract and Hyaluronic Acid, a substance helps to hydrate and smoothen skin. This sunscreen works well over tattoos, scars, and other blemishes without leaving any white cast. This sunscreen is non-greasy, fast-absorbing, and water-resistant.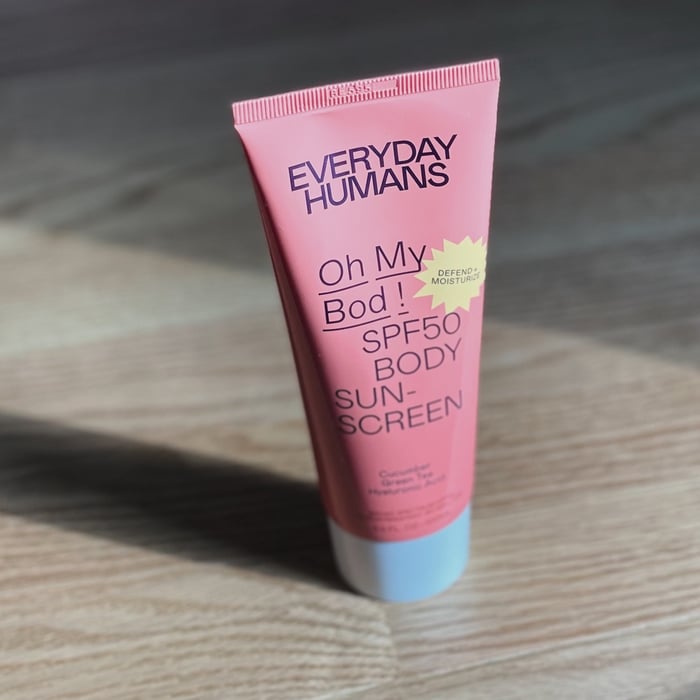 Photo: Oh My Bod! SPF 50 Body Sunscreen
abillion member xuewen likes this product because, "Cucumber, Green Tea and most importantly Hyaluronic Acid! I was so surprised to find that in a sunscreen formula. I've used it before going to a pool before, and it was water-resistant without white fast and not sticky. Lately, I'm using it while working from home as I work by the window and get afternoon sun."
Get this product at $18, via the website.
Premium Moisturizing Sunscreen SPF 50 by Sun Bum
Sun Bum, a vegan and cruelty-free certified brand, was founded in 2010 by three friends, Tom Rinks, Adam Francis and Tegan Francis, who initially developed products solely to protect their friends and family from the sun.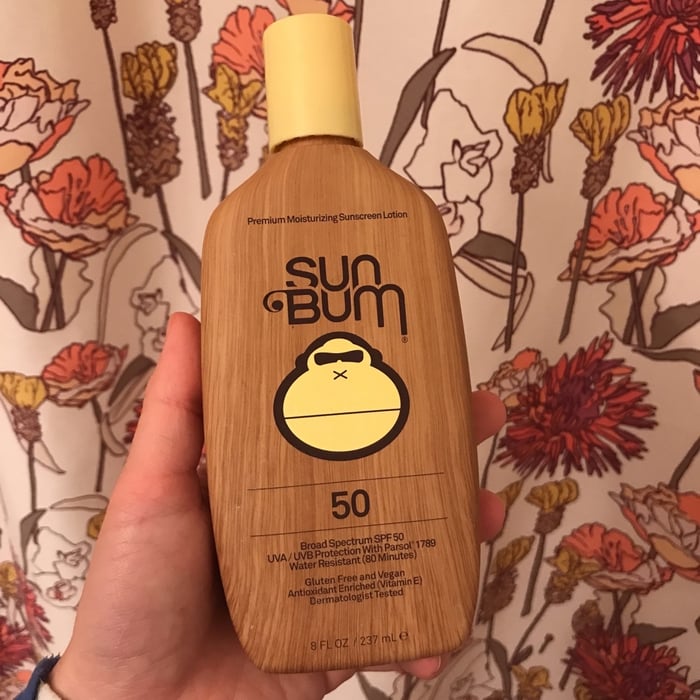 Photo: Premium Moisturising Sunscreen SPF 50
This sunscreen works like a non-sticky moisturizer and protects you from UVA and UVB rays. It has a high SPF, is water resistant for 80 minutes, and leaves your skin hydrated with antioxidants. abillion member, Preethiness recommends this because, "this product made me fall in love with sunscreens. This sunscreen isn't as sticky and oily like others. Love that it moisturizes while protecting."
Get this product at $14.99 via the website.
Botanical Tinted Sunscreen Face SPF 50 by Australian Gold
Many might not realize that this Australian brand has been around since 1985. Australian Gold was founded by Trevor Gray, who originally hails from the United States, but was inspired by his mother's Australian heritage. All of the brand's products make use of native Australian ingredients.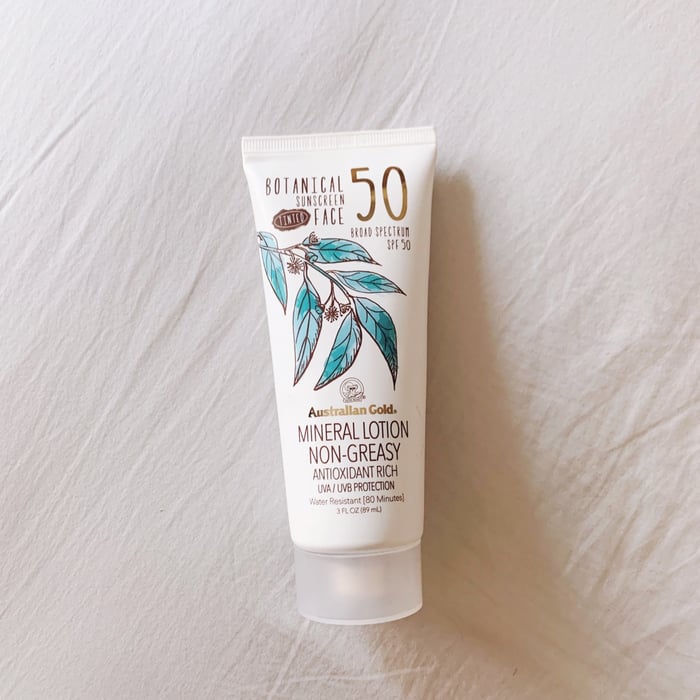 Photo: Botanical SPF 50 Face Tinted Sunscreen
Tinted sunscreen comes in various shades for different skin tones. These are usually meant for facial use as tinted sunscreens contain extra pigment in their formulas. This sunscreen works well for beach days because it provides water resistance for up to 80 minutes and is fragrance-free. This product features Australian botanical antioxidant ingredients like Kakadu plum and red algae.
abillion member, Calditodemazapan writes, "Great tinted sunscreen for most skin tones, particularly with pink undertones. No whitecast and easily blends with makeup. Not greasy or heavy on skin. Coral reef-safe."
This sunscreen is priced at $15.99 and is available via the website.
Mineral Sport Sunscreen by All Good
All Good was founded by Caroline Duell in 2006. Its motto is to live in balance with plants. While not all of their products are vegan, they are all cruelty-free certified and reef safe. This well-reviewed sunscreen is vegan.
This mineral sunscreen differs from the rest because of its ability to protect from blue light damage (HEV). Blue light gets reflected from various electronic products. It is a non-greasy formula and offers broad spectrum protection. This is suitable for the face and hands.
This product is sold at $17, via the store's website.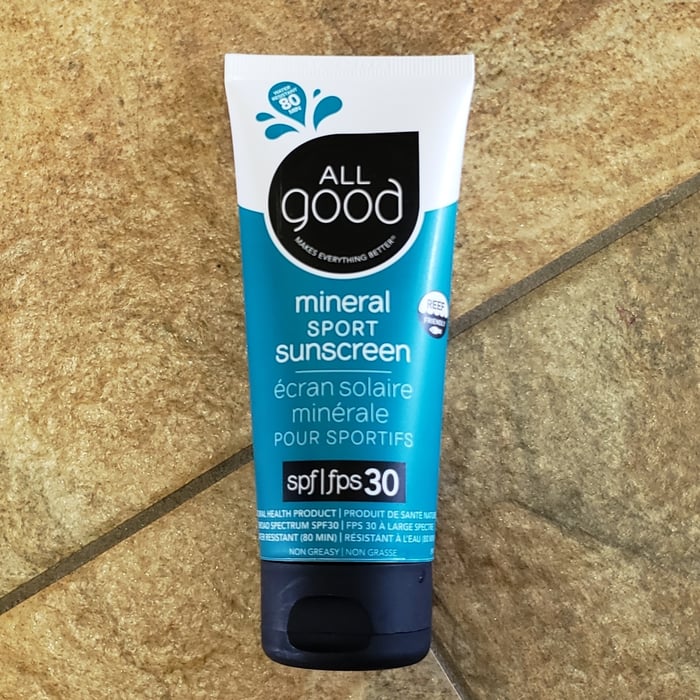 Photo: Mineral Sport Sunscreen
Clear 50 by Sun Bum
Not only is Clear 50 from Sun Bum affordable, it's also a portable, travel-sized sunscreen that you can carry everywhere. This fragrance-free sunscreen is made with Zinc Oxide, aloe vera and antioxidants such as vitamin E that will protect you from sun damage while keeping your skin hydrated at the same time.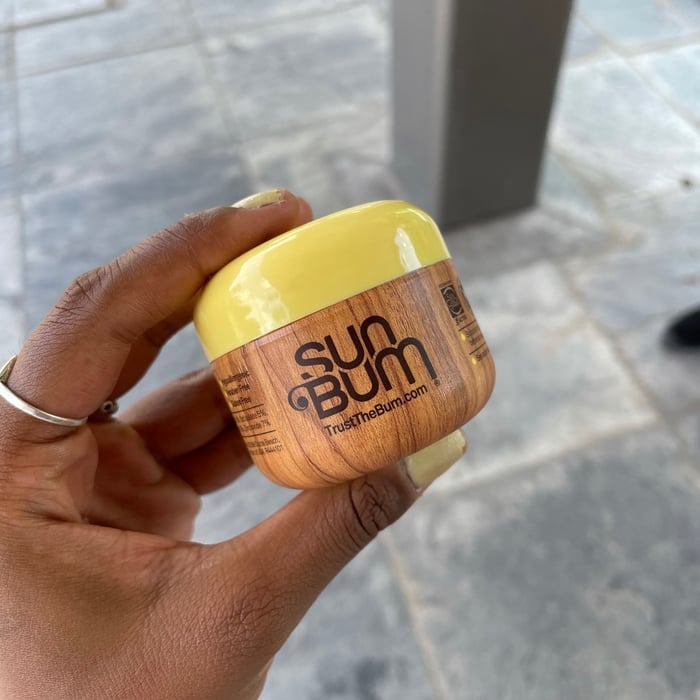 Photo: SPF 50 Sunscreen
Priced at $9.99, this is available via the store's website.
Mineral SPF 30 Face Sunscreen Lotion - Untinted by Bare Republic
Bare Republic was first introduced in 2015 and was founded by Chris Birchby. The idea to start a line with organic products came to Birchby because his parents were diagnosed with melanoma, a skin cancer (fortunately, both his parents recovered). After the experience, he realised the importance of sunscreen products and the need for protection from UV rays.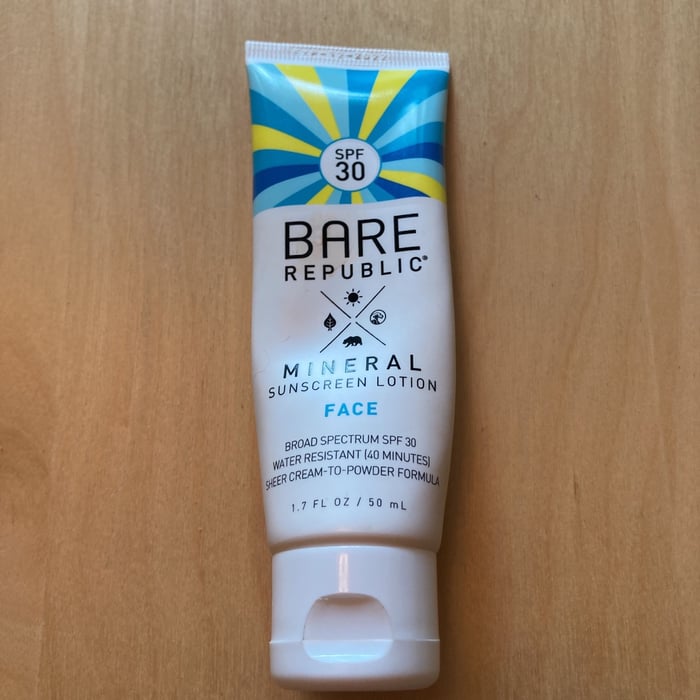 Photo: Mineral SPF 30 Face Sunscreen Lotion
Bare Republic is mostly vegan with the exception of a few products. All of its products are cruelty-free. This Mineral Face Sunscreen has an SPF of 30, and works for all skin types. The lotion is soft, non-greasy and has a mattifying effect when applied. As a mineral based sunscreen, the formula is infused with all good antioxidants such as cucumber and aloe extract, shea butter, and zinc oxide to hydrate the skin. abillion member Daisy20 is a fan of this product: "This is currently my favorite sunscreen. Has an incredibly silky feel, isn't greasy, leaves no white residue, and seems to give great protection."
This product is sold for $16.99 via the store's website.