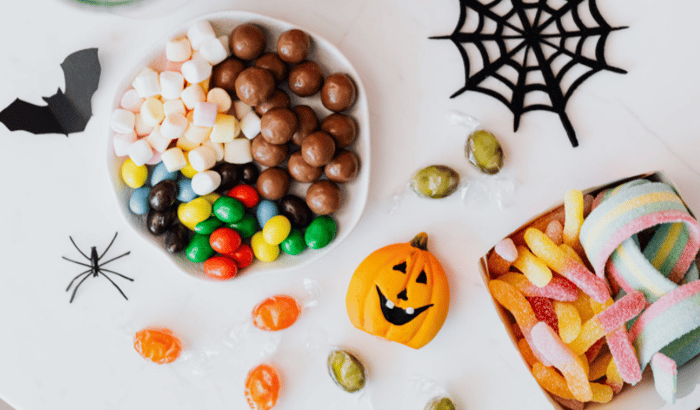 Photo: Karolina Grabowska
Spooky season has arrived and that means Halloween is right around the corner. We hear candy aficionados rejoicing, for it's the time to stock up on all your favorite treats.
It can be conflicting because the festive season spurs new candies — making it hard to narrow down the ultimate selection. To make it easier, we've released our list of the World's 10 Best Vegan Chocolates.
But why stop there when there's plenty more sweet treats we could recommend? Here, we've rounded up a mix of winners from our awards and other candies you can't miss this year. Bon appetit!
Sour candy is a must for Halloween. While there are many brands, many will argue that the pinnacle of sweet and sour candy is Sour Patch Kids. Plus, it's vegan and still has that squishy and bouncy texture without the use of gelatine.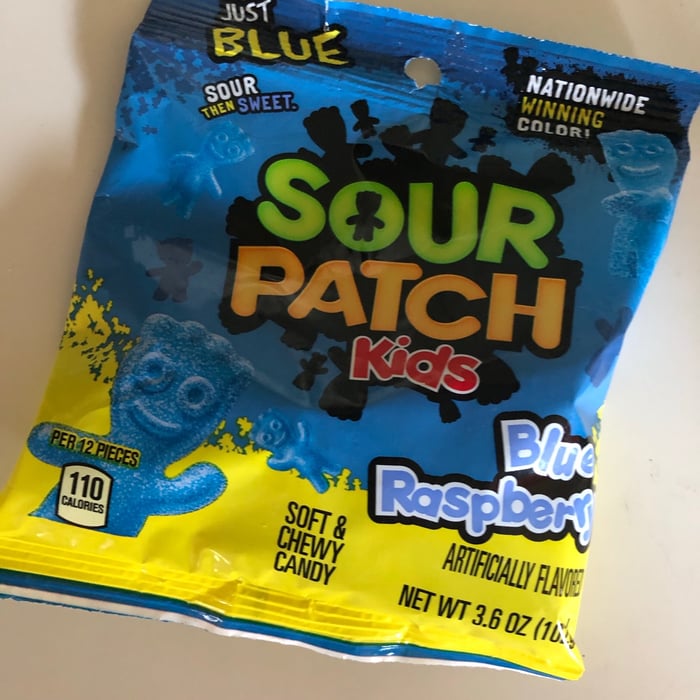 Blue Raspberry flavored Sour Patch Kids
While the usual Sour Patch Kids candies come in fruity flavors, this one packs a bigger punch. It's raspberry, and popping one too many can turn your tongue a shade of blue — cue Violet, from Charlie and the Chocolate Factory. @reywatson reviews saying, "These are accidentally vegan gummy candies. Yummy!"
Pumpkin spice may be a flavor that describes the Fall season but caramel is just as worthy. Here, NOMO's Caramel Chocolate bar does not disappoint.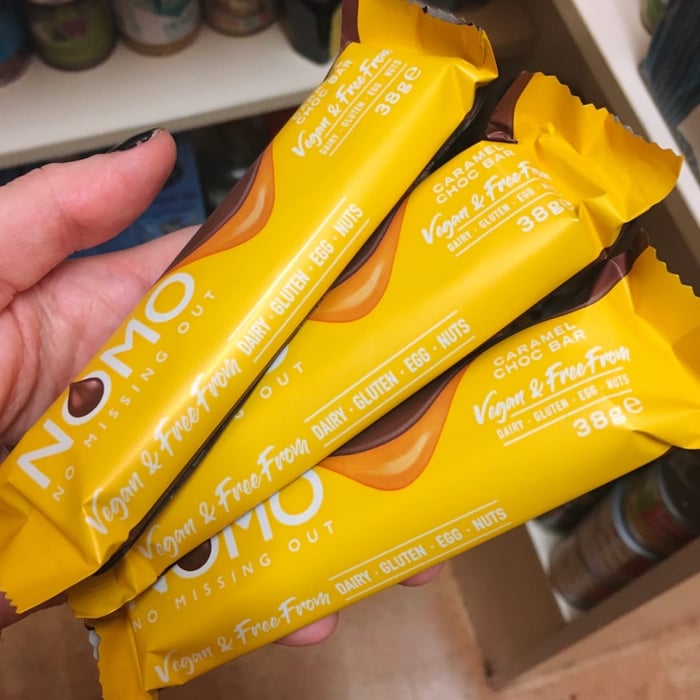 NOMO Caramel Chocolate Bar
This year, UK brand NOMO's Caramel Chocolate bar ranks #2 based on our members' reviews. Its bars are different because the brand uses rice powder instead of milk, which means all their chocolate bars are also suitable for those with allergies.
@yourlocalvegan's review sums it up. Saskia says, "...This is unbelievably good, basically exactly like a Cadbury dairy milk caramel bar! Nomo's chocolate is so nice, and the caramel is so smooth and tastes amazing. I definitely recommend NOMO! #veganisnotscary"
Marzipan might not be everyone's favorite choice of ingredient to go with chocolate, but Ritter Sport makes theirs differently. The German chocolate brand released four new bars from the Accidentally Vegan collection at the beginning of 2021. Our members ranked this flavor as the #3 winner from the EMEA region (Europe, Middle East & Africa).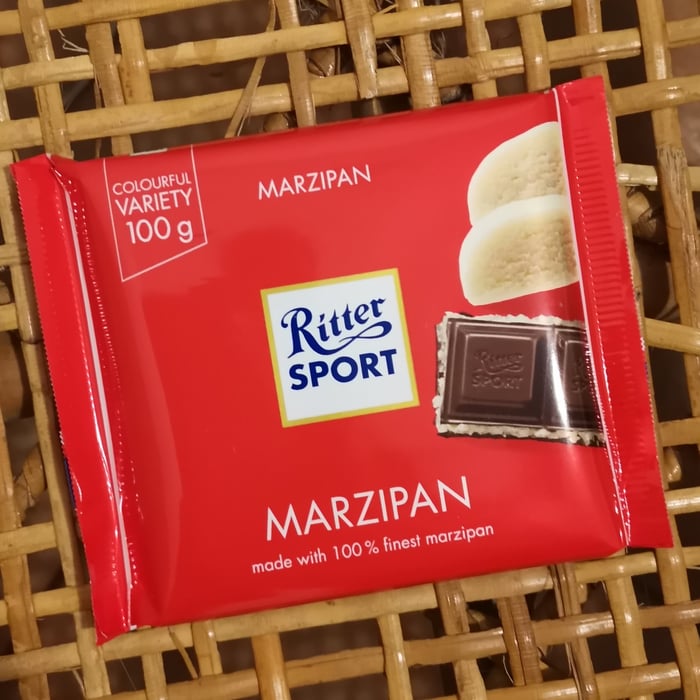 Marzipan by Ritter Sport
This individually wrapped square bar contains dark chocolate, sweet almonds, and a marzipan filling. Its red wrapper is a colorful addition to any of your candy bowls. @anthe says, "Marzipan is the real protagonist of this bar. Its bitter almond flavor is felt and goes well with the chocolate around it."
Alfajor Negro might not be the typical version of chocolate you're picturing. It's a cookie sandwiched between a thin layer of almond Dulce de Leche — a milk-based sweet popular in Argentina similar to caramel.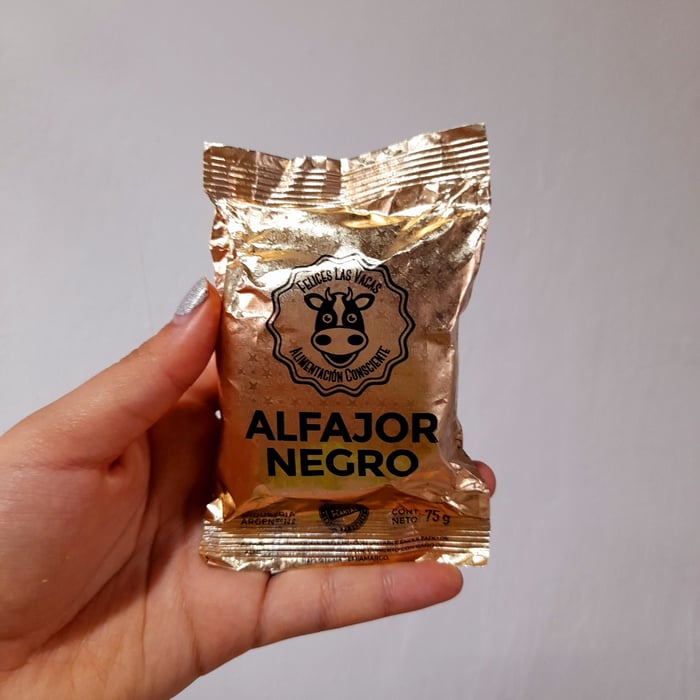 Alfajor Negro by Felices Las Vacas
Our members have ranked Alfajor Negro from Felices Las Vacas as one of the top five chocolates from the regions of Europe, the Middle East, and Africa. @abillionale reviews saying, "Delicious, I would eat more than one immediately as it is tasty and not cloying. The cost could be less, but it is worth it anyway."
Detractors of dark chocolate may not like its tad bitter taste, but these Coconut Bars from Unreal are bound to change that opinion.
It is ranked #1 among our North American members, all for a good reason too. Unreal's mission is to create chocolates that feel and taste good with only a few ingredients. This one, in particular, is made with just three: organic coconut, organic cassava syrup, and dark chocolate.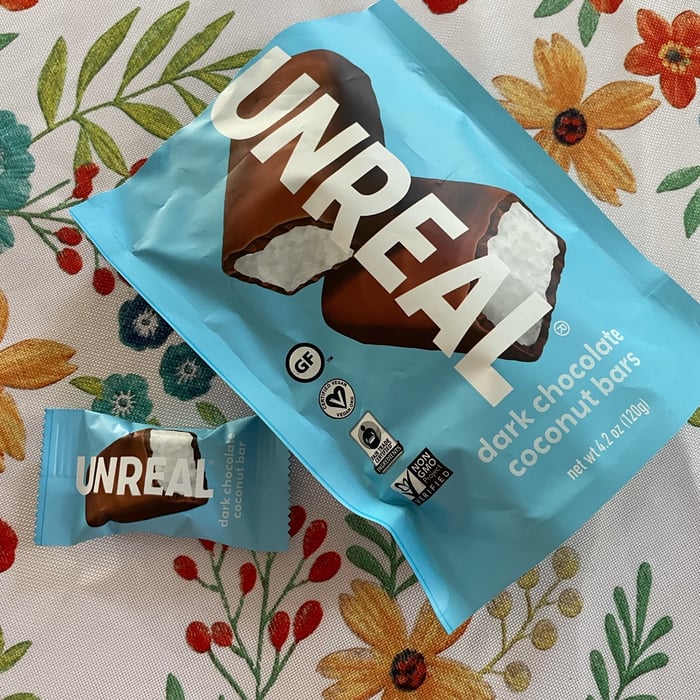 Dark Chocolate Coconut Bars by Unreal
For those craving Bounty or Mound bars, these work well too. @ambularfortheanimals, too agrees. "Missing those almond joy and mound bars? Well here you are, you won't miss them anymore!! These are so good. Perfect to hand out to those trick or treaters #wholefoods."
How does creamy chocolate made from cashew milk sound? This three-ingredient Cashew Mylk Chocolate from Loving Earth uses raw Ashaninka cacao beans, cashews, and evaporated coconut nectar.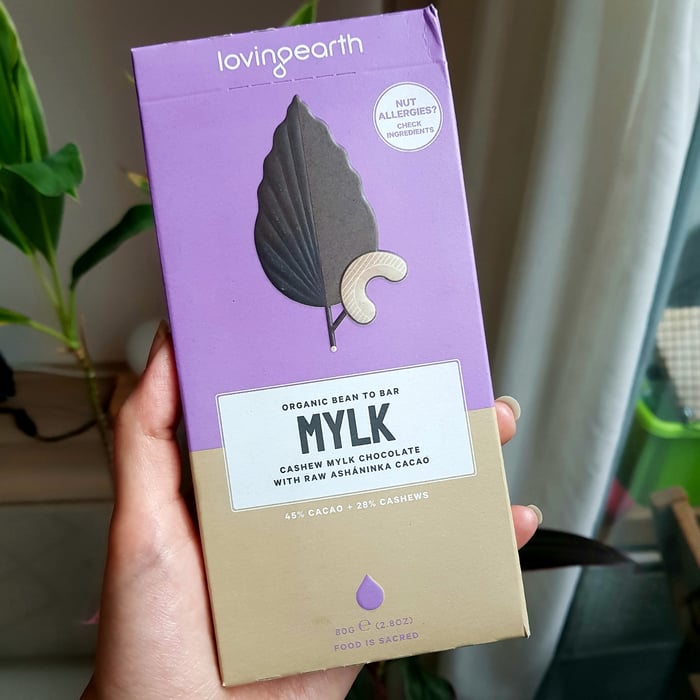 Cashew MYLK Chocolate by Loving Earth
Sustainability is vital for the brand. The packaging is printed with vegetable ink and made from recycled fiber. The cacao beans are sourced from the Ashaninka community, an indigenous group deep in the Peruvian Amazon. @douraya reviews saying, "More of a fudge-like texture which I got no problem with! All compostable packaging so kudos to the brand for that. Of all their chocolates that I tried, this one is my favorite."
Move over Reese's peanut butter cups. Justin's Vegan Dark Chocolate is giving that grocery aisle favorite a run for its money. The latter is a healthier alternative that uses organic peanut butter to boot.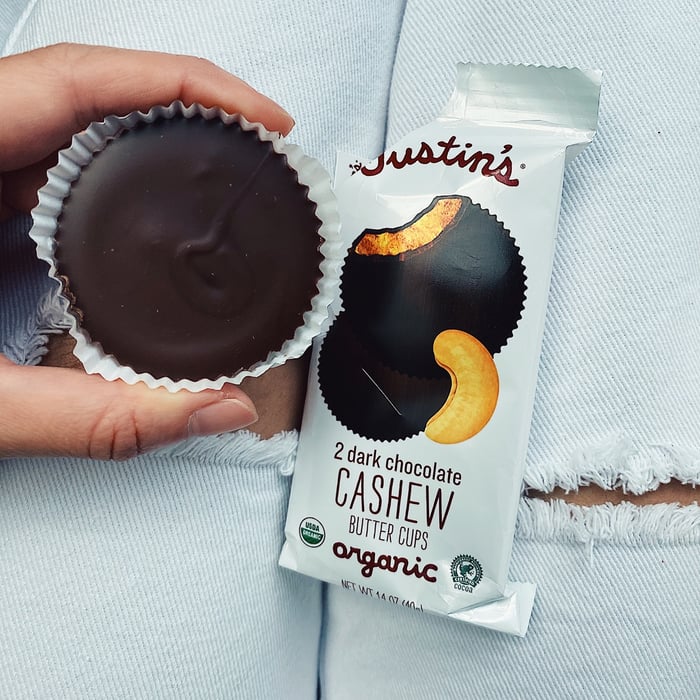 Dark Chocolate Peanut Butter Cups by Justin's
The food packaging is also sustainable, further reducing plastic use and its carbon footprint. Justin's partners with Conscious Alliance and Metro Caring through donations to minimize national hunger. Now, that's a double win.
@Katie Winter reviews the chocolate saying, "These are absolutely phenomenal. I've tried so many vegan "Reese's" cups, and this is the best hands down. All of Justin's dark chocolate cups are amazing. I particularly love the cashew butter, because I like cashews, but they are all worth trying. Yes, these are more expensive than Reese's. But so worth it. Cannot recommend enough. Order some now!!!"
Pure Lovin' vegan chocolatier is known for using organic, locally sourced, and natural ingredients. Founders Cyndy and her daughter Leah began creating this handcrafted chocolate after multiple kitchen experiments when they were inspired by a box of vegan truffles.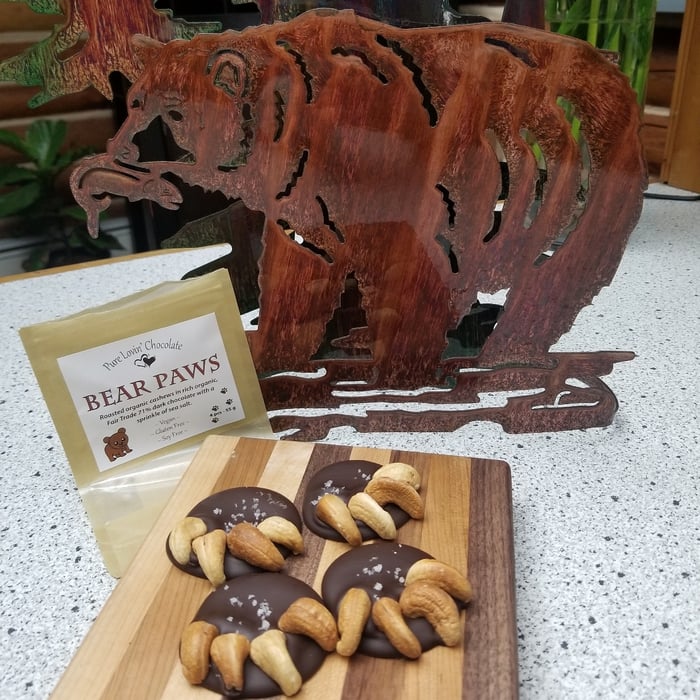 Bear Paws by Pure Lovin' Chocolates
At first glance, these paws might give you the creeps until you realize they taste delightful. @veganonvanisle says, "Rawr!! These Bear Paws are dangerously delicious! Most things at #purelovinchocolate are amazing, though, so it's to be expected. #chocoholic"
Fall season means pumpkin-flavored everything, including marshmallows. Dandies Vegan Pumpkin Marshmallows has got you covered. This festive treat is sweet, fluffy, and comes in bite-sized portions. The pumpkin spiced flavor isn't distinct, but our members suggest adding it to other dishes like pancakes, waffles or even as toppings on your favorite Fall drinks.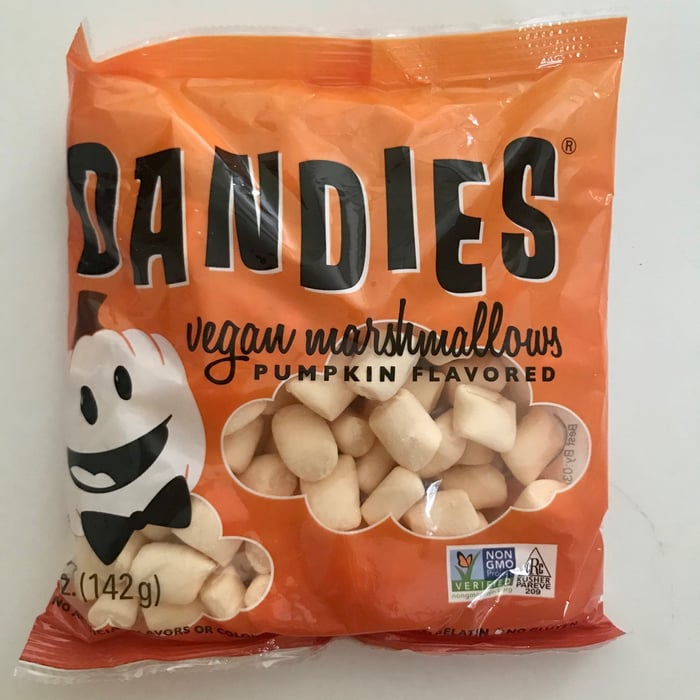 Dandies Vegan Pumpkin Marshmallow
@kaylabear says, "These are a great seasonal treat! I wouldn't say they taste overwhelmingly pumpkin-flavored, but they're still good! I've put them on many desserts, and my favorite — on a pumpkin spice bubble tea. I love the mini size. Next time I'm going to try a pumpkin spice hot chocolate!"
Level up your gummies this season. Unlike your regular pack, Spooky Bats & Cats are made from natural flavors and based on plant-sourced colors. Our members say it's a seasonal item at Trader Joe's, and we say this is worth a buy.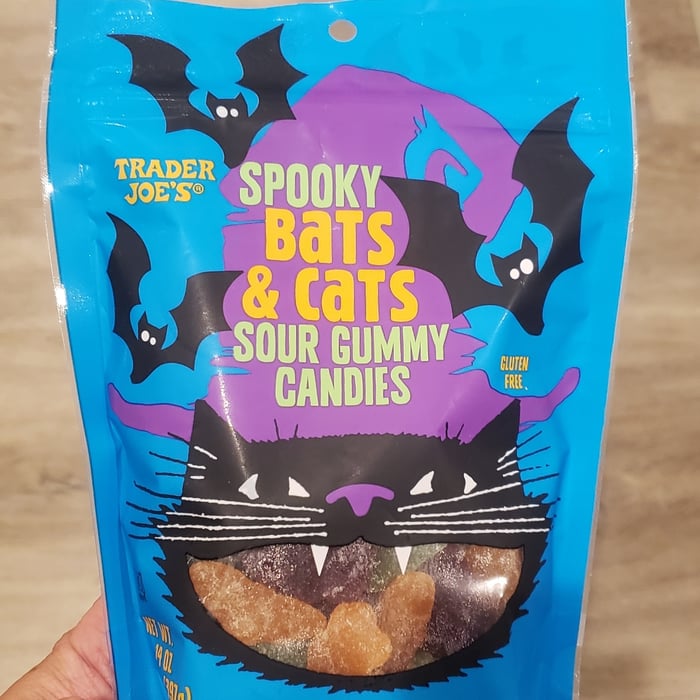 Spooky Bats & Cats Sour Gummy Candies
@tinkledink says, "Gotta love a good vegan sour gummy, and for Halloween no less! I'm a sucker for anything fall or Halloween-themed, and these taste great."