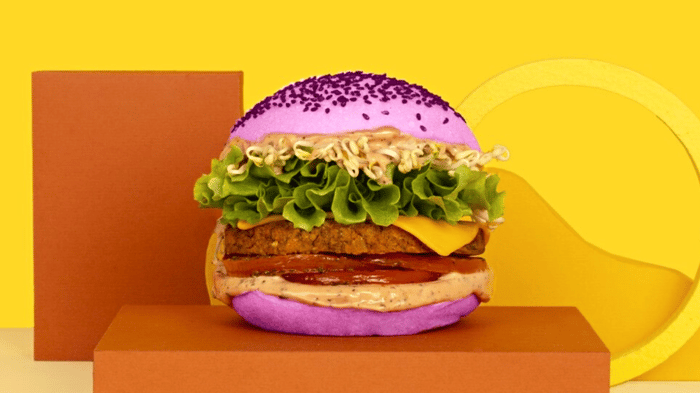 Photo: Flower Burger
We recently released our 2021 ranking of the World's 10 Best Vegan Burgers, based on reviews posted by the abillion community. That list was for burger patties you can pick up at grocers and cook at home. But we know some of you wanted to know—thanks to comments left with our app—where to find the very best prepared burger dishes around the world. Well, here you go! We used our data to pull out and recommend 10 of the very best vegan burger dishes from restaurants around the world, based on the number of reviews and their overall rating score by our members.
Porteña Burger by Casa Mhia - Buenos Aires, Argentina
Not only is the Porteña Burger ranked number 1 in Argentina, it also has an almost perfect rating score from our members! The burger consists of a unique mix of a BBQ Seitan medallion, vegan bacon, grilled onion, creamy sunflower-based cheese sauce, vegan cheddar cheese and is topped off with fresh tomato and lettuce.
Casa Mhia is a fast food franchise that has been a go-to for many of our Argentinian members, thanks to their extensive menu of comfort food including burgers, sub sandwiches, vegan hot dogs and many more.
Check out the reviews for the Porteña Burger.
Cheese Please Burger by Soul Burger - Sydney, New South Wales, Australia
Soul Burger sells 100% vegan burgers that look and taste like the real deal. The Cheese Please Burger is cheesy, juicy and comes with a side of crispy fries. Although the Cheese Please Burger is a popular choice, abillion member @vanessaainsley wants you to know that, "every single one is terrific."
Although Soul Burger did not start off as a vegan establishment, they decided to turn into Australia's first plant-based burger joint in December 2015 after removing all meat and animal products from their menu. The restaurant is determined to change the plant-based food scene in Australia and to bring amazing plant-based burgers to as many people as possible.
Feast your eyes on these pictures of the Cheese Please Burger here.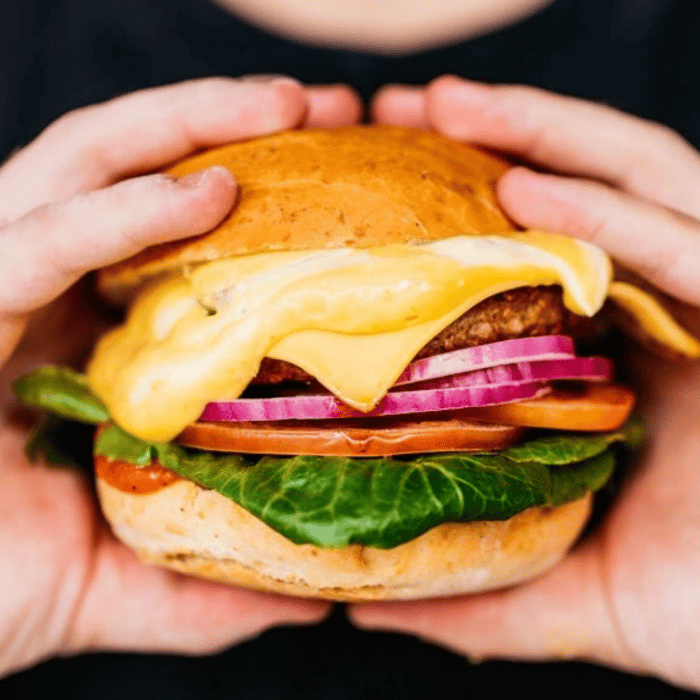 Photo: abillion member @clam
Famous Burger by Globally Local - Toronto, Windsor & Vaughan in Ontario, Canada
Dubbed "the vegan Big Mac'', the Famous Burger is the perfect option for anyone looking to reduce their meat intake while still indulging in the same flavors they love if they grew up Mickey D's fans. This burger consists of 2 chickpea-based patties, smothered with special sauces, vegan cheese, shredded lettuce and topped off with a pair of sesame buns.
Globally Local was the world's first vegan fast-food chain to go public. With the intention of creating affordable vegan food, the meal prices at Globally Local are purposefully kept at equal prices to other major fast–food chains, making their food accessible to many more people.
See the reviews for the Famous Burger here.
Cherry Bomb by Flower Burger - Milan, Italy
Cherry Bomb may just be the most instagrammable vegan burger we've ever seen (see image at the start of the article). The best part is that it not only looks great and tastes better, but it is also made of healthy whole food plant-based ingredients. The bright pink hue on the buns and the amazing mix of ingredients create a bomb of flavors. The burger is made of a lentil and rice-based patty, confit tomatoes, Rocktail sauce and fresh sprouts. It is the most reviewed burger at Flower Burger, so we know our members from Italy can't get enough of it.
Flower Burger is the first vegan fast food and burger establishment opened in Milan. It launched in 2015 and will soon be opening outlets across Europe and in the United States. Use the abillion app to find the outlet nearest to you and get your hands on their burgers!
Check out the reviews for the Cherry Bomb.
Beyond Burger by Revolución Verde - Monterrey, Nuevo León, México
In their review of this Beyond Burger, abillion member @monitzin writes, "highly recommended if you have a bigger appetite. It's quite large and tastes a lot like what I remember meat did. The bread is delicious and fluffy and the veggies are fresh. Don't forget to ask for their fries - yum!"
With a generous dollop of guacamole on top, Revolución Verde has spun a Mexican twist onto the classic Beyond Burger. If you're ever in Nuevo León looking for a burger that wouldn't disappoint, Revolución Verde is where it's at.
See what abillion members have to say about the Beyond Burger.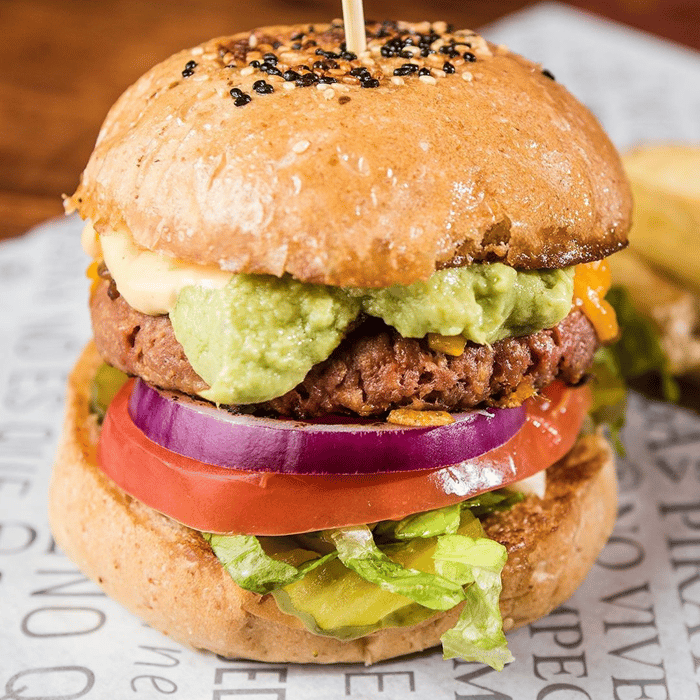 Photo: Revolución Verde
Chilli Krab Burger by VeganBurg - Singapore
It's no surprise that the Chilli Crab Burger made it onto this list. It was voted as the 2nd best vegan dish in our Singapore Top 50 Vegan Dish Awards 2021, this burger is as unique as it can get. Chilli Crab is one of Singapore's iconic local dishes and VeganBurg has incorporated the classic spicy and tangy flavors from the original dish into this one-of-a-kind burger.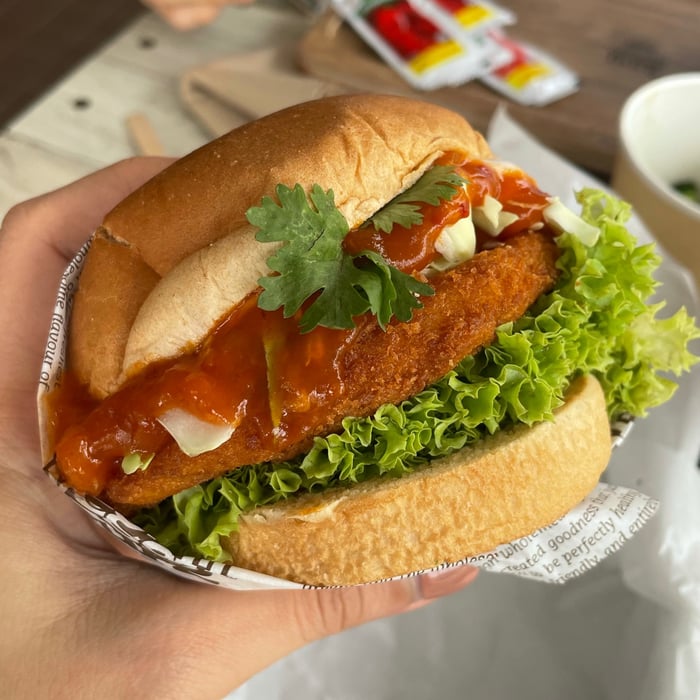 Photo: abillion member @gaylenerva
Beyond Burger by Pure Café - Greyton, Western Cape, South Africa
Many of our members in South Africa claim that this is the best tasting and the most affordable Beyond Meat burger they've ever had. As expected, Beyond Meat is well-loved by our members from across the world; the patty was ranked number 1 on our recent World's Best Vegan Burger Awards!
Pure Café exists as a part of Greyton Farm Animal Sanctuary, one of the animal sanctuaries in South Africa we support as part of our giving program. The cafe is run with a focus on sustainability. The team at Pure Café aims to make vegan food affordable for everyone and wants to be able to create an outlet for the surplus of organic vegetables being generated by their community and schools nearby. Do check them out if you're ever in the area.
Check out the reviews for the Beyond Burger here.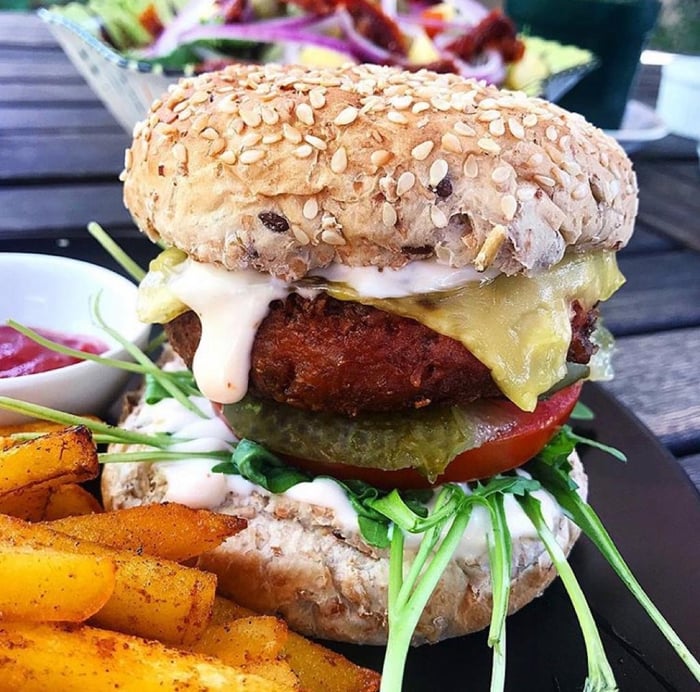 Photo: abillion member @leonroode
Burger Queen by Viva Burger - Madrid, Spain
In their review, abillion member @barbarapgs describes this burger, "My favorite burger at this restaurant. Everything is homemade, including the buns and nut-based cheese. It is also perfectly balanced with the caramelized onion and pickles."
Viva Burger was started a little over 5 years ago by Mada, a plant-based globetrotter who loves following a healthy lifestyle. After being inspired by other plant-based restaurants in Madrid, Mada started Viva Burger to serve healthy vegan food with love and respect to their hungry customers.
See the reviews for Burger Queen here.
Moving Mountains Burger by Unity Diner - London, UK
This vegan eatery needs no introduction to vegans in the UK. From its early days, Unity Diner has gathered rave reviews from abillion members.
The thick patties in this burger are from a plant-based meat company called Moving Mountains. These are said to be the UK's first plant-based "bleeding" patties, akin to meat in every way. And our members totally agree. The double stacked patties are paired with garlic mayo, bacon and cheese, all inside of a brioche bun. What's not to love about this?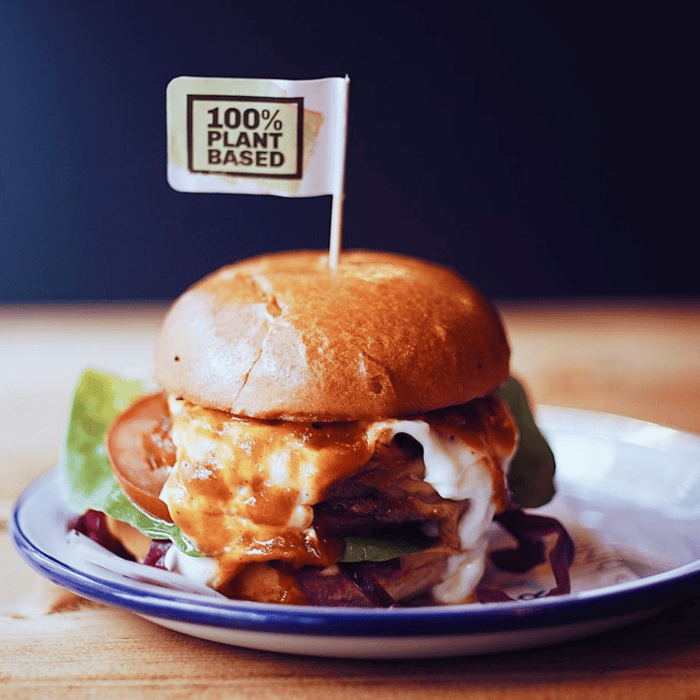 Photo: Unity Diner
Single Burger by Monty's Good Burger - Los Angeles, California, USA
Most vegans in California already know and love Monty's. According to our members, their famous Cheeseburger has everything you look for in a great burger. This burger consists of an Impossible patty, Follow Your Heart Cheese, house spread, lettuce, tomato, house pickles and grilled onion on an artisan bun.
Founded in the summer of 2018 in Southern California, Monty's has now served over 2 million burgers, fries, tots and shakes. The "Good" in their name Monty's Good Burger means much more than just great taste. The team behind this conscious company constantly strives to sensibly source their ingredients, use compostable serving products whenever possible, and always provide their staff with a safe working environment.
If you're planning on visiting any of these cities when travel resumes, be sure to save this list for easy access to all the reviews made by other abillion members.
What is the best vegan burger you've tried recently? Share your dish reviews on abillion and show your support to the restaurants you love the most.