Review of Xin Zhou Bee Hoon at Xing Xing Vegetarian Food by fulfilling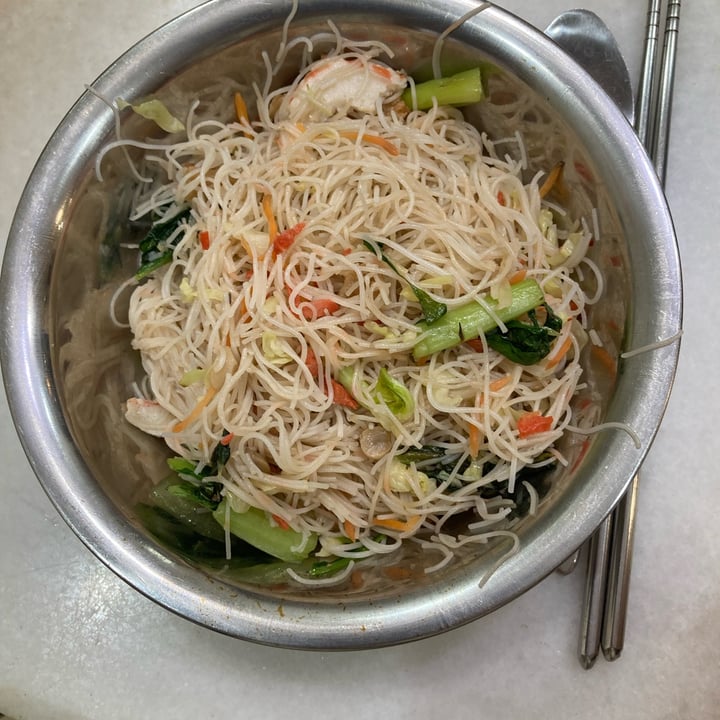 Xin Zhou Been Hoon teaches me how to eat 🤣

I like Mee Fen. Sometimes it is called Bee Hoon or Rice Vermicelli. It tastes so good.

We asked for less oil, less salt and no MSG. It costs $4.80 per box per person on Grabfood platform.

My hubby decided to upsize to large by paying extra $2. Then, he ordered two such large servings. Total cost: $13.60, excluding delivery fees.

We divided the portion into 4 serves. Not too much.

We felt more or less about 60% full, then eat an 🍊 orange and a banana 🍌 to top up to 70% full.

Yoga and meditation teachers often teach not to eat until 100% full. Eat around 70% of our full capacity will be better for our health.

Then two hours later when I get hungry, I eat some nuts or fruits before the next meal. I prefer Healthy small food intake throughout the day than few large meals. 😊

This way of eating is kinder to our digestive system, and our overall health.

Thank you so much for reading and I hope you benefit from reading. Wish you a blessed day everyday!

@abillion10
helloitsme
 Some wonderful tips...thank-you!
3 likes
Reply
tabs
 Not overeating till way too full is really something I've been struggling w recently 😖 there is also the other side of me that hates food wastage but sometimes the food portion is already cooked / bought and hard to control.
1 like
Reply
fulfilling
 I can totally understand where you are coming from. I have been through that myself. Opposite of "hate food wastage" is "treasure food" Treasuring food is good. It simply means you are thankful and grateful for the food you are blessed with. Yet, at the same time, you understand the health aspect to eating 100% full. When the too much food has been cooked or bought, I keep the extra and warm up for the next meal. Sometimes, I do overestimated and cooked too much. When I have to let it go, I thank the food and let go. Gently reminding myself that I will do better in estimating the food the next meal. With guilt, we feel down and disempowered. With kindness and compassion, we forgive and do better. The latter is definitely more empowering. Don't worry. You will get better. ❤️
1 like
Reply
tabs
 Thank you for this! Yes I always refrigerate food when there's too much & totally ok w eating leftovers/old food. Trouble is when the remaining portion seems too small to be worth the trouble of keeping and portions can start accumulating in the fridge. But when I struggle to take the last few bites to "just finish up" the process of eating becomes too painful and it's my body/health/ enjoyment that suffers so yes… sometimes it's about learning to let go and find that balance.
1 like
Reply
fulfilling
 I totally understand the little bit leftover here and there. We tend to avoid being the last one to finish up the dish, even though how much we LOVE it, to leave that little bit for our loved ones to eat. Sometimes, it is about being gracious when dining with people you are not so close with. In the end, no one eats it and the delicious food becomes left over. It is so hard what to do with little bit here and there. I faced that problem too. So I can understand you, Tabs. Sometimes it happens, so I would use small plates to keep the food and warm it up for the next meal. As I don't like being asked to finish the food after I had enough, I do not do that to others. So even though it is so little, I will just keep them in the fridge. I taught my children that when they have enough, just stop. We can keep the food for the next meal. Overeating just not to waste food creates another set of problem - problem relating to overeating. If they can finish up the food because they can still eat, then go ahead to finish it up. When my family friends come over for meals, I will share with them, " It is alright that you like my dish I cooked and finished it all. Don't feel embarrassed or "paiseh" I would be more than happy that you like my dishes and finish them, then to "paiseh" and there is left over food." It always work. You can really get to see which dish on the table is your friend's favourite. 😊
1 like
Reply
tabs
 Thanks for your advice and sharing your perspective on this! Glad to be reassured that it IS okay regardless of various scenarios and how to tackle this issue. Really appreciate it ☺️☺️
Reply