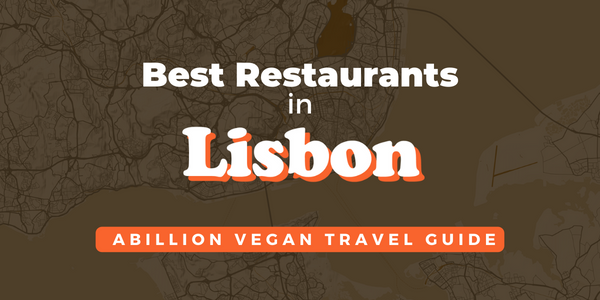 Lisbon, the sun-kissed jewel of Portugal, has long captured the hearts of travelers with its charming streets, picturesque views, and rich history. But did you know that Lisbon is also a paradise for vegan foodies? Get ready to embark on a mouthwatering journey through this coastal city as we uncover some of the best plant-based restaurants that Lisbon has to offer.
Kickstart your vegan adventure at Ao 26 - Vegan Food Project, a restaurant that's not just about food; it's a movement. With a commitment to sustainability and innovation, this eatery presents an array of delicious dishes that will have you coming back for more. From creative sandwiches to hearty bowls, Ao 26 is a true haven for vegan food enthusiasts.
Photo: eusonbonita
Calling all sushi lovers! Legumi Sushi Vegan is here to redefine your sushi experience with their plant-based creations. From perfectly rolled sushi rolls to delightful sashimi, this restaurant proves that you don't need fish for a sushi delight.
Photo: nuriag
Elevate your vegan dining experience at The Green Affair, where gourmet meets compassion. With a menu that highlights seasonal and local ingredients, this fine dining establishment offers a culinary journey through plant-based flavors that will leave you inspired.
Photo: estherfe
Nestled in the heart of Chiado, Organi Chiado serves up organic and wholesome plant-based dishes that nourish both the body and soul. From colorful salads to hearty mains, each dish is a celebration of fresh ingredients and culinary creativity.
Photo: manumad
You can't visit Lisbon without indulging in the iconic Portuguese custard tart, and Vegan Nata Portugal ensures that vegans don't miss out on this delight. Savor the creamy goodness of a vegan pastel de nata, a treat that captures the essence of Portugal's culinary heritage.
Photo: vegancheflisbon
Beat the Lisbon heat with a trip to Scoop 'n Dough, a vegan ice cream parlor that specializes in sweet treats. Indulge in a variety of plant-based ice cream flavors and baked goods that will satisfy your cravings and cool you down.
Photo: beatrizlp2911
Craving a quick and satisfying vegan meal? Look no further than Vegan Junkies. This eatery offers a range of comfort foods, from juicy burgers to crispy fries, all prepared with a vegan twist.
Photo: telena
Step into a plant lover's paradise at O Botanista, a restaurant that celebrates the beauty and flavor of plant-based cuisine. With an emphasis on sustainability and creativity, this eatery offers a menu that showcases the versatility of plants in every dish.
Photo: cawcaw
Ortea Vegan Collective is not just a restaurant; it's a collective of flavors and experiences. From brunch delights to innovative mains, this establishment brings together a community of vegan foodies to savor and celebrate plant-based cuisine.
Photo: vagrantvegan
Last but certainly not least, Plant Base is a restaurant that invites you on a flavorful journey through the world of vegan food. With a diverse menu that spans from comforting classics to modern innovations, Plant Base is a fitting end to your vegan culinary exploration in Lisbon.
Photo: lenazwo
Lisbon's vegan food scene is a testament to the city's commitment to both culinary excellence and ethical choices. Whether you're wandering through historic streets or enjoying the sea breeze along the coast, you'll find a variety of plant-based delights that celebrate flavors from Portugal and around the world.
Prepare your taste buds for a journey of flavors and textures that capture the essence of this beautiful city. Bom apetite!