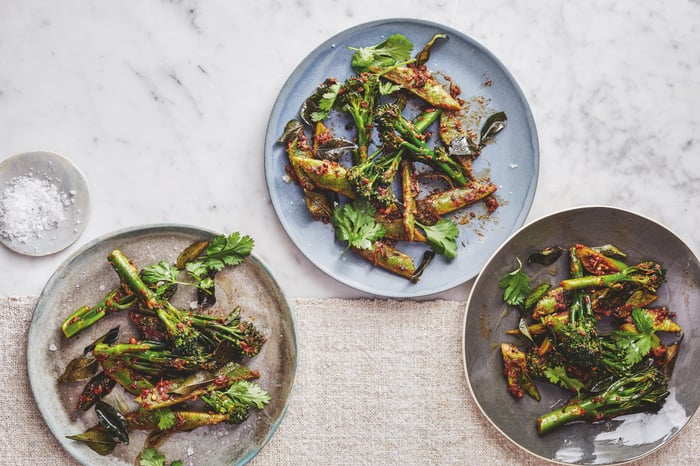 Photo: Anjula Devi
Quick and Easy Runner Beans and Broccoli by Anjula Devi.
My Dad grew up on a farm in Kenya, but the first time he saw broccoli was when he arrived in the UK. He was so intrigued with this vegetable, that it was one of the very first dishes that he created, along with runner beans grown in our back garden. Broccoli is a fantastic source of vitamins K, and C. It's a good source of dietary fibre, and a range of other key vitamins and nutrients.
Preparation time: 20 min
Cooking time: 15 min
-Serves: 4 people
Ingredients

300 g runner beans, stringed and shredded

150 g tenderstem broccoli

300 g runner beans, stringed and shredded

150 g tenderstem broccoli


Key Spices

1 tsp cumin seeds

1 tsp brown mustard seeds

1 tsp red chilli flakes


Warming Spices

1 tsp fennel seeds

1 tsp fenugreek leaves

1/4 tsp nigella seeds


Other Spices

1/2 tsp asafoetida

2 tsp mango powder


Wet Ingredients

2 tbs groundnut oil

2 tsp pulped garlic

1 tsp pulped ginger

2 fresh green chillies, pierced

2 tsp white wine vinegar

2 tsp sundried tomato paste

1 tsp grated jaggery

6 - 8 fresh curry leaves

Sea salt to taste

Small bunch or coriander, roughly chopped


Method

Place a large sauté pan on a low heat, add the oil and allow to warm.

Add the asafoetida and curry leaves and allow to splutter. Then immediately add the key spices and warming spices and stir well for 30 seconds. Add the garlic, ginger and fresh green chillies, and continue to sauté for 1 minute.

Add the mango powder, white wine vinegar, sundried tomato paste and jaggery. Continue to cook for a further 2 minutes, adding a little water if the ingredients begin to stick to the pan.

Now turn the heat up high, add the runner beans, stir and sauté for 2 minutes. Add the broccoli, stir well and cook for a further 5 minutes on a high heat.

I like to serve this dish 'al dente'. If you would prefer your vegetables to be a little more cooked, then simply sauté for a little longer.

Remove from the heat, add fresh coriander and sea salt to taste, stir and serve immediately.