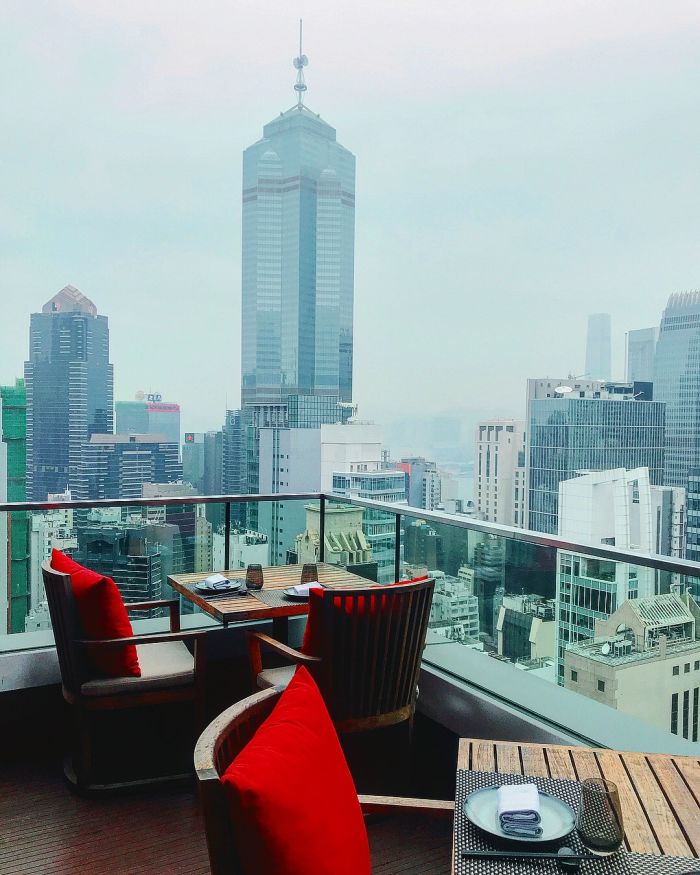 CÉ LA VI rooftop lounge
Hong Kong is a fast-paced culinary and cultural hub that has long been known as a "food paradise." This fragrant harbour is a place where east meets west; where foodies can find any cuisine they fancy; and where the plant-based movement is slowly, but surely, taking root. Whether you're looking for traditional Chinese flavours, Western grub, Middle-Eastern spice, or South Asian fare, you'll be able to eat to your heart's content in this city that caters for the taste buds.
The desire to try and enjoy a variety of dishes, especially "family-style" (sharing large plates), is something that all Hong Kongers have in common. Food is more than just sustenance: it's something that's meant to be enjoyed with others. Here, it's almost expected to take several selfies with your food before you actually take a bite! Keeping in mind the social importance of food, we've compiled a list of restaurants that cater to plant-based eaters who are on-the-go, dining with their friends, or simply interested in exploring new dishes.
Brunch
In Hong Kong, weekend brunch is a popular event, and most brunches are not a cheap affair. As vegans and vegetarians, sometimes it can be frustrating to pay exorbitant prices only to have to order off the sides menu. But don't worry, the following places are sure to impress!
#1 CÉ LA VI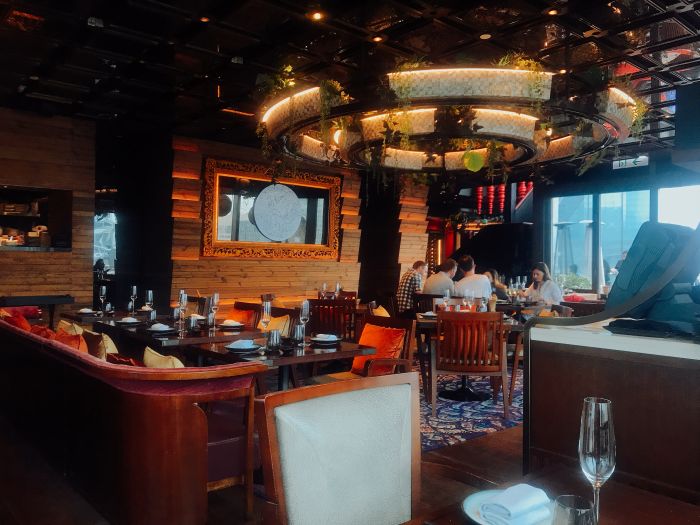 CÉ LA VI interior
A popular nightclub in Lan Kwai Fong, this rooftop sky deck and lounge transforms into a relaxed weekend brunch hangout. You can experience panoramic views of the city from the 25th floor while enjoying free-flow champagne and delicious Japanese food. Their unlimited food menu means you can eat as much as you like. Many items can be veganized, and if you tell the staff about your diet, they will be happy to accommodate you. We particularly enjoyed the Veggie Robata (skewers of roasted vegetables), Avocado Sushi, and the Vegetable Yaki Soba (ask for the vegetarian sauce). The chef even created a custom vegan dessert for us which was not on the menu -- a large wafer with fresh fruit and raspberry sorbet.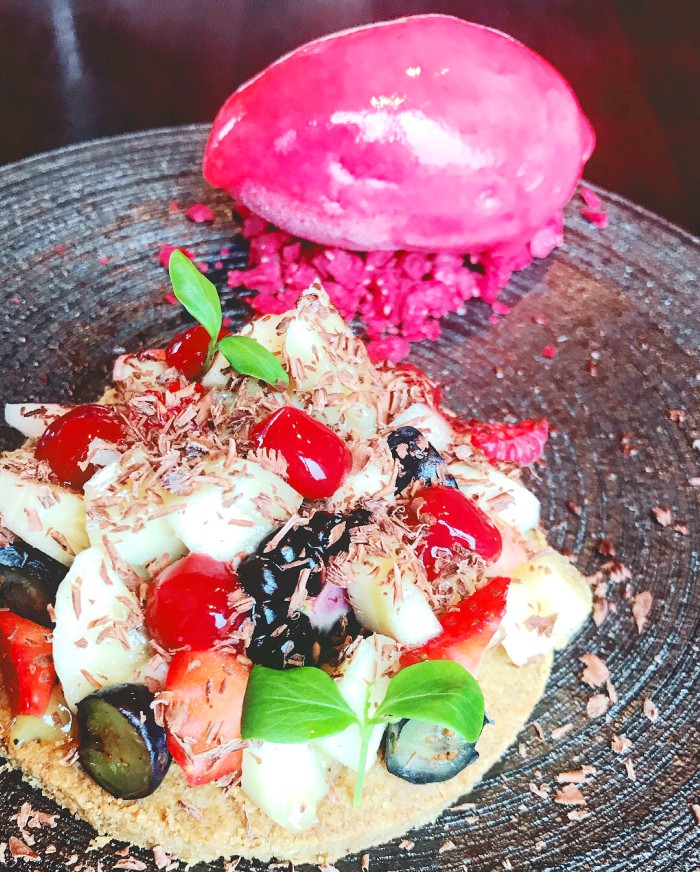 Custom vegan dessert
Check out other dishes and reviews of CÉ LA VI Hong Kong.
CÉ LA VI, Hong Kong, Central, 25/F California Tower, 32 D'Aguilar Street
#2 Grassroots Pantry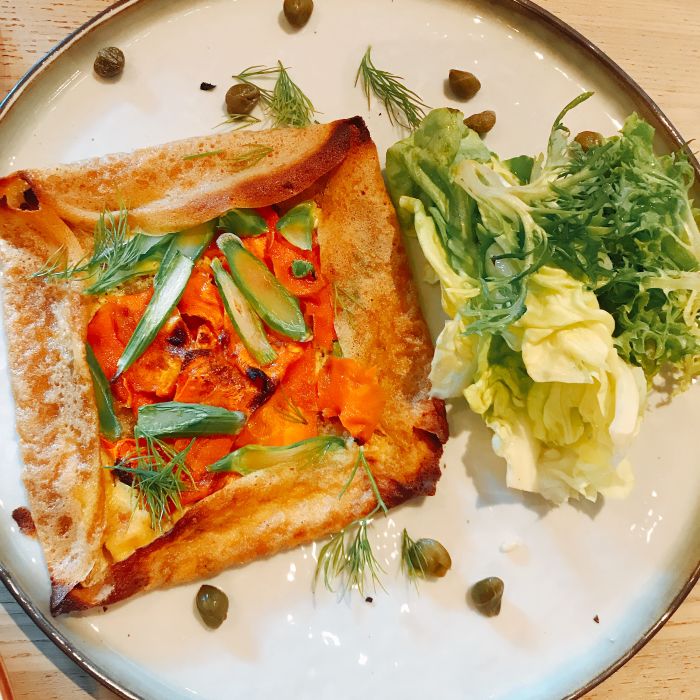 Koji smoked carrot crepes
Grassroots Pantry is a favourite among the plant-based community in Hong Kong. Although we suggest going there for any meal time, they are definitely worth checking out for brunch. Founded by Chef Peggy Chan, this social enterprise prides itself on using sustainable, fresh, nutrient-dense and organic ingredients. Each gourmet dish has a variety of flavours but is also extremely healthy, and their menu changes seasonally to provide the best quality produce. You must try their Koji Smoked Carrot Crepes, French Toast, and Scrambled Tofu – all pair well with a fresh green juice or morning coffee!
Check out other dishes and reviews of Grassroots Pantry.
Grassroots Pantry, 108 Hollywood Rd, Sheung Wan, Hong Kong
#3 Mak Mak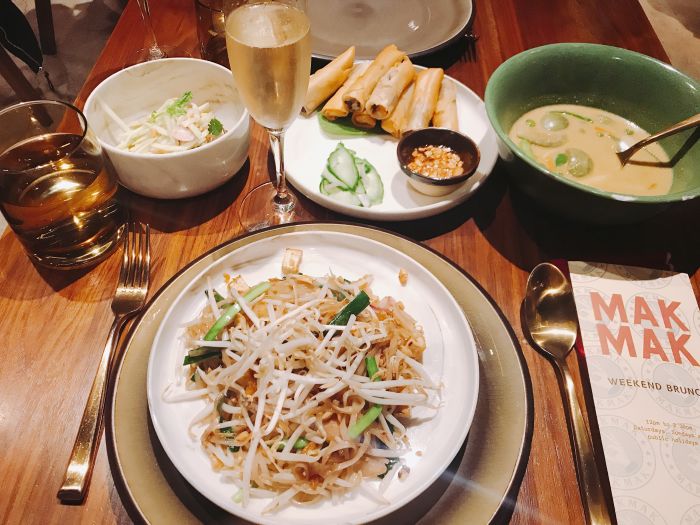 Champagne brunch at Mak Mak
If you've never had a Thai brunch, it's something you need to try. This authentic Thai restaurant is located in the heart of Central, in the Landmark Atrium. You can enjoy unlimited orders of dishes from their weekend brunch menu, many of which can be made vegetarian and vegan. For an extra $200HKD, you can enjoy a free-flow of champagne, wine, and beer. We recommend the Phad Bai Ka Pow (wok-fried tofu with snake beans and spices) and the Khoa Neaw Ma Muang (blue sticky rice with mango and coconut cream). You can eat and drink to your heart's content from 12pm-2:30pm on weekends.
Check out other dishes and reviews of Mak Mak.
Mak Mak, Shop 217A 2/F Landmark Atrium, 15 Queen's Road, Central
Afternoon Tea
Afternoon tea is traditionally a very meat and dairy-heavy occasion. Just because you're eating plant-based doesn't mean you have to sacrifice delicious mini sandwiches and cute, carefully crafted desserts. Most luxury hotels can create a vegan set if you call and book in advance.
#4 The Four Seasons Hotel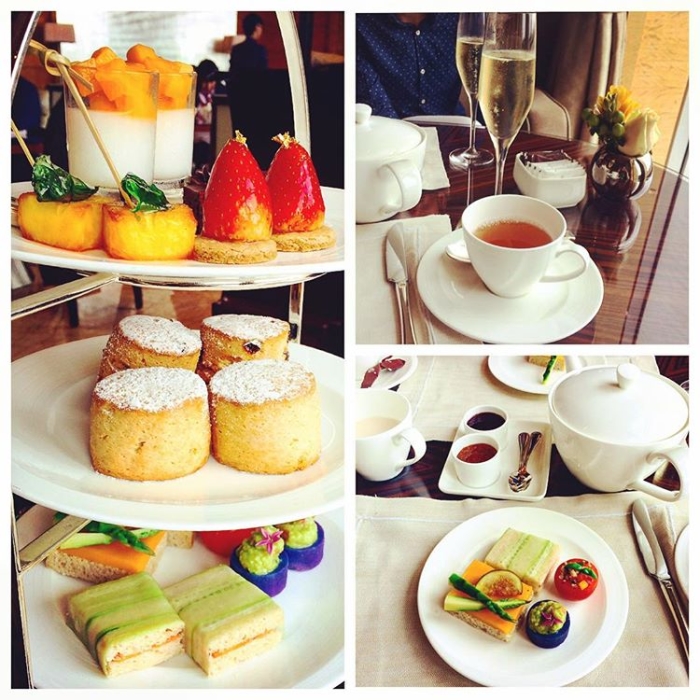 Afternoon tea set
This luxury hotel has a quiet dining room that pulls out all the stops. Their traditional afternoon tea set comes with a choice of loose leaf tea, finger sandwiches, fresh-baked scones, and delicate desserts. If you call in advance to request the vegan option, you can even enjoy soy milk for your tea. We particularly fancy the fig sandwiches, grilled pineapple, and raisin scones while tapping our feet to the live jazz music. Some other luxury hotels make you wait in line for over an hour to get a seat for afternoon tea, but the Four Seasons Hotel does not. If you make a reservation, you're guaranteed a seat.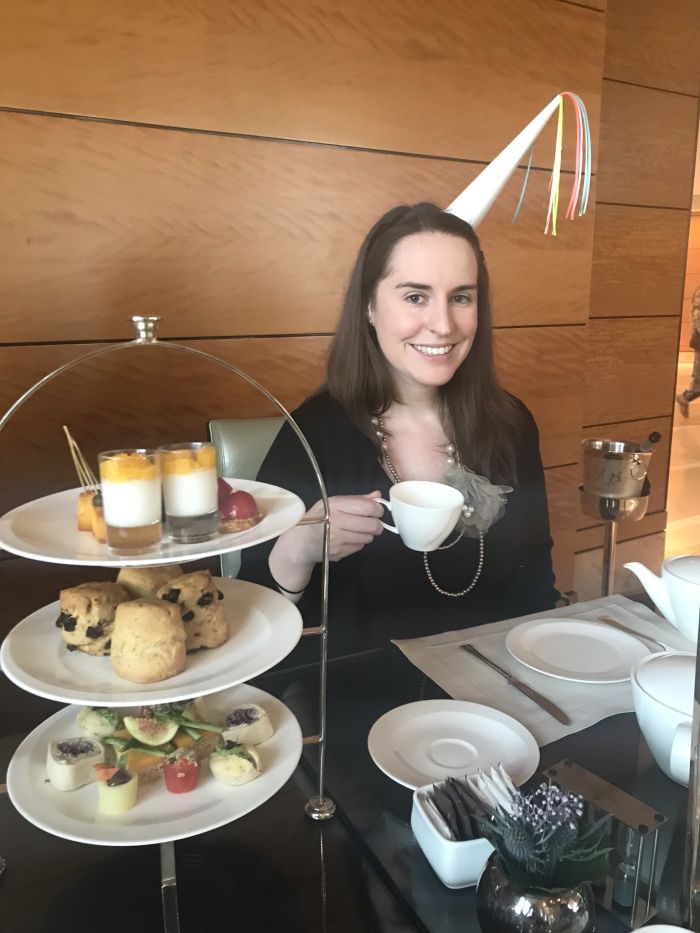 Enjoying my afternoon tea. Cheers!
Check out other dishes and reviews of The Lounge, Four Seasons Hotel.
The Lounge, 8 Finance St, Central, Hong Kong
#5 Ohms Café and Bar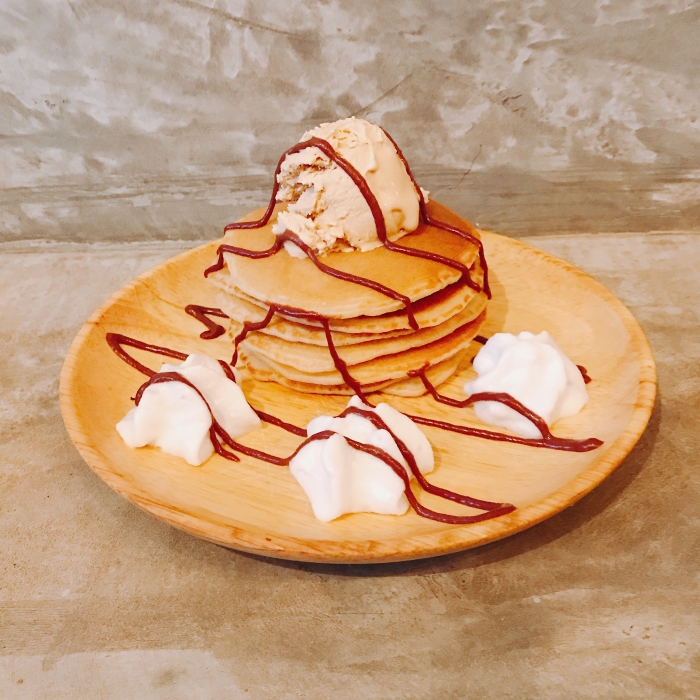 Tea pancakes with salted caramel ice cream
This is an example of a café that's doing everything right! Their dishes contain local organic produce, their coffee is fair-trade, and all their food is vegan. You can choose between almond, soy, and cashew milk for your coffee or tea, which are all homemade in the cafe. They serve a variety of savory dishes, snacks, and desserts. We recommend the Tea Pancakes with Salted Caramel Ice Cream and the Brown Sugar Ginger Latte with cashew milk. This place is tucked away in a trendy area of the hipster neighborhood of Sai Yin Pun, so it's worth going for a wander afterwards.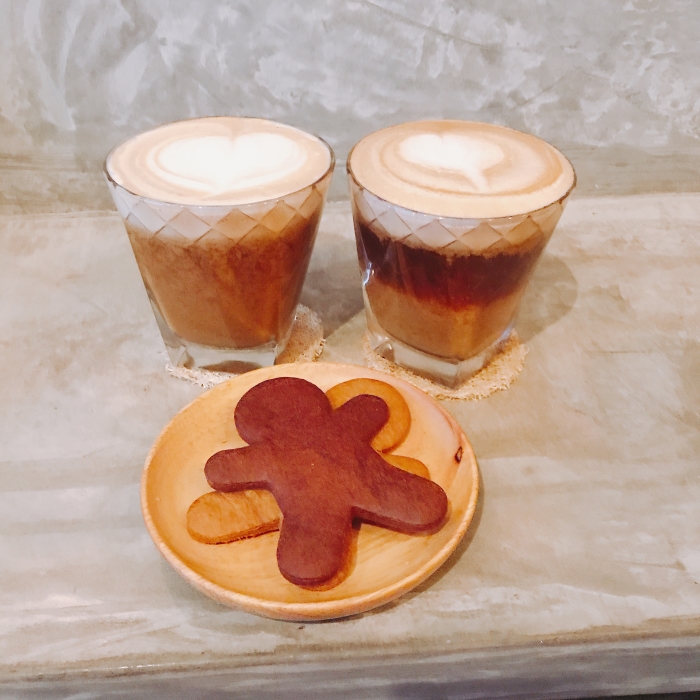 Brown sugar ginger latte with cashew milk
Check out other dishes and reviews of Ohms Café and Bar.
Ohms Café and Bar, Hong Kong, Tai Ping Shan, Shop A,192 Hollywood Road
Dim Sum
It's impossible to spend time in Hong Kong and not try the local dim sum. Although traditionally served with tea and enjoyed on the weekends, it's now commonplace to eat dim sum for any occasion. These delicious, bite-sized portions served in bamboo baskets can be found almost everywhere, although some places offer more veggie options than others.
#6 Yum Cha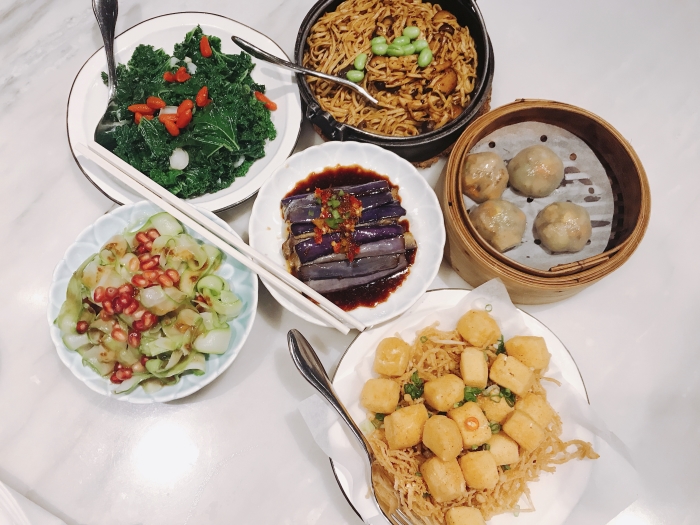 Dim Sum spread
"Yum Cha" is the Cantonese term for "drink tea," something that is synonymous with eating many helpings of dim sum. This restaurant has several locations and is one of the most famous in the city, for tourists and locals alike. Their veggie items are clearly labelled on the menu. Be sure to check out the Salt and Pepper Tofu, which is breaded pieces of silken tofu on a bed of fried enoki mushrooms. You also don't want to miss the Pomegranate and Curly Kale, or the Truffle E-Fu Noodles. Bring a group of friends and sample all of their amazing veggie options!
Check out other dishes and reviews of Yum Cha.
Yum Cha, 2/F, Nan Fung Place, Nan Fung Tower, 173 Des Voeux Rd Central, Central, Hong Kong
#7 LockCha Tea House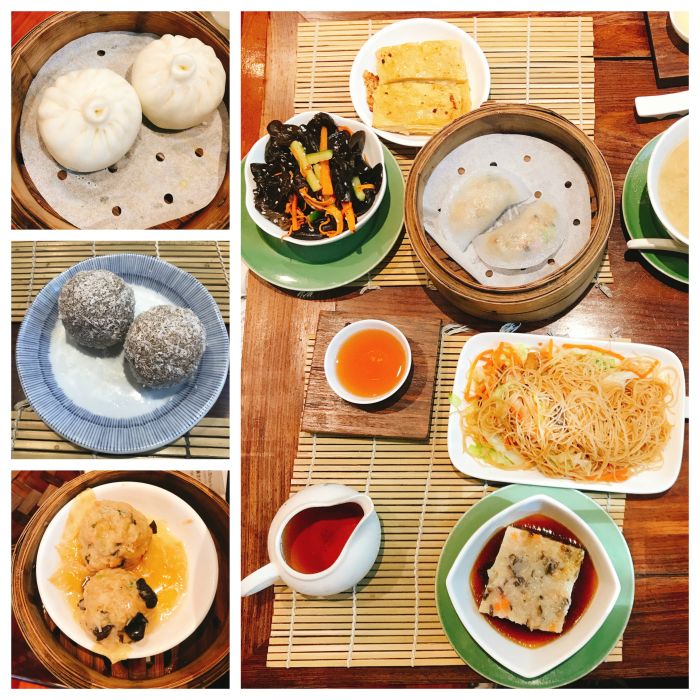 Assortment of Dim Sum
Located in the beautiful Hong Kong Park, this peaceful teahouse serves a variety of dim sum that changes seasonally. All dim sum items are vegetarian, and dishes that contain milk and egg are clearly marked. This is the place to go to experience traditional Chinese tea and plant-based versions of famous dim sum items. Don't miss the Siu Mai, a traditional pork and shrimp dumpling that uses marinated mushrooms to replace the meat. We also recommend the steamed rice rolls (Cheung Faan), a famous Hong Kong street snack. You can work off all the steamed buns you ate by walking around the park and exploring the gardens afterwards. And if you're particularly fond of Chinese tea, be sure to visit their tea museum and shop, located in the same building as the restaurant.
Check out other dishes and reviews of LockCha Tea House 樂茶軒茶藝館.
LockCha Tea House, Ground Floor, The K.S. Lo Gallery, Hong Kong Park, Admiralty
Lunch
Perhaps you're just visiting, or instead rushing to enjoy something healthy on your lunch hour. It's easy to find places that have good value for money, fast service, and a wide selection of plant-based options if you know where to go.
#8 KALE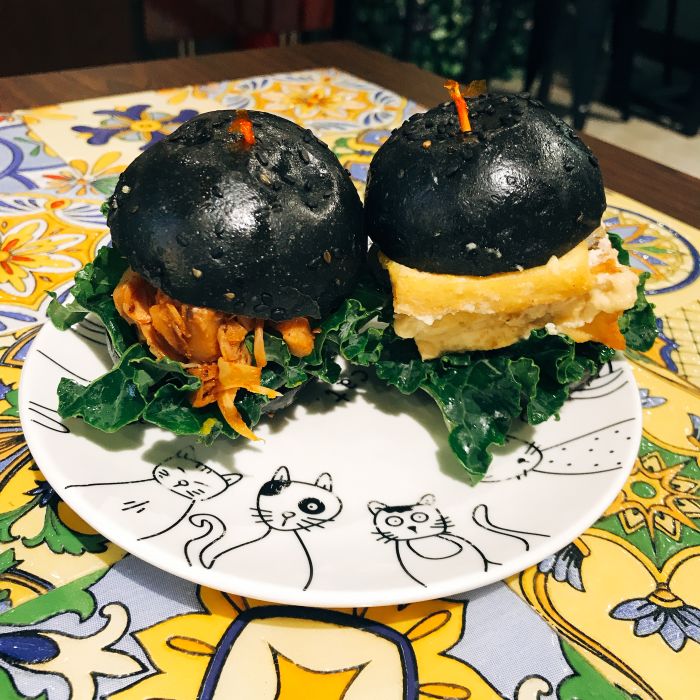 Blackjack and Tofumania sliders with mixed salad
Check out other dishes and reviews of KALE.
KALE, 26 Li Yuen St W, Central, Hong Kong
#9 MANA! Café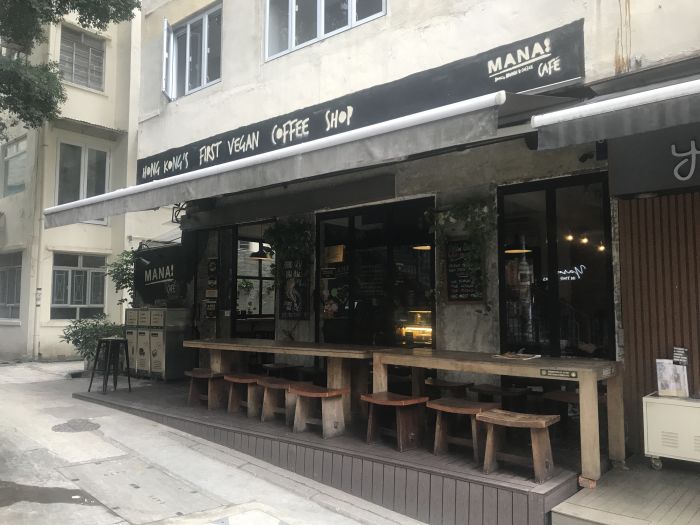 Exterior of MANA! Café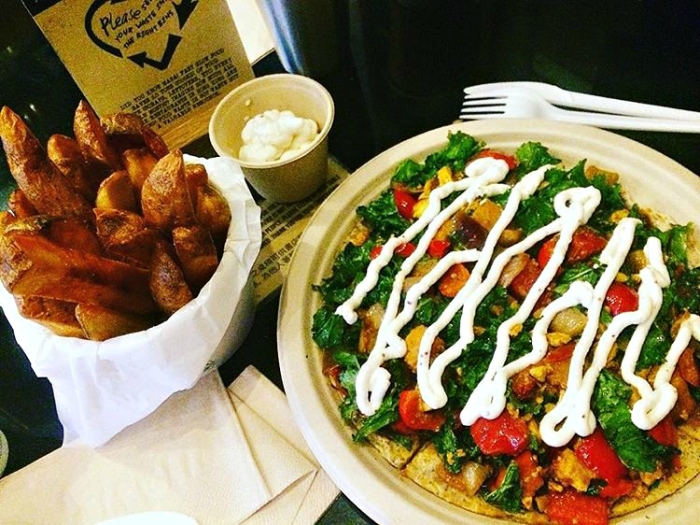 The Lao Tzu
Check out other dishes and reviews of MANA! Café.
MANA! Café, Pound Ln & Tai On Terrace, Sheung Wan
#10 Veggie SF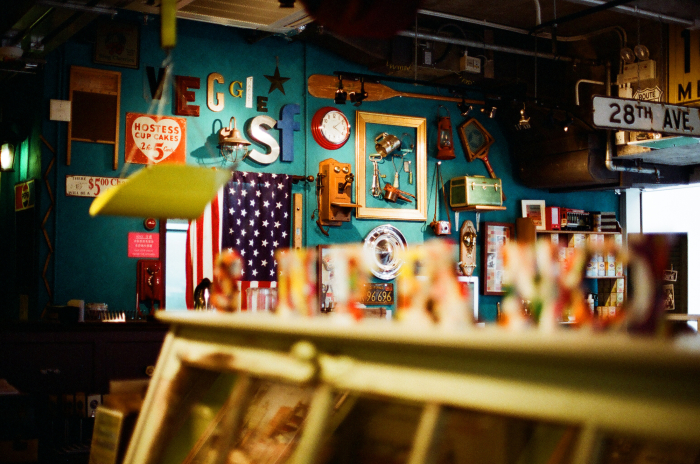 Hip interior of Veggie SF
This San Francisco-themed diner will make you feel like you've travelled back in time to the 1950s. Order a vegan milkshake and enjoy peering at every inch of the place which is decorated with vintage memorabilia. Their set lunch menu gives you light salad options to wonderfully gigantic veggie burgers. Our favourite burger is I Am Fabulous, which has a beetroot patty, basil mayo, and a side of potato pumpkin wedges. We also suggest the Oakland Breeze, a Vietnamese style rice noodle bowl with herbs, tofu, cashew, and soy goodies which mimic fried shrimp!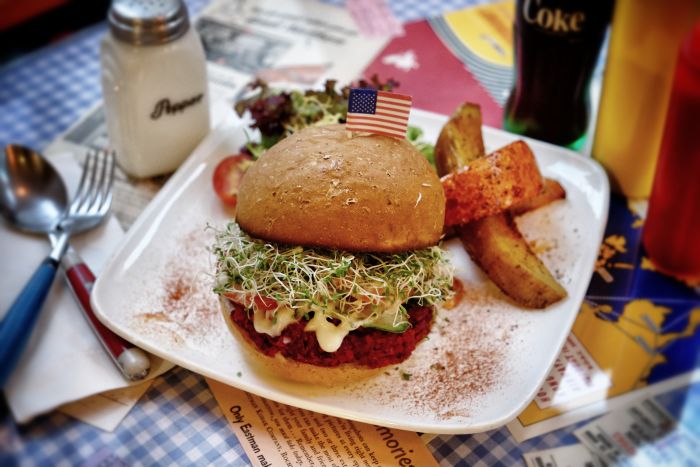 I Am Fabulous burger
Owners Paul and Bess transformed their formerly vegetarian restaurant to a recently all vegan one, with obvious posters and messages around the restaurant that encourage a plant-based lifestyle and outline the horrors of factory farming. Be sure to make a reservation, as this place is packed at lunchtime.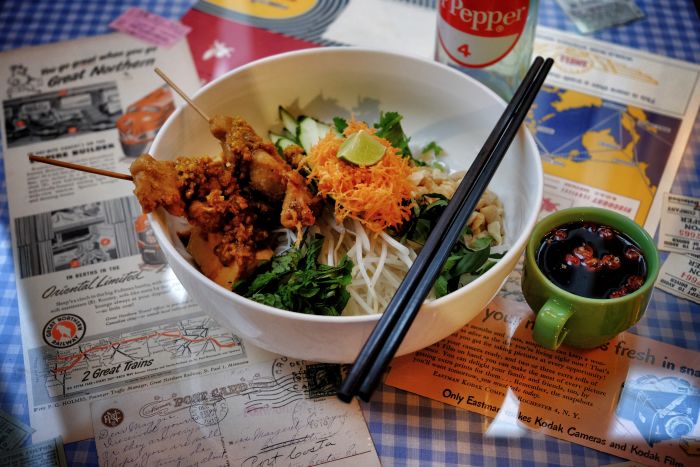 Oakland Breeze rice noodle bowl
Check out other dishes and reviews of Veggie SF.
Veggie SF, 10f Stanley Street 11, Central, Hong Kong
Dinner
Since most Hong Kongers work long hours, dinner can be eaten quite late into the evening. When they have more time on the weekends, Hong Kongers tend to order many dishes family-style to share with their friends and family, or indulge in a delicious hot pot during the winter months.
#11 Pure Veggie House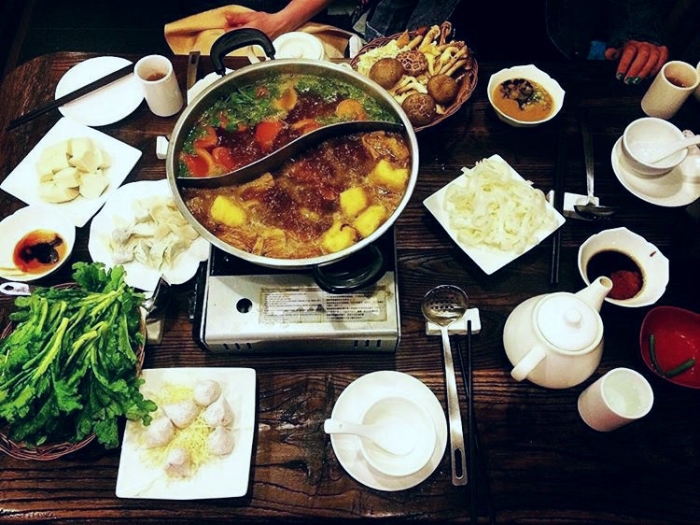 Vegan hot pot
This Buddhist restaurant is quite famous for its organic and lovingly-crafted vegan dishes, and it's always a good sign to see many Buddhist monks eating here. This is one of the few places in Hong Kong where you can find a veggie version of traditional Chinese hot pot, served in the winter months, which is best enjoyed with a group of people. You can order unlimited dumplings, organic vegetables, soy items, or gourmet mushrooms to cook in the hot pot. They have an extensive table of sauces and spices for you to mix your own dipping sauce. Their other menu options are comprised of traditional Cantonese and Szechuan dishes, which are also noteworthy. This place is a long walk uphill, but is well-worth the trek!
Check out other dishes and reviews of Pure Veggie House.
Pure Veggie House, 3/F, Coda Plaza, 51 Garden Road, Mid-Levels
#12 The Joomak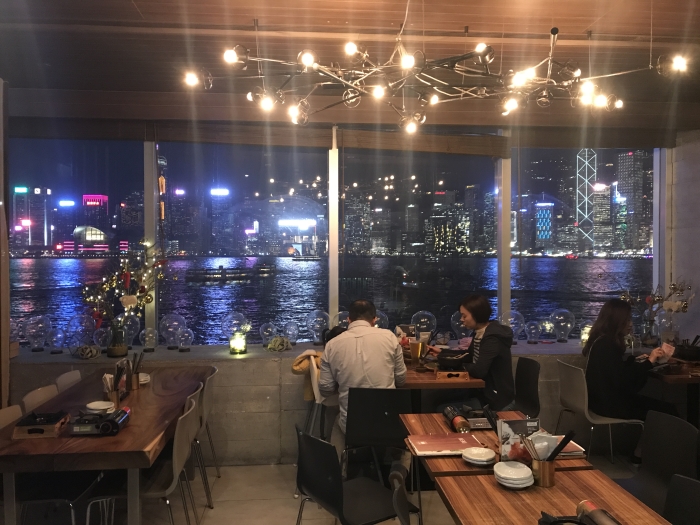 Amazing view of the harbourfront from The Joomak
Hong Kongers are obsessed with Korean food, so it's no surprise that this place has enormous queues every night. One of the main attractions in the restaurant's location, which is right on the harbourfront with amazing views of the city.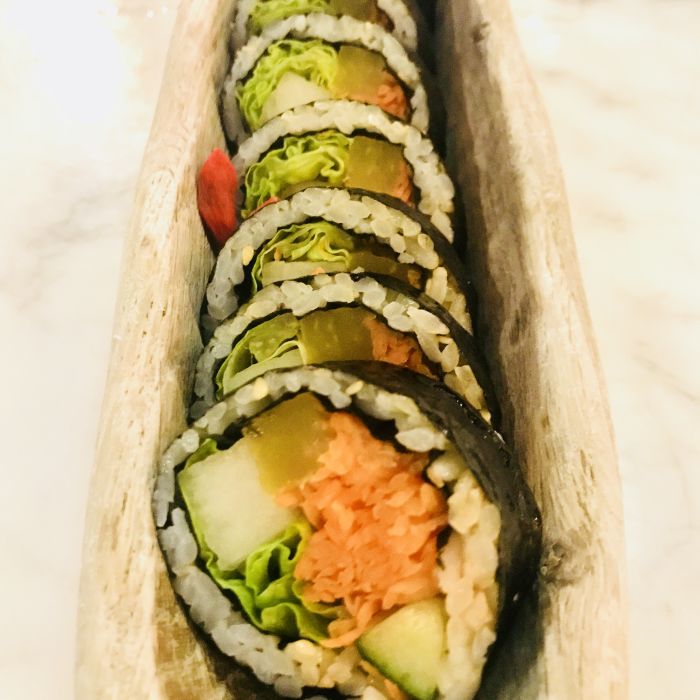 Vegan kimbap
Vegans are in for a pleasant surprise, with many traditional dishes on the menu having both omnivore and plant-based versions. You definitely should try the Barbecue Mixed Vegetable Platter or Vegan Cheese Fondue to experience grilling, dipping, and sautéing your own food right at the table. They even have vegan "milk" pudding desserts, made with Califa Farms plant milk. The Strawberry Chia Seed flavor is our favourite! Note, however, that not all the wait staff speak English or understand what "vegan" means, so make sure to check the labelling on your menu and be clear when you order!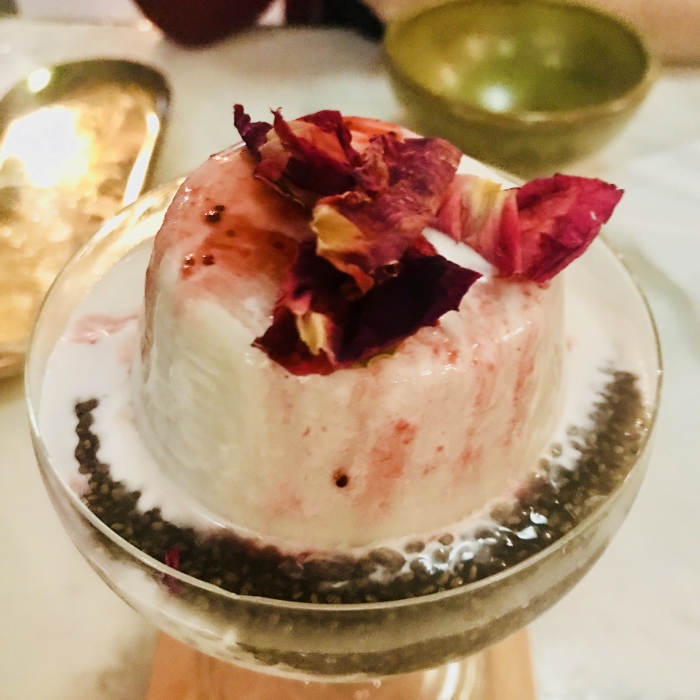 Strawberry chia seed pudding
Check out other dishes and reviews of The Joomak.
The Joomak, Shop 34, LCX, 3/F, Ocean Terminal, Harbour City, 3-27 Canton Road, Tsim Sha Tsui
Pop-up Restarurants
Many restaurants come and go in this metropolis, what with the competitive food scene and soaring high rent prices. This has ushered in a whole new era of private dinners and pop-up restaurants, which are becoming more and more trendy, offering one-of-a-kind meals in enticing venues.
#13 Chef Tina Barrat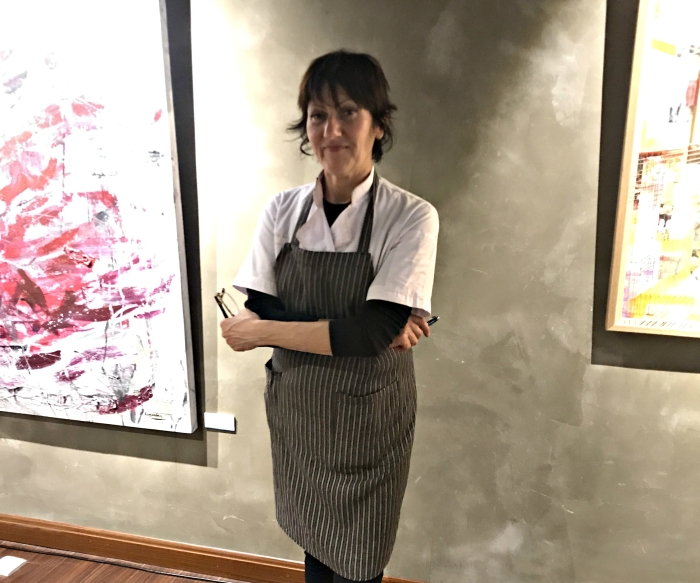 Chef Tina Barrat
French Chef Tina offers lavish pop-up dinners at various locations around the city. Her mostly raw menus are never the same, and she uses a variety of local and organic vegetables, including microgreens from the nearby Cheung Chau Island, to craft her culinary creations. She also includes food-grade essential oils into her dishes, which make every bite a taste sensation. We are particularly impressed with her 12 Greens Soup, Raw Vegan Cheeses, and Rainbow Dumplings with Smoked Vanilla Truffle Sauce. Chef Tina describes and explains each dish to you before serving it, which gives each course a personal touch.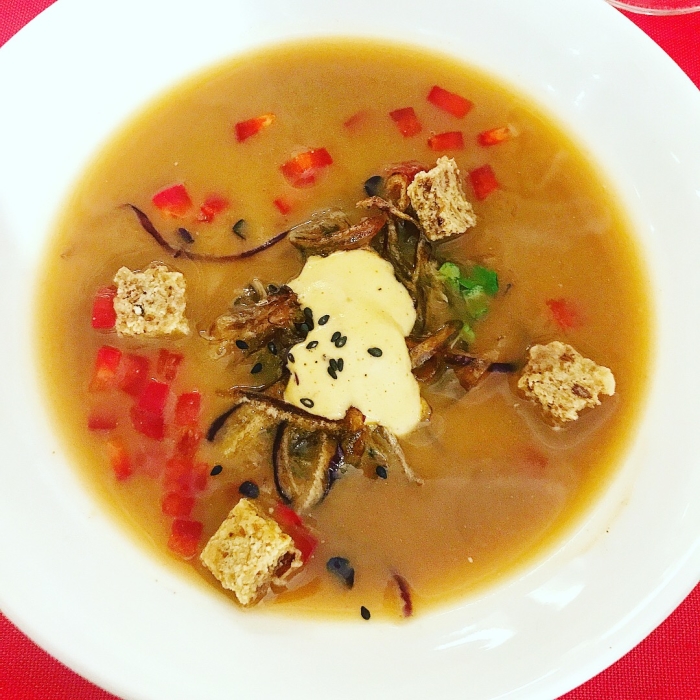 12 Greens Soup
Various locations. Follow @ChefTinaBarrat on Facebook or @ma.international on Instagram to enquire about the next event.
#14 Sparestore 士啤士多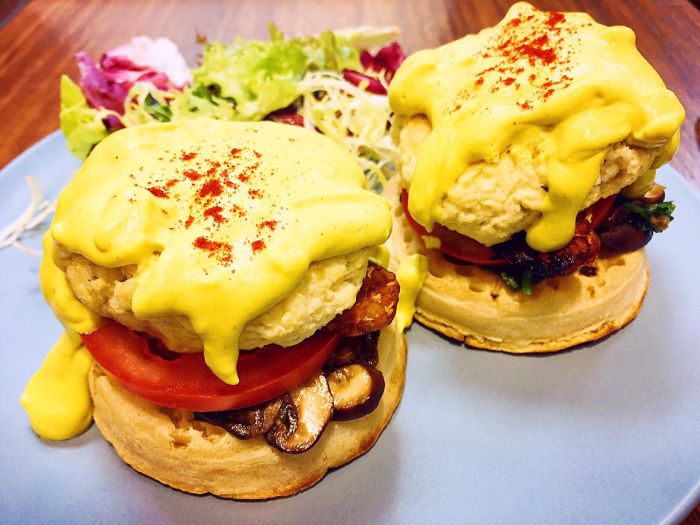 Tofu eggs benedict
This Sunday café operates in a shared space on the first floor of the Prabelle Hotel, which is a short walk away from the Prince Edward Flower Market. Run by a group of devout vegan activists, Sparestore's dishes change every week depending on what the chefs feel like cooking and experimenting with.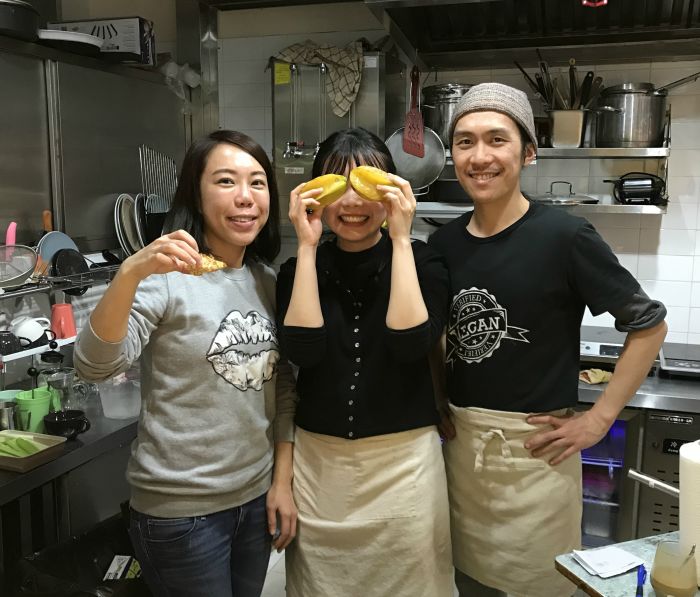 Friendly vegan activists from Sparestore
Using organic, local produce whenever possible, they create memorable, hearty meals such as Tofu Eggs Benedict, Mac & Cheese Grilled Cheese Sandwich, and Cauliflower Buffalo wings. Each chef here is passionate about food and saving animals, which comes through the service at the café and the style of dishes served. Be sure to check them out to support local activists and organic farmers!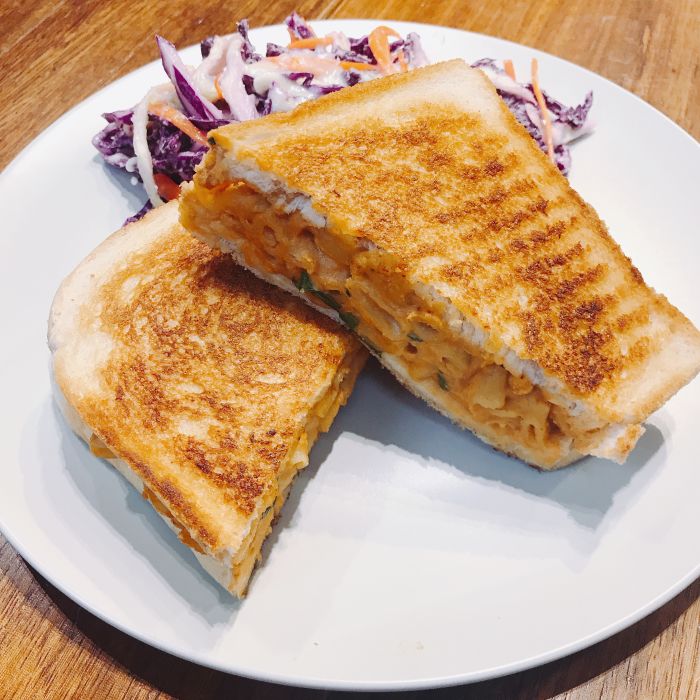 Mac & cheese grilled cheese sandwich
Check out other dishes and reviews of Sparestore.
Sparestore, Portland Commons, 1/F Le Prabelle Hotel, 372 Portland St, Mongkok
Cocktails
Some plant-based eaters are very conscious about the animal byproducts in their alcohol, and some are not. Perhaps you enjoy canapés with your cocktails, but seldom find plant-based options. Whatever your stance, if you enjoy going out for a cocktail, there are some veg-friendly choices in Hong Kong.
#15 La Cabane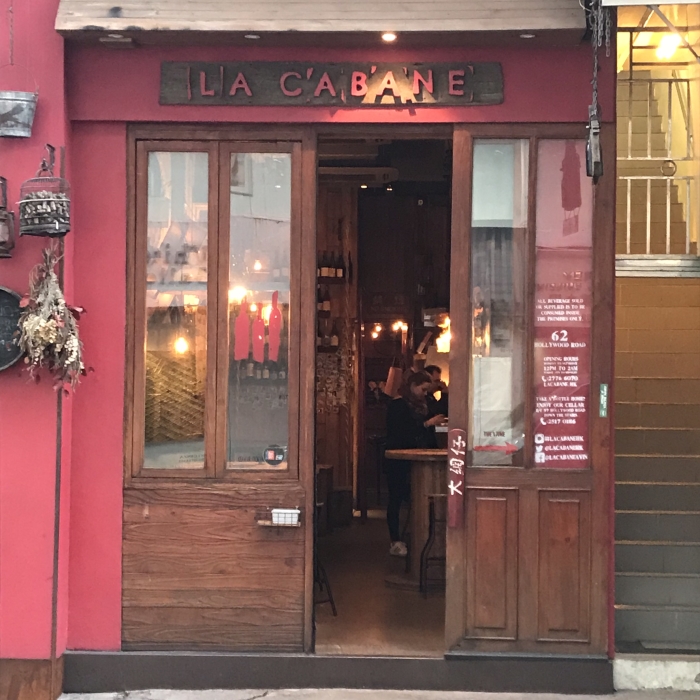 Charming exterior of La Cabane
This French wine bistro specializes in natural wines, which use organic grapes and have the least amount of chemicals, additives, and preservatives in the winemaking process. This means that the wines at La Cabane do not contain animal byproducts. Although their food menu is not very veg-friendly, we recommend going purely for the wine tasting experience! You can also visit their cellar if you're an aficionado and want to take some bottles home. The staff are more than happy to share their vast knowledge of wine with you, and each recommendation we've had so far has always been superb.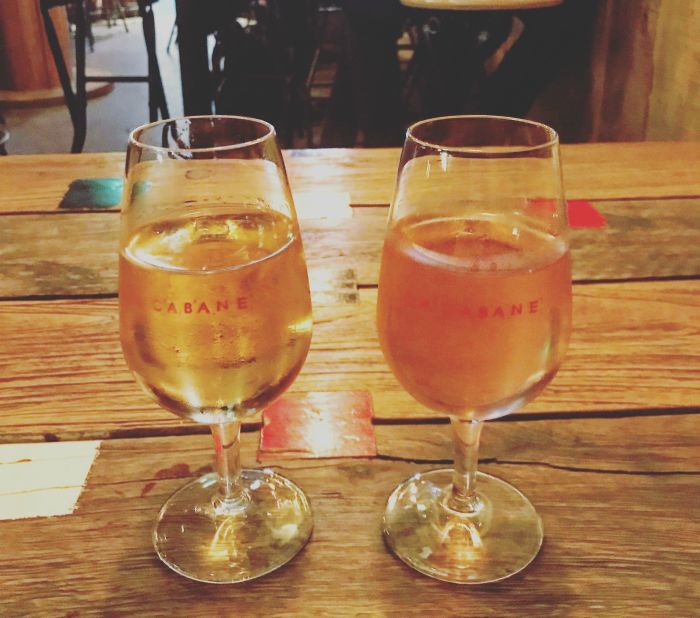 Natural wines from La Cabane
Check out other dishes and reviews of La Cabane Wine Bistro.
La Cabane Wine Bistro, 62 Hollywood Rd, Central, Hong Kong La Cabane Wine Cellar, B/F, 97 Hollywood Rd, Central
#16 Topiary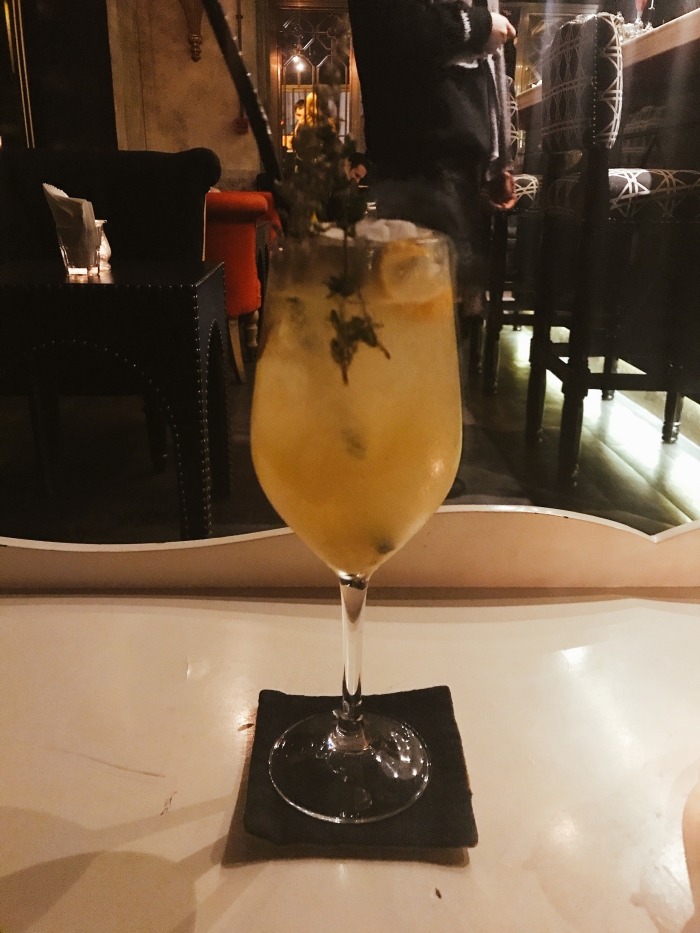 Shim cocktail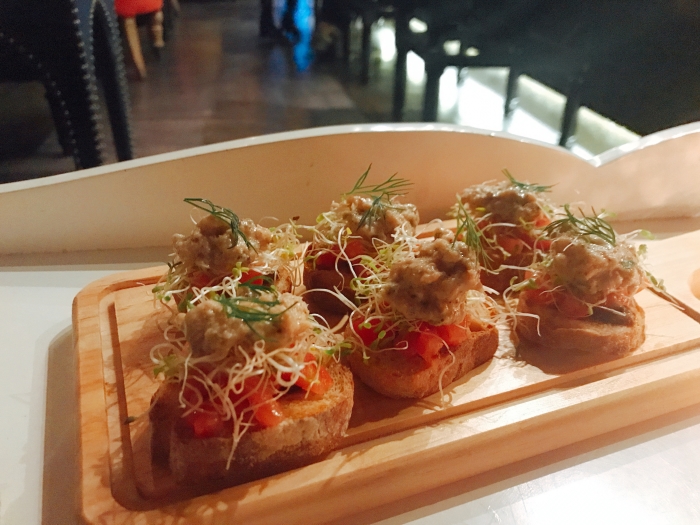 Exquisite Tuna Bruschetta
Check out other dishes and reviews of Topiary.
Topiary, 3/F, Hilltop Plaza, 49-51 Hollywood Road, Central
Supermarkets
Considering Hong Kong imports of 90% of its food items, it is possible to find your favourite plant-based brands in select locations.
#17 Green Common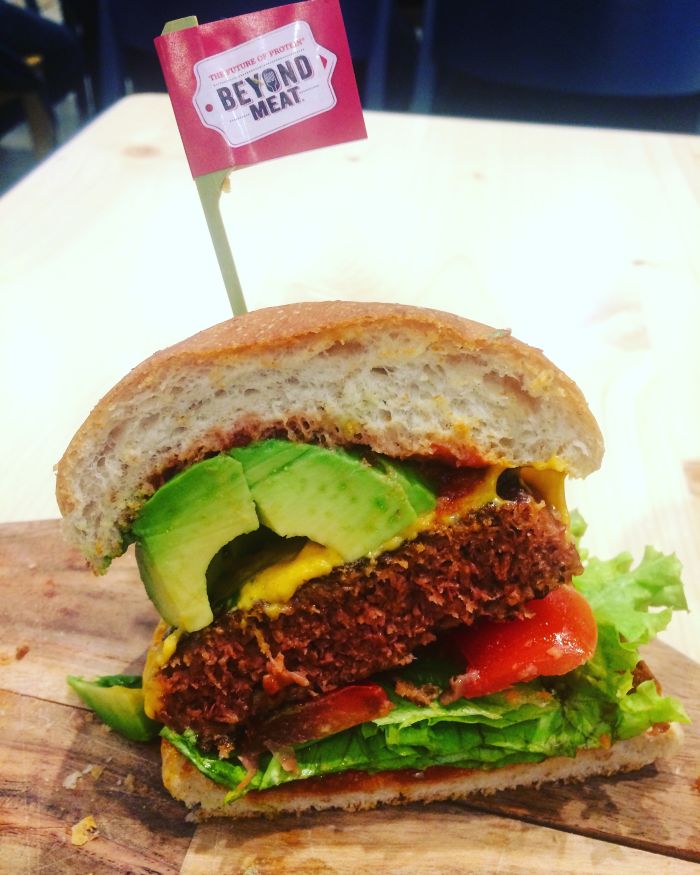 Beyond Meat burger
There are many branches of this chain located around the city, where you can find well-known food brands and cosmetics such as Daiya frozen pizzas, Miyoko's Kitchen cheeses, Follow Your Heart sauces, and the Beyond Meat Burger. All the products in the shops are vegetarian or vegan, which makes label-checking a whole lot less stressful! The restaurants attached to the shops offer some hearty, on-the-go meals like the Sichuan Spicy Chicken, the Beyond Bao, and most recently, Hampton Creek's Just Scramble. This mock egg product is made from Mung Beans, and is only available to try in two cities in the world: Hong Kong and San Francisco. Try it as part of their all day breakfast or Teriyaki Bowl (only available at select locations).
Check out other dishes and reviews of Green Common.
Visit their outlets at any of these locations:
Wan Chai, Shop 1&2, 2/F, QRE Plaza, 202 Queen's Road East
Central, Nan Fung Place, Shop 1, 1/F, Nan Fung Place, 173 Des Voeux Road
Central, Landmark, Shop B2, B/F, Landmark Alexandra, 18 Chater Road
Tsim Sha Tsui, Shop OT G61, G/F, Ocean Terminal, Harbour City, 17 Canton Road
Mong Kok, Shop 110, 1/F The FOREST, 17 Nelson Street
Tseung Kwan O, Shop No. G05, G/F., Park Central, 9 Tong Tak Street
Repulse Bay (Pop Up Store), Shop No. 202, Level 2, The Pulse, 28 Beach Road