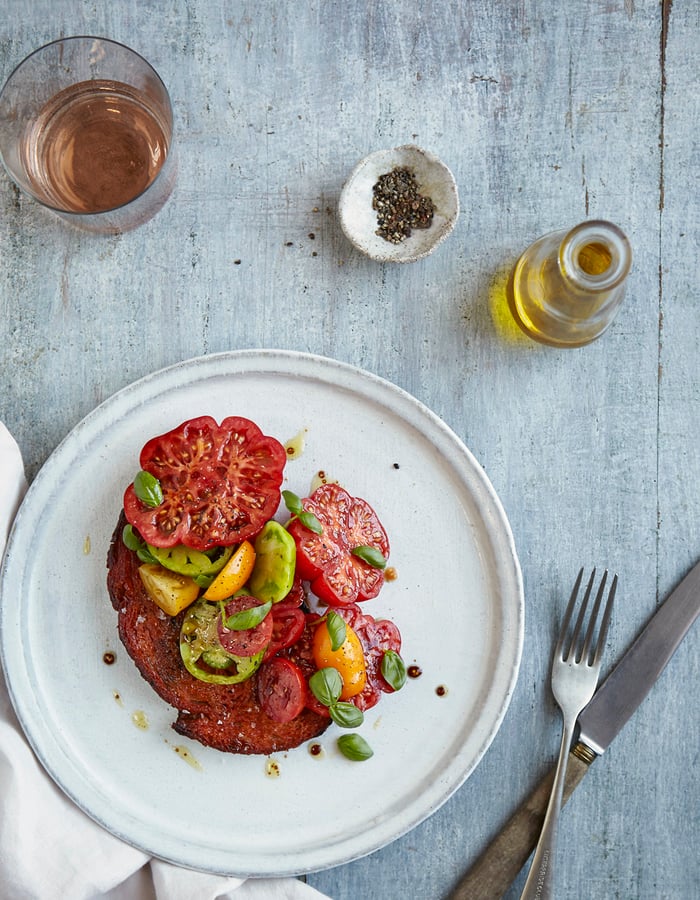 (Photography by Nassima Rothaker)
This version of pan con tomate is more of an English take on the much loved Spanish classic as it is more of a tomato and garlic infused French toast. Whilst this makes a good starter, or lunchtime dish, it also makes a great brunch.
Pan Con Tomate
Serves: 4
Active time: 15 min
Ingredients:
250ml tomato juice
50ml aquafaba
Dash of tabasco
1 garlic clove, peeled and microplaned
Sea salt
Freshly milled black pepper
4 slices sourdough
1 tbsp non-dairy butter
50ml extra virgin olive oil
1 garlic clove, peeled
1 tsp rice wine vinegar
400g Heirloom tomatoes, sliced
Micro basil cress, to garnish
Directions
Whisk together the tomato juice, aquafaba, tabasco, garlic, salt and pepper and place in a shallow dish large enough to fit the sourdough slices, side by side.
Place the sourdough into the liquid and leave for 10 minutes.
Gently turn over and leave for another 10 minutes, until all the liquid has been absorbed.
Heat your non-dairy butter in a large frying pan over a moderately high heat. When hot, add the slices of soaked sourdough. Colour well on each side.
Place the oil, garlic and rice wine vinegar in a bowl. Season with salt and mix well.
Serve the toast with the tomatoes on top, seasoned well with salt and pepper, and garnished with the micro basil.