Vegan or not, these nachos are power-packed with flavor, protein, and healthy fats: Guaranteed to tantalize your taste buds!
Ingredients
For Chipotle Chili Lentil Topping
1 cup dried lentils (or a can of lentils)
1 onion small/medium
2 tsp garlic minced
1 red bell pepper
1/2 tsp smoked paprika
1 tsp chipotle powder
1 tsp cumin
1 tsp chili
salt & pepper to taste
1 tbsp coconut aminos (sub liquid aminos or soy if not soy sensitive)
1 tsp pure maple syrup
1 650ml jar of tomato sauce
For Chipotle Cheese-y Sauce
1 1/2 cups cashews soaked
1 cup vegetable broth
1 tsp chipotle powder
1 tsp minced garlic
1 tsp smoked paprika
1/4 cup nutritional yeast
1/2 tsp salt
1/2 lime juiced
1 tsp pure maple syrup
Optional Nacho Toppings & Add-Ons
Avocado/Guacamole
Cilantro
Green Onion
Lime wedges
Chopped fresh peppers
Shredded red cabbage
Method
Place the cashews a bowl and cover in warm water to soak while you make the chipotle chili lentil topping. Set aside.
Chipotle Chili Lentil Topping
Boil water and cook lentils per package instructions if using dried lentils.
Heat a frying pan over medium heat. Add diced onion and minced garlic and sauté until the onion begins to look slightly translucent. Add red bell pepper and sauté for another 2-3 minutes until it starts to soften.
Add spices, salt & pepper, coconut aminos, and maple syrup and stir to combine. Add tomato sauce and stir again.
When your lentils are done cooking add to the mixture and mix until well combined
Chipotle Cheese-y Sauce
Check on your cashews, if they separate when you gently pinch them together with your thumb and index finger they are good to go!
Add all ingredients to a blender or food processor and blend until well combined and there are no gritty chunks.
Assembly
Nachos can be assembled in many ways, I recommend leaving a space in the center because people tend to eat around the edges first and the center can get a bit soggy. I suggest placing a light layer of nacho chips in a circle around a large plate or serving platter (or just a regular plate if you're just feeding two people!), add some of the lentil topping, cheese-y sauce, and optional veg toppings – then repeat! I usually do two layers and top it all off with a generous portion of guac, cilantro, green onion, etc.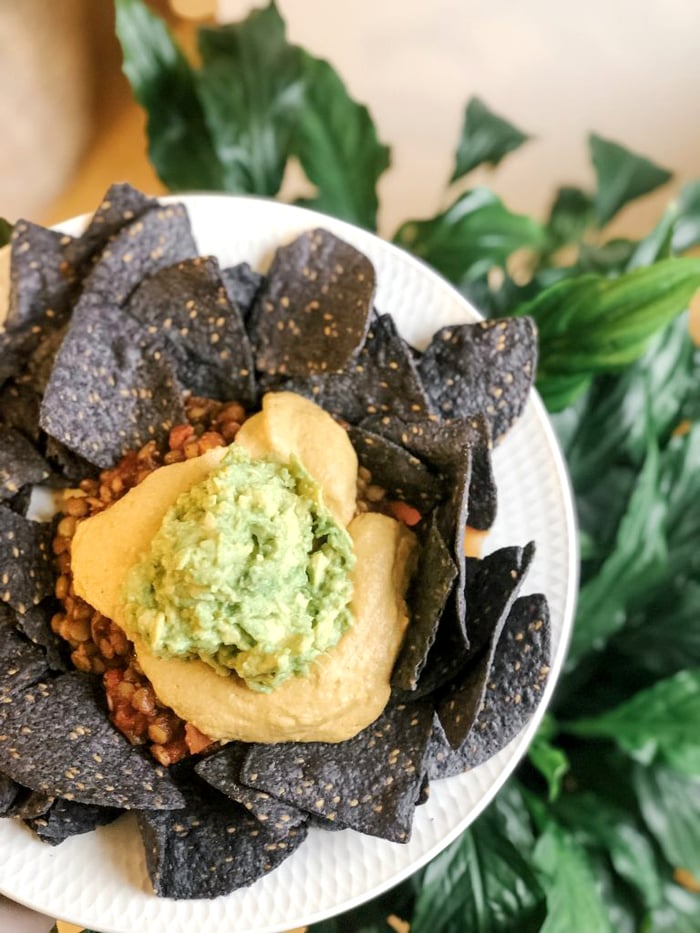 TIPS
- I say that the avocado/guac is optional but this truly is a key ingredient and I would highly suggest including it!
- For the nacho version, I love to serve this dish with Neal Brothers nacho chips.
How to repurpose your leftovers!
- Cook up your favorite pasta noodles (I love to use GoGo Quinoa)! Add the Chipotle Chili Lentil Topping, Chipotle Cheese-y sauce, guac, and any other add-ins and BAM, you have another nutrient-dense meal! I also love to add steamed or roasted broccoli and greens to this version of the dish for some extra veg, but you can get creative here.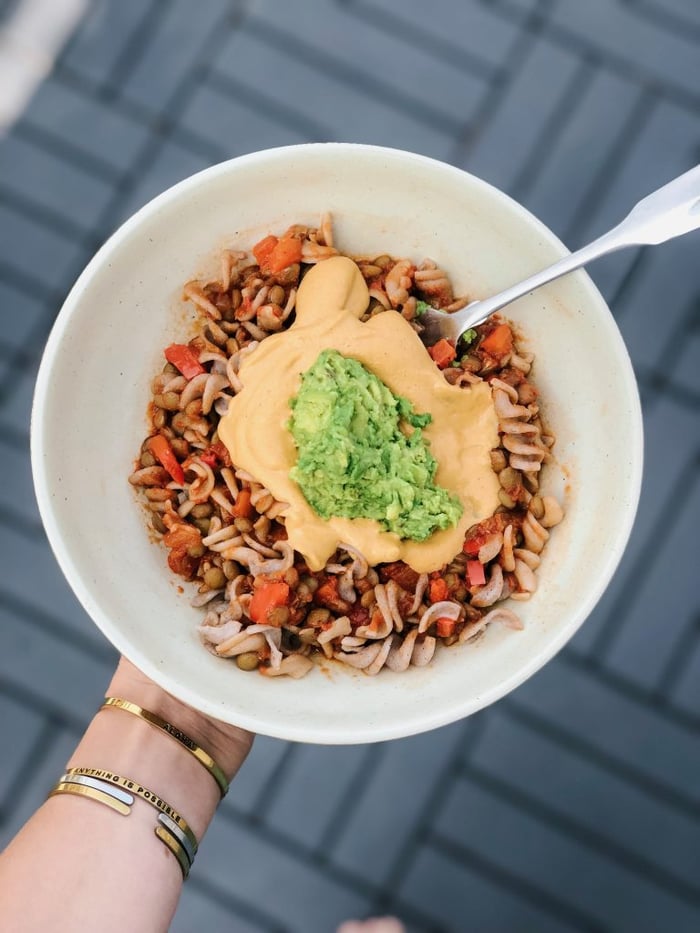 - Cook some brown rice or quinoa, add your favorite veggies (I love roasted broccoli, cauliflower, and brussel sprouts and steamed greens) add in your "nacho" toppings and there you have it - a satisfying bowl!
- Use oven-baked potato slices instead of nachos
- Pour over this vegan Mac and cheese recipe & it's like a "chili Mac"