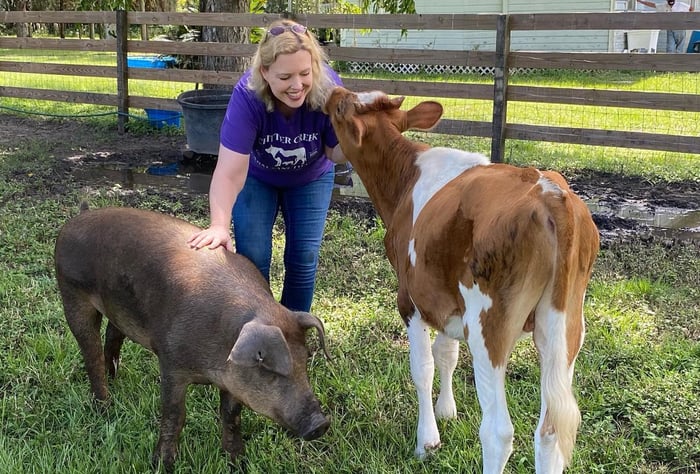 Erin Amerman, co-founder of Critter Creek Farm Sanctuary. Photo: Critter Creek Farm Sanctuary
Founded by Chris and Erin Amerman in 2015, Critter Creek Farm Sanctuary, located in Gainesville, Florida, provides a home for rescued animals with a focus on cows. At present, the Amermans have two facilities to support the animals. The first facility is the original Critter Creek Farm Sanctuary at Gainesville. The second facility is Critter Hills, which is near the former location. Their expansion has allowed them to continue rescuing more animals. Critter Creek Farm Sanctuary is an organisation supported in part by abillion's giving program.
This August, we're helping to raise funds for Critter Creek. The funds from this campaign will go towards looking after 40 cows recently rescued. The South Florida SPCA found the cows starving in a barren field filled with other dead cows. Many of the surviving cows had just given birth. Most of the mothers were unable to produce milk due to prolonged starvation. Since then, the sanctuary has brought them in, and the new residents will need supplemental feeding and veterinary care.
We caught up with Erin to talk about how she started the sanctuary, challenges, fundraising campaigns, and why they focus on saving cows.
Hi Erin. Could you share with us why you and Chris started the sanctuary?
As a child, I noticed that we treated some animals differently from others. I couldn't understand, for example, why we love horses but kill cows and eat them. Why do we love dogs but feel nothing for pigs? Why do we find eagles majestic but see no beauty in chickens and turkeys? None of it made any sense to me, and by age 14, I had given up animal products.
Giving up animal products just didn't feel like enough. Too many animals were suffering, and someone needed to step up and help them. So, my ambitions grew and I started rescuing animals, mostly rats and mice.
When I graduated college in 1997 and married my husband Chris, my ambitions grew larger. We took in more rats and mice, but also dogs, ferrets, and cats. Still, none of that felt like enough, so one day I developed even bigger ambitions and announced to Chris that, "We need to buy at least 100 acres, and it has to have a creek, because I want to open a rescue called Critter Creek Animal Sanctuary."
Fast forward a few years to 2012. Both Chris and I have degrees, I have written a few textbooks, and we were finally in a position where we could look for property. While browsing properties one day, I found a 125-acre forest that even had a huge creek system. Abutting the forest was a 75-acre farm that would be perfect for rescued animals. We were able to purchase it in 2015. Critter Creek Farm Sanctuary was born.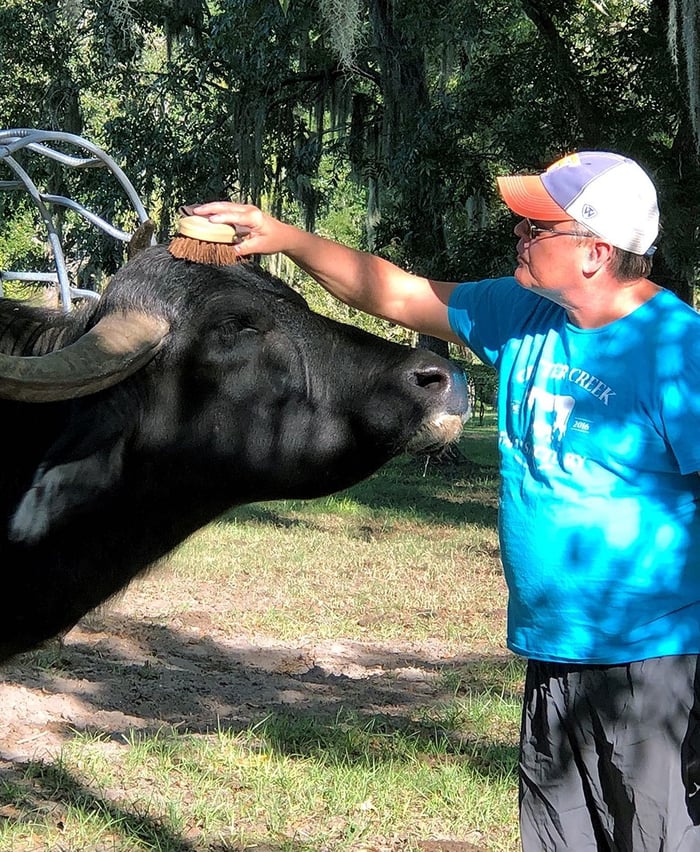 Chris Amerman, co-founder of Critter Creek Farm Sanctuary. Photo: Critter Creek Farm Sanctuary
In 2019, we realized that if we were going to keep this rescue thing going, well, we were gonna need a bigger ark. So, we gave up the idea of building our dream home and instead put the money we had been saving towards our second facility: Critter Hills, a 200-acre ranch and hay farm just up the road from Critter Creek in Alachua, Florida. And just like that, the sanctuary became one of the largest such organizations in the United States.
Why does the sanctuary focus mainly on saving cows?
When we first started the sanctuary, we realized how difficult it was to find placement for cows. Cows live 20+ years with good care, they eat a ton, and they require a great deal of space. Depending on your location, the recommendation is 1-2 acres per cow. Many sanctuaries are 10 acres or fewer, which greatly limits the number of cow residents they can accept. What's more, cows usually come in groups—it's rare to find a single cow in need of a home.
As a new sanctuary on significant acreage, we had a good setup for cows, and so we started taking in bovines rescued from various situations. The more cows we took in, the more we came to understand our bovine friends. We learned that cows bond with their family members for life, and that they form strong friendships with their herdmates. Indeed, we have witnessed many inseparable best friend pairs. We grew to appreciate them more and more for the intelligent, compassionate, personality-filled individuals they are.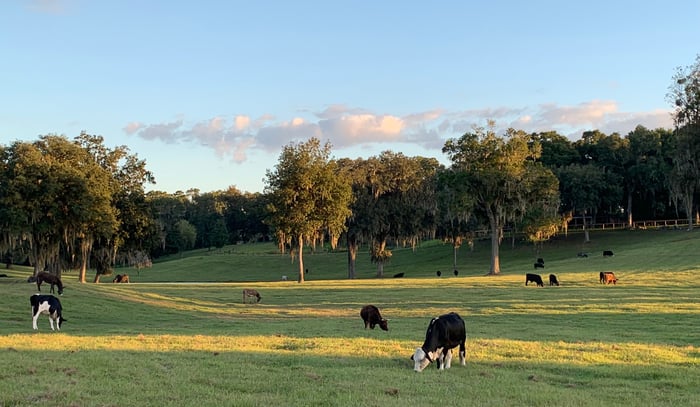 Photo: Critter Creek Farm Sanctuary
As one of the largest cow sanctuaries in the country, are there any challenges you face?
Budgetary issues are always a challenge for Critter Creek. We are a very large sanctuary, but we have a small sanctuary budget. Certain expenses, such as feed, vet care, and animal caretaker salaries, receive the first budgetary priority. This often means we have to put other projects on hold until funds become available. For example, we would love to build a bed and breakfast on the Critter Creek property. This would provide a sustainable source of income for the sanctuary while also facilitating engagement with the animals. However, that plan has been put on hold due to the recent intake from the 40-cow Sunrise cruelty case.
Could you share any unique rescue operations that you have been a part of?
Last year, in April, Critter Creek partnered with five other sanctuaries, in addition to The Animal Legal Defense Fund, to rescue over 100 animals from an illegal slaughterhouse (also called a "backyard butcher"). These backyard butchers are the "small, local, family-owned farms" whom many people believe to be a humane alternative to factory farms. However, the conditions at this facility were abhorrent—the animals had no food or water, several were gravely ill, and they were crammed in tiny, filthy cages.
At Critter Creek, we have many animal residents who were rescued from similar situations. What people imagine to be a better alternative to factory farming is anything but humane.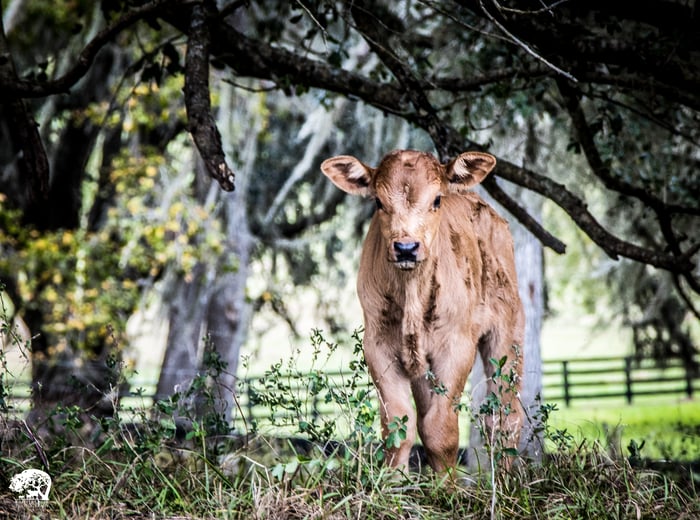 Photo: Critter Creek Farm Sanctuary
The website of the sanctuary mentions that, apart from rescue, you aim to raise awareness on education too. What kind of programs or tours do you host in the sanctuary?
We believe that the animals are their own best advocates, so we aim to facilitate interactions with the animals as much as possible. Currently, this comes in the form of monthly vegan farmers "moo-kets." Guests are able to meet the animals while enjoying food from a variety of vegan vendors. Many non vegans seem to believe that vegan food is little more than grass. So, we hope to introduce them to the many delicious varieties of vegan food while they meet the best reason to go vegan—the animals.
What does a typical day look like for you?
A typical day varies depending on the facility and the present needs. Basic animal care includes feeding, caring for donkey and horse hooves, applying sunscreen to pigs, and providing medications as required. But there's a lot more to running a sanctuary, including managing social media, maintaining infrastructure, managing the budget and inventory, planning events and tours, and more.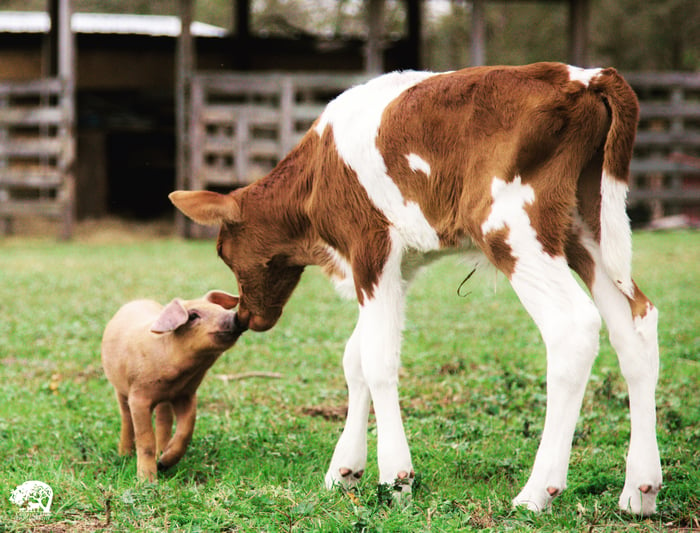 Photo: Critter Creek Farm Sanctuary
What are some general challenges that you face while running the sanctuary?
Funding is of course always a challenge for every sanctuary. The animals we take in are often not healthy due to abuse and neglect. For this reason, many require ongoing medical and nutritional intervention. This can become expensive.
Another challenge is maintaining a positive outlook. We rescue animals whom society sees as nothing more than food. What we do is always an uphill battle. Unlike dog and cat rescues, we have to convince the public that our residents even deserve rescue in the first place.
How has the sanctuary been affected by the pandemic?
As the founders, Chris and I are still the primary donors to Critter Creek. However, my income as a textbook author was cut by half because of the pandemic. This has put a great deal of strain on us financially. The pandemic also impaired our ability to host events and other fundraisers, and it decreased donations overall.
What are some fundraising campaigns that we can promote?
Monthly donors on platforms such as Donorbox and Patreon are critical to covering our recurring monthly expenses. Those expenses nearly doubled with the intake of the cows from the Sunrise cruelty case, so monthly donors are more important than ever.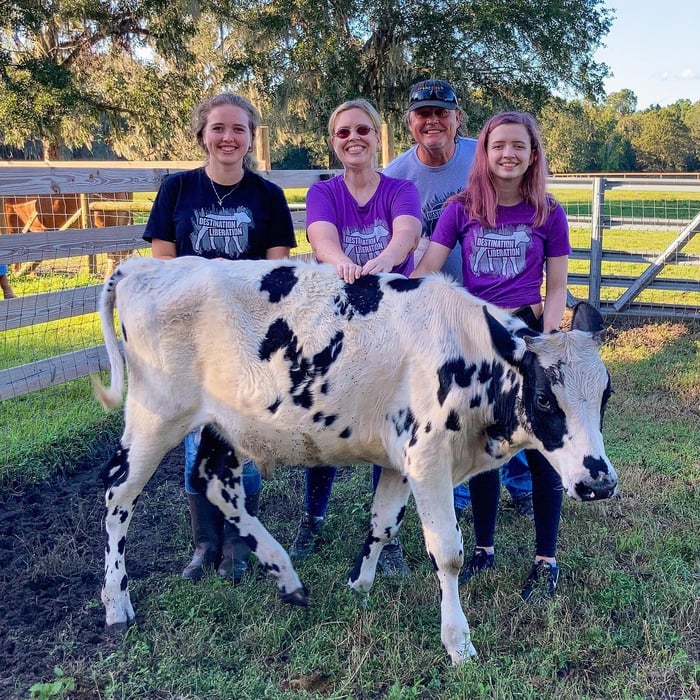 From left to right, Vice President of the sanctuary, Jamie Woodrum, Erin, Chris, and their daughter Elise. Photo: Critter Creek Farm Sanctuary
And lastly, how can the public support during this time?
There are several ways to support the sanctuary, many of which cost nothing! First, of course, is doing reviews on the abillion app and selecting Critter Creek to receive the donation. Second, following us on our social media platforms (@crittercreekfarmsanctuary on Instagram), liking and commenting on our content, and sharing our posts helps us fulfill our mission of outreach. Finally, as we just mentioned, becoming a monthly donor on platforms such as Patreon and Donorbox is a huge help with regular costs such as our feed bill.