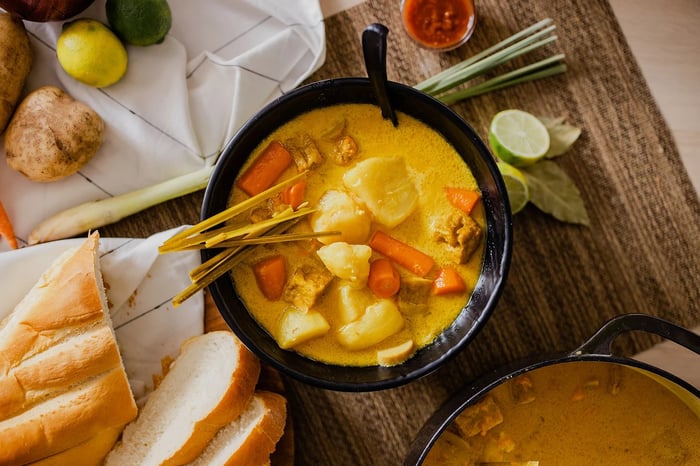 This vegan Vietnamese Curry (Ca Ri Chay) is absolute goodness in a bowl! Modern Vietnamese food has a number of influences from countries near and far. The most popular cuisines are intertwined in Vietnam's geography, from its colonial past with France, to its neighboring countries like China and Cambodia. The roots of Vietnam's curries, or cà ri, stretch across Asia back to the Indian subcontinent. Check out how to make this vegan Vietnamese curry that's rich, colorful, and healthy at its core.
Avg cook time: 1 hr
Yields about 4 servings
Ingredients
300 g oyster mushrooms, sliced into 1-inch chunks
230 g fried tofu
4-5 carrots, peeled
3-5 russet potatoes, peeled
Optional: 1 sweet potato, peeled
3 tbsp oil for cooking
1/2 large onion, sliced
6 cloves garlic (1/2 bulb), roughly minced
2 stalks lemongrass
2-3 bay leaves
2 tbsp curry powder
900 g vegetable broth
750 ml water
3 tbsp sugar (plus extra to taste)
2 tbsp salt (plus extra to taste)
1 canned coconut milk
Toppings & Finishes
Ground black pepper
French bread
Sambal oelek
Lime
Instructions
Chop potatoes and carrots into 2-3 inch chunks. Chop sweet potatoes into 1 inch chunks (we want these to break down).

Cut lemongrass into 3-inch pieces. Set aside.

In a large stockpot, pour oil and turn the heat onto medium-high. Once oil is hot, add in onions. Cook until onions become tender (2-3 minutes).

Add garlic to pot. Cook until fragrant (1-2 minutes).

Add curry powder and lemongrass. Cook for 2 minutes.

Add carrots, potatoes, and sweet potatoes. Cook for 3-5 minutes.

Pour in vegetable broth. Turn heat on high and bring broth to boil.

Add water, sugar, and salt to the pot and bring to boil again. Then add in the tofu and mushrooms.

Lower heat and let it simmer (lightly bubble) for 45 minutes to 1 hour (the longer the better). Potatoes and carrots should be tender.

Pour coconut milk into the pot and stir until well combined. Add salt and sugar to taste.

Serve with French bread. Add sambal oelek for extra spice. Squeeze in some lime for extra zest. Top with ground pepper.

Follow frondxframe for more such amazing recipes.