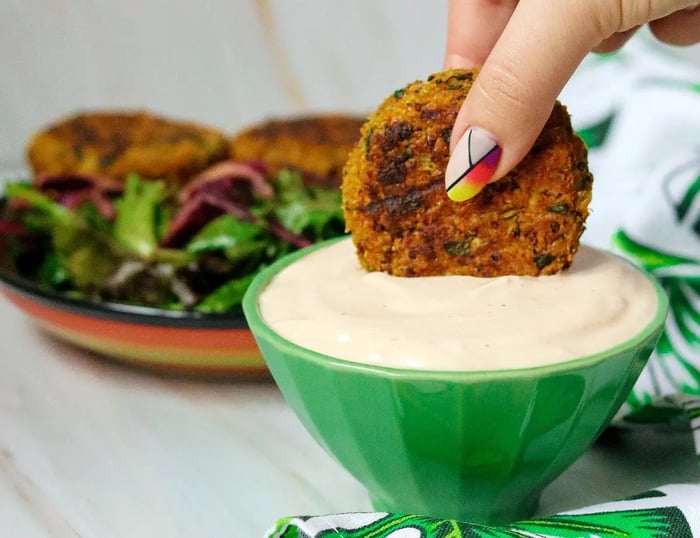 Photo: Yuliya Mihaylova
Recipe for quinoa patties by Yuliya Mihaylova
These days, quinoa is a pantry staple. While the most common way to eat it is as a nutritious carb source, it's far more versatile than most think. Case in point, these crispy quinoa patties.
Instead of simply cooking your quinoa and mixing it into your usual salad bowl, turning it into round patties is a nice way to add texture and colour to your meal. It's usually made with eggs as the binding agent but in its place, I'm using my favorite alternative – a mix of ground flax seeds and water which gels up and behaves very much like eggs.
Have this as an addition to your salad or as an appetizer. I've included the recipe for a dipping sauce below that will take your patties to the next level.

Difficulty: Easy
Prep time: 15 minutes
Cook time: 30 minutes
Total time: 45 minutes

Ingredients

For the patties:

150 grams quinoa

450 ml water (to cook the quinoa)

1 small zucchini

1 medium carrot

1 head of sweet onion

1 medium green bell pepper

2 tbsp of ground flax seeds + 6 tbsp of water

100 grams of fine bread crumbs

Seasoning: 1/2 tsp each of - salt, ground pepper, smoked paprika, chilli flakes + pinch of turmeric powder


For the sauce:

6 tbsp of vegan mayo

6 tbsp of vegan yogurt

2 cloves of garlic

3 drops of Sriracha (or other hot sauce)

salt and pepper to taste


Method

For the patties:

In a small bowl, mix the ground flax seeds and the water and set aside. The mixture will thicken and gel up, acting as an egg in the recipe to bind all other ingredients.

Measure the quinoa and wash it well, before you put it in a deep pan. Add the water and put it on the stove on medium heat.

You can stir occasionally, but if it is not on high heat, it should not stick to the bottom. Turn it off when all the water has been absorbed and leave it aside to cool down.

While you wait for the quinoa to cool down, prep your veggies. Shred the carrot on the thinnest setting on your hand shredder and do the same on the medium setting with the zucchini. Chop the onion into very small cubes, I did the same with the pepper, as I love seeing something green in the patty.

Take a big bowl, put in all your cut veggies, the cooled quinoa and give them a mix. After this, add the already thickened flax seeds mixture to the bowl and mix through.

Finally, add all your seasonings and the fine bread crumbs and mix, until they are all evenly distributed.

I used an ice cream scoop to make evenly sized patties, but feel free to use your hands. Heat your grill pan on high and put a little olive oil to prevent it from sticking.

Put your pre-shaped patties, wait for at least 5-6 minutes, then flip them gently. Cook them, until they are golden brown and crispy on both sides.

For the sauce:

This is a basic garlic sauce and it could not be simpler.

Just mix equal quantities of plain vegan yogurt and vegan mayo and mix until homogeneous.

Mash the garlic, add it to the sauce, together with some hot sauce (preferably Sriracha), salt and pepper to taste and this is it!