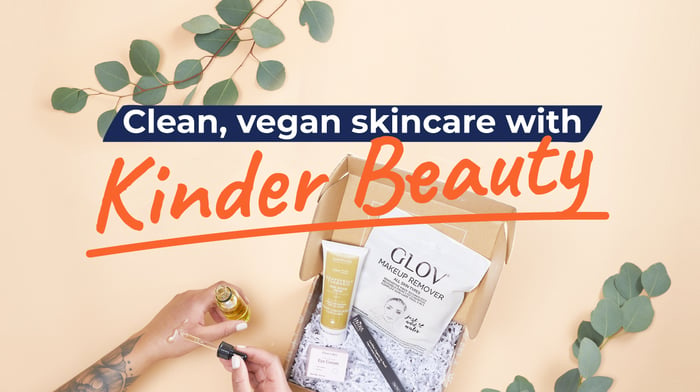 Photo: Kinder Beauty
Vegan beauty is on the rise. More brands, that are cruelty-free and free of animal ingredients, are popping up every day. This July, we've partnered with Kinder Beauty, a company that offers clean beauty box subscriptions. Members who post vegan beauty product reviews can win 3 month free subscriptions from Kinder Beauty—more deets at the end of the article.
Andrew Bernstein is the CEO and co-founder of Kinder Beauty; his two partners are actresses Daniella Monet and Evanna Lynch. He is a long-time animal rights activist turned ethical entrepreneur. We chatted with Bernstein to learn more about his journey and Kinder Beauty.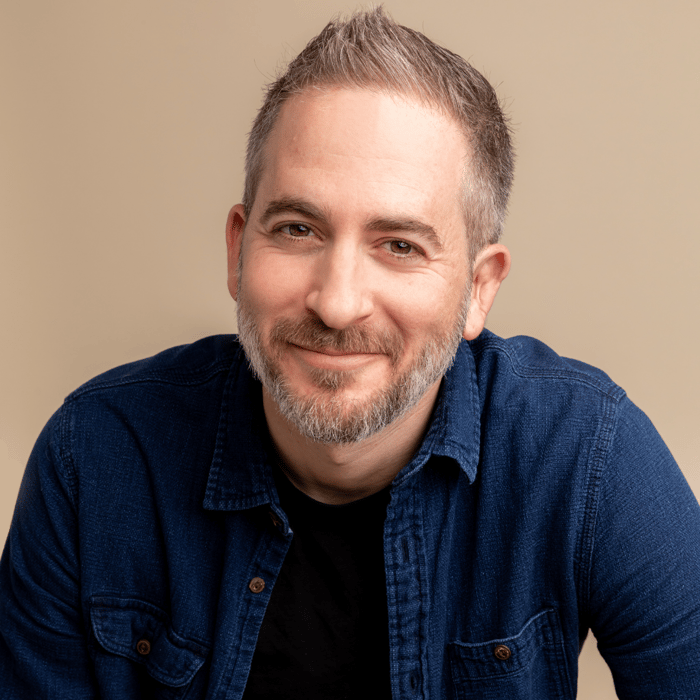 Photo: Kinder Beauty
Hi Andrew, what is the story behind starting Kinder Beauty?
My background was in the nonprofit space. I was working at PETA, the world's largest animal protection organization, in charge of their celebrity marketing division. Of all the animal rights issues we covered, I was particularly drawn to animal testing in beauty. Mostly because nobody from the retailers to the consumers wants their products tested on animals, and yet it still happens. Why? How is this still a thing? When I left the nonprofit world behind, I knew I wanted to do something in the for-profit space, but in a way where I could continue to make an impact. I quickly gravitated towards doing something with vegan and cruelty-free beauty, and a beauty subscription box—sort of a more ethical alternative to Ipsy. That seemed like a lane that was wide open.
How did you meet the other co-founders?
I met Daniella Monet and Evanna Lynch through my work at PETA. My job was basically to work closely with vegan actors, athletes, musicians, influencers, and other high-profile individuals, to ideate, produce, and launch print and video ad campaigns that were seen by millions of people. I was first introduced to Daniella—who starred in her first PETA campaign when she was just 13 or 14—through a mutual friend, and we hit it off. She cares about all of the things that I care about, and she's just a ray of light in this world. And Evy I met through a co-worker. She is one of the most caring and authentic people I've ever met. I knew they were both particularly passionate about cruelty-free beauty, and so when I had the idea for Kinder Beauty, they were the first two people I called.
We love that you are an animal rights activist-turned-ethical entrepreneur. How did you first become an animal rights activist?
For me, it's a story as old as time. It was a girl. I remember on our third or fourth date, she told me she would never seriously date someone who wasn't a vegetarian. And then I remember a short time later—after I'd switched to a vegetarian diet—getting dragged to an anti-fur rally in San Francisco and, at the time, I couldn't have felt more out of place. I was like, "these are so not my people." Five or six years later—and several years after that relationship had ended—I was standing outside of a Petco in Los Angeles, wearing a "Kale Yeah!" t-shirt, while a celebrity in a mouse costume wriggled around in a pool of fake blood on the sidewalk beside me, a wall of paparazzi clicking away, in a public display aimed at urging Petco to stop selling animals in their stores.
The truth is, I recognize now that all I needed was a slight push to be all-in. I was always the kid spending all of his time at the pool saving the bees who were drowning. I think, for many years, I simply didn't know where or how to truly start.
Does Kinder Beauty follow certain rules while partnering with other brands for subscription boxes? Or, is there a certain criteria to hit in order to partner with Kinder Beauty?
Absolutely. To partner with Kinder Beauty, a brand must be completely cruelty-free, meaning they don't test their products on animals. They don't allow or pay any third party to test their products on animals. And their ingredient suppliers don't test the raw ingredients on animals. Beyond that, we'll only consider specific products that are vegan—no animal ingredients of any kind, including beeswax and honey—and that meet our strict clean beauty standards.
To be honest, we sort of fell into clean beauty. Vegan and cruelty-free was always the core mission for us. It was always about the animals. In fact, I remember a conversation very early on where we specifically decided not to focus on the clean beauty trend. It was a new trend at the time. A few months later, after we'd gotten some early traction, we did a survey with our growing subscriber base and found that the vast majority really wanted clean beauty. So we pivoted. But first we needed to become experts in the space. It took a while to do enough research, to actually look at some of the underlying studies and data, and to be able to confidently come up with a list of ingredients we felt shouldn't be in our monthly boxes.
What were some challenges that you faced in this line of business, and for Kinder Beauty along the way?
We still face challenges somewhat constantly, just like any startup. Rising shipping costs, damaged or leaking products, fundraising, and so on. My team and I are never complacent, and I try to spend more time looking forward than looking back. As a founder, you should always be iterating, always be trying to improve, and always be ready to change directions. If we've all learned one thing over the last year or so, it's that you never know what tomorrow is going to bring.
What is your audience like?
Our community is everything; they are our Kinder Beauties. What's interesting is how varied this group is. Our Facebook Group, for instance, has over 9,000 engaged members, based all over the world, and span from college-aged to retirees. What they all have in common is a desire to help us transform the beauty industry, and the world. We—and they—believe that "cruelty-free, vegan, and clean" should be the norm in beauty, not the exception. And we believe the world would be a much better, and more beautiful place if there was a bit more kindness—kindness towards ourselves, towards each other, and towards the planet.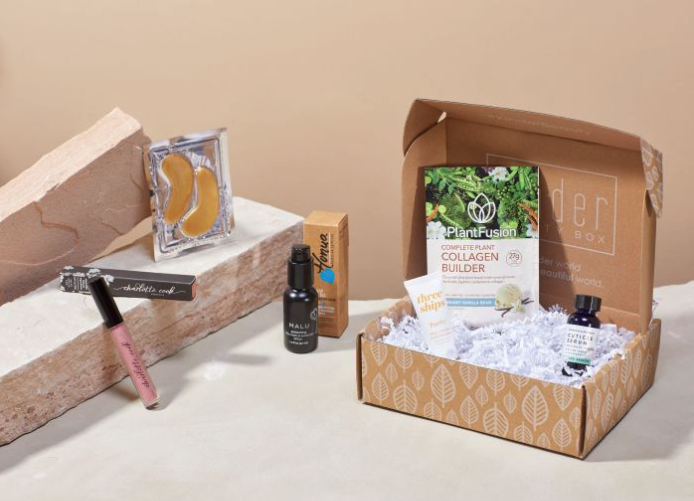 Photo: Kinder Beauty
What is your vision for Kinder Beauty in the next 5 years?
The vision is for Kinder Beauty to be synonymous with cruelty-free, vegan, and clean beauty. We plan on Kinder Beauty Box being a household name beauty box—like Ipsy or Boxycharm is today—and on having a robust, curated ecommerce marketplace with all of your ethical beauty needs. In other words, we want to be a one-stop-shop for all beauty consumers who want to use and discover cleaner, healthier beauty products from ethical brands.
Lastly, how would you convince someone who's looking to explore vegan beauty brands to subscribe to Kinder Beauty?
Our pitch to consumers is simple. With Kinder Beauty Box, you can discover the best cruelty-free, vegan, and clean beauty products at the lowest prices. And we'll deliver them right to your door. Each month, our subscribers receive a curated box with up to $165 worth of products, and we are incredibly discerning. If we don't all agree a product is exceptional, it doesn't make it into one of our boxes. See for yourself what a difference Kinder Beauty makes by signing up at kinderbeauty.com, for as little as $23 per month.
For this month, we're running a giveaway with Kinder Beauty. To be a part of this, all you need to do is review at least 10 vegan beauty products, using #abillionXkinder and you'll stand a chance to win 3 months of Kinder Beauty subscription. Each month you'll get $165 worth of vegan, cruelty-free and clean beauty products from top ethical and clean beauty brands. This giveaway is open to users with a registered email address. 15 winners will be chosen based on the number of reviews, quality of images, likes, and comments for all the reviews within the period. The winners will be announced on or before 15 August 2021 via email. All decisions made by abillion will be final. We'll send winners an email asking for shipping addresses. By participating in the competition, you're agreeing to the terms and conditions.
To take a deeper dive into sustainable beauty trends, check out this report we published in March 2021.