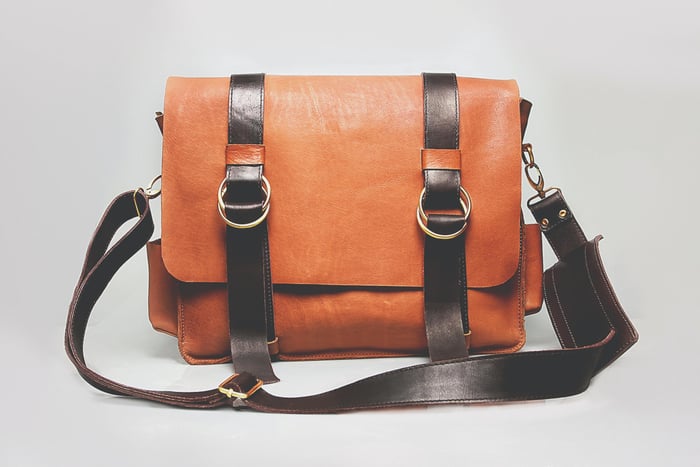 "Vegan leather isn't sustainable!"
We've heard this countless times. Most mass-produced faux leather are made with either polyurethane chloride (PVC) or polyurethane (PU). PVC is basically plastic, so it's definitely not sustainable. While PU, isn't as bad as PVC, it's still not the best as it's a plastic polymer derived from petroleum.
Some entrepreneurs saw this as an opportunity and have come up with leather that's not just cruelty-free, but also good for the skin and the environment.
Miomojo
Leather made from apples and cactus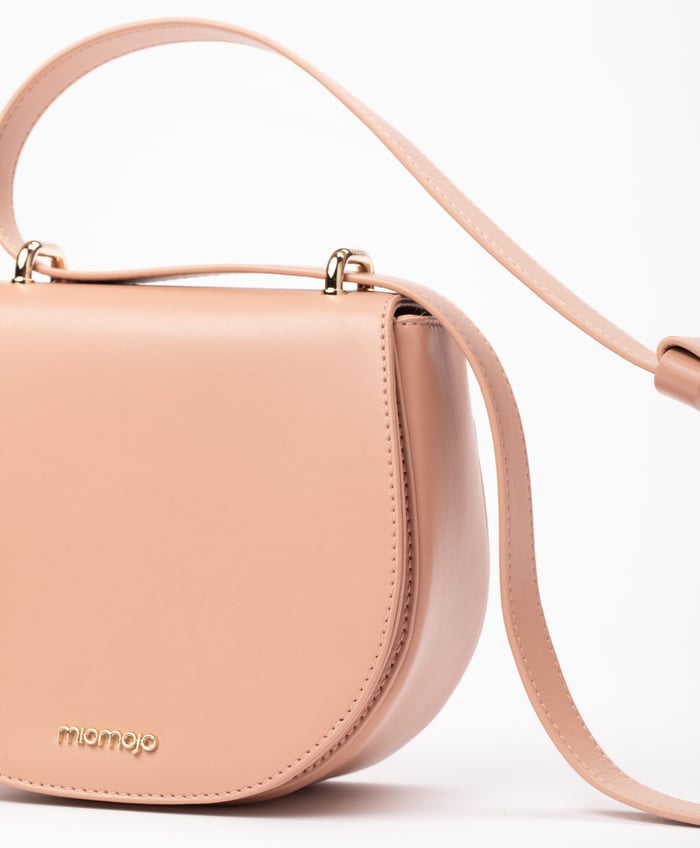 pic source
Miomojo believes in a kinder world. The company ensures that they offer premium fashion products that don't harm the animals and the planet. They design luxurious faux-leather bags that are made from apples and cactus. The sourcing, designing, and production are handled locally in Italy. This helps lower their carbon footprint while focusing on their quality. Miomojo proves that when creativity and compassion combine, the world gets high quality products.
Phool
Leather made from flowers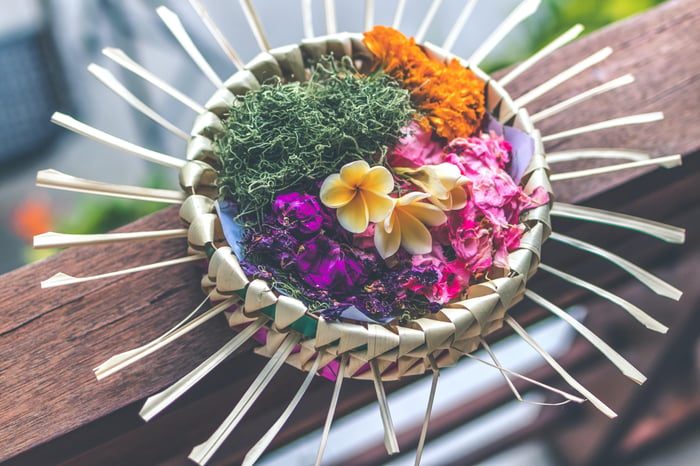 pic source
Indians believe in offering flowers (or Phool in Hindi) during worship. At the end of the day, these flowers are discarded. Phool, founded by former automation engineer Ankit Agarwal, began using these discarded flowers to create high-end products. They employ underprivileged women to create luxury incense sticks. They soon realized that the rotten flowers, when left on their own, formed a thick fibrous mat. They've created vegan leather using this mat, and are calling it "Fleather." They've partnered with various international fashion houses, and we'll be able to purchase fleather items soon!
Desserto
Leather made from cactus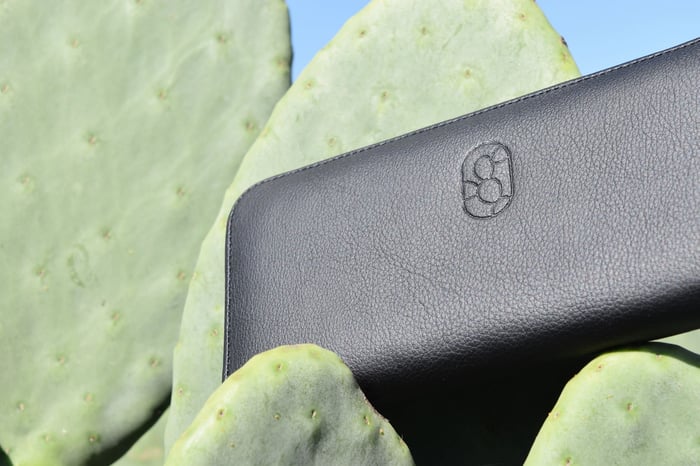 pic source
Desserto was born with the intention of creating a biodegradable, sustainable leather that meets the requirements from fashion, leather goods, furniture, and automotive industries. Founders, Adrian Lopez Velarde and Marte Cazarez, had experience working with leather in the automotive and fashion industries, and wanted to create a product that was versatile.
Studio Tjeerd Veenhoven
Leather made from palm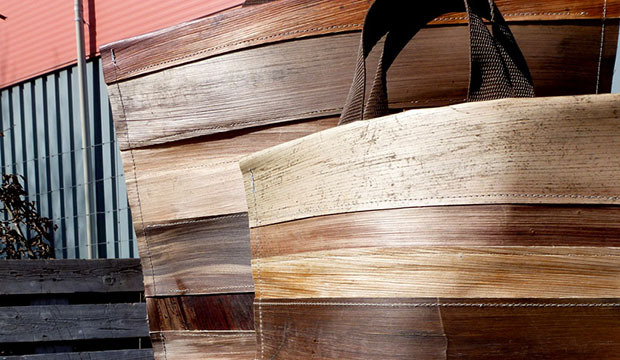 pic source
A product design studio, Studio Tjeerd Veenhoven has introduced a different approach to creating faux leather – using dry and brittle areca betel nut leaves to create a leather-like material. They ensure their manufacturing is free from waste and harmful chemicals. The material is positioned as the cheaper alternative to leather, rubber, and plastic!
Modern Meadow
Leather grown in a lab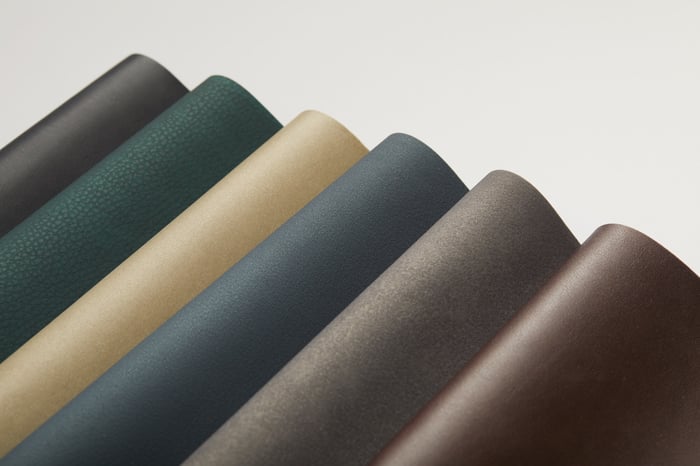 pic source
Modern Meadow has introduced a unique brand of faux leather, called Zoa, which is a biologically produced collagen protein. In simpler terms, Zoa is a leather that's grown in a lab from cells. The material is like leather, but it can be developed into any shape, unlike conventional leather which is restricted in its shape and size.
Pinatex
Leather made from pineapples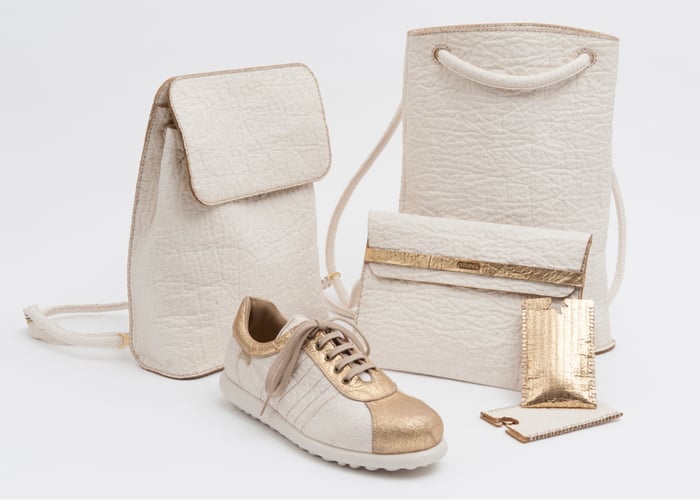 pic source
Ananas Anam, the creators of Pinatex, make natural leather from cellulose fibers that are extracted from pineapple leaves. Dr. Carmen Hijosa, the founder and Chief Creative & Innovation Officer, developed a way to process the leaves to replicate leather. Since Pinatex uses leaves, a by-product of the pineapple industry, it helps supplement the farmers' incomes without adding any additional burden on the people or the environment.
Reishi
Leather made from mushrooms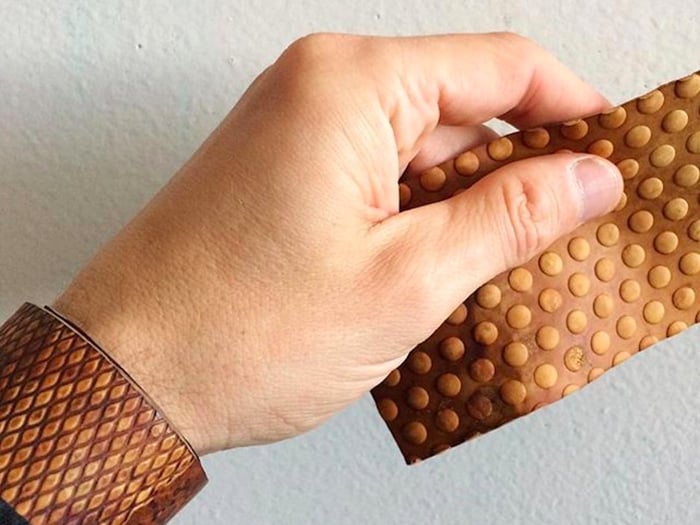 pic source
MycoWorks creates leather from the fibers found at the root of fungus, such as mushrooms. They pride themselves in creating a premium product using all-natural materials. They're calling it Reishi leather. For the last two years, Vartest, one of the world's most respected leather testing houses, has tested Reishi across hundreds of samples and protocols. The results reflect a revolutionary breakthrough within biomaterials: Reishi matches the strength and durability of cowhide—the gold standard for leather— and they're still improving!
Malai Studio
Leather made from coconuts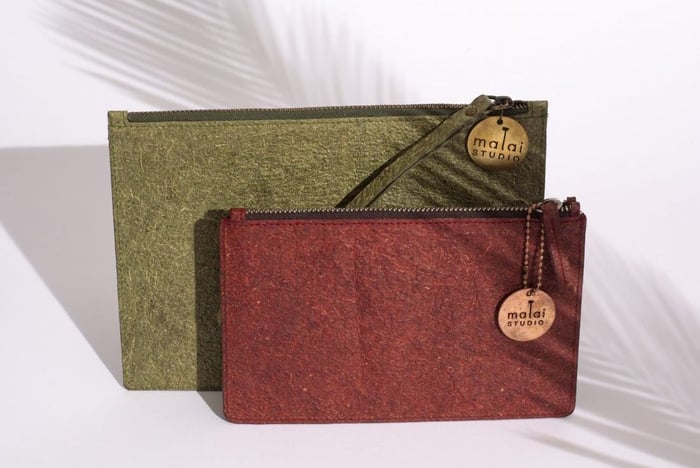 pic source
Malai Studio produces leather from industrial waste obtained from biocomposite material obtained from bacterial cellulose that feeds on agricultural waste. The company works with local South Indian farmers to collect waste coconut water, which would otherwise be discarded, to feed the bacteria's cellulose production. Malai has teamed up with various designers to design accessories, fashion, and interiors from their coconut leather.
At abillionveg, we believe that innovation is the key to creating a more plant-positive world! Share your favorite vegan leather products in the comments and let's support local businesses!