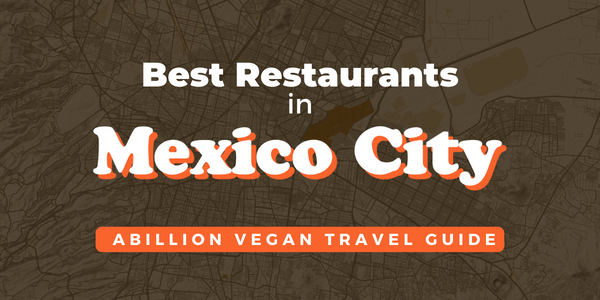 Mexico City, a bustling metropolis steeped in history and culture, has also emerged as a haven for vegan foodies. Beyond its iconic landmarks and vibrant street life, the city boasts a thriving vegan culinary scene that celebrates the rich flavors of Mexican cuisine with a compassionate twist.
Join us as we take you on a tantalizing journey through the heart of Mexico City, exploring a variety of plant-based restaurants that have captured the essence of Mexico's gastronomic heritage.
Get ready to indulge in traditional Mexican street food reimagined with a vegan touch at Mictlan Antojitos Veganos. From flavorful tacos to mouthwatering tamales, this eatery offers a taste of Mexico's culinary heritage while honoring a cruelty-free lifestyle.
Photo: darkxocolatl
Na Tlali is more than a restaurant; it's a celebration of nature's bounty. With a focus on organic and locally sourced ingredients, this establishment presents a menu that highlights the beauty of Mexican flavors while promoting sustainability and ethical choices.
Photo: estefaniagora
Tacos are a quintessential part of Mexican cuisine, and Por Siempre Vegana Taqueria ensures that vegans can savor this beloved dish. From al pastor to barbacoa, their plant-based tacos are a flavorful homage to Mexico's street food culture.
Photo: shakitz
Start your day right at Cafè Vegetal, a cozy spot that offers not only delightful plant-based fare but also a variety of vegan coffee options. Whether you're in the mood for a hearty breakfast or a relaxing cup of joe, this cafe has you covered.
Photo: omar0505
Discover a harmonious blend of traditional Mexican flavors and innovative vegan cuisine at Vegamo Mx. With a menu that pays homage to classic dishes while embracing modern plant-based techniques, this restaurant embodies the spirit of Mexico City's evolving food culture.
Photo: uvazombie
Por Siempre Vegana 2 is a continuation of the vegan goodness that its predecessor offers. With a diverse menu that spans from comforting classics to innovative creations, this restaurant is a must-visit for those seeking a true taste of Mexico City's vegan food culture.
Photo: leeponce
Malportaco is a gourmet haven for vegan taco enthusiasts. With inventive fillings and creative combinations, their menu showcases the endless possibilities of plant-based tacos while delivering a gourmet experience that's simply irresistible.
Photo: ilse
Gracias Madre Taqueria Vegana is more than just a restaurant; it's a celebration of love for food, the earth, and people. With a commitment to sustainable practices and vibrant Mexican flavors, this taqueria offers a true fiesta for the senses.
Photo: anagabyveg
Step into a world of vegan sophistication at Plantasia, a restaurant that elevates plant-based dining to new heights. With beautifully presented dishes and a focus on high-quality ingredients, Plantasia is a culinary destination that promises an unforgettable dining experience.
Photo: omar0505
La Pitahaya Vegana captures the spirit of Mexico's heart with its burst of flavors and vibrant dishes. From tantalizing tamales to creative cactus-based delights, this restaurant showcases the beauty of regional Mexican cuisine in a fully vegan form.
Photo: sandyna
Mexico City's vegan food scene is a reflection of the city itself—vibrant, diverse, and deeply rooted in tradition. Whether you're strolling through its historic neighborhoods or exploring its modern culinary landscape, you'll find a plethora of plant-based delights that showcase the best of Mexican flavors and ingredients.
From street food favorites to gourmet creations, each restaurant on this list offers a unique perspective on vegan cuisine while paying homage to Mexico's rich culinary heritage.
So, whether you're a dedicated vegan or simply curious about exploring cruelty-free options, Mexico City invites you to savor its culinary treasures that are as colorful and captivating as the city itself. ¡Buen provecho!