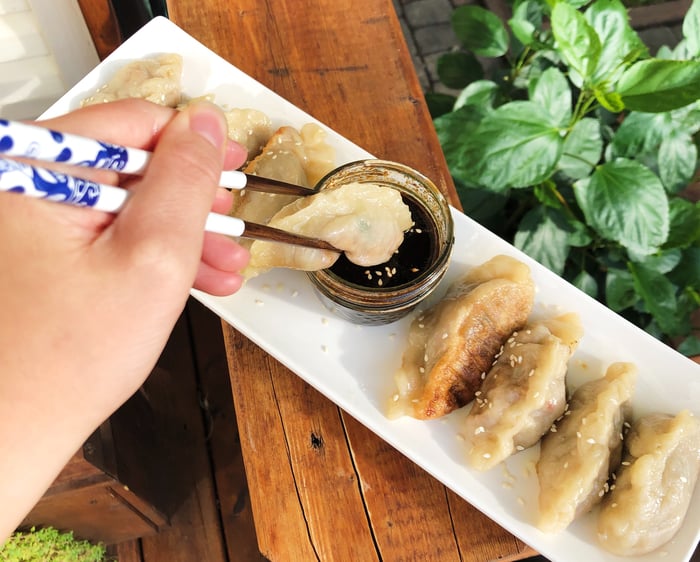 The first time I ever had pan fried dumplings was in a small restaurant in Ottawa's Chinatown with my university roommate after we were both finished classes on a particularly gloomy day. She couldn't believe I hadn't had them before and insisted I had to try them. I was instantly hooked.
After graduating and moving home to Windsor, I haven't been able to find a place that does vegan-friendly dumplings. Maybe I'm just looking in the wrong places (help if any Windsorites are reading this!), but instead of going without, I rolled up my sleeves - quite literally because let's face it, flour is so messy - and started folding my own dumplings.
In some ways making dumplings is easy. The dough is only three ingredients and you can really get creative and experiment with different fillings. But the tricky part is the art of folding the into perfect little crescents. This comes with practice, but even ugly dumplings fulfill the craving for the crispy yet soft comfort food that has become an all-time staple in my recipe rotation. It is a time-consuming process but it is a fun activity to do with friends over a bottle of wine or put on a movie in the background and time will pass before you know it.
Vegan Pan Fried Dumplings
Active Time: 1 1/2 hour-2 hours
Serves: 8 dumplings
Ingredients
For the Dough
2 cups of all-purpose flour
1 tsp of salt
1 cup of hot water
Extra all-purpose flour for dusting
For the Filling (two options)
Red cabbage, ginger, mushrooms, garlic, soy sauce, sesame oil
OR
Minced tofu, mushrooms, red onion, red pepper, ginger, garlic, green onion soy sauce, sesame oil
Method
Combine flour and salt in a large bowl and then create a well in the middle of the bowl. Add the water and mix using a spoon or spatula. As it forms a dough it may be easier to form the dough with your hands.

Lightly dust a surface with flour and kneed the dough with your hands for about 5 minutes until it is smooth and soft. If you touch it, it should spring back.

Place back into the bowl and cover with a damp tea towel to let stand for 1 hour.

While the dough is resting, start on your filling. Mine changes every time based on what I have in my fridge but I will list two of my favorite combos below. Get creative based on your own palette and flavor preferences! Since my flavor profile for fillings changes every time, I tend not to measure the exact amounts of what I use. Instead, I eyeball the ingredients and use any extra in other recipes during the week in dishes like stir fry, pasta sauce, and noodle dishes.

Mince or chop your chosen ingredients into very fine pieces. I find it easiest to use a food processor or a quick blitz in my high-speed blender.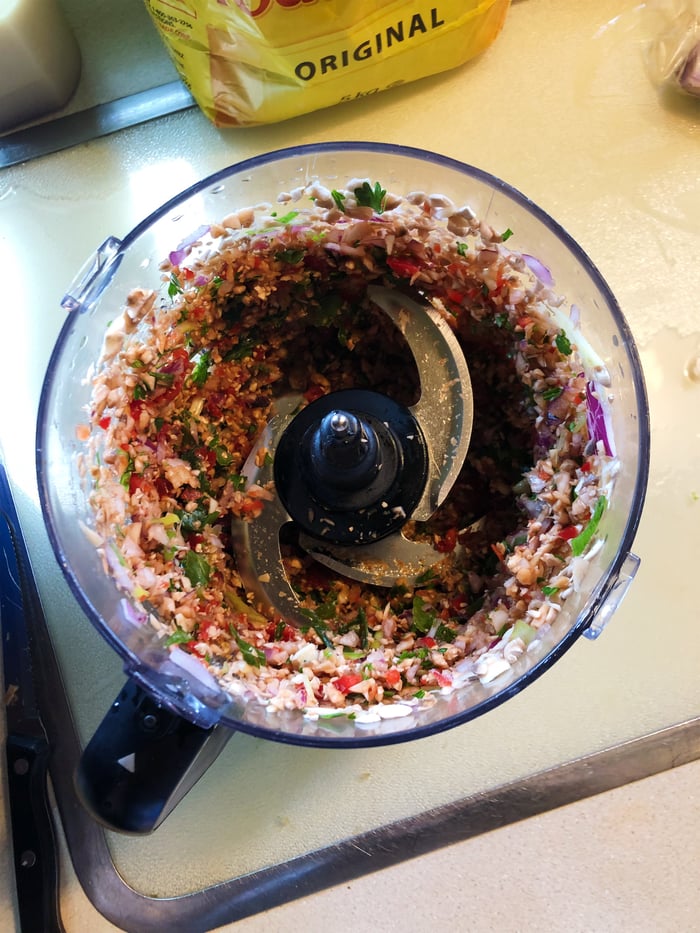 Add to a large pan with olive oil on medium-high heat until softened. Remove from heat and let cool until the dough is ready.

After standing for an hour, cut your dough into four equal pieces to help with portioning. Roll each piece into a long snake and cut into about 8 equal pieces. Place the pieces back into the bowl and cover again with the tea towel.

I like to take out a few pieces at a time and roll them out into circles that are 3-4 inches in diameter. Make sure the dough is rolled thin and that the outside is a bit thinner than the middle.

Spoon about 1tbsp of the filling into the center. Keep a small bowl of warm water nearby. Lightly wet the edge of half of the dumpling wrapper with your finger and then fold in half pressing together the edges into a semi-circle shape ensuring you press out any excess air. Keep the bottom flat so it kind of forms a pyramid. Now, you can attempt to form pleats or folds along the edges of the dumping, or just make sure that the edges are pressed together to form a seal enclosing the filling inside.

Place on a baking sheet lined with parchment paper (or a better low waste option, a silicone mat) while you fold the rest of the dumplings. Repeat until you have used all of the touch and filling. Now, you can freeze the dumplings and store them in a container in the freezer until ready to use. Ensure they are frozen before placing together to avoid them sticking to one another.

If cooking immediately, heat a large frying pan over medium-high heat with about 3tbsp of oil. Once hot, place dumplings in the pan, flat side down without touching each other for a few minutes until the bottoms are starting to brown.

Next, pour about 1/2 cup of water into the pan and cover to steam. This takes about 7 minutes depending on how thin you have rolled your dough. When most of the water has evaporated remove the lid and finish cooking. You will know they are done with the dough is translucent and the bottoms are light brown. Repeat this process as needed for all of the dumplings to be cooked. Serve with your favorite sauce.
Enjoy! Please try out different fillings and let me know what flavor combos you come up with.
Extra Tip: I use this same simple dough recipe for pierogi and ravioli! Just change out fillings and folding methods to the appropriate shape and you are good to go!