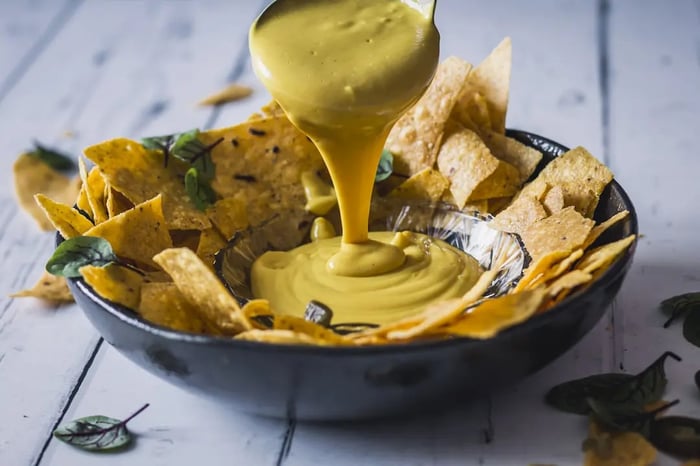 Photo: Chef Cynthia Louise
Vegan nacho cheese sauce recipe by Chef Cynthia Louise
The only way for you to know how epic this rich, thick and cheesy sauce is is to make it. I use it as a dip, drizzled over nachos, in my mac and cheese, in a veggie bake, as a pizza cheese, the list goes on and on. Sometimes, I just park myself on the couch with a bowl of corn chips and a jar of this glorious sauce. It's my version of a tasty heaven.

Ingredients

200g carrots, unpeeled and cut into large chunks
300g potato, peeled and cut into large chunks
160g raw cashews
2 garlic cloves, smashed
1/2 onion, roughly chopped
1 tsp turmeric powder
1l water
1 1/2 tsp dijon mustard
1/4 cup savoury yeast, or to taste
1 tsp salt
A pinch of black pepper

Method

Add the first seven ingredients to a medium-size pot and bring to the boil.

Turn down the heat to a medium simmer and cook for 40 minutes or until the ingredients are completely soft.
Turn off the heat and allow to rest for 10 minutes in the pot.

Drain the veggies and reserve the cooking water.

Put the veggies into a blender, add the mustard and savoury yeast, and blend on high speed until smooth and creamy. If you'd like the sauce to be thinner, add more cooking water.

Taste and adjust the seasonings if needed.