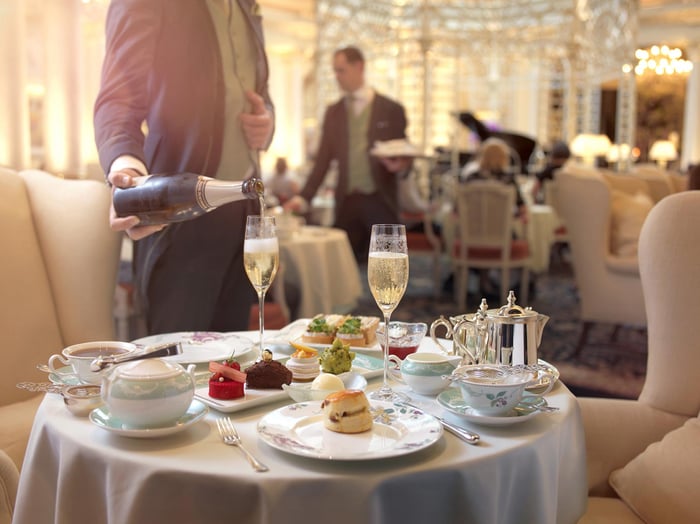 Photo: The Savoy
London is the perfect springtime destination; the city truly comes alive with its lush gardens and beautiful weather for sightseeing. It's also immensely vegan-friendly – just have a look at the number of restaurants in the British capital in our awards list that we've crowned as among the best in the United Kingdom.
Most of the restaurants in our awards list cover main meals, but why not soak in the day with a classic British afternoon tea. The practice began more than 200 years ago when the seventh Duchess of Bedford started serving a meal between lunch and dinner.
Today, the aristocratic tradition has transcended its upper crust origins and is now enjoyed by all. In fact, many of London's best afternoon tea establishments have created vegan-friendly menus so you too can enjoy scones with lashings of jam and cream; finger sandwiches; trays of pastries and cakes without involving animal lives.
From the refined to the whimsical, here are seven standout vegan high tea spots in London for anyone looking to relish in a mid-day indulgence.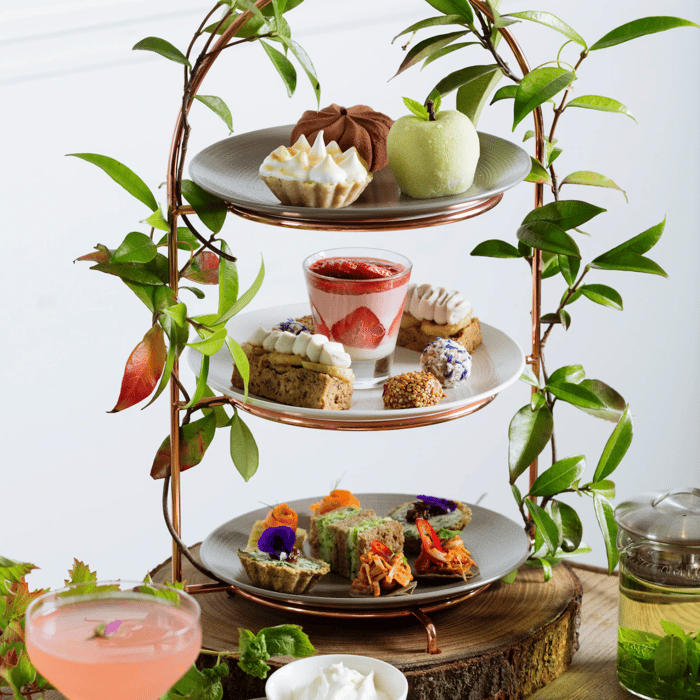 Photo: Farmacy
Farmacy is a 100 percent vegan restaurant that offers everything one would look for in a high tea set. This trendy spot lays claim to being London's first restaurant to serve CBD-infused items. Besides being vegan, the menu is also free from refined sugars, additives and chemicals; produce is grown on their own plot of land in Kent. This, according to the eatery, is a way to connect back "to a conscious way of eating, just as nature intended."
View their vegan high tea menu here.
Price: From £50 per person.
Address: 74-76 Westbourne Grove, London W2 5SH, United Kingdom
Photo: The Langham
Palm Court at The Langham is famed for being the birthplace of afternoon tea. Celebrity chef Michel Roux Jr and executive pastry chef Andrew Gravett have tapped into the archives of Britain's favorite biscuits and baked tarts, and reimagined them with a modern spin. Customers remark that the vegan high tea experience at Palm Court is unparalleled. Here's what you can expect: scones as light as air, tantalizing savories, and patisserie using the finest seasonal ingredients. Opt to have a glass of English sparkling wine or Champagne for extra indulgence, and you have all the makings of an unforgettable moment.
View their vegan high tea menu here.
Price: From £65 per person.
Address: 1C Portland Pl, London W1B 1JA, UK.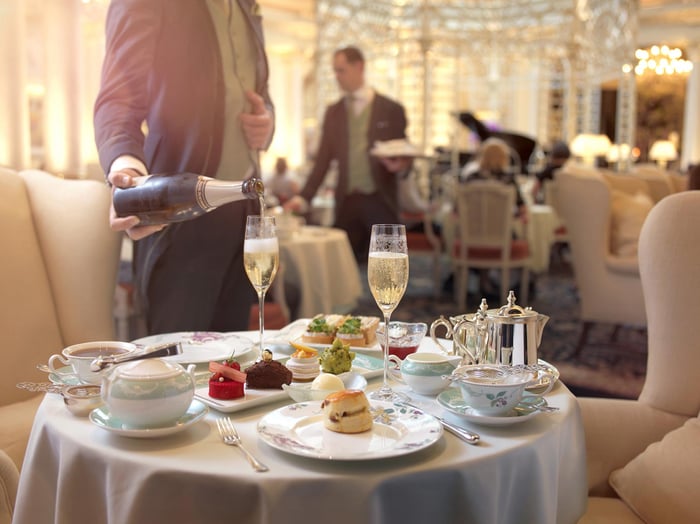 Photo: The Savoy
The well-renowned Savoy Afternoon Tea is situated in the Thames Foyer – the heart of The Savoy London Hotel. Savor a wonderfully crafted selection of vegan high tea delights in a stunning glass-domed atrium. Dig into finger sandwiches with fillings like pickled cucumber, wild mushroom, and artichoke while scones come served with vegan cream and jam. As you sink into the plush seats, give your ears a treat as the pianist plays at the gazebo, and complete the experience with a glass of Deutz Rosé.
View their vegan afternoon and high tea menus here.
Price: From £65 per person.
Address: Strand, London WC2R 0EZ, United Kingdom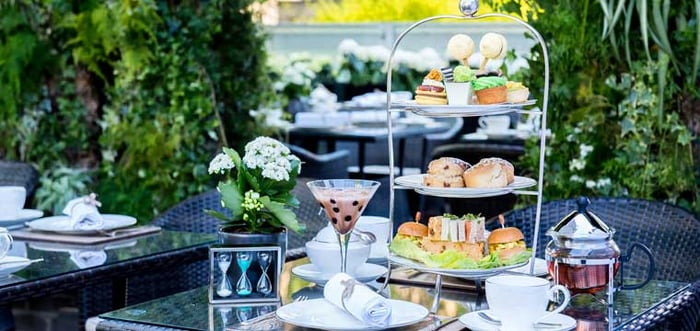 Photo: High Tea Society
Savor a delicious traditional afternoon tea at The Montague while dining al fresco on their Garden Terrace. It's a wonderful retreat in the heart of London city and its afternoon tea includes a scrumptious selection of warmly baked plain and raisin scones, delicious cakes, and freshly hand-cut sandwiches. To enjoy the vegan tea set, be sure to reserve at least one day ahead as everything is freshly made daily. The restaurant is also happy to accommodate other dietary needs including gluten-free and nut-free requests.
View the vegan high tea menus here.
Prices: The Ultimate Bottomless Afternoon Tea: From £85 per person, Jazz Afternoon Tea: From £61.50 per person
Address: 15 Montague St, London WC1B 5BJ, UK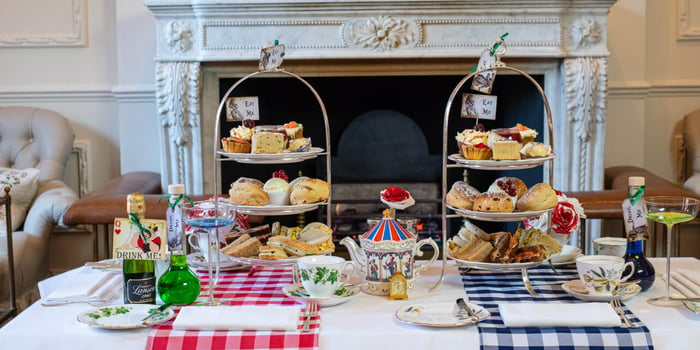 Photo: Egerton House Hotel
The Egerton House Hotel is an enchanting boutique townhouse in the heart of Knightsbridge where pets are welcome. Its vegan menu is not to be missed, with a selection of freshly cut sandwiches on top of the usual suspects like plain and fruit scones served with a delicious coconut clotted cream. To complete these classics, choose from an extensive selection of teas or coffee, or perhaps enjoy a glass of chilled Champagne.
View the vegan high tea menu here.
Price: From £52 per person
Address: 17-19 Egerton Terrace, London SW3 2BX, UK.
Photo: The Ampersand Hotel
Dig into a whimsical high tea feast at The Ampersand Hotel with its one-of-a-kind Science Afternoon Tea. The experience here is like having a lucid childhood dream. The jellies are served in petri dishes, chocolates are formed into spacemen while biscuits are dinosaur-shaped. Gimmicky? Perhaps. But the afternoon tea here has proven to be a hit as it was named Best Themed Afternoon Tea at the Afternoon Tea Awards in 2018.
View the vegan menu here.
Price: ~£49.50 per person
Address: 10 Harrington Road, South Kensington, London SW7 3ER, UK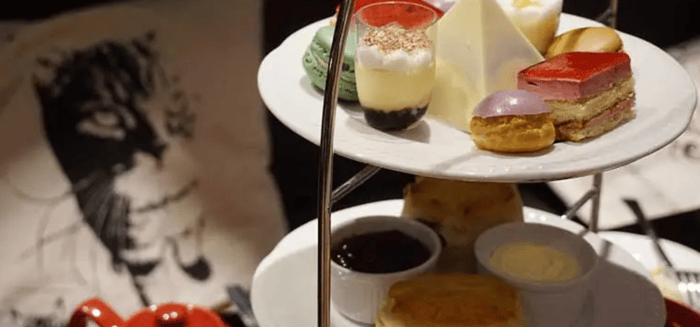 Photo: High Tea Society
Attention all feline fanatics: Lady Dinah's Cat Emporium is the place to be as it houses rescued cats. Enjoy a vegan high tea set that offers mini Victoria sponges, velvet and polenta cakes, scones with jam and plant-based spreads, and finger sandwiches. Some of the delicacies – like the shortbread – are also cat-shaped. "As the world changes, we hope to continue to offer people solace," it states on the website. "When times are tough, it can really help simply to drink a hot beverage and gaze upon the blissful face of a sleeping cat."
View the vegan menu here.
Cost: On request. Bookings essential. Strictly ages 12+ only, children not admitted.
Address: 152-154, Bethnal Green Road, London E2 6DG, UK