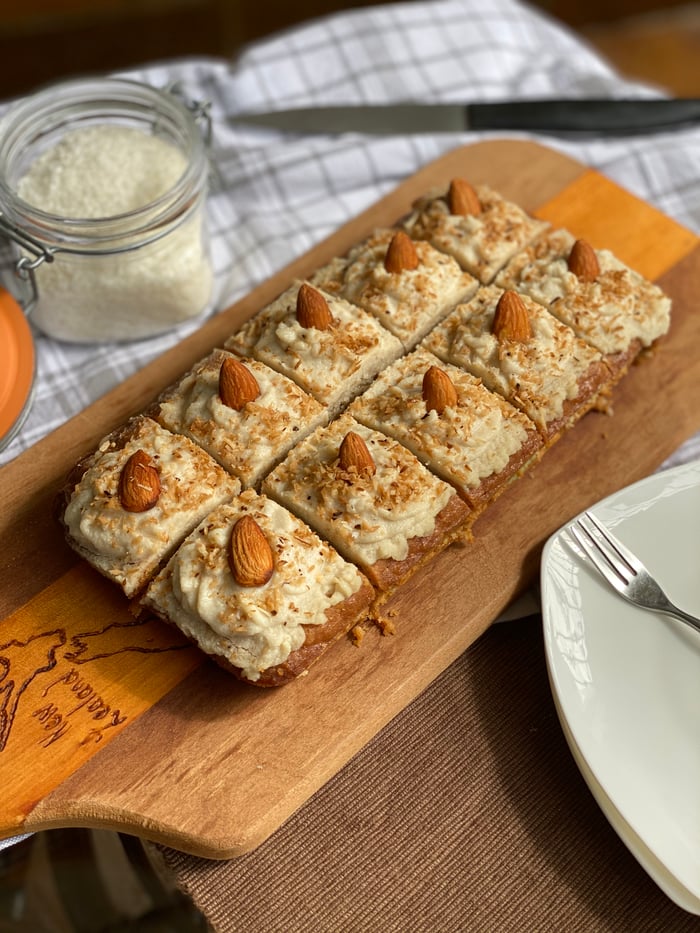 My mum was making Kaya (a Southeast Asian spread traditionally made with eggs and coconut milk) and had spare coconut milk that she asked me to use. So, I Googled a vegan recipe that uses coconut milk and chanced upon School Night Vegan's Coconut and Lemon Cake recipe. It seemed like the perfect dessert to make. Both the coconut cake and the buttercream frosting (adapted from Minimalist Baker's Buttercream Frosting) were heavenly, and I've since paired each of them with other things.
Preparation time: 45 min (excluding time for buttercream to set: 6-8 hours)
Bake time: 25-30 min
Serves: 8-10 small slices
Ingredients
For the cake
1/2 tsp flax meal + 1 1/2 tsp water
150 g plain white flour
25 g desiccated coconut
1/4 tsp baking soda
1 1/2 tsp baking powder
1/4 tsp fine sea salt
100 g caster sugar
55 g coconut oil (melted)
175 ml or 6 oz canned coconut milk
1 tsp apple cider vinegar
1 tsp coconut/vanilla extract
For the frosting
45 g raw cashews (soaked 6-8h in water)
30 ml or 1 oz full-fat coconut milk or cream
10 ml or 1/3 oz maple syrup
15 ml or 1/2 oz melted coconut oil
1/8 tsp lemon zest
1/2 tsp lemon juice or apple cider vinegar
1/4 tsp pure vanilla extract
a pinch of sea salt
a handful of whole almonds (optional, for topping)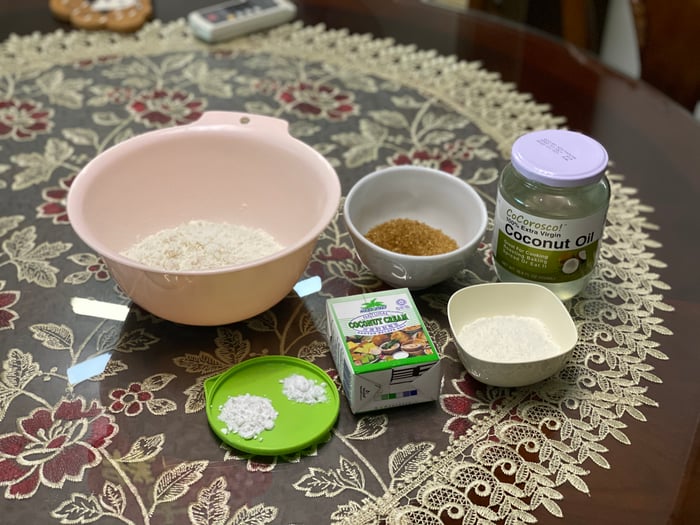 Heavy Equipment
Blender
Stand mixer (optional)
Method
For the frosting (recommended to prepare first)
Drain soaked cashews thoroughly and add to a blender. Add remaining ingredients.

Blend on high until very creamy and smooth, scraping down sides as needed.

Taste and adjust flavor as needed, adding more maple syrup for sweetness, vanilla for vanilla flavor, or more apple cider vinegar/ lemon zest for tang.

Transfer frosting to a medium mixing bowl (with room to whisk) and cover. Place in the freezer for 45 min. Remove from the freezer and whisk. Freeze for another 45 min - 1 h and whisk again. Then leave in the freezer until semi-firm to the touch (cheesecake texture // ~ 2-4 hours) and use a hand mixer to blend until creamy and smooth. If frosting is too firm, leave out at room temperature to soften before blending.

Your frosting is ready to use! It can be stored in the refrigerator up to 5-7 days (or the freezer 1 month).
For the cake
Preheat oven to 180°C/350°F. Line and grease a 9x5" loaf tin.

Whisk flax meal with 1 1/2 tsp water. Set aside to thicken for 10 min.

In a medium bowl, whisk together the flour, desiccated coconut, baking soda and salt. Set aside.

Using a stand/hand mixer, beat on high speed the melted coconut oil, sugar, coconut milk, vinegar, coconut extract, and flax meal mixture until very smooth.

Add the flour mixture and beat until combined. Do not overbeat.

Pour batter into the loaf tin and bake for 25-30 minutes. Once baked, a skewer inserted into the center should come out clean.

Remove cake from oven and place on a cooling rack until cool enough to handle. Remove from the baking tin and allow to cool completely.

Top with buttercream frosting. Refrigerate if not serving immediately. Enjoy!