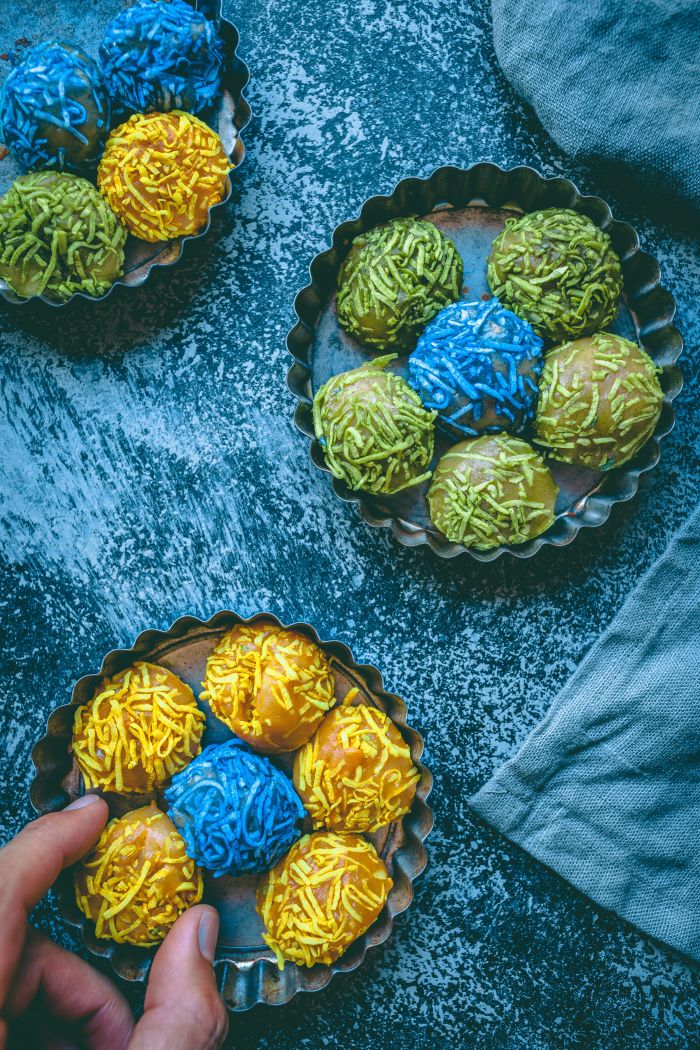 Brazil! Here is my Vegan Coconut Brigadeiro. I've never made anything Brazilian, so I figured I'd start off with something sweet since I've been known to have a sweet tooth. This is an extremely simple recipe with only 3 ingredients. Enjoy the recipe below, my friends. Obrigado!
Vegan Coconut Brigadeiros
Serves: 2-3
Active time: 1 hr 30 min
Ingredients
1 tbsp vegan butter
1 can sweetened condensed coconut milk (yes, this is a real thing!)
1/2 cup coconut cream
Coconut flakes or shreds
Blue spirulina from @rawnice
Turmeric powder
Moringa powder
Method
Heat butter, coconut milk, and sweetened condensed coconut milk on low heat until it thickens. You want to be able to run a spatula across it until it takes 2-3 seconds for it to close back together. It took me over 20 minutes.

Remove once thick and empty into a greased dish. Cool in the fridge for one hour.

Mix each powder in separate containers with the coconut shreds. If you have coconut )flakes, blend them into shreds - it's easier to coat them.

Roll into balls and roll into colored coconut shreds. They will get soft from your hands, so stick them back into the fridge until ready to eat!