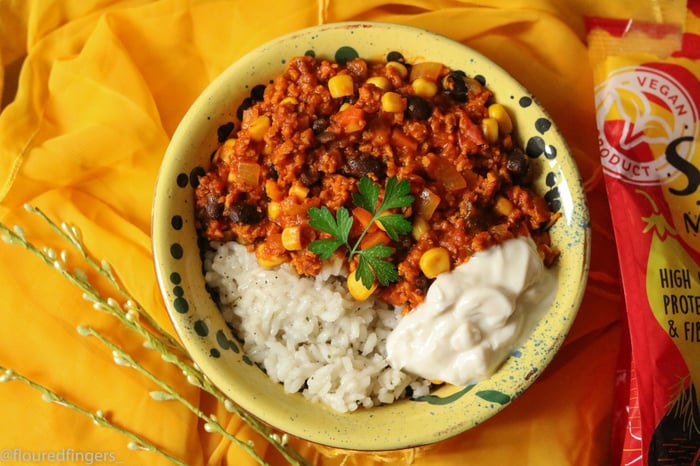 Photo: @flouredfingers_
A vegan chili con carne by Yuliya Mihaylova
Chili con carne is one of the easiest meat dishes that anyone can veganize. The biggest difference in this recipe with the original is of course, the meat. You could use the ready-made vegan mince, like Beyond, but in today's recipe I am using soy mince (also known as soy bits or soy granules).
Difficulty: Easy
Prep Time: 10 minutes
Total time: 40 minutes

Ingredients

Chili
2 yellow onions
1 celery stem
3 cloves of garlic
3 tbsp of olive oil
130 grams of dry soy mince
1 can of chopped tomatoes with juice + 1 tbsp of sugar
1 can of cooked red beans
1 can of sweet corn
1 tbsp of chili paste
1 tbsp of tomato puree
1 tbsp of yellow mustard
1 tbsp of smoked paprika
salt, pepper, chili flakes to taste

Rice
1 small bowl of rice
2 small bowls of cold water
Salt and pepper to taste

Toppings
Fresh parsley
Plant based yogurt


Method
For the chilli

Prepare the vegan mince according to the pack's instructions. If you're using soy mince like I did, soak it in hot water for 15-20 minutes, then drain before use.

Cut the onions into half-moons and dice the celery stems and garlic. Put a large pan on the stove on medium heat, drizzle some olive oil and when it is heated add the onions, celery and garlic. Saute them for a couple of minutes, and if they start to brown too quickly, add a splash of red wine or water, until they soften and get transparent.

Add in the prepared soy mince and cook for 5-10 minutes.

Next, add in the smoked paprika, some salt and pepper to taste. This is to season the mince.

Next, add the chili, tomato paste and the mustard. Allow to cook for 2 minutes.

Pour the whole can of chopped tomatoes with the liquid, add the sugar and some more salt, pepper and chili flakes to taste. Let it simmer for 10 minutes.

When it is almost ready, you can add the cans of beans and sweet corn (as they are already cooked, we add them at the end, so they do not get overcooked).

For the rice
Measure the rice in a small bowl and then rinse it through running cold water in a sifter a couple of times, until the white starchy water stops coming out of the rice.
Heat a medium sized pan on low heat, put a tbsp of olive oil in and add the rice.

Add salt and pepper and measure two bowls (the same ones you used for the rice) with cold water and add them to the rice in your pan.

Stir it through, cover with a lid and leave it to cook, without stirring it anymore. Keep an eye on it and when you do not see any water in the pan, you can check one rice grain for readiness.

Once done, remove it from the heat and set aside.

Assemble
When everything is ready, prepare a couple of deep plates or small bowls, add some of the rice on one side of the bowl and fill the other with the chili.

Decorate with fresh parsley and a dollop of plant-based yogurt to kill some of the heat.
Enjoy!