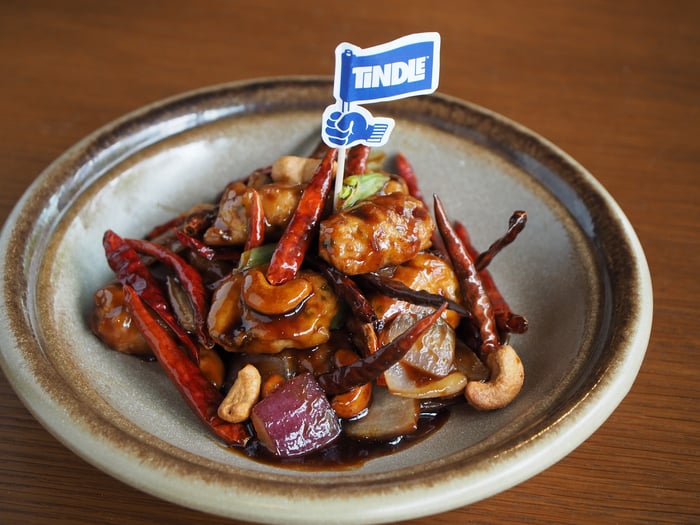 Kung Pao TiNDLE from Empress
There's a new chick(en) on the block, and it's plant-based! TiNDLE, a ridiculously good chicken made from plants, took the world by storm with its global debut on March 18th. It is currently available at 14 restaurant brands in Singapore, with many more to come.
TiNDLE was created to move towards a more sustainable future in food, as chicken made from plants uses 74% less land, 82% less water, and emits 88% less greenhouse gas emissions than traditional chicken. All of this comes without consumers having to compromise on taste and preferences.
A crucial component for the creation of the TiNDLE "Thy" was having chefs' direct input and feedback during the R&D process. Their feedback and input helped to create a product that is versatile and easy to use. In addition to this assistance from several highly-regarded chefs, what makes TiNDLE Thy's taste and texture special is its unique blend of plant fats in its trademarked "special sauce" Lipi™. With only nine non-GMO ingredients, TiNDLE contains no antibiotics or hormones, and is certified as a "Healthier Choice" option by the Singapore Health Promotion Board, due to its low sodium and saturated fat content.
TiNDLE dishes are available in 14 restaurants. Some of them offer vegetarian TiNDLE options but here are the special vegan TiNDLE offerings served at the following restaurants: Three Buns, Privé, Empress, Bayswater Kitchen, Love Handle Burger, Good Food People, and Sunny Slices.
While there are quite a few vegan options on the Three Buns menu, the "TiNDLE Hustle" is their newest vegan-friendly option, served only at their Robertson Quay location with a seared TiNDLE patty, gong bao sauce, vegan mayo, and a mango flour bun.
TiNDLE Hustle from Three Buns
Privé is a dream when it comes to plant-based options, and now they have even more, having also jumped onto the TiNDLE train. Privé is serving Asian-inspired TiNDLE dishes at all their 10 outlets with a Sweet & Sticky TiNDLE Burger and a TiNDLE Katsu Curry.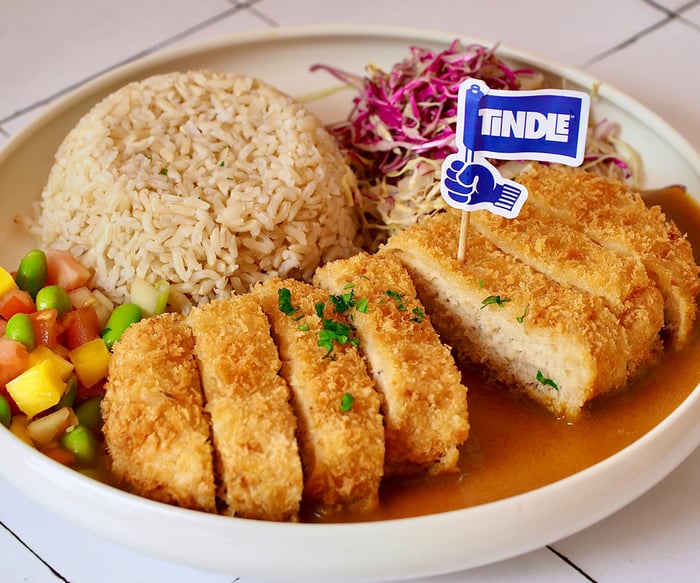 TiNDLE Katsu Curry from Privé
Empress' elegant design and location right on the river makes it an attractive restaurant for everyone, but it's also known as an amazingly vegan-friendly Asian restaurant. Now with TiNDLE on their menu, it's even more so as they are offering two TiNDLE options, a Sesame-Crusted Lemon TiNDLE and a Kung Pao TiNDLE.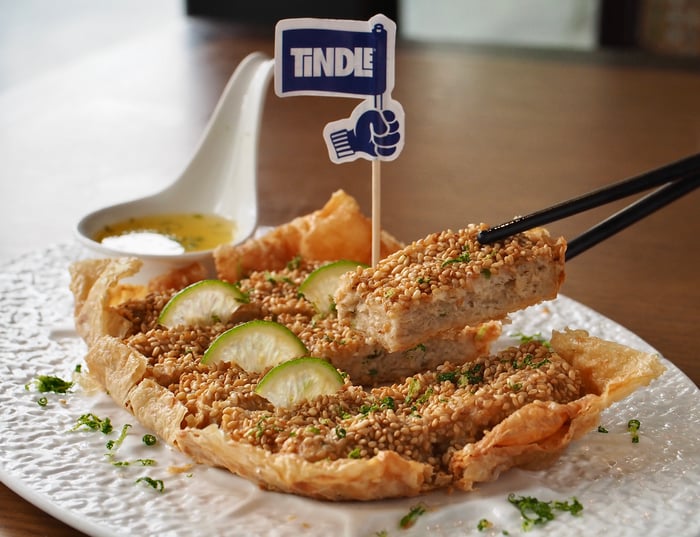 Lemon TiNDLE chicken from Empress
Romantic date? Relaxed family meal? Bayswater Kitchen has got you covered, and with the great views of the water, the greenery and the calming atmosphere, your meal will be special. Something that makes it even more special is their new vegan TiNDLE dish, the new Pepper & Chili TiNDLE Fried 'Chicken'.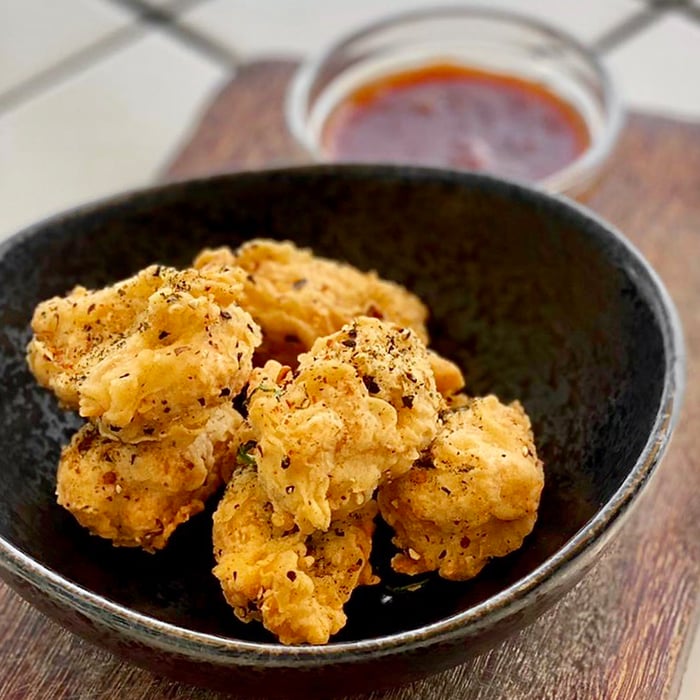 Pepper & Chili TiNDLE Fried Chicken by Bayswater Kitchen
Love Handle Burgers has a colorful and fun atmosphere, but they also have a spicy…TiNDLE…burger. Need we say more? Spice lovers rejoice because Love Handle Burgers is offering their "Hot TiNDLE Chicken Burger" which consists of a spicy fried TiNDLE patty, pickles and purple cabbage.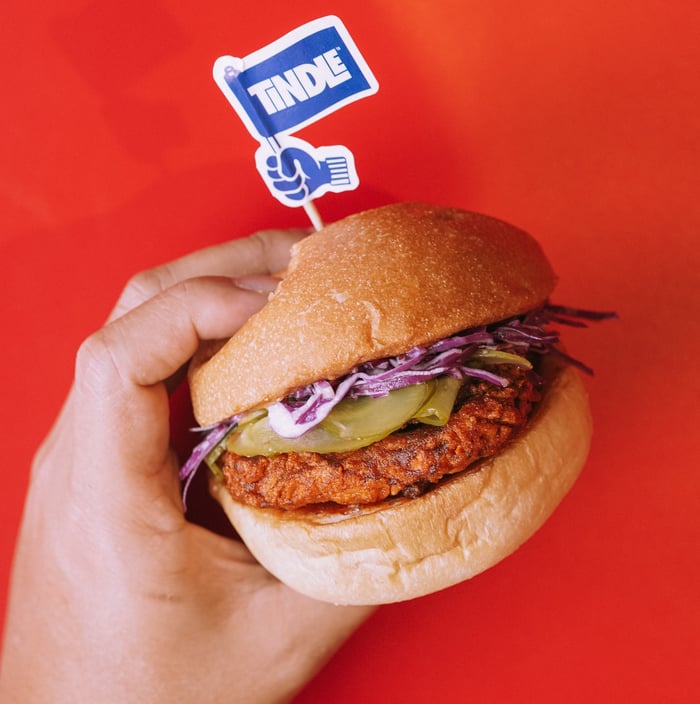 Hot TiNDLE Chicken Burger from Love Handle Burgers
Good Food People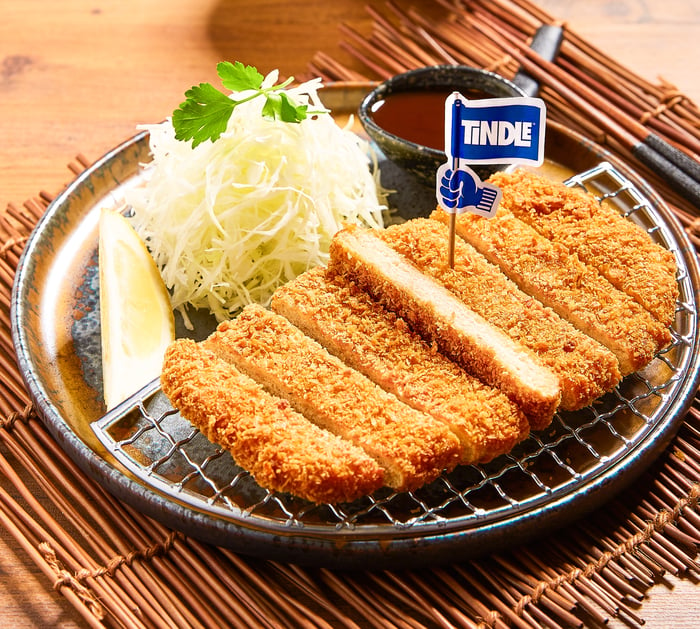 Now you can TiNDLE and chill. Good Food People has a multitude of healthy options that you can get delivered right up to your doorstep! What's more…they now offer the raved TiNDLE Katsu for you to prepare at home and enjoy while you kick your feet up and relax!
Ever crave a pizza after a long day? Well, now you can satisfy your craving for TiNDLE and pizza with one amazing dish from Sunny Slices. The TiNDLE Katzoo is a pizza with a Katsu flavored base and fried TiNDLE pieces as a topping.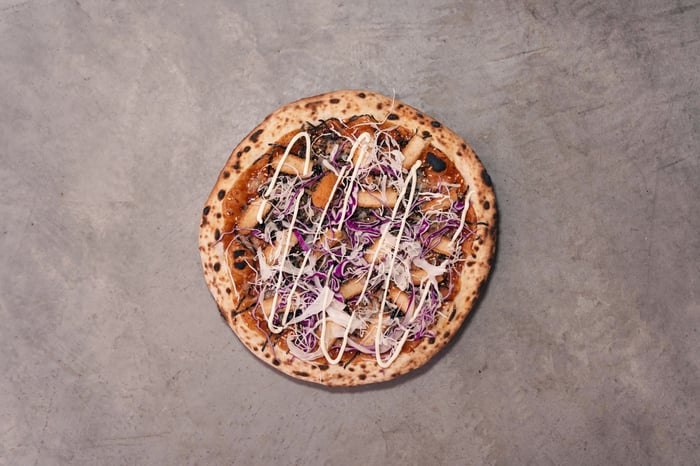 TiNDLE Katzoo Pizza from Sunny Slices
Whether you'd like a western or Asian dish, TiNDLE and these restaurants have your back. If you would like to try TiNDLE dishes, head to any of the restaurants mentioned above, and to help inform others, feel free to review any of these dishes on abillion!