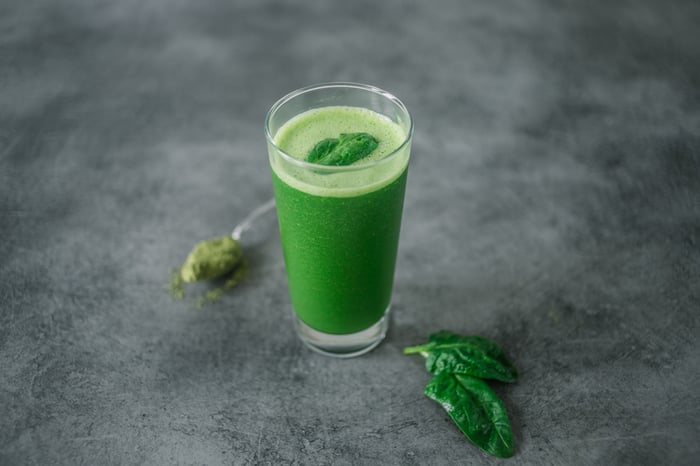 Start your mornings with this energy boosting Green Power Smoothie.
Ingredients
½ pineapple (whole pineapple)
1 cup baby spinach leaves (1 cup = 225 g)
1 orange (1 tablespoon = 15 g)
1 tbsp fresh ginger
1 tbsp LVL moringa powder
1 tbsp LVL aloe vera powder
1 tbsp LVL chia seeds
Fruit and chia seeds for decoration
Instructions
1. Place all ingredients in a food blender and mix until smooth.
2. Serve topped with more chia seeds and fruits.
This smoothie provides you with that extra kick you need because it's packed with:
Spinach: rich in iron, calcium, magnesium, potassium, vitamins A, C, E, K and fiber. It's one of the most nutrient-dense green leafy vegetable and every 100 g of Spinach contains 2.9 grams of protein.
Chia seeds: rich in vitamin B and minerals, and are full of antioxidants as well—helping the body cleanse itself from harmful radicals. In addition to this, every 100 g of Chia seeds contains 17g of protein.
Moringa: rich in amino acids, vitamins and minerals, and they're a great to boost your energy without all the caffeine! (They also have four times the vitamin C content than oranges). Moringa's also one of the richest form of plant protein as it contains all 9 amino acids (you can read more about the importance of amino acids in our How to get protein on a vegan diet article. 100 g of Moringa leaves contains 25 g of protein.
Ginger: boosts blood circulation and metabolism thus providing you with more energy, and,
Aloe Vera: improves skin health.