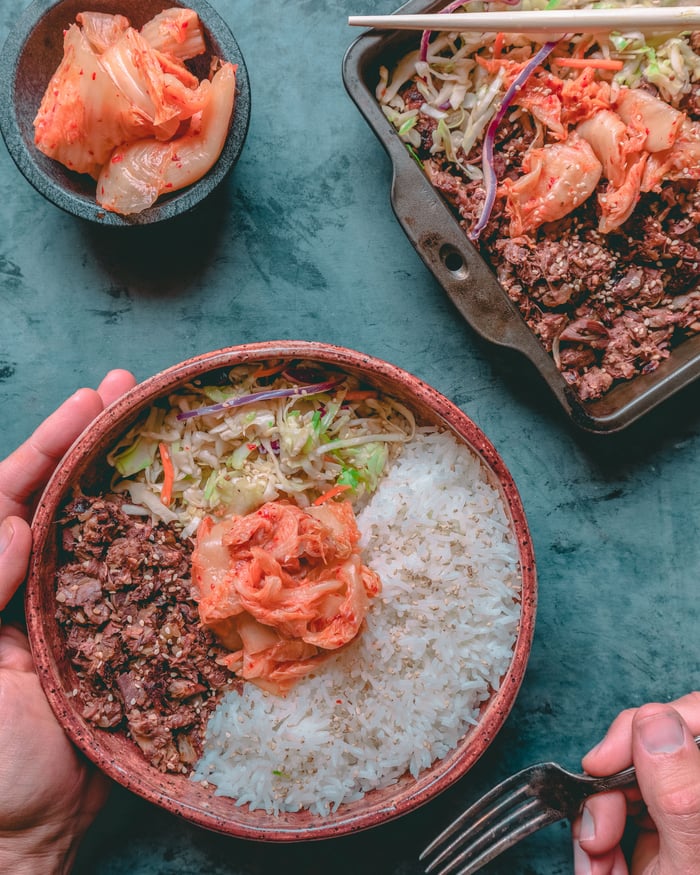 You all know how much I enjoy working with jackfruit. Here's another jackfruit twist on Korean bulgogi. Now I firstly must say when I talk about jackfruit, I am speaking of young jackfruit, not the large spiked sweet fruit you might be thinking of. Young jackfruit usually comes in a can and isn't ripe, which makes it perfect for a savory meat replacer. You can usually find it in brine in a can or you can track down some pre-shredded jackfruit in a box, which is a huge life-saver because I don't have to drain and shred anything, just tear open the package and you're ready to cook!
So my twist today is taking a Korean staple and turning it vegan. When you think about it, re-creating these meat dishes is not as difficult as one might think. I always try to ask meat-lovers if they've ever tried raw meat? The reality is meat has to be flavored. So what's the difference flavoring something else to mimic it? Sure, jackfruit in no way has the same texture of beef typically used in bulgogi but the flavors can be spot on! So that is what I've done today with this simple recipe. Let's get right into it!
Jackfruit Bulgogi
Serves: 1
Active Time: 30 minutes
Ingredients
2 boxes of shredded jackfruit (or two cans of young jackfruit)
1/3 cup tamari
1/3 cup liquid aminos
1/4 cup liquid sweetener
1 tbsp garlic
Thumb of ginger
2 tbsp apple cider vinegar
1 medium onion
1 honey crisp apple
2 tbsp sesame oil
For the mustard slaw:
1 pre package of slaw
4 tbsp rice vinegar
1 tbsp agave
1 tbsp dijon mustard
1 tsp or asian chili sauce
black pepper & salt
1 tbsp sesame oil (optional)
Directions
In a bag mix all your ingredients together, mince the garlic, leave out the onion and apple
Let the jackfruit marinate for a few hours or overnight in the bag
Fire up a pan and cook down your onion
Chop apple finely and add
Empty marinated bag to a pan on medium heat and cook down till liquid is gone
For the slaw, mix dressing in a separate bowl and then pour over the cabbage and chill in the fridge
I served my dish with white rice, sesame seeds and some kimchi. I used Milk Kimchi vegan kimchi which gave it a nice kick at the end!