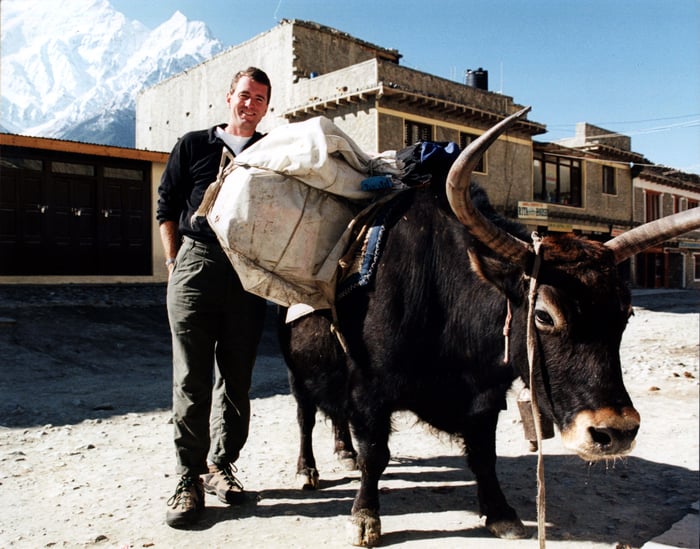 John Wood distributing books on the back of a yak in Nepal. Photo: Room to Read
During a trek in the Himalayas, a headmaster showed John Wood, the founder of Room to Read, his school and a library meant for over 300 students. There was just one thing: the school was run down and the library had no books.
"We are too poor to afford education," said the headmaster. "But until we have education, we will always remain poor."
That statement gave Wood, a life-long reader, the chills. That little school in Bahundanda, Nepal, later became the foundation for Room to Read.Room to Read seeks to transform the lives of millions of children in low-income communities by focusing on literacy and gender equality in education. It collaborates with local communities, partner organizations and governments to develop literacy skills and a habit of reading among primary school children. It also works to support girls to complete secondary school with the relevant life skills to succeed in school and beyond.
To date, the organization has helped 23 million children and has distributed over 26 million books.
We spoke to John Wood, the founder of Room to Read about his inspiration, vision and the impact he's made.
If we could take you back to the beginning of your journey ― when did you first start thinking about and getting involved with giving back?
Super early in life, as my parents were always super active in volunteering in our community.  While in graduate school at Northwestern/Kellogg, a friend and I volunteered at a shelter for the homeless, and once I moved to Seattle with Microsoft I continued that tradition while also doing fundraising via my marathon running for Mercy Boys Home and for nature-preservation projects around my beloved Mount Rainier. I've always believed in the old adage 'To whom much is given, much is expected'.
What was your childhood like? How important was education for your family and how did that shape you?
I grew up a small-town middle-class boy in Pennsylvania. Education was super important to our family, and we were blessed with great public schools, dedicated teachers and the happy combination of several libraries (both school and a community library that had been built in 1890).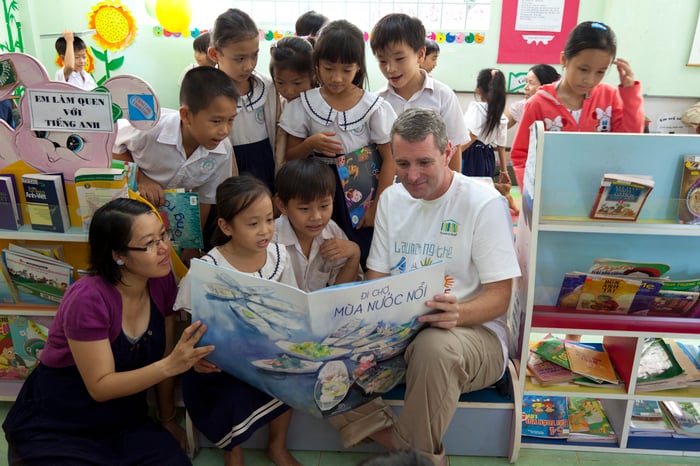 John Wood reading to children in Vietnam. Photo: Room to Read
Room to Read has become one of the most well-known nonprofits in the world. Could you tell us about your approach to building a nonprofit of this scale?
Set bold goals, because bold goals attract bold people. From the earliest days, we had a publicly-stated goal of helping 10 million children by 2020. A lot of awesome people signed on to help that audacious goal, and today Room to Read has reached 23 million children in 20 low-income countries.
I have a couple of other mantras.
Recruit, Delegate, Repeat:  These are always my words of advice for any entrepreneur.
ABC – Always Be Closing. I was fanatically focused on fundraising from day one, and have traveled over 2 million miles, because No money equals No mission.
How do you bridge the gap between the business and the charity aspect of the organization?
It's all about who you recruit. In places like Cambodia, India and Tanzania, you want to hire people who understand the local education landscape and who can design programs that are effective, data-driven and scalable.
At the management and Board level, we recruited a lot of executives and entrepreneurs so that the organization would be run with the efficiency of a blue chip company. Another of my little catch phrases as we recruited was that Room to Read would have the heart of Mother Teresa, combined with the scalability of Starbucks.
What are the most pressing challenges you face while running the literacy project  today?
Clearly, the most pressing issue is COVID, especially since we work in "frontier markets" where the rates of vaccination are so low. Our teams are doing their best to reach kids via television programs, read-a-longs on national radio, text messaging with students and parents, etc.
Everyone has tried to pivot in a very heroic manner. But we all pray for the day the world is post-COVID and every child can be back in school surrounded by teachers, their little buddies, and their fully-functioning literacy and gender equality programs.
Room to Read staff and volunteer day at Botanical Garden Golden Gate Park in San Francisco. Photo: Room to Read
What have your interactions with children, volunteers, and teachers been like?
They fill my soul with happiness, and that always got me back on the road to recruit, to fundraise and to make sure we could reach more kids. Every time I got frustrated in the early days by the inevitable issues that pop up when you're a start-up, I'd go visit a Room to Read school, meet the students, parents and teachers, and that was the most energizing and motivating thing ever.
What are the different ways people can get involved and contribute to Room to Read?
Financial donations are obviously super helpful [as is] following Room to Read on social media and sharing our story with others and running personal fund-raising campaigns.
Historically, literacy programs have been focused on children and have missed out on adolescent or adult learning. Does Room to Read look at a holistic approach to learning that benefits the overall society?
We believe that everything starts with the child, and so we focus our literacy programs on Grades 1-5. If we get that right, and the voluminous data we collect supports the contention that we are, then this changes everything for the family and the community. We are also big believers that no organization can be "all things to all people". You have to pick 1 or 2 niches and focus like a laser beam on just those.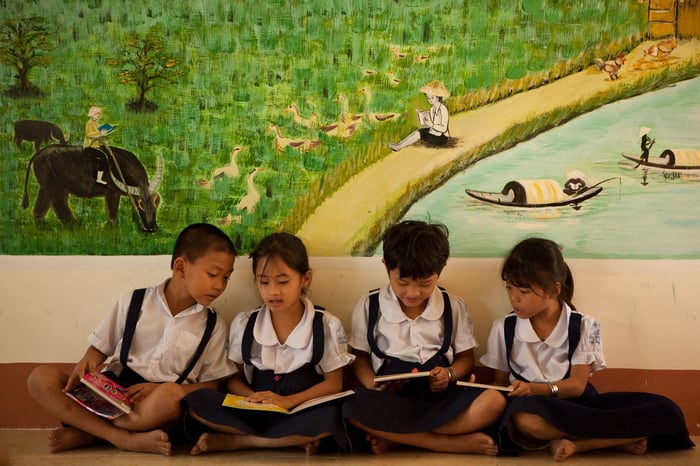 Children reading in Vietnam. Photo: Room to Read
The UN Sustainable Development Goals call for "all youth and a substantial proportion of adults, to achieve literacy and numeracy" by 2030. Is this achievable?
I support the UN goals, but I am not a "top-down global goal-setting kind of guy". What I can guarantee you is that every single day, to 2030 and beyond, the Room to Read team is going to do everything we can to affect as many children as possible. I believe we will continue to be one of the most impactful education NGO's working in low-income countries. That's an outcome we can control.
As members of abillion, you have the power to create impact through your reviews. Each review will help to educate children at the Room to Read. So start reviewing and donating to nonprofits like Room to Read. Together, we'll make an even bigger impact.