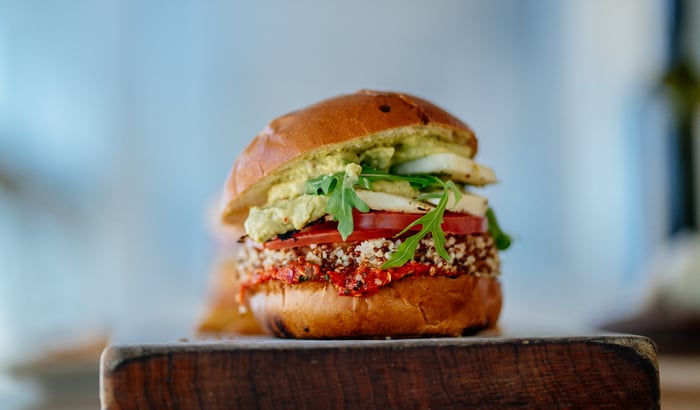 Photo: Lefteris
Move over regular burgers, vegan items will soon become a familiar item in fast-food joints. While we've seen a lot of restaurants and cafes offering meatless dishes over last year, major fast-food chains are now jumping on board.
It's an exciting change for many of us vegans, mainly due to two factors: affordability and appeal. Plus, with the wide range of options becoming available, the future of fast food is, dare we say, looking green and promising.
Bringing protein substitutes into casual eateries can also boost a business in the long run. It was not too long ago when fast-food restaurants only catered to the demands of a meat-eater. Whether we love them or not, when giants like McDonald's introduce vegan alternatives, it has the power to influence many, meat-eaters and vegans alike.
In light of this, we've rounded up five major fast-food chains that are becoming more vegan-friendly by introducing plant-based options to their menu.
In 2019, Burger King partnered with Impossible and introduced the Impossible Whopper, a burger made with a plant-based patty, to great acclaim. The catch? The fast food juggernaut said the patty was cooked on the same grill as its other items and included dairy ingredients like mayonnaise and cheese. On the bright side, customers can request to remove these ingredients, hence veganising the order.
Despite this, our members really liked the Impossible Whopper. @mickeyrox writes saying, "...Asking for no mayo is hit or miss because, depending on the location's service, but at least a vegan option where my friends are willing to eat too. It's not meant as healthy food, but still, a good substitute that is lower in carcinogens and has zero cholesterol."
The fast-food chain is doing it once again with their Impossible nuggets. These plant-based nuggies are made from soy-based protein and are available in boxes of eight in selected locations in the US for a limited time. For those outside the US, you can get these nuggets delivered from grocery stores too. Our members say these taste like the real deal.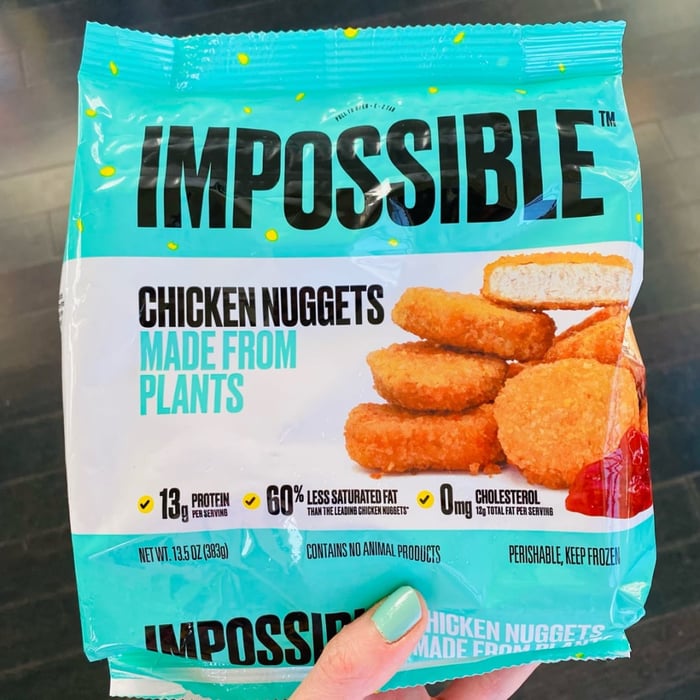 Impossible Nuggets.
@ally1989 reviews saying, "Okay, if you want to fool a meat eater definitely give them these!! I just found them at Walmart today, and omg... indistinguishable from animal-based chicken nuggets in my opinion!! I'm blown away!! 10/10."
If you're in the mood for Chinese food, Panda Express is your best bet. This fast-casual restaurant chain — popular in the US and a few Asian countries — serves dishes with an American-Chinese twist.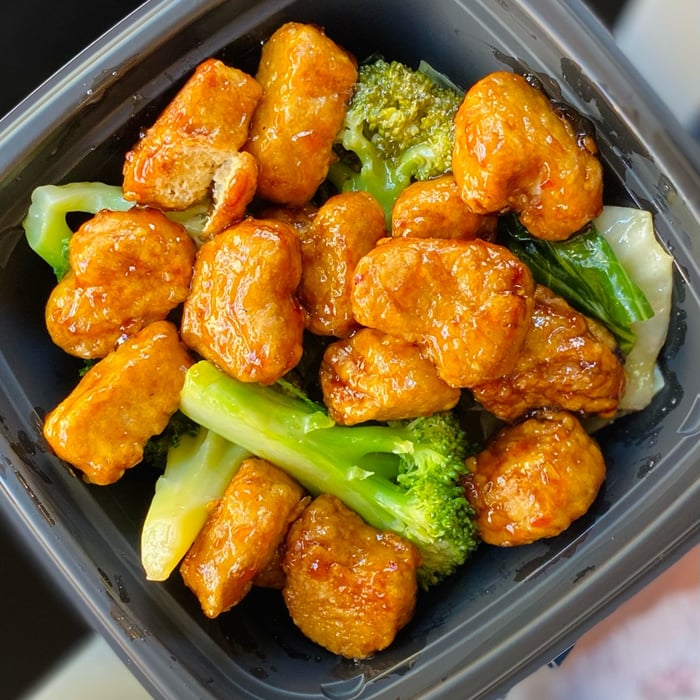 Orange Chicken from Panda Express.
One of the most popular items on the menu is their Orange Chicken, crispy chicken tossed in a sweet and sour orange sauce. In the US, it actually accounts for 30% of the chains' sales. Now, non-meat eaters can enjoy this dish. Panda Express has launched a vegan version to replicate the original, partnering with Beyond Meat.
The Beyond Meat protein is made mainly from faba beans and peas. Although the restaurant hasn't stated if it's a permanent item, the Beyond Original Orange Chicken is available at 70 different outlets across the US for a limited time.
It's worth giving it a try, as member @soniaelsie says, "OMG! I was so excited to hear that a Panda Express near me was offering the new Beyond Meat orange chicken collab! This was amazing, I love the flavor and I think that the meat has an amazing texture. 10/10!!"
The fast-food giant is making a debut with its vegan burger, aptly named McPlant, in the UK and US markets. The patty is made with Beyond Meat. The restaurant chain has not disclosed whether this item will be a regular, but it will be available for a limited time in both countries.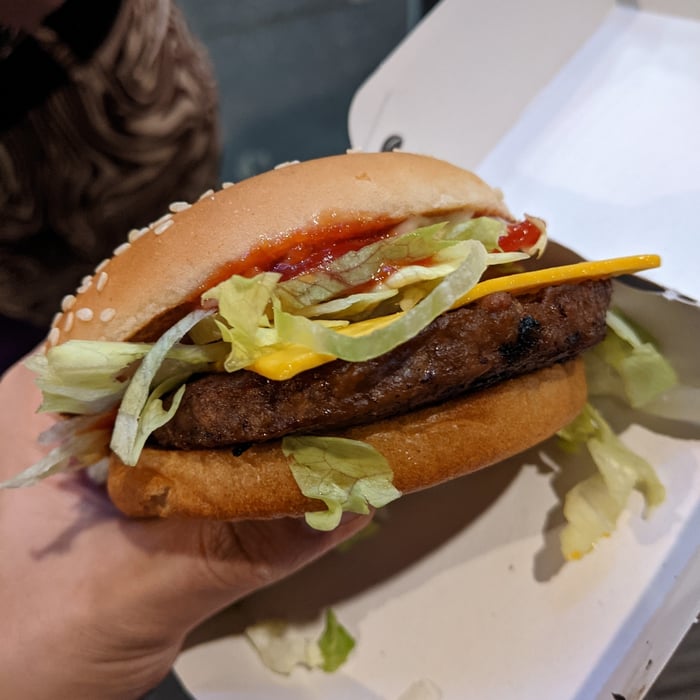 McPlant burger from McDonald's.
Although the burger is the same for both markets, the method of preparation varies. Ultimately, the choice to give this burger a try boils down to whether you're a strict vegan or not.
On the UK menu, the burgers are entirely vegan. The McPlant burger is cooked in separate grills compared to other items on their regular menu. In the US, however, the burger has dairy ingredients like cheese and mayo (but these can be requested to be removed) and cooked on the same grill as their other items.
@katchan from the UK says, "​Amazing triumphant moment. I'm like holy shit been waiting for this for so long honestly first bite I'm like omg this is so emotional. Like finally."
Mexican fast-food chain restaurant Taco Bell, known for its Mexican-inspired food items, has stepped up its game by developing an in-house vegan blend for tacos.
The restaurant introduced a Chalupa shell made from vegan chicken. It's a plant-based version of its original item, the Naked Chicken Chalupa. It resembles a taco but is wrapped with crispy chicken instead of your typical soft or hard shell. The new Crispy Plant-based Shell is breaded with a pea-protein blend, filled with veggies, and shaped to look like the Chalupa shell. The taco is not fully vegan, so choose beans and skip sour cream and cheese to complete your order.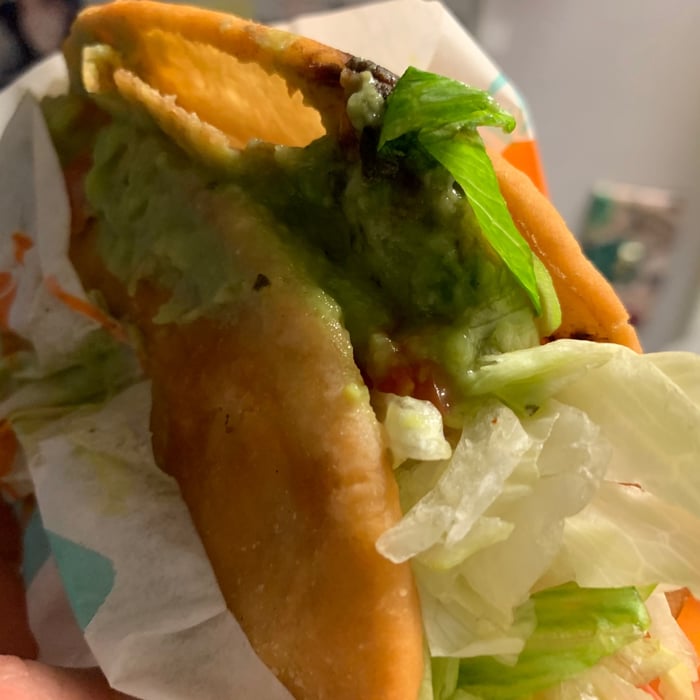 Black Bean Chalupa from Taco Bell.
@allhess says, "Lovely! A fun, crispy shell. I add guacamole to the beans, tomato & lettuce. If you haven't tried them, Taco Bell black beans are wonderful!"
In the UK outlets, Taco Bell launched vegan meat made from oats and legumes. This unique blend is developed to have a similar taste to its meaty version.
Popeyes
Popeyes is making its UK debut with its first-ever vegan chicken burger. The Creole Red Bean Sandwich has a fried and breaded red bean patty, lettuce, tomato sitting atop a brioche bun. The "Creole" sauce is made with onion, garlic, pepper, tomato, and parsley. Compared to other fast-food chains like Burger King or Panda Express with their ties to Impossible and Beyond meat, Popeyes' new patty is house-made.