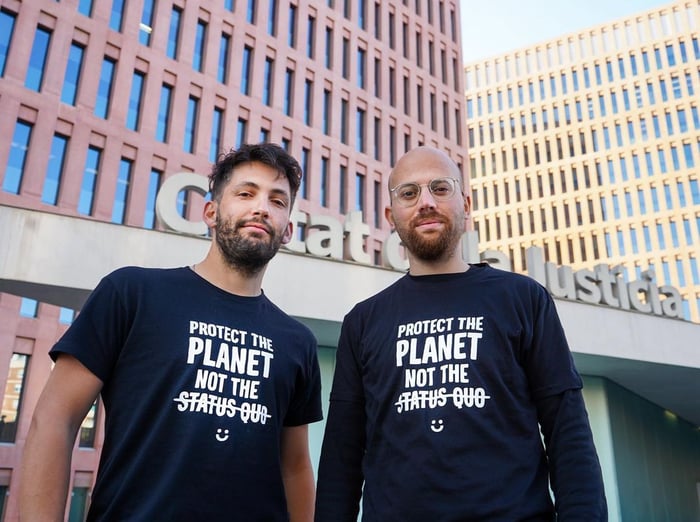 Bernat Añaños and Marc Coloma, founders of Heura Foods. Photo: Heura Foods.
When Heura Foods launched in 2015, they were labeled "crazy dreamers" for wanting to replace meat with nutritious plant-based protein products. Fast forward to 2021, the Barcelona brand has become a force to be reckoned with thanks to its unwavering mission to make animal meat history.
They bill themselves "good rebels with a cause" and are best known for their plant-based chicken bites and beef meatballs. In fact, Heura's plant-based pizza and burger patty have been placed in this year's #2 and #8 in the World's Best Vegan Frozen Meals and Burgers category.
According to the company's impact report, it takes 94% less water to produce 1kg of Heura beef as compared to the same amount of beef protein. You also only need 0.5kg of soy while producing 1kg of beef takes 20kg of legumes.
We spoke to Marc Coloma, CEO & co-founder of Heura Foods about what makes their brand the future of plant-based protein.
What was your background before starting Heura?
I have long been involved in activism. When I was just 15 years old, I would organize events where I would bartend to raise money to support social justice initiatives. From there, I started my career working for NGOs with the goal to take action and provide real solutions to real problems. I believe in doing what is right for the planet, people and animals. So, I became a vegan by the age of 18.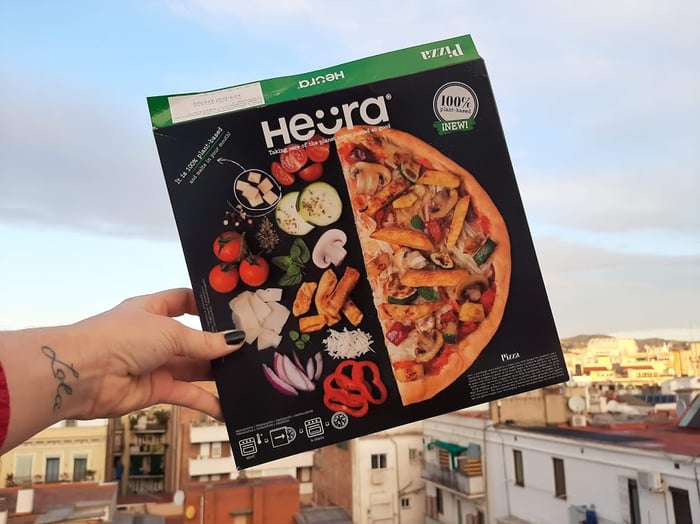 Review of Heura Pizza by @asiayportia.
Tell us the story behind Heura. How did it all start?
Through my activism, there would be times when I would be talking about social justice to people on the street and I found that they agreed with a lot of my beliefs. However, the one thing I kept hearing often was that when it came to making a decision to become vegan, people didn't see options for 100% vegetable proteins that tasted good, were healthy, and good for the environment. It was always one or the other but never a holistic solution.
Back in 2015, I was in an entrepreneurship program at Barcelona Activa, where I met my now business partner Bernat Añaños. Two years later, he and I launched Heura as a way to empower people to evolve the food system, protecting what we love - the planet, people and animals.
What makes Heura unique?
Our Mediterranean culinary heritage is what makes Heura unique. It is reflected in all of our products; the short label, high nutritional values and incredible taste. We are also the only brand using extra virgin olive oil in our ingredients. Our Good Rebels are another element that makes Heura unique. It's the people who believe in our mission. They aren't just enjoying a meal, they use every opportunity to spark a little revolution and vote with their fork.
What's your personal favorite recipe using a Heura product?
We've partnered with a number of global and even Michelin star chefs, who have been able to create some amazing and unique meals using Heura. Personally, I love the idea of elevating classic, traditional recipes with a Heura twist. We have an amazing Paella-style brown rice recipe on our website. It's definitely one of my favorites because it celebrates my Mediterranean heritage in a new and sustainable way.
What challenges did you face and how did you overcome them?
When we first started, the biggest challenge for Heura was convincing grocery stores that the future of food is plant-based. It wasn't easy. Some people even called us "crazy dreamers." Now the sector is set to reach $80.43 billion globally by 2024 but you wouldn't know that based on the responses we were getting back in 2017. But we didn't give up - it's just not in our nature as activists. We still have a long way to go but I firmly believe that you can't fight progress. We will keep knocking on every door to accelerate the transition to plant-based protein.
How has Heura evolved over the years? Any interesting insights that you can share.
It was just me and my partner Bernat when we first started. We knew it was important to surround ourselves with the best talent we could find, and we did. But in recent years, as the Heura name and mission have become more well known, we have benefited from being able to reach an elevated level of talent. People believe in Heura as a mission-driven company, so we are now seeing high-potential performers proactively wanting to join our movement, which has really helped take us to the next level.
How have Heura Foods been affected by the Covid 19 pandemic?
Our Good Rebels are the core of our business and like every company, it was very difficult to see the health and safety of our team members, partners and customers potentially put at risk due to the pandemic.
Like the rest of the world, we immediately implemented social distance and work from home policies to try our best to keep everyone safe. We are a collaborative and social company, so this was very difficult but, of course, it is what we had to do. From a business standpoint, during the final quarter of 2020, Heura was able to achieve the same turnover as the entirety of 2019, demonstrating the company´s sustained exponential growth despite an adverse environment triggered by the pandemic.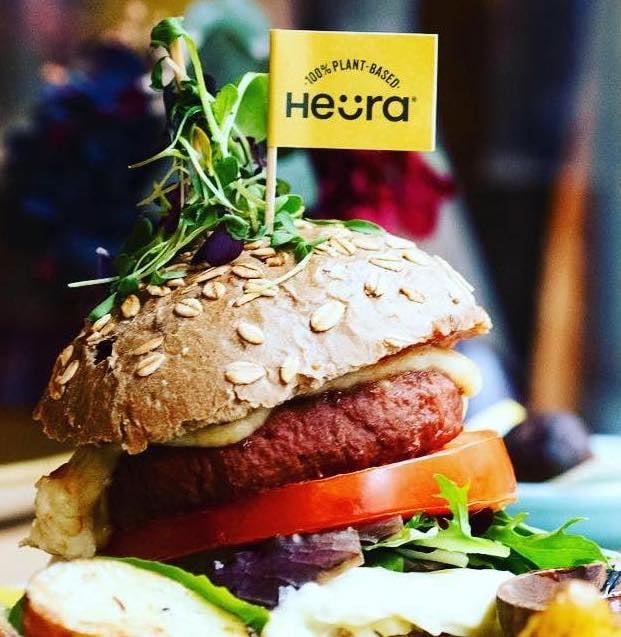 Photo: Heura Foods.
You recently closed a successful crowdfunding campaign. Tell us more about the campaign and any insights you might have.
In July, we closed a crowdfunding round to offer our committed community of Good Rebels the chance to own equity in the company for as little as €20. International football players such as Chris Smalling, Sergi Roberto and Cesc Fábregas all invested, demonstrating their trust in the brand and allowing Heura to sustain its exponential growth.
The fact is, we were humbled by the response. It was our first-ever equity crowdfunding campaign and we raised €4 million (approx. US$4.8 million) from more than 3,000 investors within just 24 hours on Crowdcube. We had originally aimed for €3 million but later raised the amount to the maximum of €4 million after reaching our first goal within 8 hours with 2,000 shareholders. It truly underscored the power of the collective voice of our global community of Good Rebels.
Can you share any insights on the alternative protein space? Based on our data, 65% of our members are flexitarians. Who do you see buying Heura products?
We design Heura products for everyone. We believe that every meal is a chance to vote with your fork -- vote for social justice, vote for health, vote for the planet. That's exactly why we provide foods that people want to eat, can afford to eat and are healthy for them to eat each and every day. We understand that the transition will not happen overnight; however, we are here to empower people around the world to act now.
The plant-based industry is booming all over the world and being a startup gives us the agility to act quickly when an opportunity arises. We saw unprecedented growth last year, creating a presence in 12 countries, twice the number from the previous year. We just launched in the UK at the end of last year, and we aim to lead the category in France and Italy, as well as continued expansion in Asia.
What does the future look like for Heura Foods?
Our plans for the future are to have Heura become meat´s successor. We are dedicated to evolving the food system and making animal protein completely obsolete. We are increasing our investment in R&D and developing new products that will roll out throughout the year, and also continuing to expand into new markets.