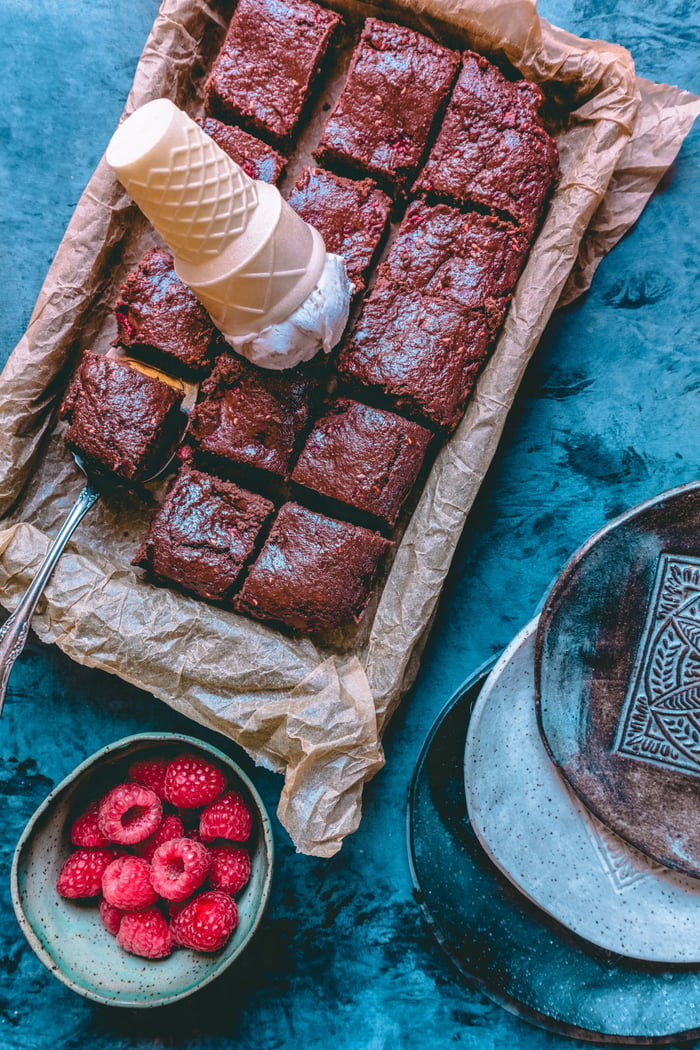 Simple and easy berry brownies! Thanks to my mom for this amazing recipe. She's been plant based for 8 months now and is never turning back. Words cannot express how proud I am of her. These brownies are a perfect combination of fruit and chocolate. You can serve them warm or even better chilled from the fridge. You can adapt this recipe very easily as well. These are oil free and you have the option to use sugar or not, as I will give a few options to choose from.
My favorite combination with fruit is raspberries so I went with those. You may feel free to use your own favorite fruit in this recipe. I will probably experiment with a different combination the next time I bake these. Alright my friends, let's not waste any more time and dive right into this creation!
Very Berry Chocolate Brownies
Serves: 4
Active Time: 30 minutes
Ingredients
1 1/2 cups whole wheat pastry flour (sub whatever you have)
4oz/115g unsweetened chocolate
1/2 cup dry sweetener (cane, date, maple, brown) or sub this with 8 medjool dates
1 tsp baking powder
1 tsp baking soda
1/4 cup raw cacao (or sub cocoa)
1/4 tsp salt
2 tsp vanilla extract
1/2 cup unsweetened apple sauce
1/2 cup your favorite jam/jelly
1 cup of berries of choice
Method
Preheat your oven to 350°F/180°C.

Grease a baking pan and line the bottom with parchment paper.

Melt down your unsweetened chocolate and side aside.

Mix your apple sauce, sugar, and jam/jelly.

Add the vanilla extract and melted chocolate to your apple sauce.

Now sift in the flour, cacao, salt, baking powder, and baking soda.

Fold in your berries of choice with a spatula.

Spread your batter onto the baking tray, it will be thick.

Bake for 18 minutes and let them cool. You can also chill them in the fridge for a few hours.

Enjoy your berry brownies!