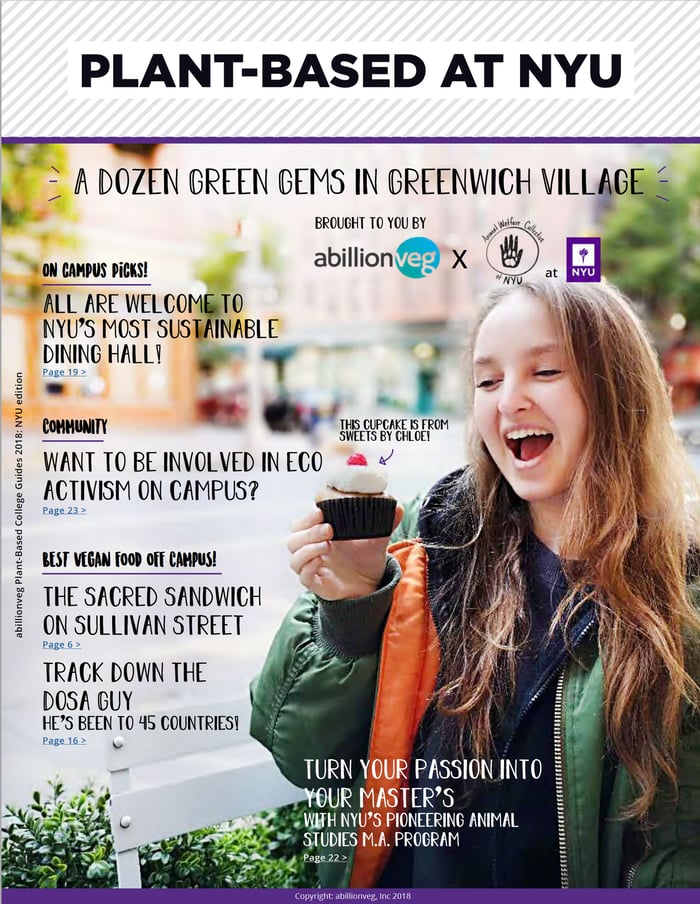 Download the guide here!
Summary
Rated among the top vegan-friendly cities in the U.S. by CNN, it's never been easier for students, long-time New York City residents, and visitors to find creative and satisfying plant-based dishes in Manhattan. Choosing plant- based meals benefits not only individual health, but the wellbeing of the natural environment and animals on our planet. For NYU students conscious about climate change, animal welfare, or simply eating more healthfully, this guide will shed light on the most delicious veg options Lower Manhattan has to offer.
NYU is located in the heart of Greenwich Village in Lower Manhattan, a neighborhood known for its avant-garde art and culture. The Village was the center of activity for the Beatniks of the 50s and the Punk Rock scene of the late 70s. In the past decade, Greenwich Village stayed on the cutting edge as countless vegan and vegetarian restaurants opened in the neighborhood. This guide invites NYU students, Lower Manhattanites, and NYC visitors to experience the quickly-expanding subculture of today's Village with the twelve best veg-friendly restaurants located within a ten minute walk of Washington Square Park. It'll also share with you exclusive interviews with NYU faculty and exciting developments on campus relating to environmental and animal protection.