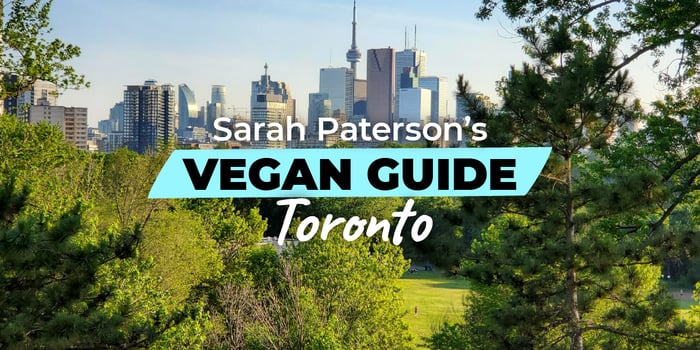 As Canada's cultural capital and one of the world's largest multicultural cities, it's no surprise that Toronto has a diverse food scene. Over the years, the vegan community has grown exponentially and it is now home to Vegandale, one of the biggest vegan festivals in North America.
In our city guide series, members share recommendations from their beloved hometowns. This September, follow Sarah Paterson on a vegan tour as she shares places to hang and dine out in Toronto.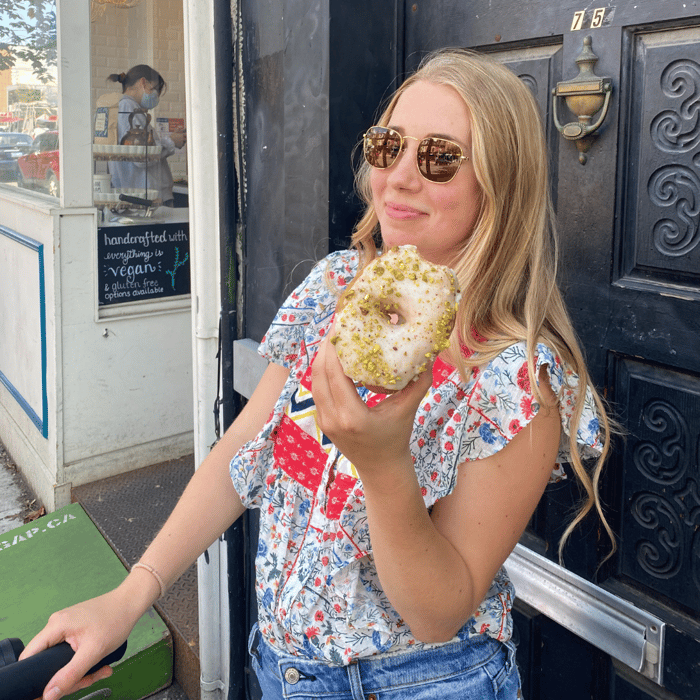 Photo: @sarahrosepat
Sarah was born and raised in this city. She grew up in a vegetarian household, which helped her transition to a plant-based diet. "The change was easy since I had been eating and cooking vegetarian meals my whole life," says Sarah. Currently, she lives with her partner, Jonathan, and her 5-month-old daughter, Florence.
The locals call this city by its many names. Sarah's favorite is "city of neighborhoods," owing to its 170 unique streets. Each street holds a rich cultural history and brings out some of the city's best ethnic restaurants, including many plant-based dishes. Because of this, "It is easy to find vegan options, no matter where you are in the city."
Here are Sarah's recommendations for enjoying Toronto.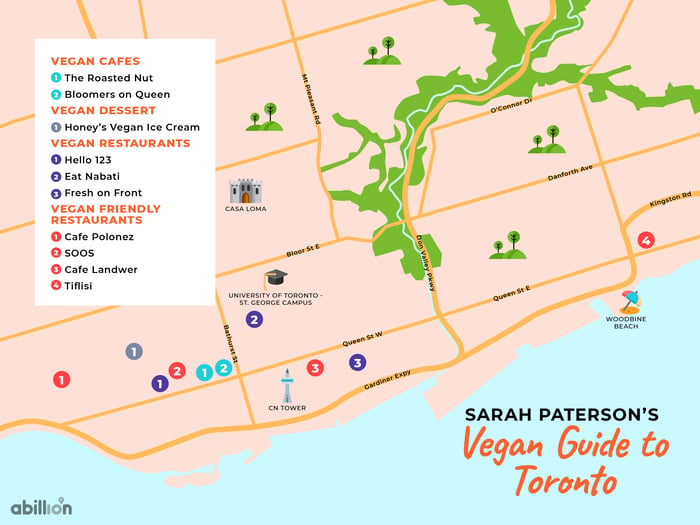 Vegan restaurants
Fresh is one of Toronto's original vegan restaurants and still counts to be a popular location for many in the plant-based community. The restaurant has expanded since its humble beginnings and has opened several locations across the city. It is beautifully renovated and has an ethereal interior, making this place one of my personal favorites for a chic date night. Its convenient location makes it easily accessible for commuters and city visitors.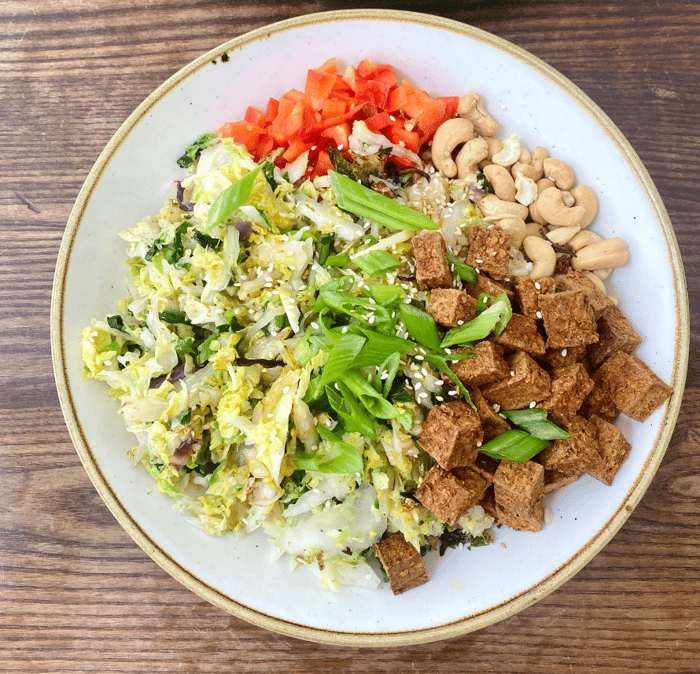 Tiger Bowl from Fresh on Front. Photo: @sarahrosepat
Fresh has locations in the University of Toronto campus, Trinity Bellwoods neighborhood, Toronto's fashion district, Yonge-Eglington area. The Balance bowl is filled with many fresh ingredients and unique flavors; this has been my favorite for many years. The Tiger Bowl comes as a close second.
Middle Eastern cuisine is one of my absolute favorites, so you can imagine my excitement when I discovered Eat Nabati, a plant-based Middle Eastern restaurant in the vibrant Kensington Market community! The restaurant is small, but don't let that fool you. Our favorite dishes were the za'atar cauliflower pita and the Egyptian Eggplant Bowl. Everything we tried on the menu is absolutely amazing, and we can't wait to go back for more.
Egyptian Eggplant Bowl from Eat Nabati. Photo: @sarahrosepat
This place is our favorite vegan brunch spot in the city! The restaurant is located in Queen West, which is a popular neighborhood. Everything at Hello123 is delicious, and I'm confident that you can't go wrong with anything on the menu. Our personal favorites are Irene's Massive Breakfast, the Breakfast Bowl for brunch, or the Spicy Bap that you can have for lunch or dinner.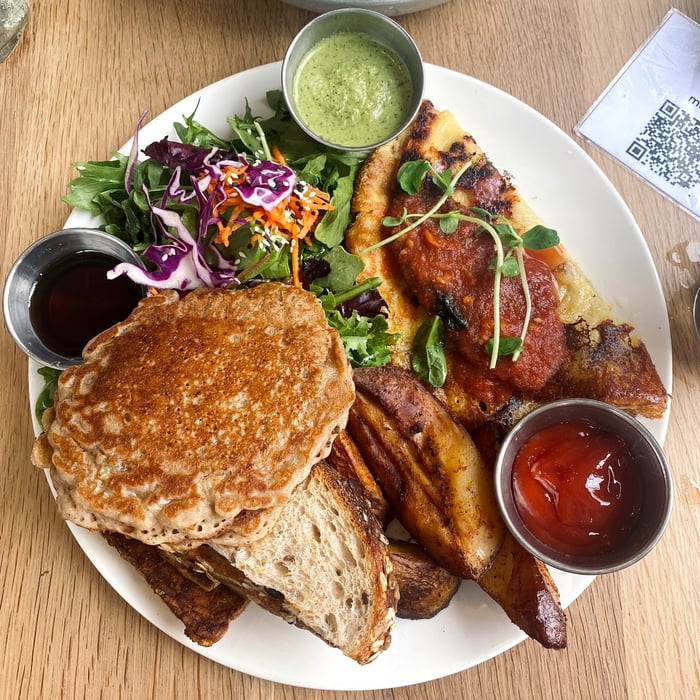 Irene's Massive Breakfast from Hello 123. Photo: @sarahrosepat
Vegan-Friendly Restaurants
We love Cafe Polonez! Everything here is so good. The food gets made with fresh, whole-food ingredients. Traditionally, Polish cuisine has many plant-based dishes, and Cafe Polonez has always offered vegan-friendly options or substitutes when asked. Recently, they took it a notch higher by adding vegan dishes to their menu.
When you're dining here, you will feel as if you've taken a plane and landed in Poland for the evening. This place is an absolute favorite of mine and is known to many as Little Poland. Make sure to try their fresh vegan Perogies and Latkes. Another personal favorite of ours is the vegan Hungarian soup.
Cafe Landwer is an Israeli chain that opened its first Canadian location in Toronto's bustling financial district in 2017. Its location makes it a regular spot for the office crowd. They offer plenty of plant-based options, such as plant-based breakfast and hummus bowls with a variety of toppings. Since it is near Union Station, the location is convenient for those visiting the city or needing a quick bite while waiting for the train.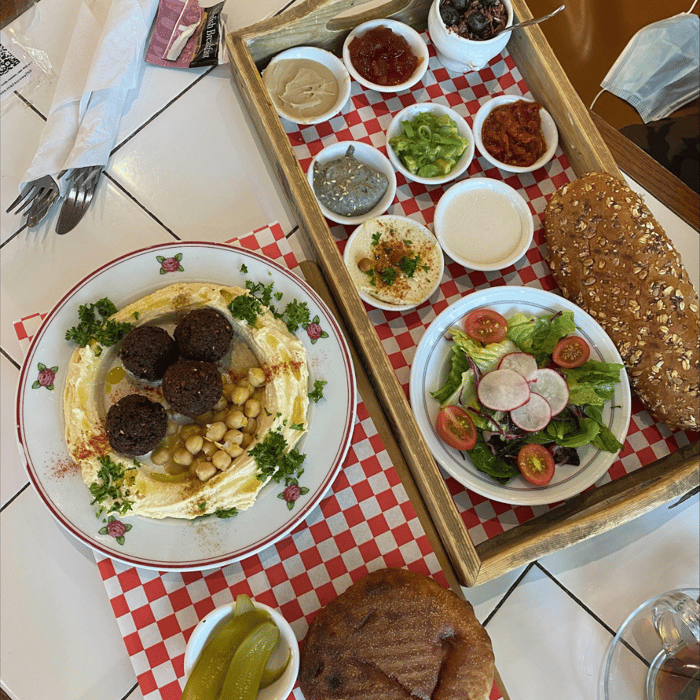 Breakfast spread and Falafel Hummus bowl from Landwer Cafe. Photo: @sarahrosepat
This Georgian restaurant is located in the Beaches neighborhood. We love Tifilsi for the food and its location. If you are visiting Toronto, make a trip down to this beautiful neighborhood. I spent most of my childhood in this area and can say it is one of the city's most beautiful and scenic areas. Steps away from the boardwalk, Tifilsi is known for its traditional Georgian cuisine. The dishes are unique and amazing, and our favorites are the assorted Pkhali, the Acharuli, and the Badrijani.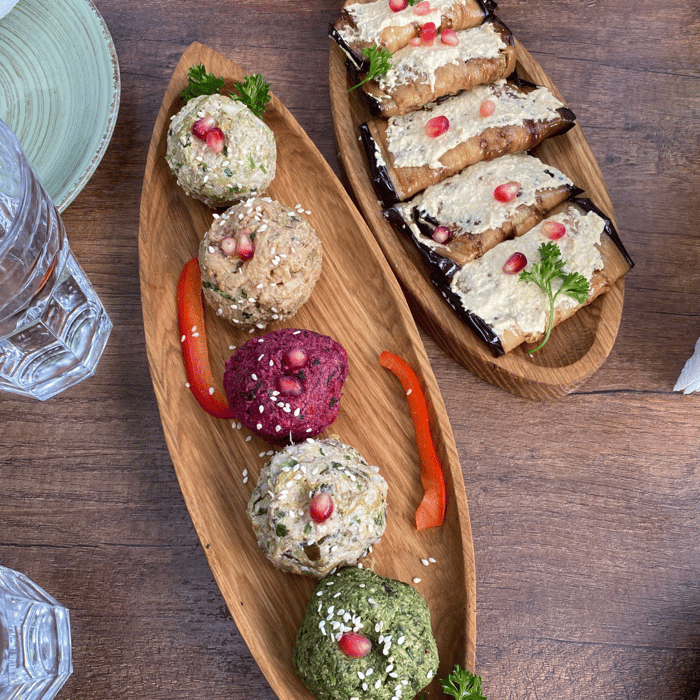 Assorted Pkhali and Badrijani from Tifilsi. Photo: @sarahrosepat
This restaurant is located on the trendy Ossington strip, and Soos is one of our favorite date night spots. The restaurant is a family-run business, and the owners are delightful. Their Fat Choi menu recreates Malaysian street food in a vegan way.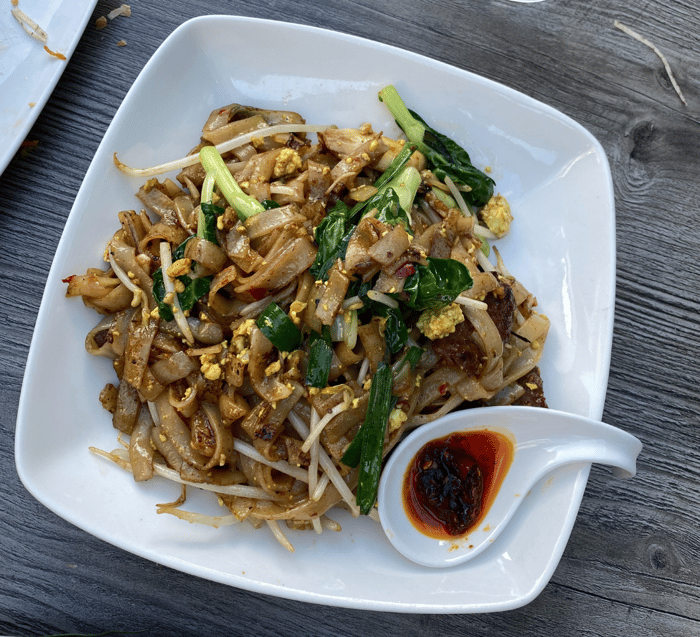 Char Kway Teow from Soos/Fat Choi. Photo: @sarahrosepat
Make sure you book a spot in advance because this little restaurant fills up quickly! If you're not sure what to order, try their "Feed Me" option, which is priced at CAN $45 per person, and you get to try a selection of Soos favorites. We love starting the meal with the Prosperity-tossed Slaw and Sambal Dhal and Roti. Our favorites are the Char Kway Teow or the seasonal laksa soup available in the colder months.
Vegan Cafes
Bloomers on Queen is one to visit if you're a donut lover. They offer fresh, vegan donuts and other baked goods. Come by for their uniquely flavored donuts, including Rose Water, Pistachio, and Wild Blueberry.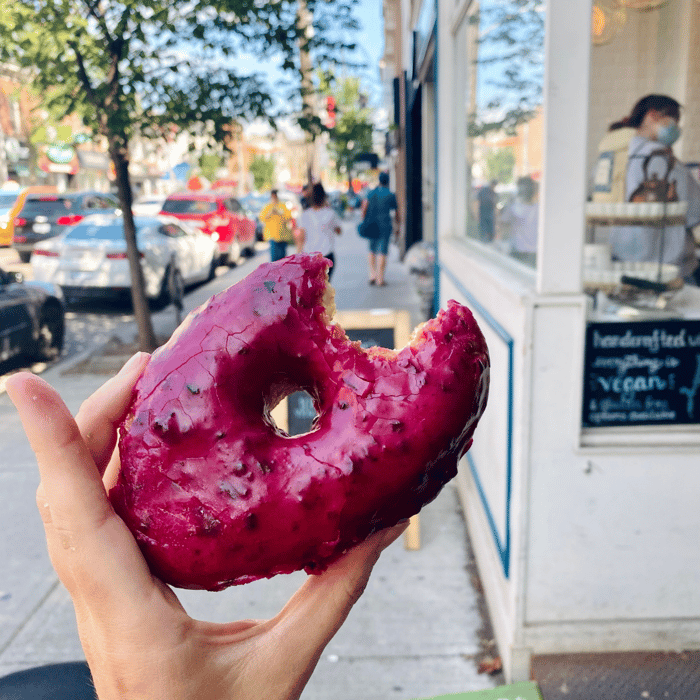 Wild Blueberry donut from Bloomers on Queen. Photo: @sarahrosepat
The cafe is located next to Trinity Bellwoods Park, which is a popular public park. Nut bar offers a variety of freshly made vegan nut butter, drinks, and gelato. Roasted Nut cafe is the perfect place to grab a coffee and snack for a nice walk in the park.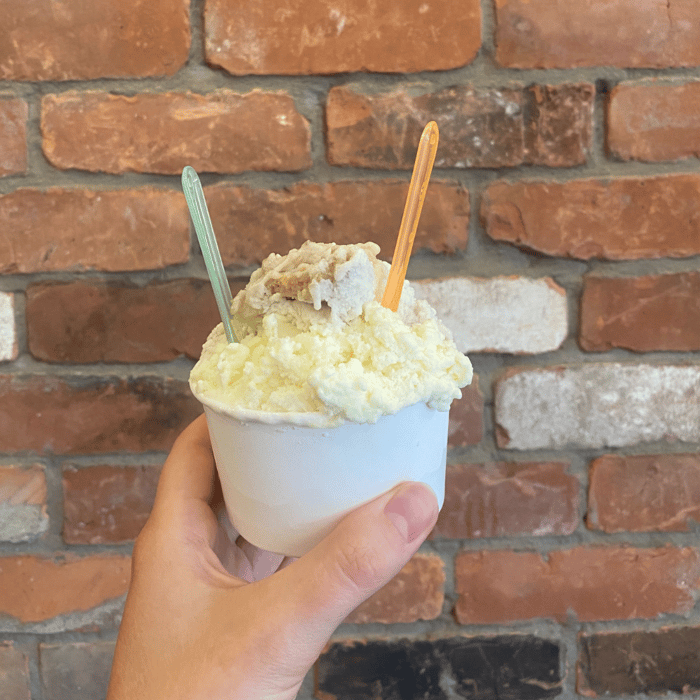 Pineapple flavored gelato from The Roasted Nut. Photo: @sarahrosepat
Vegan Dessert
This place serves the best vegan ice cream we have ever had. I can assure you that if you gave this to someone without informing them of its vegan status, they would have no idea that it's vegan. Love!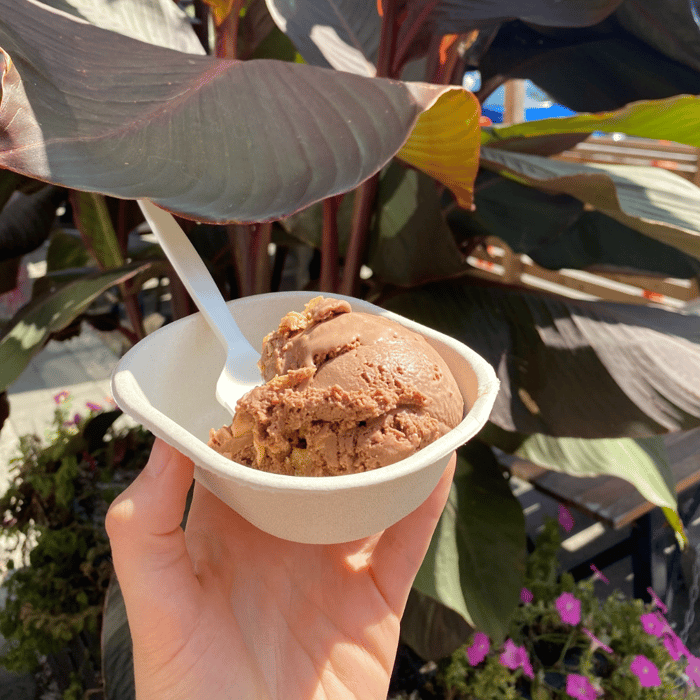 Chocolate peanut-butter ice cream from Honey's Ice Cream. Photo: @sarahrosepat
If you are in Toronto, do check out these recommended places. Let us know If you have more spots to suggest in the comments below. And, don't forget to add your reviews from your experiences on abillion. The more you review, the more you are helping both the community and the charity partners we work with. Check out the Toronto collection here.
If you're a member who is interested in sending your guide to your city. Comment below and one of our staff members will get in touch with you.