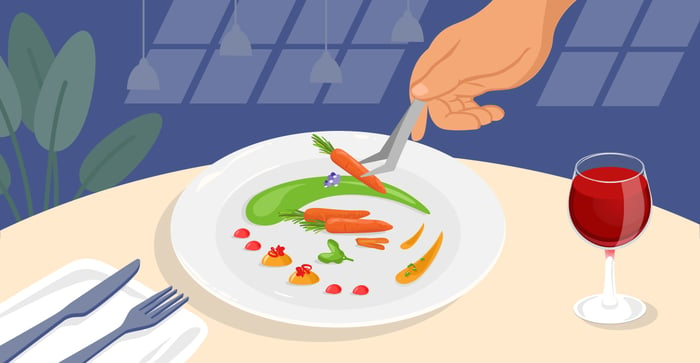 The biggest news in the fine-dining world so far this year has got to be the surprising announcement by Eleven Madison Park's chef and proprietor Daniel Humm, who announced that when the restaurant reopened on 10 June 2021, after having been closed for 15 months, the cuisine would be entirely plant-based. Today, fortunately, a vegan or vegetarian restaurant in New York City isn't that big a deal. But when the restaurant is an elite institution with a waitlist that stretches months, with a price tag of $335 a head, and when said restaurant is widely considered to be the best restaurant in the country, if not the world, people start talking. And not just people in New York. Chefs, foodies, and food writers all around the world started chattering, wondering privately and publicly if and how Humm's decision would affect restaurants of all levels everywhere.
Humm's motivations appear to be based on a commitment towards sustainability. In the statement announcing this new culinary direction he wrote, "It is time to redefine luxury as an experience that serves a higher purpose and maintains a genuine connection to the community. We are thrilled to share the incredible possibilities of plant-based cuisine while deepening our connection to our homes: both our city and our planet."
But Humm is far from the first fine-dining superstar to make such waves. In fact, it was exactly 20 years ago that a similar luminary shocked the culinary world. In 2001, Alain Passard, chef and owner of L'Arpege, a three Michelin-starred restaurant in Paris, France, announced that he was renouncing animal products. His menus would henceforth be entirely vegetarian. When announced, you could almost hear all of France exclaiming "Sacré bleu!"
Passard's motivations, unlike Humm's, were never stated to be environmental. Perhaps they were, but back then most foodies and media alike would have disregarded sustainability as a motivation for diet-change. At the time, he stated that "la cuisine animale" no longer inspired him. He said that "la cuisine végétale" allowed for more creativity, for more surprises, and more room for innovation. He also liked how transparent the food chain was when working with vegetables—the idea of farm to table before it was called that.
Unfortunately, this experiment in fine-dining vegetarian cuisine didn't last. While his cuisine is still vegetable-forward—and diners can opt for vegetable-only tasting menus—within a few years, Passard had to reintroduce small amounts of fish and poultry.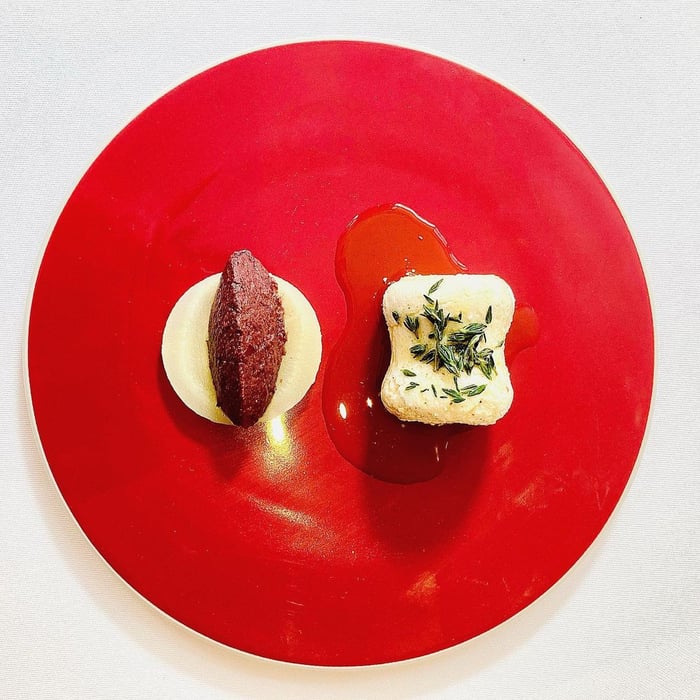 Photo: Gauthier Soho
Fortunately, over the last twenty years, the concept of vegetable-focused fine dining has become more accepted. Today, celebrated chefs like Dominique Crenn of Atelier Crenn in San Francisco and Alexis Gauthier of Gauthier Soho in London serve only plant-based menus.
Crenn made the shift to plant-based with her three restaurants, Atelier Crenn, Petit Crenn, and Bar Crenn, in 2019. Her reasoning was sustainability. She told one reporter, upon making the decision, that she "...decided to remove meat from my menus because we need to rebalance the planet. There are significant environmental and socioeconomic effects from the meat-processing industry, and it is a small step that I can take to make this planet better for humanity."
If anyone can take credit for the acceptance of Vegan fine dining in the United States, it might be one unassuming couple in Philadelphia. Back in 1994, two chefs, Rich Landau and Kate Jacoby, opened a vegetarian cafe called Horizons Cafe. In 2011, Landau and Jacoby closed Horizons and opened Vedge, a gorgeous fine-dining restaurant that presented vegan food in ways that delighted and inspired vegans and omnivores alike. Vedge was so remarkable and innovative in how it presented vegan food that one journalist said it was "not only the best vegan restaurant in America, but one of the best restaurants, period."
In a 2018 list of the 40 most influential restaurants of the last 40 years, Food & Wine magazine had this to say about Vedge, "Chefs Kate Jacoby and Richard Landau helped pioneer—and invigorate—the modern vegan dining movement in America with Philadelphia's Vedge, which opened in 2011 and raised the standard for plant-based fine dining, proving that tasting menus do not require meat to be transcendent."
Today, the Michelin Guide, long bastion of French-influenced fine-dining, has recognized that times have changed, that an increasing number of restaurateurs, chefs and diners alike are thinking about sustainability. In 2020, the guide launched a new category, a Green Star, that rewards restaurants that are "committed to advocating a virtuous, sustainable approach to gastronomy."
But Michelin wasn't always so virtuous. When Alain Ducasse removed red meat from his restaurant at the Plaza Athenee hotel in Paris in 2014, the restaurant lost one of its three stars. At the time, Ducasse said that this switch to "healthier and more environmentally-friendly vegetarian and pescetarian fare" was due to his concerns around sustainability. "The planet's resources are rare, we must consume more ethically and equitably," Ducasse told Agence France Presse.
Michelin has since awarded stars to a handful of vegetarian restaurants. Some that have already become iconic include three-starred King's Joy in Beijing, one-starred Fu He Hui in Shanghai, one-starred Tian in Vienna, one-starred Le Comptoir in Los Angeles, and one-starred Joia in Milan—the first vegetarian restaurant in Europe to receive a star.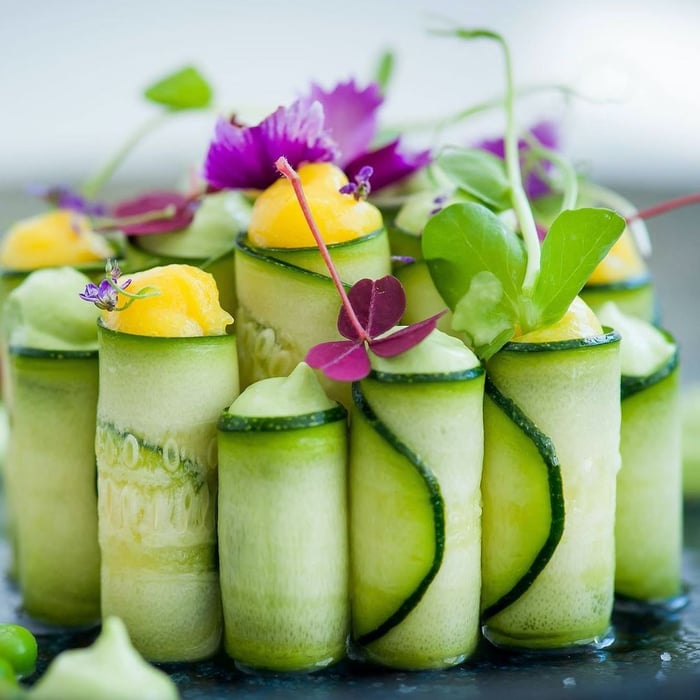 Cucumber and zucchini dish from ONA. Photo: Cécile Labonne
Earlier this year, Michelin bestowed one of its coveted stars upon a restaurant just outside of Bordeaux called ONA, which stands for "origine non-animale". While Michelin had previously recognised restaurants that served both vegetarian and vegan menus, this was the very first time a fully vegan restaurant in France has received a star. For owner Claire Vallée, the award was vindication against all the naysayers who thought her restaurant would not succeed.
When Vallée was raising money to open ONA in 2016, traditional banks told her that "the outlook for veganism and plant-based food was too uncertain." Undaunted, she turned to crowdfunding, as well as a loan from La Nef, a green bank that lends exclusively to ethical projects. Of the star, "this goes to show that nothing is impossible," Vallée told Agence France Presse.
Ultimately, does it matter if a small number of chefs whose restaurants only cater to people with deep pockets start embracing plant-based lifestyles? Actually, yes. Because, whether we like it or not, global media celebrate trendsetters, and people who are seen as the best of the best. Fine-dining chefs are treated as celebrities, with TV shows like Chef's Table introducing them and their philosophies to millions around the world. Because of their ability to reach out and influence others, because of the amount of coverage and buzz their projects and actions generate, yes, it matters very much.
So even if most of us will never get the chance to sit down and experience a $335 vegan tasting menu, what is (more) important is that that meal, served at what many think is the very best restaurant in the United States, is helping to change the minds of so many people about what they eat, and maybe convert many of them to a plant-based and more conscious lifestyle.