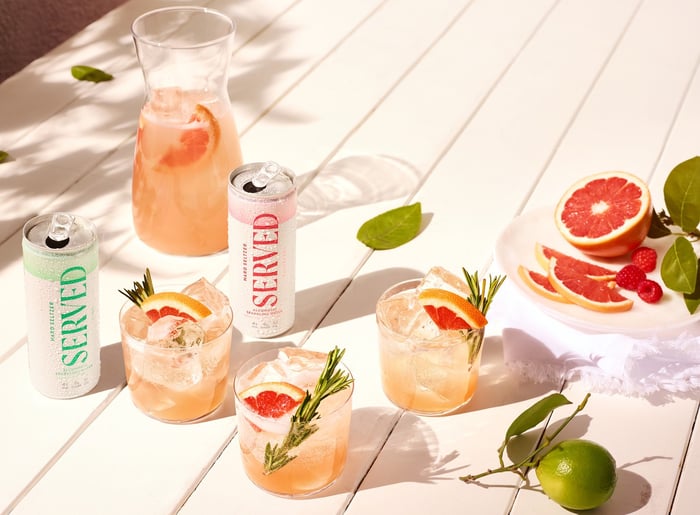 Photo: Served
Here are some sobering facts: globally, around 24 million slices of bread are wasted every day, 14 percent of food produced is lost between harvest and retail, and an estimated 17 percent of total global food production goes wasted.
Then a bit of good news: there are companies around the world making use of this waste to create something new and exciting. Among them are a growing breed of distilleries and breweries putting out excellent spirits. Here are 9 brands making drinks from food waste for the win of sustainability and circular economy so you can drink eco-responsibly.
Photo: Toast Ale
UK-based Toast Ale was founded by food waste activist Tristram Stuart. The company brews their craft beer with surplus bread from bakeries and supermarkets that would otherwise be tossed out. The result is a range of nine different planet-saving craft beers in well-designed cans and bottles. Since its inception in 2016, the brand has diverted over 2.4 million slices of bread from landfills, saving 257,413 liters of water and 42 tons of carbon dioxide emissions.
These award-winning drinks can be found here.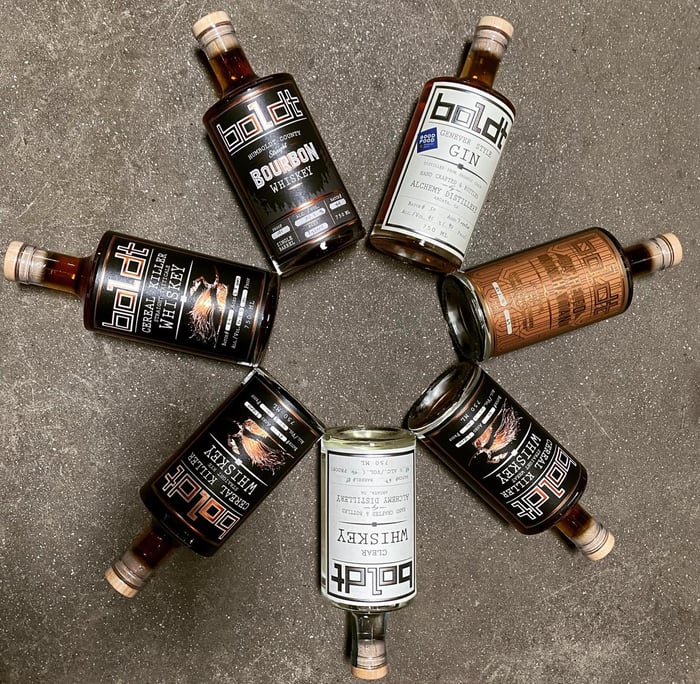 Photo: Alchemy Distillery
Ever tried whiskey from bagels? California-based Alchemy Distillery collaborates with local bakery Los Bagels and takes stale bagels to turn them into small batches of the amber dram. Labelled Los Bagels Whiskey, the first barrel which was produced in 2019 is sold out while the next release will be in 2022. While waiting, check out their other whiskeys like the Boldt Cereal Killer and the Boldt Bourbon. All their spirits are made from produce grown within 80 miles of the distillery.
Alchemy Distillery can be found here.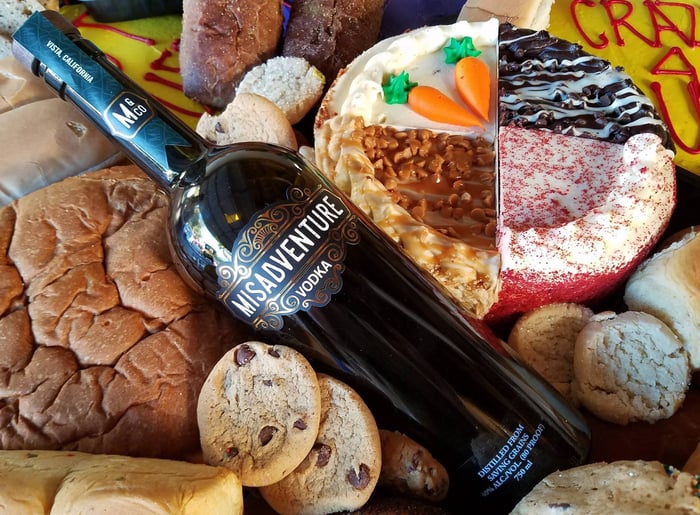 Photo: Misadventure & Co.
Misadventure Vodka takes baked goods like cakes, cookies and bread that otherwise go to landfills and turns them into its award-winning vodka. In fact, each bottle of vodka is created from two pounds of leftover baked goods. This is the result of four years of research and experimentation by founders Whit Rigali and Sam Chereskin. The focus for the company is to prevent excess baked goods (many of which may be made with dairy and eggs) from being tossed into the trash so note that the vodka is not vegan.
Get your Misadventure vodka here. It can also be ordered via Grubhub and Doordash, across the USA.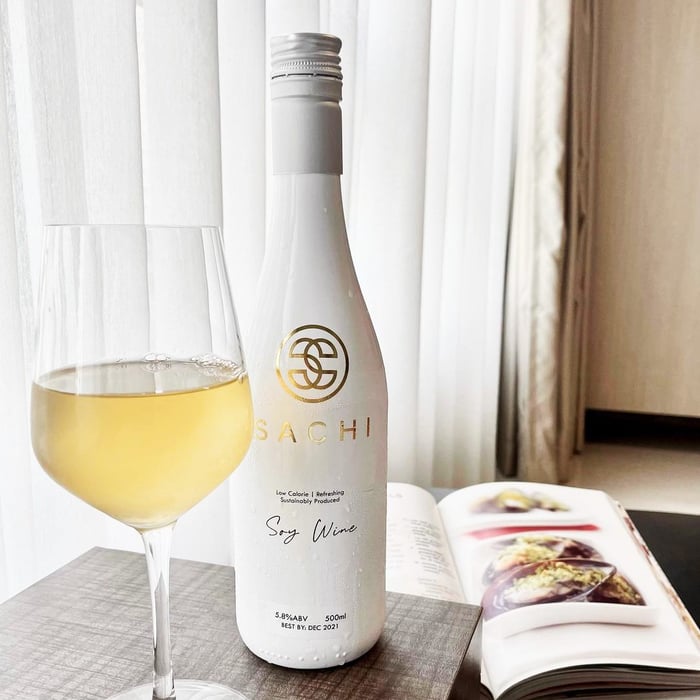 Photo: Sachi
Tofu is every vegan's best friend but its production also produces tofu whey, which is often discarded. Singapore-based firm Sachi takes this by-product and turns it into an alcoholic beverage that tastes very much like sake. The product was invented in the National University of Singapore's labs, where a team of researchers figured out a way to utilize the liquid in a bid to reduce waste. The result is a drink that is not only sustainable but also comes with health benefits as tofu whey is high in calcium and prebiotics.
Sachi soy wine can be purchased here.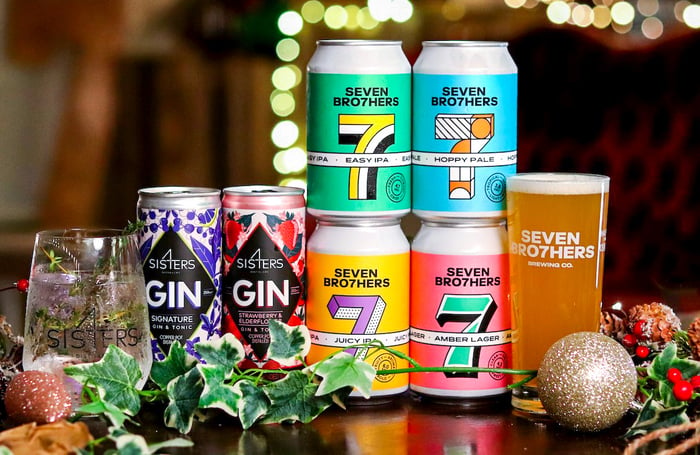 Photo: Seven Bro7thers Brewery
Cornflakes production is a massive industry and Severn Bro7thers Brewery has partnered with cereal brand Kelloggs to make beer from cornflakes that don't make it into the box. These rejected cornflakes are often those that are too small, too big, or overcooked. The brewery has a range of vegan-friendly beers which includes the Seven Brothers Brewery Easy IPA, Good Day IPA or the Honeycomb Pale Ale.
Get your vegan-friendly beer here.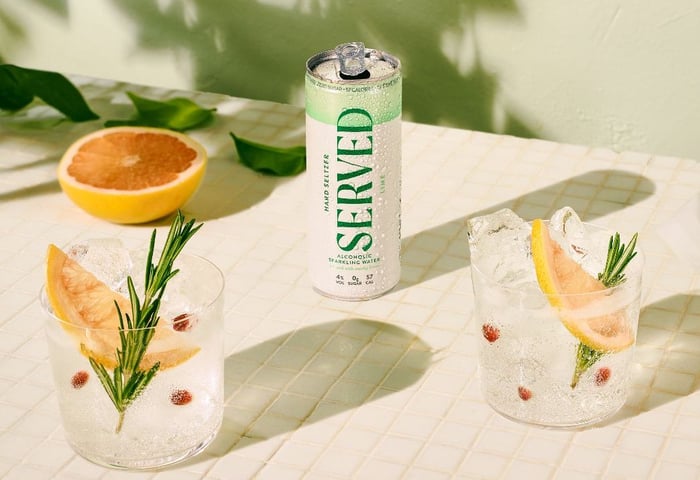 Photo: Served
In Europe alone, over 50 million tonnes of produce are discarded each year for not looking perfect enough to be sold at the supermarkets. That's enough to galvanize UK company Served into taking these imperfect fruit and infusing them into its range of alcoholic sparkling waters. These hard seltzers, as this emerging categories of drinks are known, have a crisp, light flavor, and a touch of natural sweetness. Their products have been so successful that celebrity Ellie Goulding is an investor and she remarks: "The best hard seltzer I've tasted by quite some margin, but also because this is a brand driven by care and respect for the natural world at this crucial point."
Served can be purchased here.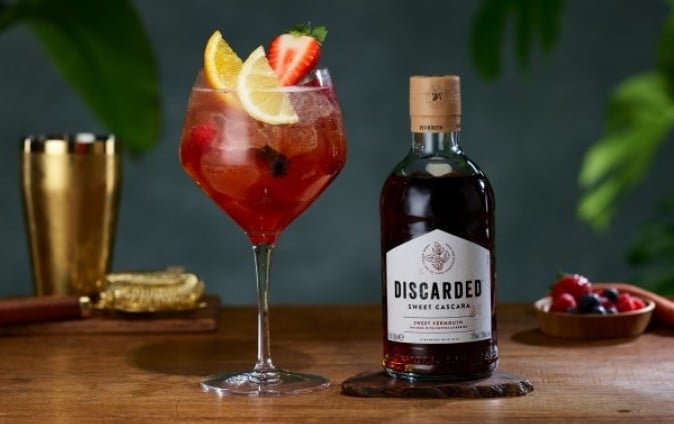 Photo: Discarded Spirits
Banana peels, the fruit of coffee berries and grape skins are given a new lease on life with UK-based brand Discarded Spirits. These three main byproducts are turned into rum, vermouth and vodka, and each spirit has their own characteristics. The rum has notes of warm banana bread and treacle, the vodka is redolent of fresh green apples with a luscious mouthfeel while the vermouth has notes of cherry, roasted coffee and dark chocolate.
Discarded Spirits are available for purchase here.